Kenny Omega is one of the most unique wrestlers of the modern era. From being the first 'gaijin' to win NJPW's coveted G1 Climax to serving as one of the Executive Vice Presidents of All Elite Wrestling, he has accomplished various feats in his career both inside and outside the ring. I won't deny that I have been a fan of his for a short time, only beginning to catch wind of his career in 2017, but Kenny had a profound impact on reigniting my passion for professional wrestling, and he changed the way I looked at it forever. In fact, Kazuchika Okada vs Kenny Omega at NJPW Dominion 2018 was so mesmerizing that I forgot that I was graduating from college that same morning, grabbed my cap and gown quickly after the match ended, and ran out into the pouring rain. There was a rain delay thankfully, don't worry. I still got my degree.
Omega is a crucial part of AEW's logistics, overseeing talent acquisitions in the women's division and planning PPV events (yes, even buying Poker Chips for the inaugural Double or Nothing at the last minute). He and Adam Page are the current tag team champions, and their chemistry between each other is unparalleled, albeit shaky. There is so much to commend Omega for with his time on the All Elite Wrestling roster, but these accomplishments are drowned by constant criticism online, with some claiming his talent is underutilized compared to his past. For this feature, I neither want to draw attention to the negativity that he receives on social media, nor do I want to compare his career in previous promotions to the present. Instead, I want to focus on his unwavering strength, resilience, and perseverance, and to connect the remarkable successes he's had in AEW to the video games he takes heavy influence from. These two mediums intersect often, and for Kenny Omega, they both create meaningful ways to mold the stories he conveys every week.
Omega is well-known for incorporating cosplay to his entrances, and I'm thrilled that he's continued to do this in AEW. During the Halloween episode of Dynamite, he wore a Sans costume, depicting his enthusiasm for the popular video game Undertale. Many fans took to Twitter to share hilarious memes and tweets about his entrance; it even opened up some conversation between me and some friends who weren't originally interested in wrestling but became intrigued by it because of Kenny Omega's love for Undertale. Gaming and wrestling share many traits together in terms of character development, storytelling, and presentation. It's no surprise that there are many fans that self-identify as being part of both fandoms, for they are outlets for escaping the real world. I sincerely appreciated that Omega did this entrance to express his passion for video games, but I appreciate him even more for bringing wrestling to the forefront of gaming, as a means of attracting new fans to All Elite Wrestling.
The Sans entrance isn't the first time that a gaming partnership with AEW has happened either thanks to Omega. The first Fyter Fest was held on the same weekend as CEO, a yearly fighting game tournament in Orlando. Though the event was self-produced by AEW, Kenny Omega was a crucial part of organizing its logistics, even bringing in CEO's head administrator, Alex Jebailey, into several AEW appearances because of their close partnership together. The recent wave of AEW x Capcom merchandise can be attributed to Omega's love for fighting games, specifically the Street Fighter series. Outside of wrestling, he has guest hosted esports tournaments and participated in anime conventions. While many praise him for his in-ring talent, I feel that credit should also be given to him for utilizing his ties to the gaming community to spread the joy of wrestling to other people. As an EVP, these marketing skills are viable in building AEW's brand, and the effort that he puts into this should absolutely be commended.
Omega's passion for all things nerdy also bleeds into his character. His storytelling takes inspiration from the narratives of anime and video games, and Omega uses these influences to create captivating long-term stories that fuel the suspension of disbelief. Let's take his finisher as an example. The One-Winged Angel is a clever nod to the villainous Sephiroth, who is the antagonist of Final Fantasy VII. A cunning man with a vengeful spirit, Sephiroth torments the main character of the game into an emotional state of fear and doubt; his mindset and motivations are a perfect parallel to Omega himself, and they exemplify how amazing Kenny still is in AEW. Kenny is driven, Kenny is fearless, and Kenny is unstoppable in the ring, motivated to bring the best out of his opponents while being the best. The Lights Out match he had with Jon Moxley brought out the Sephiroth in him as he fought tooth and nail to overcome his opponent, and despite losing the bout, a sadistic side of him started to crack open, a side that's since been reopened in the recent Fight for the Fallen episode of Dynamite.
Many fans have speculated that this is likely the beginning of an aggressive change in direction for Omega's character. I'd like to return to the previously mentioned game Undertale; it's served as a significant factor in telling Omega's story, and it's imperative in understanding why he frames his character the way he does. Released in 2015 by Toby Fox, Undertale was met with widespread acclaim by critics and fans for its immersive world-building, complex characters, and catchy soundtrack. As the main character, you travel through the Underground, a kingdom full of monsters, to find your way home. It's an incredible story about friendship, forgiveness, and morality, but if you had to give me a word to describe the RPG, I would use 'determination'; the game doesn't shy away from hammering this into your head, and it's a literal match made in heaven with Kenny Omega. Sans isn't the only time he has used motifs from the game. Preceding the infamous entrance was a video that aims at Omega's insecurities as someone who is distant from his friends. I interpret his relationship with Adam Page and The Elite as being parallel to the events of the video game, and even if Omega's interpretation was coincidental, the foreshadowing was established enough in October and in previous Being the Elite episodes for it to be a plausible theory for his future.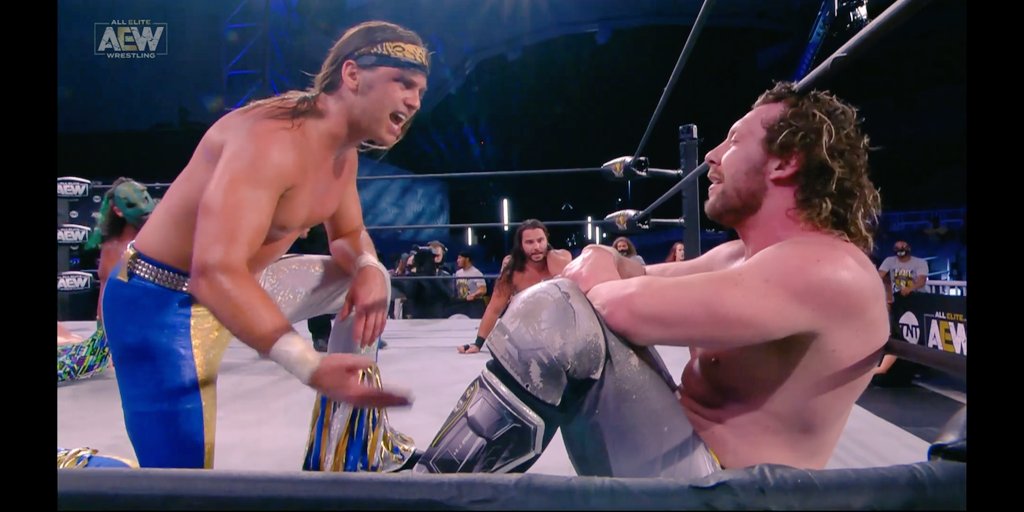 But the light still exists in Kenny Omega. Whether he helps the Elite fight off the Inner Circle or defends all of the cowboy shit in the world with Adam Page, he represents the best heart and fighting spirit. The most important theme by far from Undertale is the struggle between light and darkness; love wins at the end of the day, and forgiveness should not be taken for granted. A specific line from the game comes to mind that is applicable to Omega: "Despite everything, it's still you". Kenny Omega has been through several tumultuous events treading the ranks of AEW. He's suffered major losses to Moxley and Jericho, but he's also built a foundation with the Elite. He's still persevering with determination after every week, after every match, and after reading constant criticism online.
Kenny Omega is one of my favorite wrestlers on the roster for these reasons. He not only bridges the relationship between gaming and wrestling, but also utilizes their shared characteristics to mold long-term stories; that type of gift in the industry is hard to craft. Wherever his character goes in these coming months, it's going to be a crazy ride. And I expect nothing less from the Cleaner himself. Also, if you're interested in playing other games that have had a hand in influencing Omega at some point, here's a list:
-Street Fighter
-Final Fantasy VII
-Undertale
-Mega Man
Kenny Omega's continued support for All Elite Wrestling, and more importantly, all things wrestling, shines in his outreach to various audiences, even recently giving a college lecture about the consequences of COVID-19 on the global wrestling industry; the fact that he and Michael Nakazawa presented their project at 11:30pm, Japan's time zone in mind, shows that he sacrifices anything to be given a chance to spread the joy of wrestling (like our website!). Whether he ties his character and ambitions to gaming or not, one thing is clear: Kenny breathes and bleeds so much love for the beautiful art of wrestling. It is this motivation that will ensure that his career continues to thrive. I am so excited to see where his next steps are, regarding wrestling, gaming, or something else entirely! Anything can happen for the Best Bout Machine, and he'll leave us breathless with a bang.