It's Wednesday and you know what that means.. time for another Dynamite preview with Professor J.R. and myself. We are only a few weeks away from Full Gear and tonight we have an action-packed episode ahead of us. Let's take a look at what we have in store for tonight.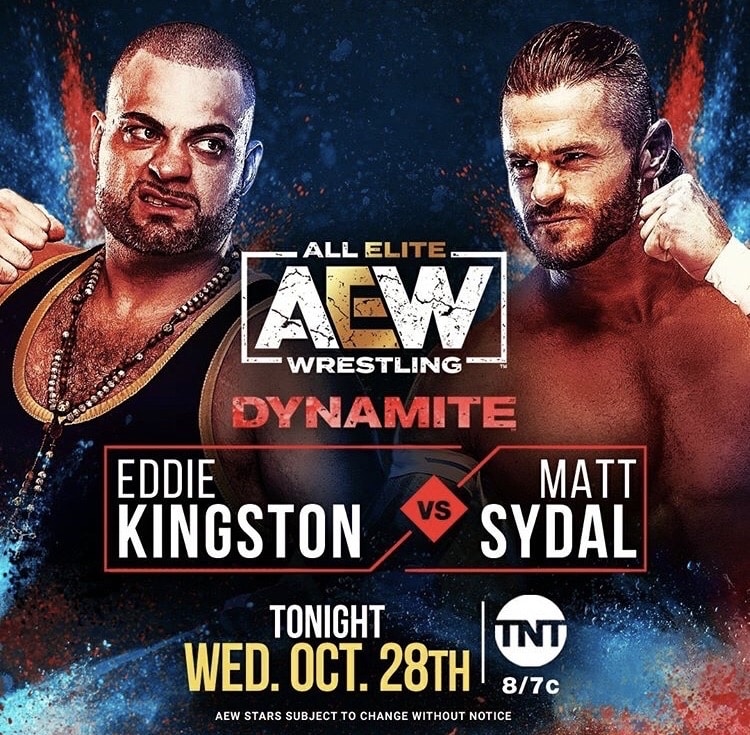 Eddie Kingston vs Matt Sydal
Kyle: Eddie Kingston vs Matt Sydal. I'm a fan of both so this is going to be a match I'll be looking forward to. I've enjoyed seeing Sydal in AEW and I hope he gets signed full time soon. Eddie has been on a role lately and has a big championship match coming up against Mox so I don't see him losing here.

Professor J.R: Kingston is out to prove his never die attitude will get him the AEW Championship. Sydal is the only obstacle in his way, and Kingston will show the world why he deserves to main event Full Gear. 
Prediction: Kingston to win.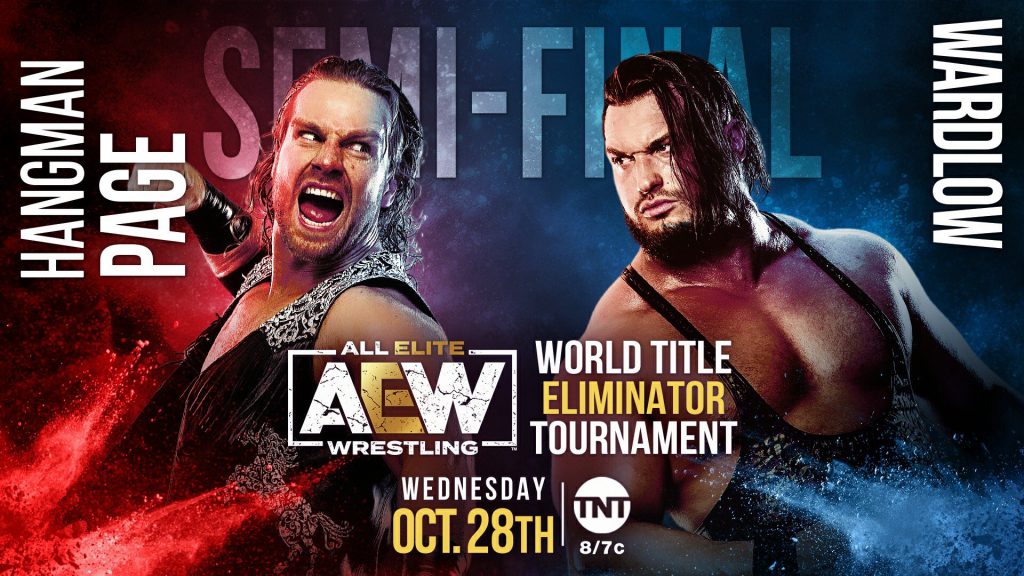 Hangman Page vs Wardlow – AEW World Title Eliminator Tournament
Kyle: It's the semi-finals of the tournament and both of these men are coming off huge wins in the first round. I would be completely ok with either winning here but I'm going to go with Hangman since I believe we are getting him vs Kenny in the finals.
Professor J.R: Raw Power vs Tenacity, that is what I think of when I see Wardlow vs Hangman. Wardlow is an unstoppable force who has been hard to beat in 2020. However, Hangman has risen to the occasion in almost every match he has been in since AEW was founded. I side with the never say die attitude. 
Prediction: Hangman advances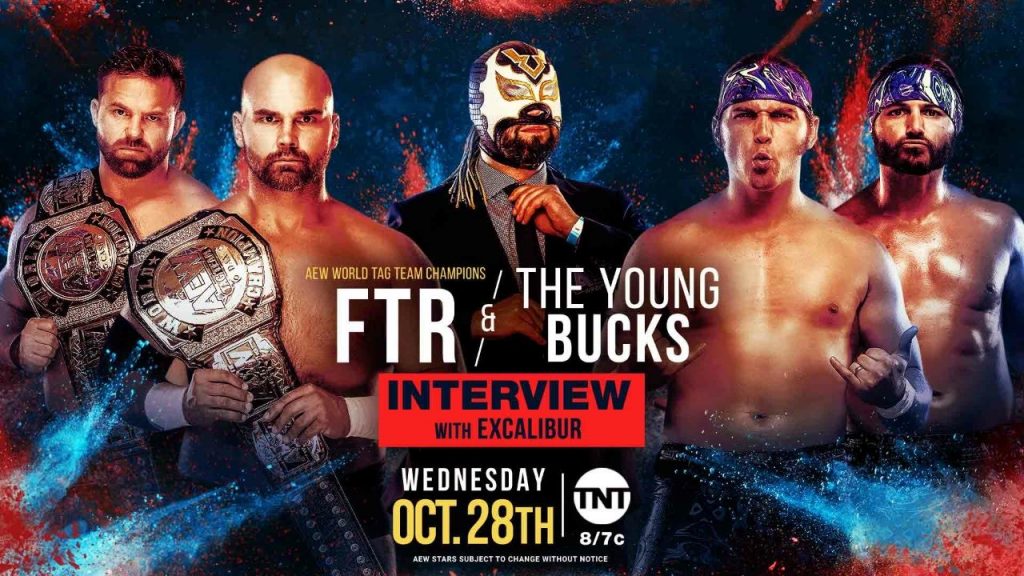 FTR & The Young Bucks Interview w/ Excalibur
Kyle: This will be interesting especially after what FTR did to Matt Jackson last week. The Bucks mentioned on Twitter they have an announcement to make here as well. Wonder what it could be? I'm not convinced this match is actually still happening but I guess we will wait and see what is said.
Professor J.R: I'm going to keep it short. Do not miss this interview. The two best tag teams for the last 5 years are on a collision course for Full Gear. 
Prediction: Must See TV!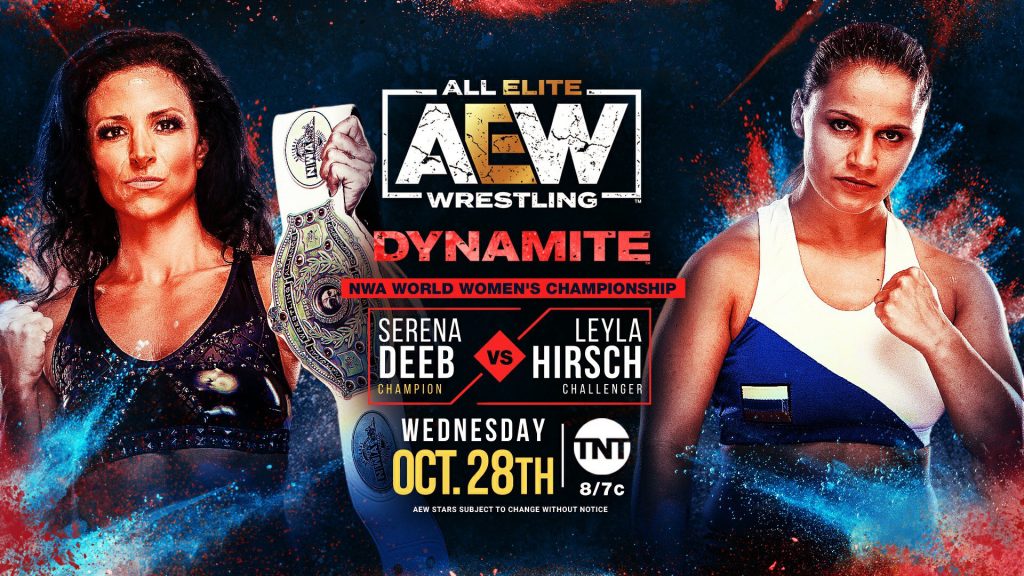 Serena Deeb (c) vs Layla Hirsch – NWA World Women's Championship
Kyle: The new NWA Women's World Champion is defending her new championship on Dynamite. I'm stoked! Leyla Hirsch could surprise us and become the new NWA Women's Champion here. Who knows how it'll turn out, but I'm excited for this one. I got Serena Deeb retaining.
Professor J.R: I'm excited for this one! I hope both just have fun!
Prediction: Serena Deeb to retain.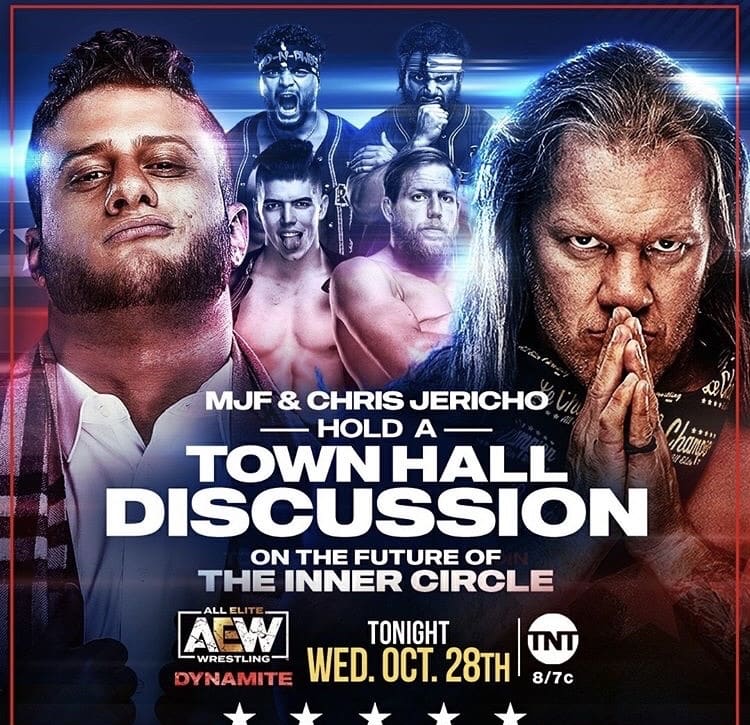 MJF & Jericho Hold A Town Hall Discussion On The Future Of The Inner Circle
Kyle: After last week, I'm excited to see anything these two do together. Will MJF join the Inner Circle, does MJF want to join the Inner Circle, so many questions here. I have a feeling this will somehow lead to a match at Full Gear between MJF and Jericho.
Professor J.R: How do you follow up last week's segment? Well we are going to finally find out if MJF will be a part of the Inner Circle. However, I suspect ulterior motives are at play. Jericho, the once heralded Inner Circle Leader, has had a horrendous 2020. Inner Circle members may be looking for a new leader.
Prediction: MJF is two steps ahead.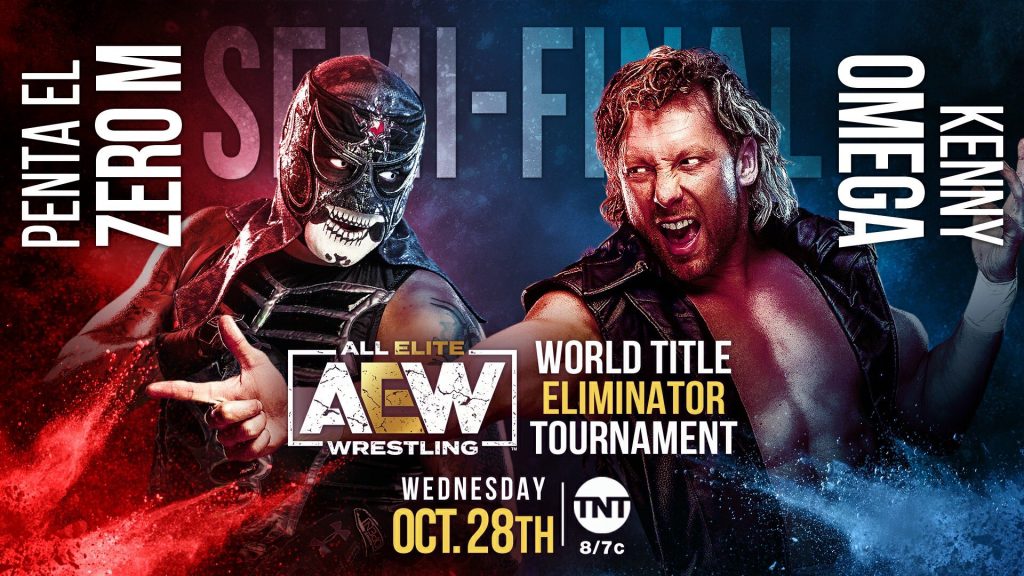 Kenny Omega vs Penta El Zero M – AEW World Title Eliminator Tournament
Kyle: Rey Fenix won his match but unfortunately suffered an injury so Penta El Zero M is taking his place against Kenny. It's a rematch from All In so I'm excited because that match was amazing and I'm sure this one will be as well. I got Kenny winning here and going on to the finals.
Professor J.R: Eight seconds is all it took for Omega to advance. Penta is here due to Fenix's injury. They have faced off before at All In in 2018 and as much as I love Penta, Omega got the better of him then and with this new found attitude I don't expect Omega to lose in the rematch. This will be a candidate for match of the night, but I am not betting against Omega. 
Prediction: Omega advances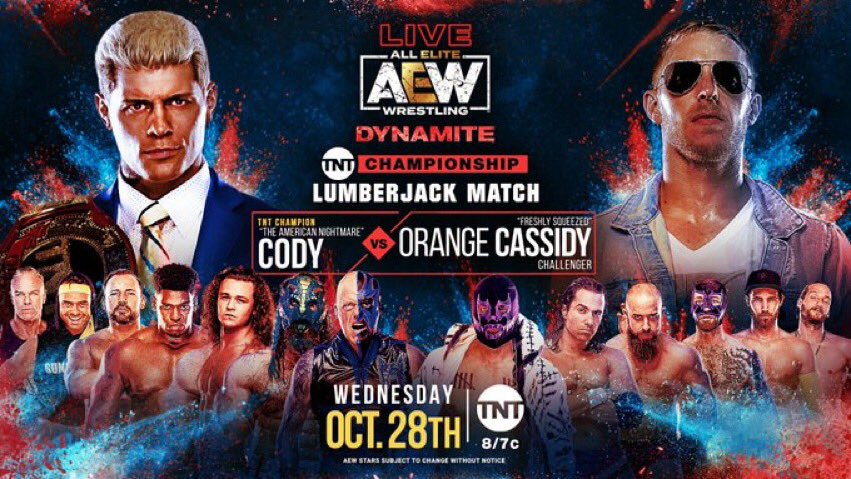 Cody (c) vs Orange Cassidy – TNT Championship – Lumberjack Match
Kyle: Cody defeated Orange Cassidy a few weeks ago to retain his championship but it wasn't an easy fight. Orange Cassidy actually tried. If OC actually tries here again then Cody may be in trouble and I'm sure the lumberjacks outside the match are going to come into play here. Despite all that, I've still got Cody winning and retaining his championship here.
Professor J.R: A rematch that went to draw the first time around, this time we will have lumberjacks keep the action in the ring. Cody is back to his no days off attitude and Orange is, well, Orange where the impossible can be the improbable. With the individuals around ringside anything can happen. I will have to side with the man with the most experience though. 
Prediction: Cody to retain.
There you have it, out thoughts and predictions for tonight's show. Looks like we have a lot to look forward to as we make it one week closer to Full Gear!
Watch AEW Dynamite TONIGHT on TNT at 8/7c