Following AEW's record breaking success at All In at Wembley Stadium, All Out became a veritable proving ground for the wrestlers, the promotion, and its fans. As the echoes of cheers and accolades from All In reverberated through the wrestling world, there came an unexpected twist—CM Punk's departure from AEW dominated the headlines. Ricky Starks, originally slated to face Punk at All Out, found himself in a moment of uncertainty, a crossroads of ambition and resilience.
But in that uncertainty, a fire of resolve burned within Ricky Starks, and it mirrored AEW's collective spirit. They were on a mission, not to wade in the murky tales that dominated the headlines, but to rise above it, to defy the naysayers and doubters. Ricky Starks, the embodiment of tenacity, was ready to step into the spotlight with the illustrious Bryan Danielson, to showcase his undeniable talent and to prove that AEW's roster was already graced with the best and brightest. Together, they would embark on a journey that would not only match the exuberance of All In but in some ways exceed it, heralding a new era of All Elite Wrestling with steadfast determination and unshakable pride.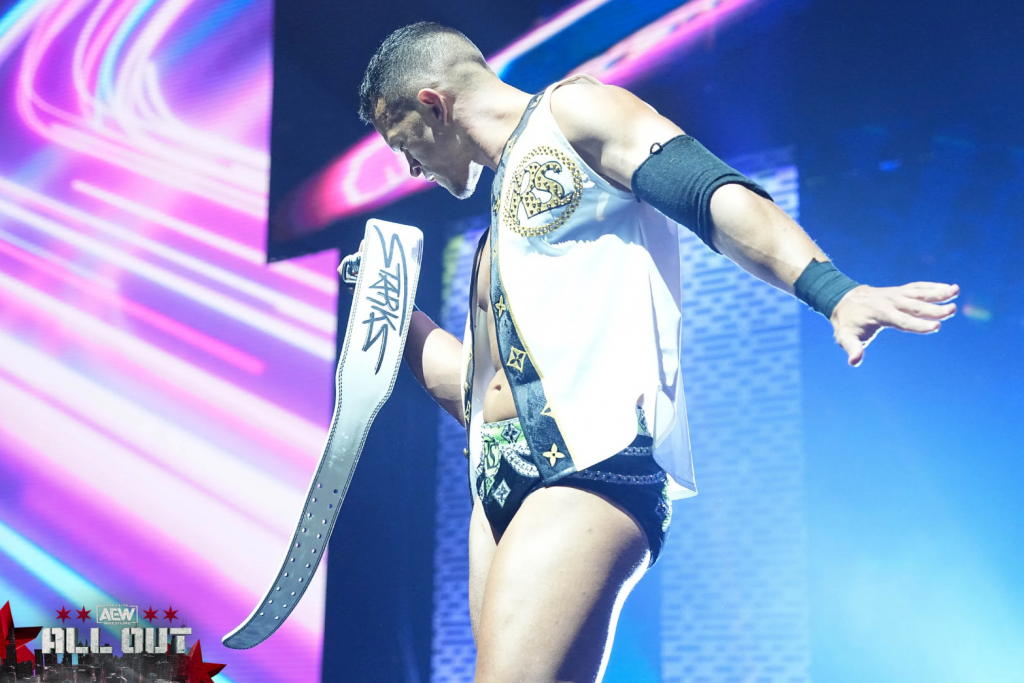 Ricky Starks is well-acquainted with adversity, shaping his career and growing legacy through the challenges he overcomes. From the moment Ricky Starks entered the ring of All Elite Wrestling, his story became a fighter's tale, woven with moments of intrigue and tenacity, adversity and triumph, and cementing himself as one who could battle perhaps the greatest demon of all – one born of uncertainty and doubt. Throughout this journey, Ricky Starks has proven that when he is put to the test, he shines with the brilliance of a diamond formed under great pressure, rising to brilliance.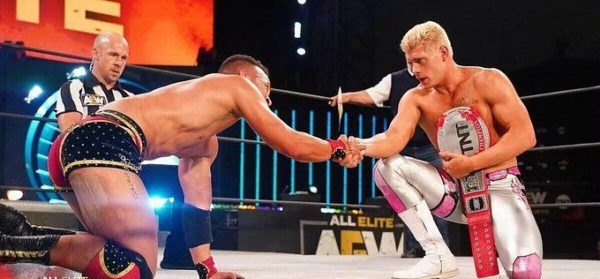 The Journey Begins: A Tale of Two Cross-Rhodes
It was Cody's Open TNT Championship Challenge, a test of skill and aptitude that could be either a kingmaker or a dream breaker. As Ricky Starks answered the challenge, he found more than just a chance; it was his moment to prove that he belonged among the best in the business. With a fiery passion, he brought AEW into his world with a promo that caused everyone to take notice as his determined words reverberated throughout the Daily's Place amphitheater.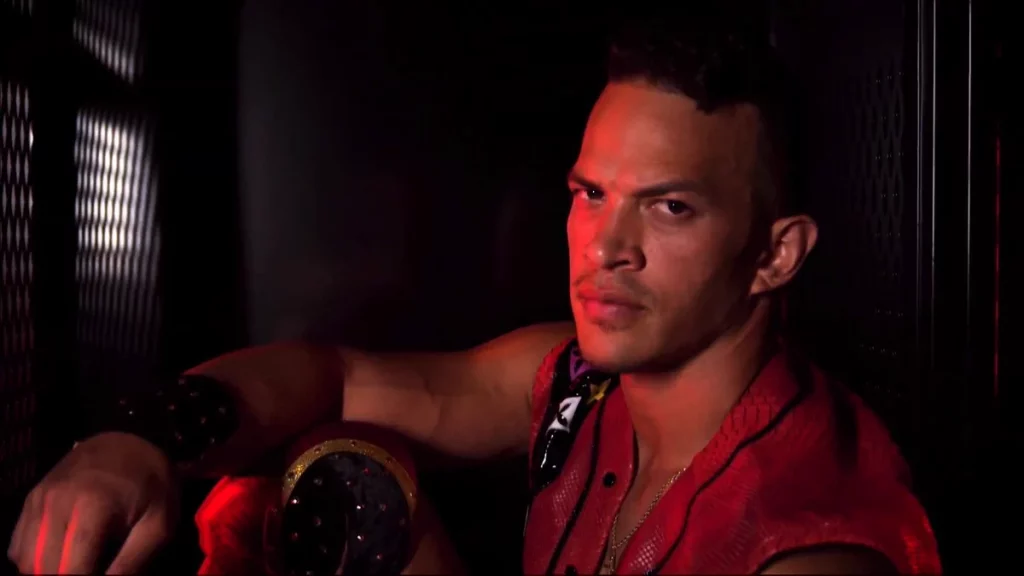 "When I heard about the open challenge, I knew it was my perfect chance," he began. "To not only get my foot in the door, but prove to myself that I could hang with anybody. I've been broke. I had $3 to my name. I've slept in my car, I've slept on floors and couches, and all for what? So I could be here right now. And the only two things I had when I had nothing else to my name was work ethic and grit."
His impassioned declaration showcased his tale of work ethic and grit. Ricky Starks was no longer a hidden gem; he was a diamond, brilliant and unbreakable, unveiled for the world to see. And thus began an odyssey that was, and still is, nothing short of absolute.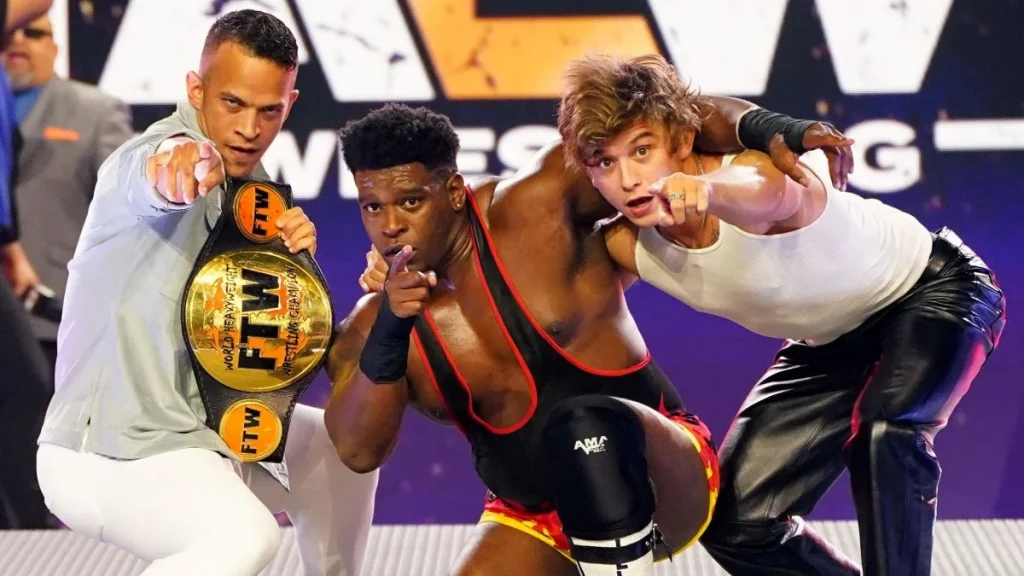 A Star Ascendant: The Team Taz Chapter
Shortly after his debut, Starks found himself under the tutelage of wrestling legend Taz. Impressed by his mind for the squared circle, Taz compared watching him in the ring to being in an "out of body experience." It came as no surprise then, when Taz recruited Starks to join his newly minted faction, "Team Taz." For months, Ricky Starks and Brian Cage dominated the AEW roster with their unique blend of monstrous strength and clever wit. Ricky Starks was thrust into the limelight, becoming the face of a faction that would shake the very foundations of the AEW roster.
A few months later, Will Hobbs would join Team Taz, bringing a partnership and friendship that would come to define the early AEW careers of both men. They found camaraderie in the experience of struggle, a future etched in the stones of ambition. For months, they wreaked havoc upon the All Elite Roster, in high profile feuds with Cody Rhodes and the Nightmare Family, as well as Darby Allin, and The Icon, Sting. Their partnership proved so commanding, they even ousted Brian Cage from Team Taz, by working together to ensure Starks' victory for Taz's FTW Championship.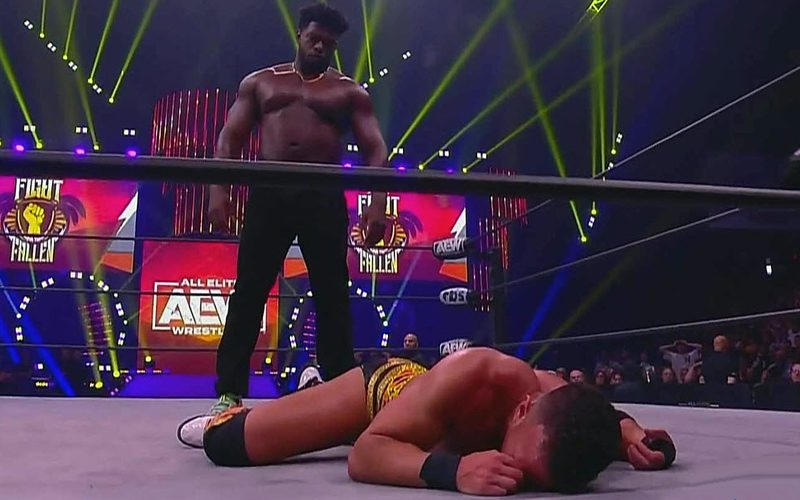 But what set Ricky Starks apart was not just his affiliation with Team Taz or his charismatic presence; it was his ability to weave compelling narratives with his in-ring prowess. His friendship-turned-rivalry with Will Hobbs showcased both of their storytelling abilities, creating breakout star trajectories for both of them. When Taz's son HOOK made his AEW debut, he set his sights on his father's championship. In a shocking turn of events, Will Hobbs betrayed Ricky Starks and cemented the FTW Championship victory for HOOK, ending Starks' 378 day reign as champion, before embarking on his own path to gold with the TNT Championship.
​​Here, Ricky found himself on his own, cutting his way through challenge after challenge, while the glory he sought upon his debut would later fall into the hands of the one who betrayed him. While Ricky himself has never held the TNT Championship, Will Hobbs would later claim that victory, with gold glimmering triumphantly around his waist. Yet, for Ricky Starks, his odyssey was far from over.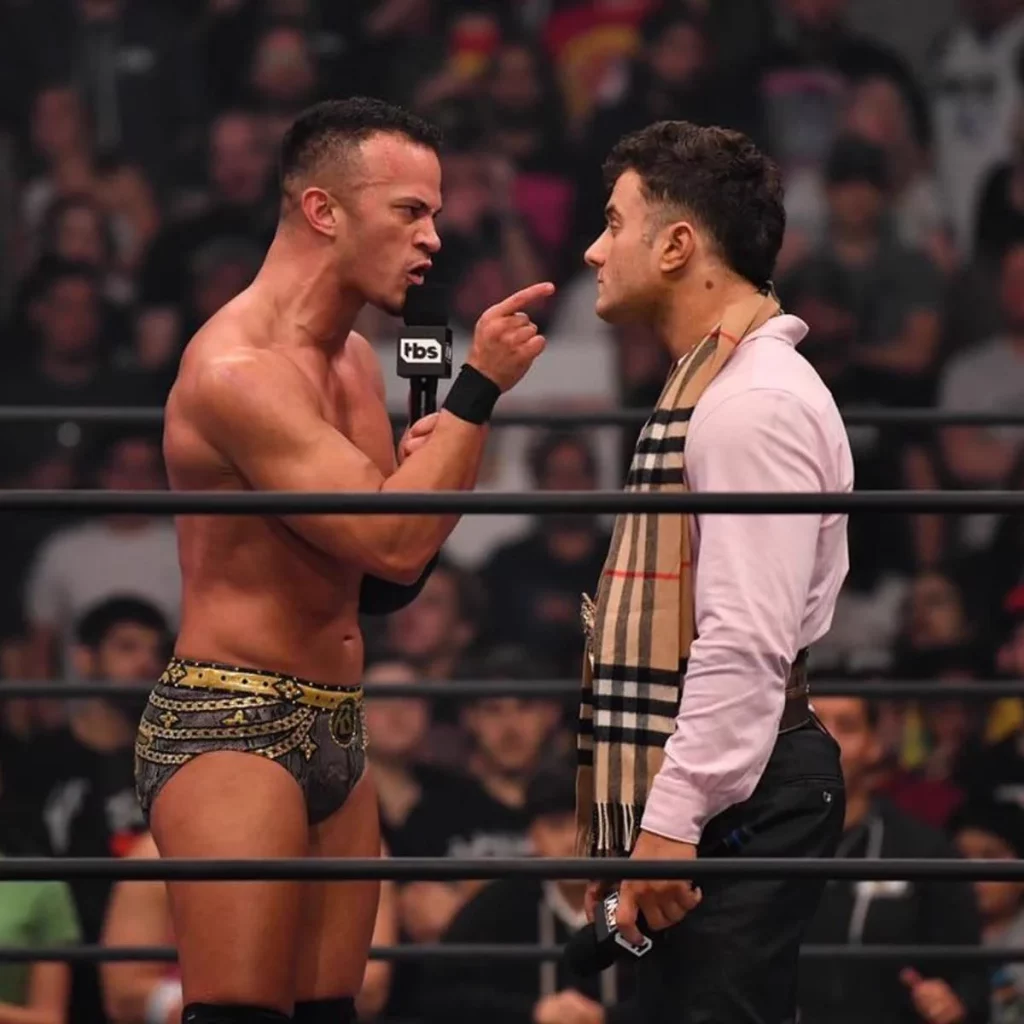 The Proving Ground: Feuds That Shaped The Absolute
Ricky Starks' wrestling resume reads like a who's who of the industry. Whether he's battling legends like Chris Jericho, engaging in unforgettable programs with MJF, or locking horns with the likes of CM Punk or Bryan Danielson, Starks has stepped into the squared circle with wrestling's elite and stood tall.

"What happens when a generational talent meets an absolute one?"

After winning the AEW World Championship from Jon Moxley at Full Gear 2022, MJF found himself face to face with old friend and foe, Ricky Starks. Fresh off of a defining victory in AEW's World Title Eliminator Tournament, Ricky Starks would face MJF in a battle that showcased two of AEW's brightest stars. In late 2022, Ricky Starks and MJF ignited a rivalry that showcased their charisma and wit. Trading barbs on the mic, they captivated audiences and proved their prowess in verbal combat.
His feud with MJF was a masterclass in promo delivery, character building, and in-ring storytelling. When MJF's verbal jabs tried to tear him down, Ricky stood up, dusted himself off, and eviscerated his opponent. The crowd, already on its feet for MJF, erupted into a chorus of "RICKY!" chants, solidifying the moment as one where Ricky Starks didn't just exist in MJF's world; he pulled us into his own.

After impressive victories in both the AEW World Title Eliminator Tournament and the Dynamite Diamond Battle Royale, Ricky Starks and MJF would ultimately face off on a "winner take alll" showdown at the annual Winter is Coming special edition of Dynamite. In a match that would put the skill of both young stars to the test, Ricky and MJF traded blows, submissions, and crafty maneuvers as they sought victory in their ultimate showdown. As thrilling as their fight was, it was a low blow from MJF that secured his win, retaining both his AEW World Championship, and his Dynamite Diamond Ring.

This showdown left a lingering question in the air, a promise of future battles to come, as both men stand poised to return to the ring and determine who truly is the absolute, the one who reigns supreme, the star who dares to be better than you (and you know it). For Ricky Starks, it began yet another quest to find fulfillment in his quest of stardom among wrestling's greatest talents.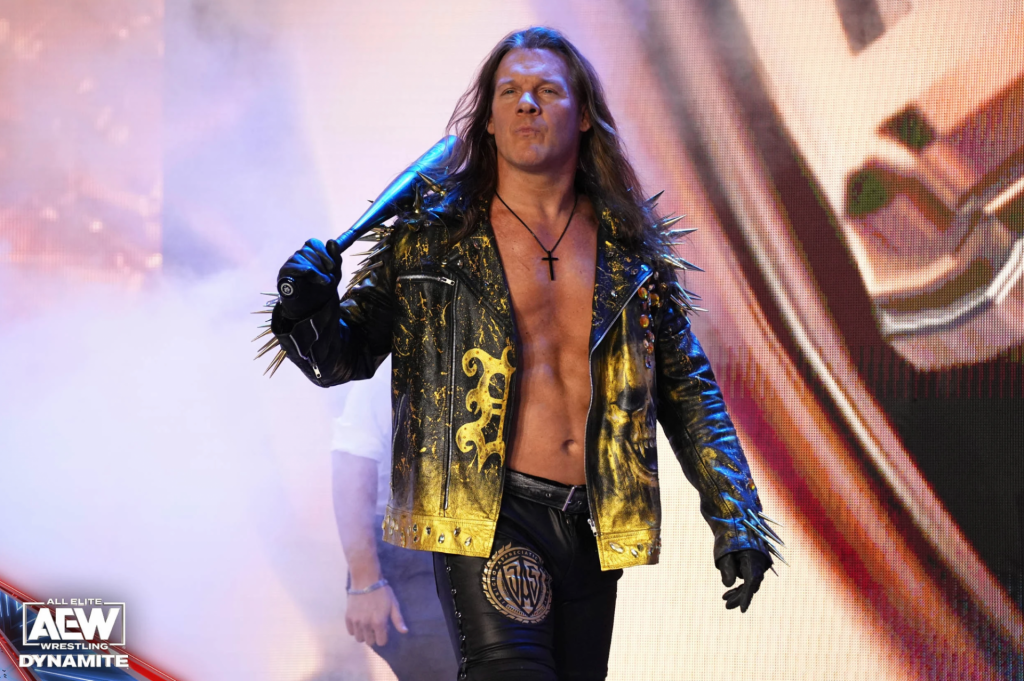 At the beginning of 2023, Starks found himself embroiled in a another high profile feud, this time against the prolific rock star of wrestling legends, Chris Jericho. Turning down an invitation to join the Jericho Appreciation Society, Starks faced Jericho in the first Dynamite of the year and scored a surprising victory against "The Ocho". In the months that followed, Ricky stood tall against Chris Jericho and his Jericho Appreciation Society with defiance and fortitude.

For Starks and Jericho, their feud would culminate at AEW's Revolution PPV. In a collision of style, skill, and experience, Ricky's youthful hunger clashed against the seasoned, relentless veteran. In one of his toughest challenges yet, Starks faced an onslaught of Lionsaults, Codebreakers, even the formidable Walls of Jericho. Despite these obstacles, he successfully countered Jericho's devastating Judas Effect and clinched a triumphant victory.

As the bruised and battered Ricky Starks stood on shaky ground, he looked to the crowd. The sold out arena was on their feet in ovation for Starks, filling the air with thunderous chants of "Ricky!" A testament to a star whose luminosity could no longer be denied.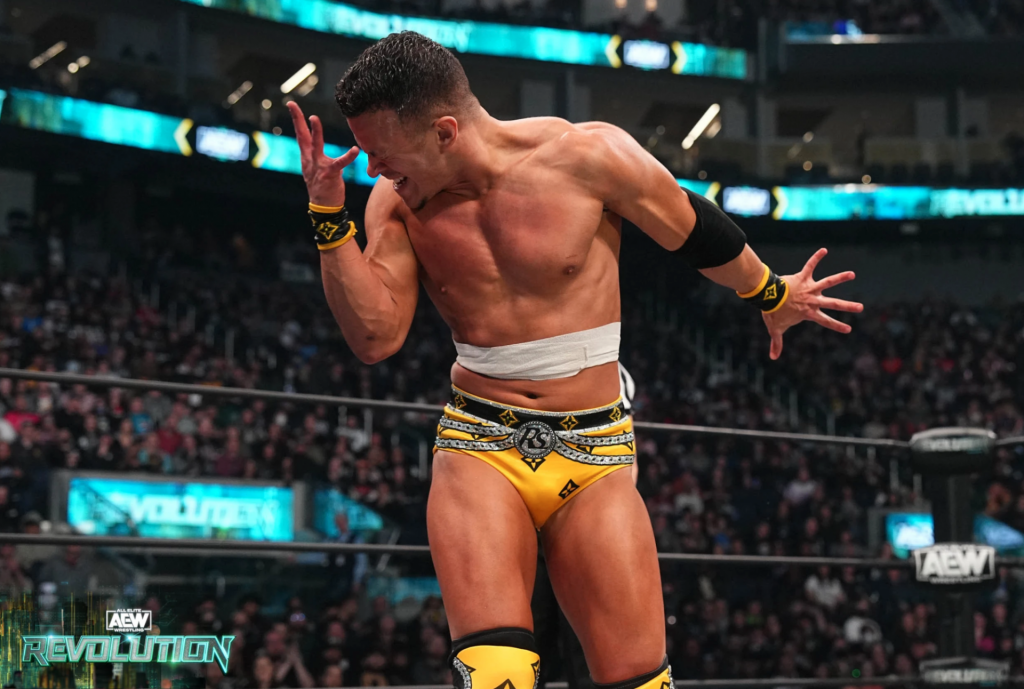 In the summer of 2023, Ricky Starks entered the Owen Hart Tournament Cup. Here, he faced stiff competition, including former friend and foe Will Hobbs, and the indomitable CM Punk. In the finals, Ricky Starks and CM Punk would clash with quickness and ferocity, before Ricky secured the win, and the trophy, using his cunning ring awareness to take advantage of a ref with his back turned. He used the ropes as leverage to pin Punk, securing his victory and igniting a months long feud.

While the Owen Hart Tournament signaled a new direction for Ricky, one filled with promise and intrigue, it also led him down a path of "disrespecting" legends like Jushin Thunder Liger and Ricky The Dragon Steamboat. In storyline, this was a descent into madness for the young star. In reality, it was an undeniable seal of approval from the industry's greats, each one elevating Ricky's trajectory into the stratosphere.

Ricky's actions with the legends of old and with his feud with CM Punk set him on a path to once again spar with the "best in the world", at AEW's All Out PPV in Chicago. However, Ricky found himself on a collision course with adversity yet again, with his opponent gone, and a feud that had ignited a spark of intrigue, was left wafting away in the dust.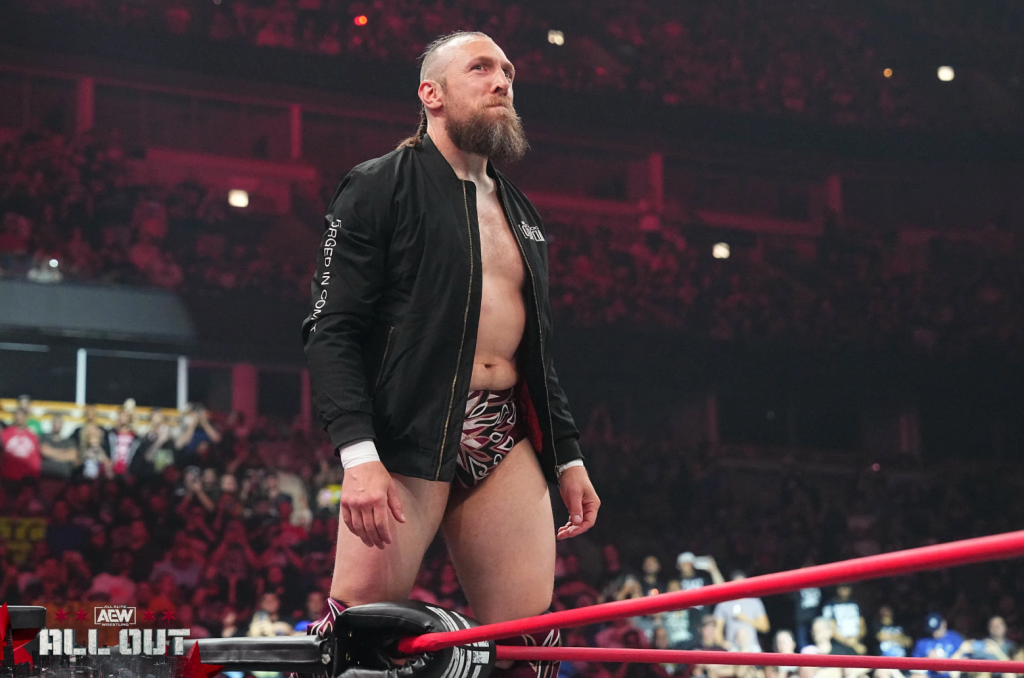 Enter The Dragon: A Star Goes All Out
The air was electric, the crowd a sea of anticipation. In the heart of Chicago, under the glimmering lights of the Now Arena, a tale of two warriors unfolded. In one corner stood the "American Dragon" Bryan Danielson, newly returned from injury, his face reflecting his delight of the gruesome battle to come. In the other corner, a rising star, the "Absolute" Ricky Starks, his eyes filled with an unquenchable fire of determination. The battle that would ensue between them would unleash an unwavering desire to above all else, survive the sheer force of unmitigated brutality they would impose on each other.

Bryan Danielson's return was a welcome surprise, to fans and Ricky alike. Indeed, what would transpire between them both elevated Ricky to the stratosphere, with a critically acclaimed strap match that would come to emulate the best of what both could offer when under pressure to deliver.

As the opening bell rang, Danielson's gleeful dance of violence began. Ribbons of crimson flowed freely, leaving trails of destruction on the ring, on the straps, and upon the faces of both men. Bryan Danielson, with his technical prowess, moved like a seasoned maestro, delighting in the chaos, while Ricky Starks wore a hunger to prove himself with a firm defiance written on his face.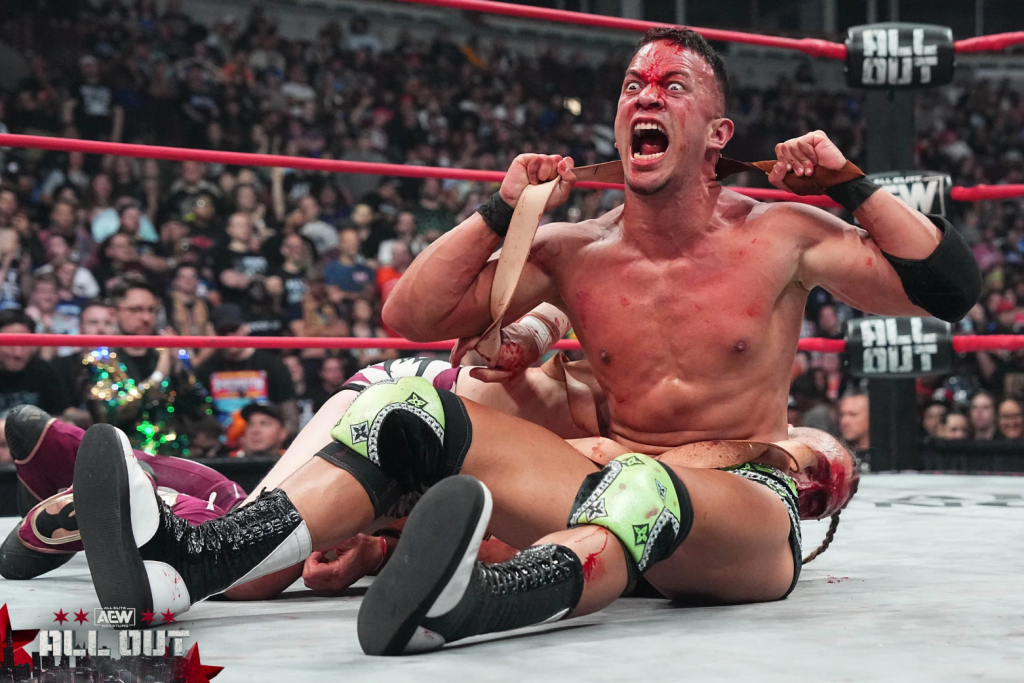 Ricky Starks and Bryan Danielson both delivered enormous amounts of pain unto each other. Starks left welts on the back of Danielson that would immediately begin to swell. Danielson would return the blows, as they viciously whipped each other in an onslaught of stinging blows. At one point, the eyes of Ricky Starks, once burning with fierce defiance, would glaze over from the sheer amount of pain. Drawing from his deepest reserves, he roared back to life with untamed anger, sheer dedication, and unwavering fortitude.

The "Absolute" one wasn't just fighting Bryan Danielson; he was fighting to etch his name in history, to show the world, and himself, that he truly belonged among the wrestling elite.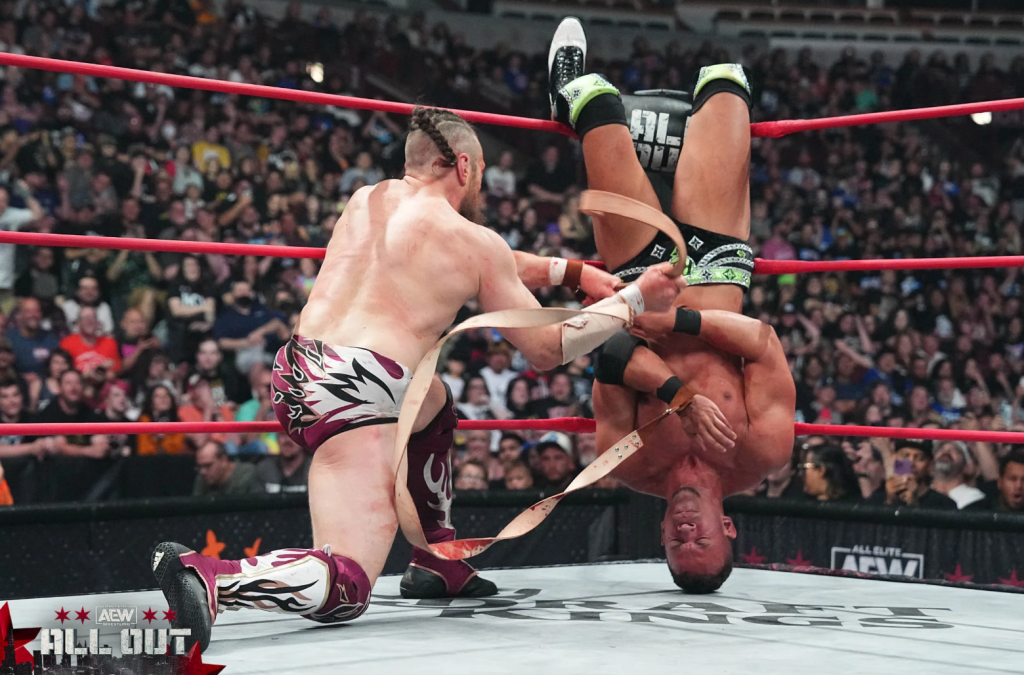 Ricky Starks used nearly every tool at his disposal to emerge victorious in this match. He had Big Bill at his back, to run interference. Ricky The Dragon Steamboat, on commentary for the match, got involved. Bryan Danielson, incensed at the disregard for the pure rules of the sport, flew to the outside, demolishing Starks and Bill, as Steamboat made his departure.

Starks, battered, bruised, and bleeding, summoned every ounce of strength he had for one last stand. He shot through Danielson with a spear born of defiance. To his shock and dismay, Bryan kicked out, and set his steely eyes upon him. As Bryan Danielson trapped Starks in the LaBell Lock, choking him with a strap covered in the gruesome red of their battle, Ricky Starks unwilling to accept defeat, reaching with every fiber of his being to endure, screamed, "NO!", before finally succumbing to Danielson's brutal and decisive end.

Later, Danielson would reflect on their match at the post All Out media scrum:

"Any time Ricky gets an opportunity, he knocks it out of the park." Speaking on his return from injury, and removing the "smoke and mirrors" of the show, he went on to say, "I will be the first one to say, he carried me through that match tonight. I'm good at a lot of things, I can fire up, I can do all of these things, but he was the one who carried it – who carried me through that match."

Once again, Ricky Starks found himself walking into fire – this time, in the absolute fire of hell itself. He emerged on the other side, not only proving to himself that he could do it, that he could hang with the best of the best and "hang with anybody," but also demonstrating to those who've reached the upper echelon of professional wrestling that he belonged right alongside them.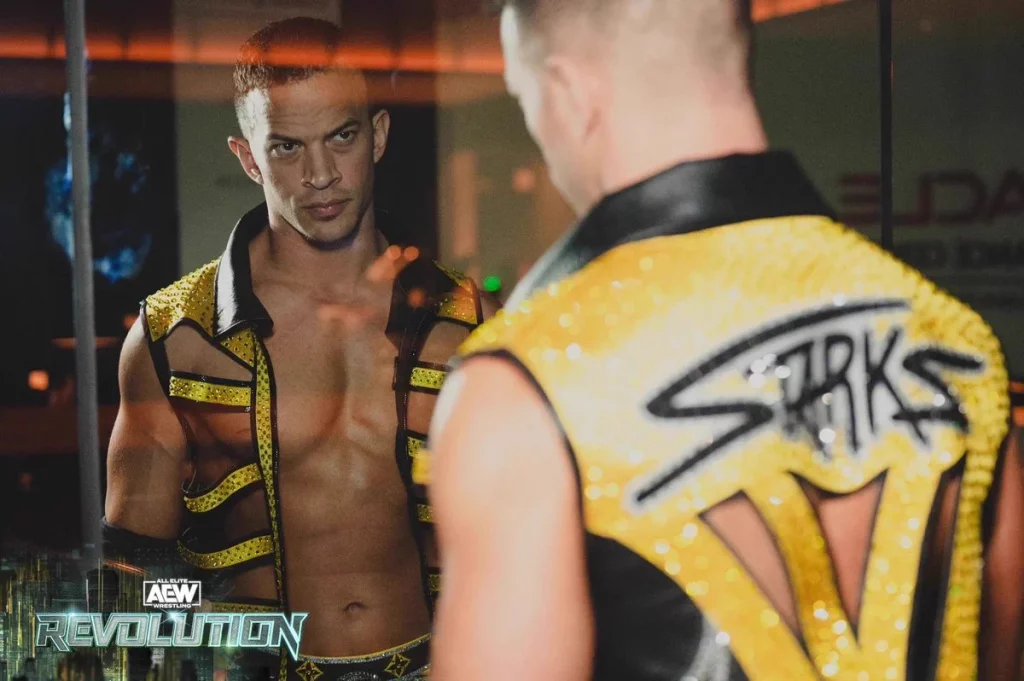 The Future is Absolute
Each feud that led to this point has put Ricky Starks to the test. Hobbs and Starks defined their careers as "future stars" who told a hell of a story of struggle and sacrifice. Starks and Jericho tested the waters of versatility and ingenuity. MJF and Ricky sparred viciously on the microphone, and in the ring. With Bryan Danielson, Starks faced a world of pain and resilience the likes of which he'd never seen before in All Elite Wrestling.

From the moment he walked through AEW's open door, Ricky Starks has been a study in determination, a testament to what can be achieved with grit and hard work. He has transcended labels and shattered ceilings, proving that he's not a future star—he is the star, here and now.
Time and again, Ricky has blazed a trail, becoming an irrefutable force in the wrestling world. His journey stands as a living testament to the unyielding power of work ethic, grit, and, above all, self-belief.
Gone are the declarations of "Ricky Starks is a future star."
The future is now.
The future is bright.
And the future is ABSOLUTE.