For a wrestling fan nothing beats being in the crowd at a show. Our cheers echo throughout the arena when our favorite wrestlers walk out to the ring. Many of us even sing along to their entrance themes. It's a great experience that none of us want to take for granted. When the COVID-19 pandemic reared its ugly head this spring, the chance to enjoy that experience was stolen from all of us. With the world trying its hardest to adjust to this new normal, various promotions are slowly bringing live audiences back to their shows. Among them is All Elite Wrestling.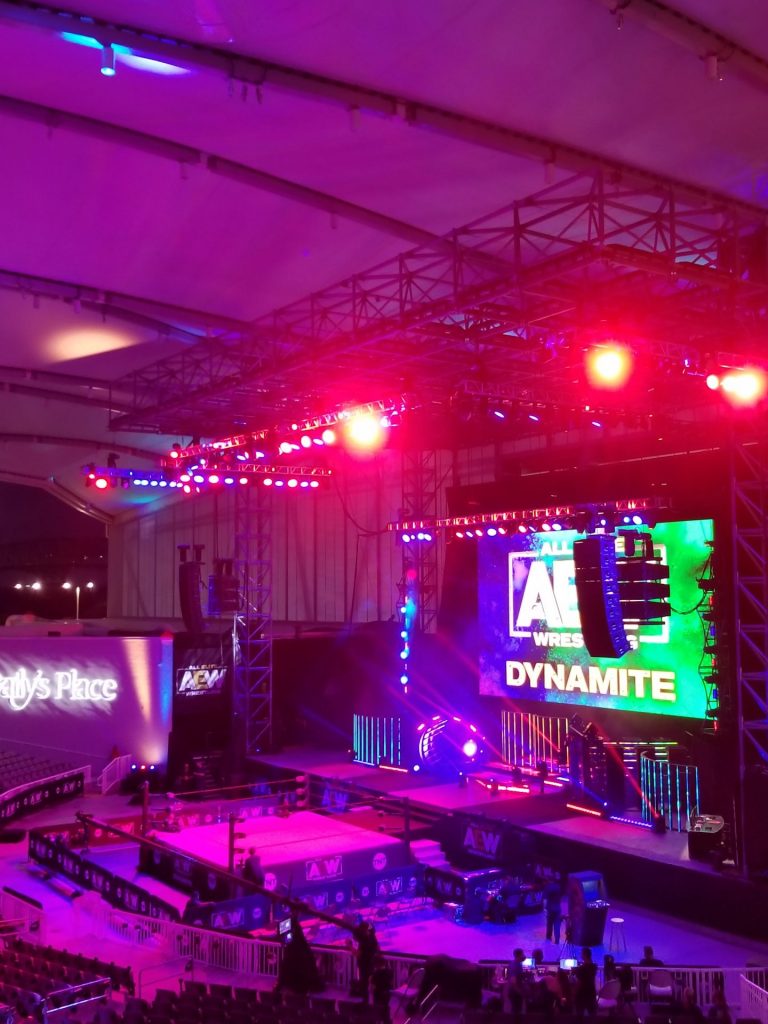 On October 6, 2020, I got to attend that week's filming of AEW DYNAMITE. It was my very AEW live show, and it definitely didn't disappoint. The show itself was fabulous with AEW's usual mix of outstanding storytelling and match quality. Given the current state of the world, the experience was pretty unique. However, even with the protocol that had to be followed, the show was still a lot fun. To AEW's credit, the protocol was properly enforced without issue. It also felt like fans were doing a good job of following instructions. Here's a glimpse into what it was all like.

I was super excited to head over to Daily's Place for the show with my husband, brother-in-law, and his girlfriend. Since Jeff and I had gotten our tickets at the last minute, we were going to be sitting in a different section of the venue. As a long time Golden Lovers fan, I chose to channel Kenny Omega for my look since he's my favorite AEW wrestler.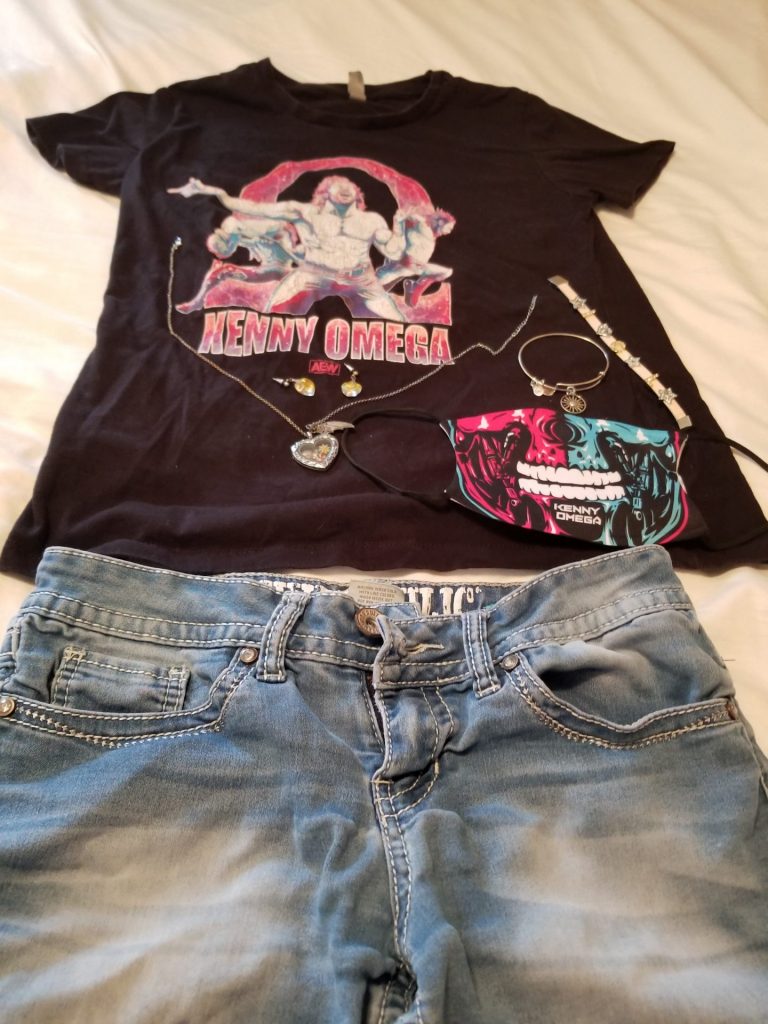 We arrived at Daily's Place not too long before bell time. It didn't take too long to get through security. The process included a temperature check via face scan and walking through a metal detector. It went very smoothly. After that we got some popcorn at the concession area then it was to our seats from there. We hed a perfect view of the ring despite the large speaker next to the video screen and the crane for the hard camera. Throughout the show, we noticed that the ushers at Daily's Place were doing their best to enforce the mask policy. Social distancing was also being practiced which was great to see.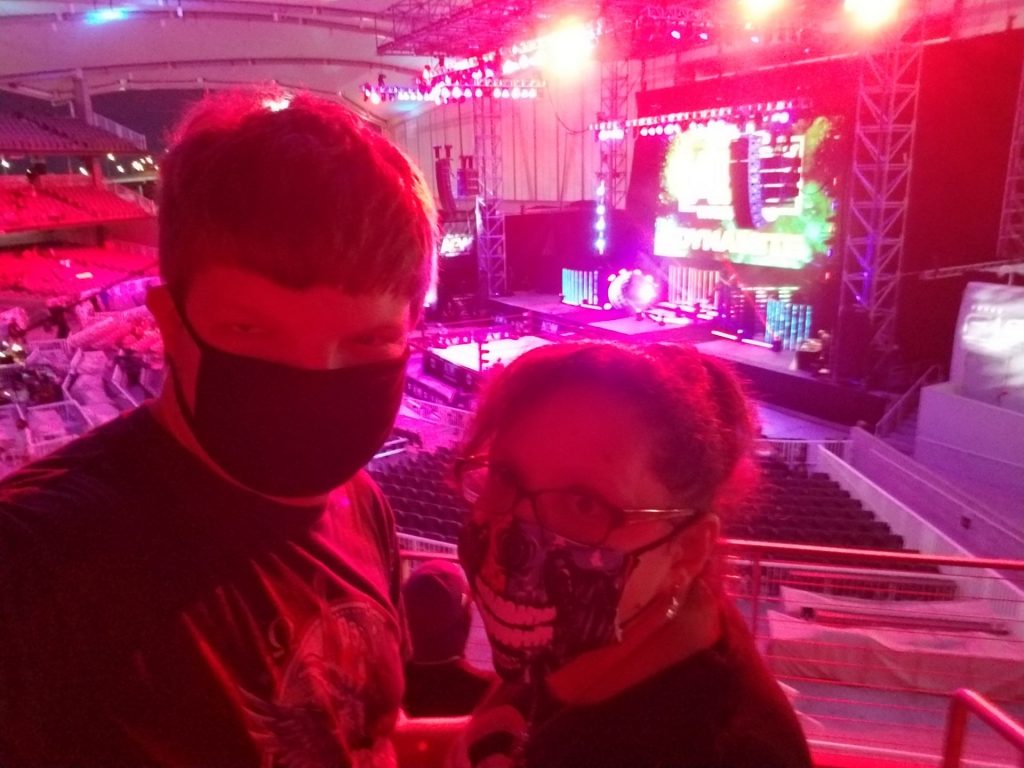 Overall it was a great show with a great card. My favorite match was definitely the dog collar match between Cody and Brodie Lee. It was an all out war between them with both men pushing each other to the absolute brink. It was also great to see a special guest sitting in the audience to watch the match: legendary WWE Hall Of Famer, Greg 'The Hammer' Valentine. The crowd went crazy when Orange Cassidy appeared to challenge Cody to a match on the next episode of DYNAMITE for the TNT Championship.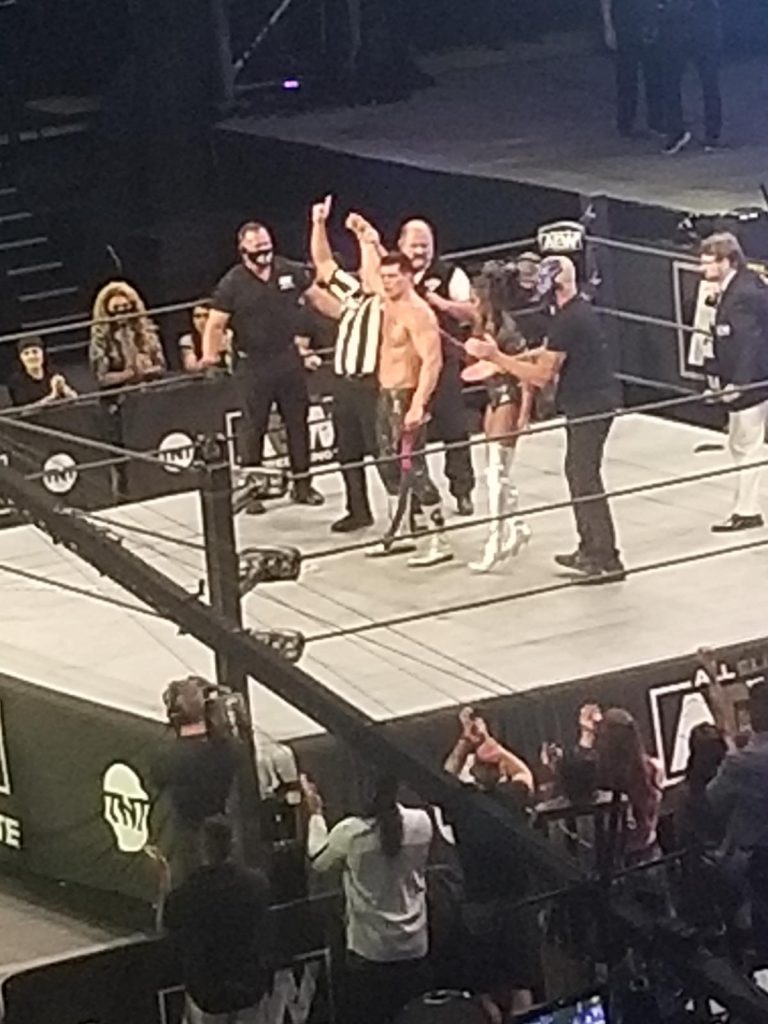 There were other great moments like Big Swole's match against Serena Deeb and Chirs Jericho's 30th anniversary celebration, which included the usual 'Judas' sing along. One of the best moments was a surprise video message from the Ace Of The Universe himself, New Japan Pro Wrestling's Hiroshi Tanahashi.
All in all, my first AEW show was a fabulous experience. Following the extra safety precautions was of course worth it. Both AEW and the staff at Daily's Place set a great example of how to bring fans back to live events, and in the wake of the global pandemic that was definitely a welcome sight. Hopefully that will lead to more fans being allowed back when the time is right.