My favorite wrestling story of 2020 started and ended with a minivan.
As strange as this year has been, that probably shouldn't surprise me. This is a year where we've had a two night WrestleMania with no fans, a match that was billed as "The Greatest Wrestling Match Ever" before it even happened, and Orange Cassidy beating Chris Jericho in a Mimosa Mayhem match on pay-per-view. Shit has gotten weird, and it's not like a month long feud over someone's mom's minivan would be the most ridiculous wrestling storyline you'd see – even in a normal year. For some reason though, this story got me and it took me a little while to realize why. It's one of those rare storylines that I could see happening in my real life at certain point in time.
In some ways, pro wrestling is like high school turned up to 11. You've got your popular kids, your outcasts, a bunch of cliques, not to mention everyone's as emotional as a hormonal teenager and ready to explode at the drop of a hat. The difference is, in wrestling, and especially in AEW, even the most personal storylines usually come down to proving who is the best or trying to work your way up the rankings towards a shot at a belt. That makes perfect sense in the world of wrestling and it needs that competitive nature to work. But for most of us, it's not exactly relatable when you're watching someone getting beaten bloody over a shiny gold belt for the chance to be number one – because how many of us have been in that position? It's easy to relate with wrestlers. It's not always easy to relate to your usual wrestling storylines.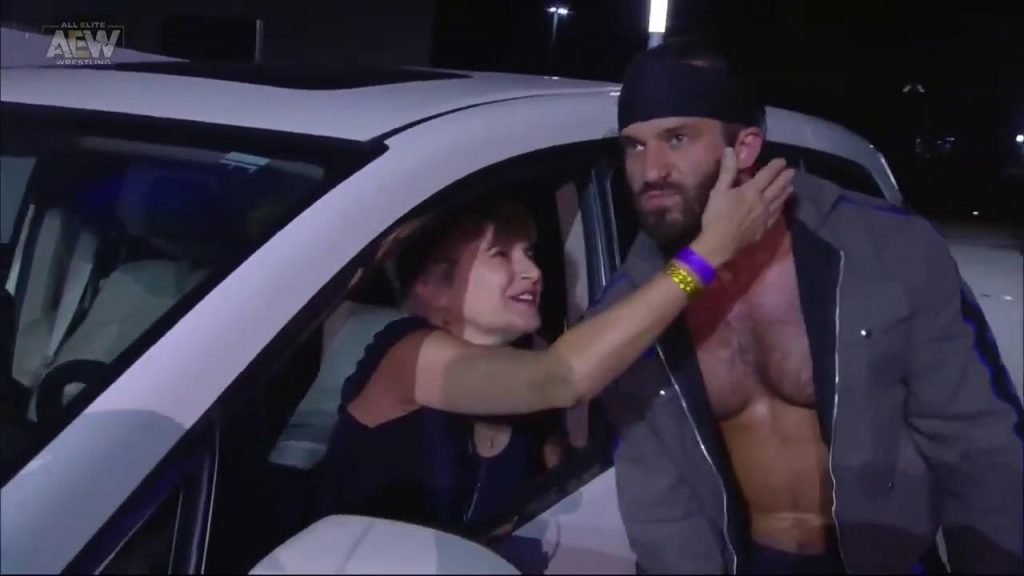 However, a lot of wrestling fans have moms, and a good number of those moms have owned minivans. I had at least two friends in high school that would drive their mother's van to school, and if you didn't have to do it yourself, I bet you know someone who did. I can't imagine someone cracking me in the back with a steel chair to steal my belt (not even the sweet white one I had with a Transformer's belt buckle back in sophomore year) or finding the resources to dump 1,000 gallons of orange juice on my head, but I can imagine getting into an argument with some guys and them messing with my best friend's mom's van. If that happened, you're damn right there would be hell to pay!
Let's back up and set the stage for just a second. Santana and Ortiz may have crossed the line when they demolished Sue's van in early August. This story only works as well as it does because we formed an attachment to Trent's mom and her ride back at Fyter Fest on July 1st, when she drove the Best Friends into the arena prior to their huge title bout with Kenny Omega and Hangman Page. Chuck and Trent may not have been successful in capturing gold that night, but their wholesome appearance with Sue certainly captured the hearts of the AEW fans, and their goofy little entrance was one of the highlights of a ridiculously stacked show.

A month later, AEW released a video just hours before Dynamite, featuring Chuck and Trent nervously asking the latter's mom for permission to borrow her van to get to work that night. After listening to them assure Sue that they'd take great care of the van and keep it safe… well, any wrestling fan with half a brain probably heard warning bells. It may have been a surprise when the Best Friends pinned the streaking Santana and Ortiz on Dynamite that night, but it was painfully obvious that Sue's ride was in serious danger when the Inner Circle's "thugs" (as Chris Jericho likes to call them) decided to appear in the parking lot after the match.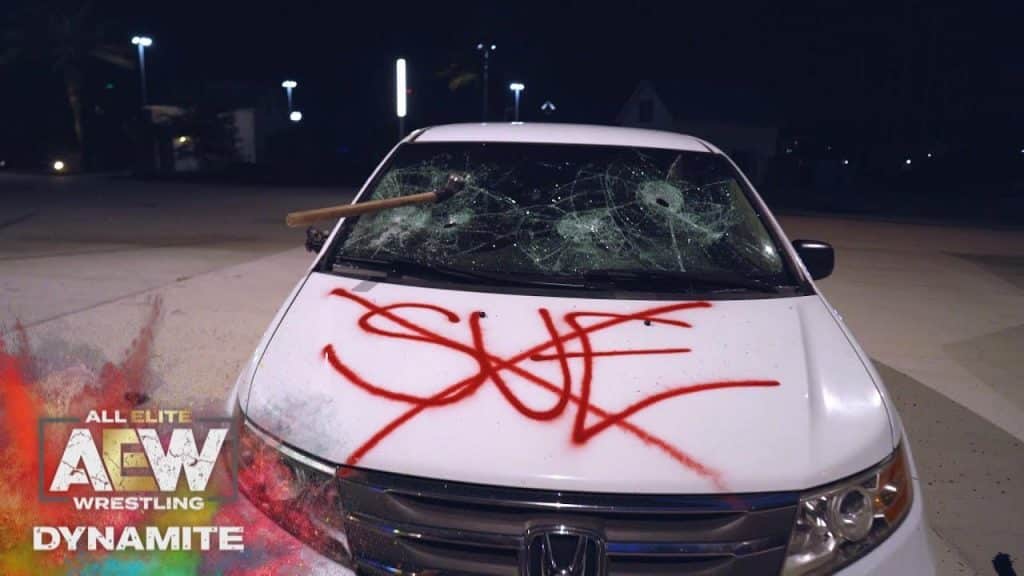 The two absolutely destroyed the van. Using sledgehammers to smash damn near every inch of it, they topped things off by spray painting "Sue" on the hood, with Santana telling Trent, "Tell your moms, we said what's good!?!" as Ortiz chucked his hammer into the windshield. Just like that, a normal Dynamite match between two top teams turned into one of the hottest rivalries of the year. A furious Chuck and Trent vowed revenge, with a livid Chuckie T saying that they had "made a liar out of him" as he had sworn to keep his best friend's mom's van safe, and Trent vowing to make Santana and Ortiz "personally apologize to my mom, on speaker phone."
Things only continued to escalate over the next month. The week following their destruction of the van, Proud and Powerful stole the Best Friend's luggage from their locker room and soaked it in bleach in the showers. Two weeks later, the teams went head to head, with Chuck and Trent uncharacteristically attacking Santana and Ortiz during their entrance and coming for blood, but falling short after Trent was smacked in the back with a baton by Santana and was flattened by a Street Sweeper in route to an Inner Circle victory. Then, the teams ended up getting into it during the Casino Battle Royal at All Out and the following Wednesday on Dynamite when Santana and Ortiz attacked Orange Cassidy from behind. The challenge for the big blow off match was made: Best Friends vs Proud and Powerful in a Parking Lot Brawl.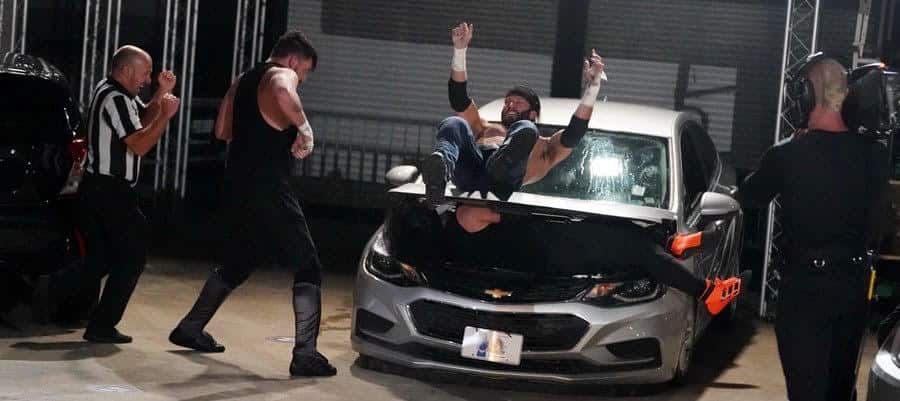 I've been a wrestling fan for 20 years. I've seen every form of street fight and parking lot brawl you could imagine. I've never watched four men completely ruin each other the way that Trent, Chuck, Santana and Ortiz did on September 16th. The Inner Circle members showed up with painted faces that gave homage to the 90's film Dead Presidents, and it was clear from the moment the match started that things were about to get ugly.

Posted up in the parking lot surrounded by various cars, the two teams went to war, denting hoods, breaking off mirrors and shattering windshields for almost 15 minutes as they sprinted through arguably the most brutal and awe inspiring match in Dynamite history. In the end, it was a surprise appearance from Orange Cassidy that swung the bout in the Best Friend's favor, as "Freshly Squeezed" popped out of a random trunk and nailed an Orange Punch on the jaw of Santana with a fist full of steel chain. A Crunchie from Trent on Ortiz sealed the deal.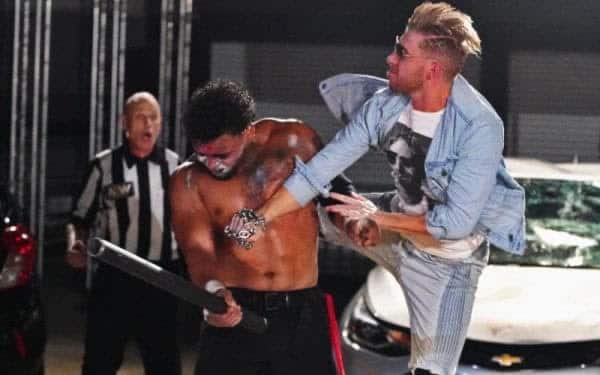 An exhausted and battered Chuck and Trent hit their signature (and admittedly lackluster this time around) hug in celebration and were soon joined by Sue, who pulled up in a new and improved minivan to drive her son and his "Best Friends" home after they'd defended her honor. A middle finger from Sue as she and the trio drove off became the defining image of an incredible match and rivalry, and in its own little way helped cement the match as one of the most entertaining and memorable street fights in wrestling history.
Like I said earlier, pro wrestling is basically high school turned up to the umpteenth degree, and this feud felt like the most relatable wrestling rivalry I've seen in ages. Unlike Santana and Ortiz, the usual high school bullies PROBABLY wouldn't smash the van with sledgehammers and spray paint mom's name on the hood. And if a fight at my school resembled anything close to what we saw in the Parking Lot Brawl, I'd assume I must have enrolled at Angel Grove High. However, I've also met bullies like Proud and Powerful who will disrespect your family and your property over something petty, and I've definitely felt like Chuck and Trent and wanted more than anything to get back at those scumbags and defend themselves to get some revenge.
As ridiculous as "a blood feud that starts with the destruction of a minivan and ends in arguably the best Parking Lot Brawl of all time" sounds on paper, the fact that it worked so well proves that as long as the story hits the fans in the chest and makes them feel something, it doesn't matter how over the top or simplistic it is. While pro wrestling certainly needs to be serious and competitive, sometimes the best stories are a little softer and hit closer to home and I really hope that's something we continue to see from AEW going forward. This little "comedy" feud produced one of the best matches in Dynamite history, and at the same time, helped the audience learn about and connect with all four men in a way that they hadn't before.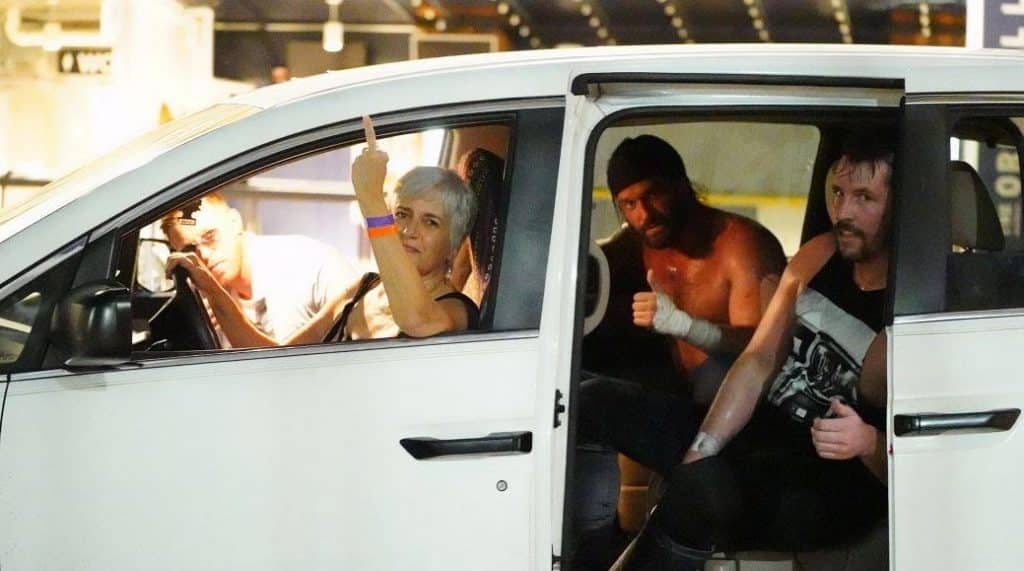 We saw Santana and Ortiz get more intense than ever and learned how brutal they can get when pushed to their breaking point. The Best Friends showed us they're far more than just a comedy duo and are more than willing to roll up their sleeves and get violent when necessary. But most importantly, to paraphrase Trent, we learned you can do whatever you want to Trent and Chuckie T. You can throw chairs at their heads, and Proud and Powerful could hit them with their "little socks" all they want. But you don't mess with the man's mom's van!