Who would have thought that NXT's eco-warrior, sign-wielding hippie, CJ Parker would find his home in New Japan Pro Wrestling and become a stalwart as one of their very best?
Juice Robinson is the complete package – the quintessential good guy, he wears his emotions on his sleeve, and is universally adored. An entirely rounded performer, his innate charisma is a source of constant entertainment in and out of the ring. His stature allows him to brawl with the beefiest of hitters, get technical with those more savvy, and his backstage comments have earned him thoroughly deserved acclaim as one of the best promos in wrestling today. The ever-versatile Juice has made Japan his home and defined himself as an essential cog in the NJPW wheel; his ascent through NJPW has been profound the last few years. His character has steadily grown from underdog to contender to champion – evident through these four matches.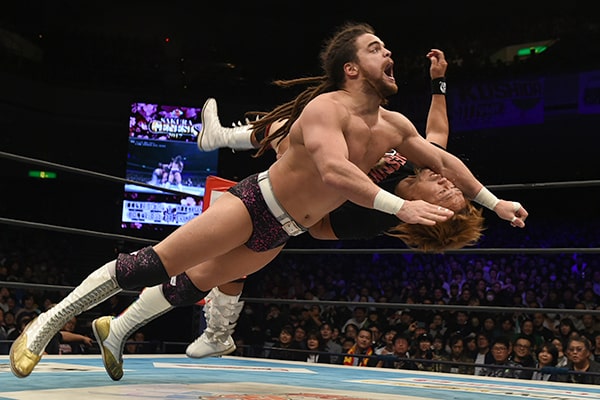 vs Tetsuya Naito – IWGP Intercontinental Championship, 29th April 2017
The one and only time that Juice challenged for the Intercontinental title, easily the most significant match of his career up to that point. It was the biggest possible spot; a main event proving ground that would signal Juice's worth for years to come and lead to his association with two words that would define him: heart and honor.
Naito spends the majority of the match in control, immediately going for Juice's knees with surgical precision, intent on torturing him, but Juice flourishes in explosive spurts that gets the crowd earnestly cheering for him. It's the tried and tested story of an underdog fighting from beneath – one that works tremendously with a hero like Juice.
This was prime tranquillio Naito who had no regard for his opponents or even the prestigious title he was holding at the time. His arrogant confidence blinded him from the legitimate contender that Juice would be. A last gasp top rope frankensteiner counter is turned into a powerbomb, with Juice saving himself and giving Naito a devastating shock. The immediate follow up powerbomb has the Beppu crowd certain that Juice's victory is secured.
To the surprise of the crowd and more astonishingly Naito, Juice manages to kick-out of Destino and is able to hit Left Hand of God, absolutely rattling Naito and leaving him in a heap. Inevitably, a second Destino would be too much and Naito retained his title. Juice left empty handed but ushered in what would be his trademark for the immediate future, his role as lovable underdog.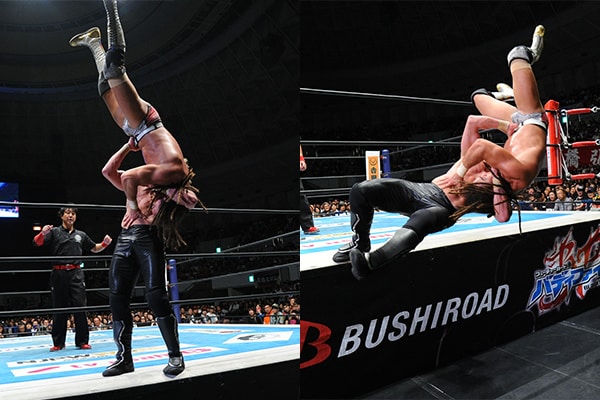 vs Kenny Omega – IWGP US Heavyweight Championship, 24th September 2017
At this point, Juice's character and look were more fleshed out, making his entrance with a vibrant jacket and an onslaught of rainbow tassels on the sleeves, one of the many colourful looks that he would employ over the years.
Juice valiantly wanted to out-wrestle the IWGP US Heavyweight Championship Omega, making it a point to not target Kenny's recently surgically repaired knee. For his efforts, Juice is rewarded with a hellacious beating, taking the signature moves Omega is known for and more.
Halfway into the match Juice reluctantly makes a heavy decision that goes against his character when he zones in on Omega's repaired knee, much to the antipathy of the crowd who are accustomed to their honorable and upstanding Juice. It's an important moment for Juice, a development in his identity that would eventually lead to future success. The stark realization that sportsmanship may have to be overlooked if he wants to achieve victory: naivety replaced with tenacity.
A sickening brainbuster from the apron to the floor and an onslaught of dragon suplexes and v-triggers puts Omega firmly back in control. In trademark Juice fashion, he refuses to give up – a tiger suplex, two Left Hand Of Gods and Pulp Friction have Omega knocked out – until two seconds later when the champion escaped the pin-fall and became the first man to ever kick out of Pulp Friction. The next move decides the match, a herculean One Winged Angel from the second rope sealing the deal, Omega having to go to extreme lengths to keep the resilient Juice down.
Much like the match against Naito, Juice lost but it added more depth to his underdog character, as he was closer to winning a title than ever before, barely missing out. A 5 star match in the eyes of many, proving once again that Juice is a main event player, his time in the spotlight inevitably drawing closer.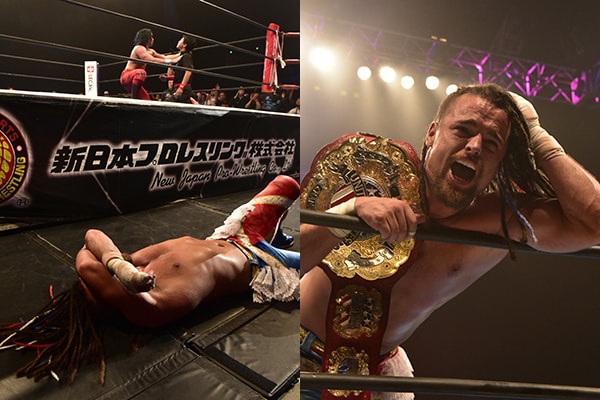 vs Jay White – IWGP US Heavyweight Championship, 7th July 2018
Few things are better than the underdog finally getting his day. What makes it even sweeter is when the odds are stacked against them more than ever before. Juice was forced to compete with a cast over his broken left hand, a unwanted gift from Jay White. If Juice used that cast he would be disqualified, taking away his Left Hand of God, a move that is paramount to his offense, before the match even began.
This is the match that turned Jay White and Juice Robinson into an uber-heel and baby face respectively. Juice enters the match confident, he knows who he is now and he damn sure knows what he wants. He's facing a man who is his spitting opposite. Where Juice is honest and honorable, White is devious and smarmy and has no hesitation in attacking Juice's broken hand.
As has often been the case for Juice, the match is controlled by his opponent. Any rhythm that Juice gains is quickly disrupted by White, all fires quickly extinguished. Unlike Juice's previous title challenges, this breaks down into an ugly brawl immediately. Both men hurl each other through the security railings like never seen before, at one point literally causing sparks to appear.
A thumping side Russian leg sweep from the apron to the floor gives the control to Juice until White purposefully has the referee distracted, affording White the chance to hit a low blow. This is where the slow burn character building in the past year of Juice's career pays dividends. Ten months prior he reluctantly targeted Omega's weak knee, but now there is zero remorse when Juice retaliates with the Left Hand of God, blistering Jay White with the cast and following up with an emphatic Pulp Friction. But just like against Omega, White survives. Even with the help of the cast, Juice still couldn't secure the big win.
Quickly realizing his grasp on the title was loosening, White grabbed Juice to hit Blade Runner only to have it countered into a roll-up for the bombshell three count. Finally, Juice Robinson had won his first title in New Japan! To his credit, Juice warned us in his backstage comments in the build-up to the match, "I can roll a motherfucker up."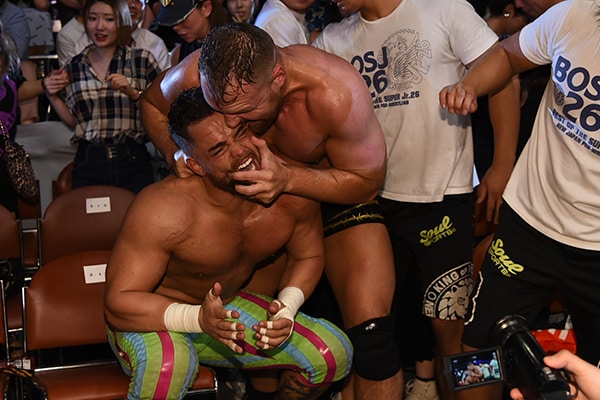 vs Jon Moxley – IWGP US Heavyweight Championship, 5th June 2019
Destiny or fate, it was poetic that the unshackled Jon Moxley's first match in NJPW was against Juice Robinson, two men who left WWE in hopes of progressing their careers. It was a match where the focus was predominantly on Moxley, but at its culmination both men left elevated.
In the biggest visual change to his character since joining NJPW four years prior, Juice sheared his signature dreadlocks, indicating that this would be a different Juice Robinson. Here stood a determined and defiant Juice, now into his second reign as IWGP US Heavyweight Champion, he was no longer the underdog.
A raw and brutal brawl would be the agenda for the match with very little elegance and a heap of erratic destruction. Fighting through the crowd with literal clawing and biting, a death-defying dive from the stands to the floor, heart-stopping lariats, and tables that, much like Juice, refused to break on first impact. Juice gave Moxley a stiff welcome into the cerulean blue NPJW ring and Moxley gladly returned the gift.
Battered, bloody and beaten, Juice left that night without the title that had become synonymous with him. Unlike his previous losses that saw him pushed to greatness with the support of others, Juice was now the one helping Moxley achieve greatness. This was a far cry from Juice's first title challenge two years prior.
The underdog story is complete for Juice Robinson. It took ten attempts for him to win his first NJPW title, five of those chasing singles glory. Now, Juice is at a point in his career where he is established and can lead. Alongside David Finlay, the pair won the 2019 World Tag League and the IWGP Tag Team Championships at Wrestle Kingdom 14. It's only a matter of time until we see Juice challenging for the IWGP Intercontinental Championship again. With years of character development, in-ring experience and success in his pocket, he'll be substantially primed to win the prestigious title than he was in his initial attempt. Even the coy Tetsuya Naito agrees, "I see a lot of promise in him. I'm not just being nice. The sky's the limit for him."