This Wednesday night on AEW Dynamite, Nick Gage will be in his first ever prime time televised matchup. Chris Jericho will step into the ring for the second 'Labor of Jericho' in a no rules match with the Deathmatch King, set by MJF. This matchup comes just days after Gage lost his GCW Championship to Matt Cardona in a deathmatch that became an instant legend in the wrestling world. A match that saw Nick Gage utilize his coveted Pizza Cutter as a weapon on Cardona multiple times. The same pizza cutter Gage held high above his head as he stared down Jericho on last week's Dynamite.
For many fans, the announcement by MJF came as a complete shock. Some knew of Gage, but a great deal of the audience knew little to nothing about him. MJF announced him as a man who does whatever it takes, including robbing a bank, a reference to Gage's real life criminal history. Those who do know of Gage either respect him a great deal or despise him for the style of wrestling he dedicates himself to.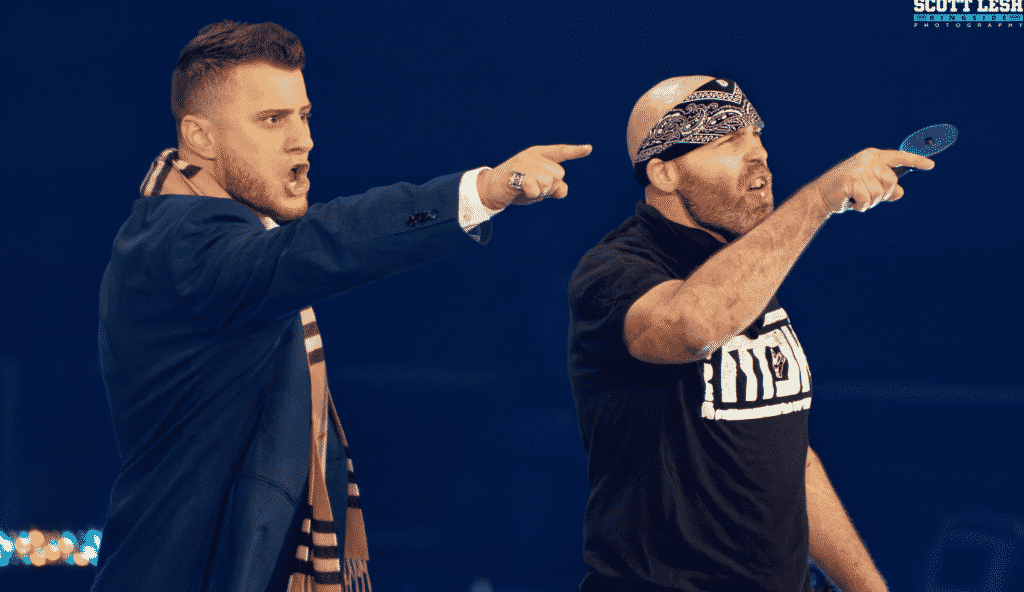 With a troubled history and a dedication to a frowned upon style of wrestling, it's easy for people who are unfamiliar with Gage, to assume the worst. However, those who follow him closely know that Gage is as humble as they come, taking the time to take a picture with every last fan after his matches. One thing is absolutely clear, Gage appreciates his fans. He has a special relationship with the people who support his career, as many of those same fans were there to show support while Gage was in prison. Nick Gage is far from perfect, but his dedication to his craft and his love for his fans should never be overlooked.
You might assume that Gage has always been entrenched in deathmatch wrestling, however, his introduction was a bit more traditional. He would watch NWA on television with his father and brother appreciating talent such as Ric Flair and Dusty Rhodes. He and his brother would wrestle at home, with Gage typically taking the beating as the younger sibling. While he continued to enjoy professional wrestling, some of the nature within the WCW and WWF at the time had turned Gage off the product.
However, this wouldn't last too long as the Philadelphia native would turn on his television and come upon something completely different. On a local channel he found ECW on television and immediately became interested again. Eventually, he would begin tape trading and get his first taste of deathmatch wrestling. Matches like Terry Funk vs. Cactus Jack sealed the deal for Gage, opening a whole new world for him.
Eventually Gage and his brother Chris would take their wrestling a step further and create their own ring. The two teenagers would use a trampoline, wooden fence posts, and barbed wire to create their own wrestling ring. They would eventually start to run small scale shows locally under the promotion Hardcore Backyard Wrestling. They even released their own merchandise and produced tapes that were shared around at school. This would actually lead to Nick Gage joining his school's wrestling team in 12th grade. The wrestling coach saw the tapes Gage shared at school and encouraged him to join the team.
He would do relatively well wrestling his senior year and in an interview with Chris Van Vliet, even explained he wished it was something he did even younger. The school wrestling coach would not be the only person to come upon the tapes. A friend of Gage's from school named Ace Robinson would share the tape with his father who was close with a wrestling promoter. That promoter would be John Zandig, who invited Gage and his brother to his wrestling school after seeing the tapes.
They would agree to go, but not without issue. On the first day of training, Gage had a baseball game earlier in the day. Unfortunately, he couldn't find the school so he ended up missing his first day of wrestling training. From that point forward, he would apply himself fully to training with Zandig at his CZW wrestling school. He would train Monday through Thursday until 10pm then leave the wrestling school to go work an overnight shift from 11pm – 7am every day.
Gage was incredibly dedicated and had a desire to wrestle the ECW extreme style of wrestling. He, along with his brother Chris, under the moniker Justice Pain, would wrestle for CZW for a number of years. They would feud and compete as a team, with both superstars seeing success within the promotion. They consistently wrestled in deathmatch style matches and events such as a staple gun deathmatch or tournament of death. Nick Gage would form a team with another wrestler named Nate Hatred. The duo would be called the H8 Club, becoming one of the top teams in the company.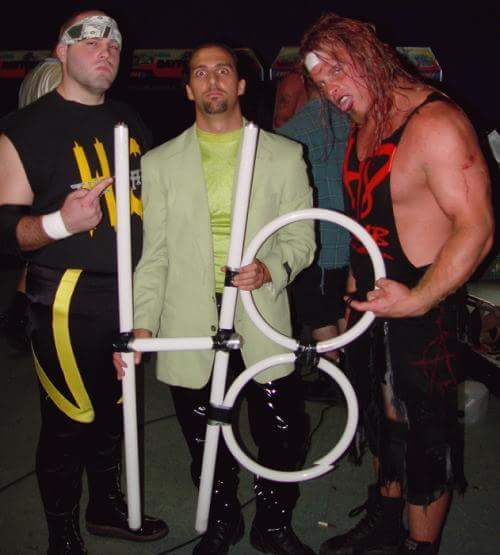 During the early 2000s, Gage wrestled everyone from Ian Rotten to Chris Hero and Kevin Steen. Despite his deathmatch style, Gage would still get in the ring with a number of wrestling's best at that time. He would also wrestle in a number of deathmatch tournaments during this time including, King of the Deathmatch, Tournament of Death, and The Carnage Cup.
In 2009, during CZW's Tournament of Death, Gage would literally live up to the name of the event. After defeating Scotty Vortekz and Jon Moxley in the second round of the tournament, Gage would advance to the finals. He faced a German wrestler named Thumbtack Jack in a 200 light tube match in the finals. During the match, Jack tossed Gage through a number of light tubes and the ropes to the outside of the ring. During this spot Gage would be severely cut on his arm.
He was rushed to the back and checked on by the staff on hand. Despite his attempts to just be taped up and return to finish his match with Jack, Gage was taken to the hospital via helicopter. While on the way he was pronounced dead for seven minutes before being brought back to life. This injury would not keep him sidelined for long as he returned to action a week later, attacking Thumbtack Jack at the next CZW event. He continued wrestling for the company for a number of months before hitting a massive roadblock.
In December of 2010, Gage was arrested after robbing a PNC bank. In a moment of desperation and lack of better judgment, he robbed a bank and fled to Atlantic City to gamble for a number of weeks. He would eventually turn himself in and by some, Gage has been mischaracterized by this event. For many, they have the benefit of not dealing with addiction and due to lack of understanding, judge Gage by the event rather than the person. However, fortunately not everyone feels this way. For Gage, this turn of events would become a blessing in disguise.

Despite having to serve five years in prison, he would find a positive in all of it. While serving, Gage would develop a relationship with his fanbase he never would've expected. Countless fans began writing to him, expressing the impact he had on them and encouraging him to stay strong. This unexpected support would give Gage the mental strength to persevere through his sentence. While in prison, he would also reengage himself with the Church, becoming the assistant to the Chaplin after being encouraged to do so by Sister Corina, a nun at the prison. Gage would do everything he could to serve his time, better himself, and return as the best version of himself for his fans.
He returned from prison with an even stronger love and appreciation for his fans, with a desire to give them the absolute best. He attempted to do this right away with the first ever Nick Gage Invitational, however, an unfortunate situation would prevent his participation at this event.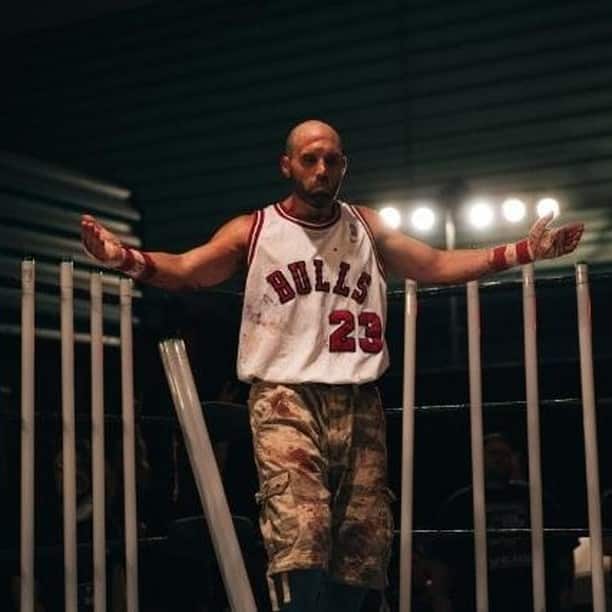 He eventually made his CZW return 2015, wrestling in their Tournament of Death once again. He would also make his debut for GCW, then known as JCW, a company that would become his new home. Upon his return, Gage would immediately be received by fans as a favorite and cheered consistently. His relationship with the fans grew even stronger, and eventually he would create MDK, the Murder Death Kill gang. This is a gang that represents the fans of Gage throughout independent wrestling and one Gage believes in wholeheartedly.
Since then, MDK has done nothing but grow and expand its roots. Nick Gage, alongside his home promotion GCW, has become one of the biggest names in independent wrestling today. He embodies the style of deathmatch wrestling and continues to put on stellar matches, breaking ground for a style of wrestling he loves. He's also been one of the faces of GCW, a company that has grown exponentially over the last few years in large part due to Nick Gage.
Most recently, Gage was the GCW World Champion and held the title for over 100+ days. He would defend it against a number of high quality competitors. However, on July 24th, during GCW's Homecoming event, he would lose the championship to Matt Cardona in a gruesome deathmatch. Despite coming up short, it was clear that his diehard fanbase still had his back. Following his victory, Matt Cardona was pelted with hundreds of pieces of garbage from enraged fans. The fans were disgruntled that their guy Nick Gage lost to someone outside of their world like Matt Cardona. Just another testament to the feeling Nick Gage can instill in his fans.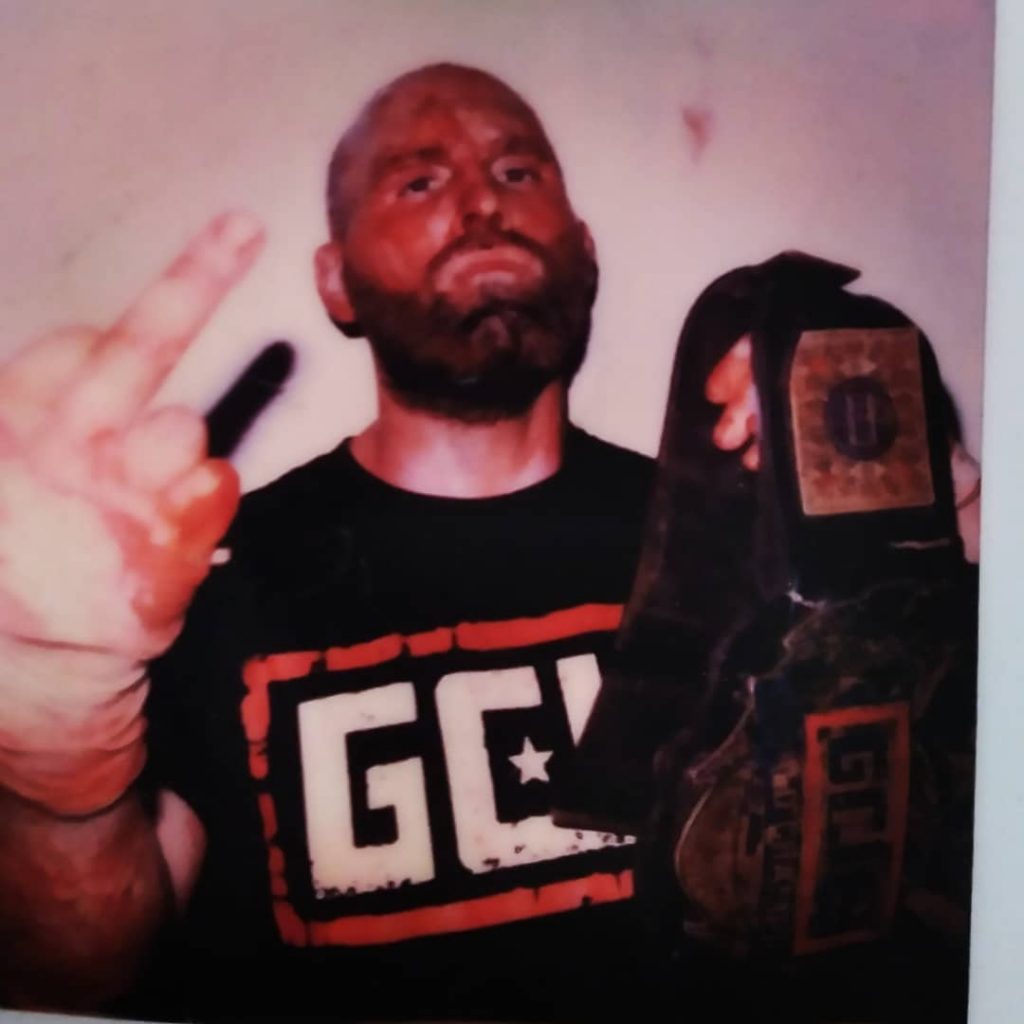 He has expanded his reach, wrestling for countless top promotions like AAA, Chikara, Beyond, AIW and more. Gage has wrestled countless superstars of a whole new generation, such as Keith Lee, Matt Riddle, and Tom Lawlor, just to name a few. He has also helped pave the way for deathmatch wrestling, competing with names like Jimmy Lloyd, AJ Gray, and Alex Colon. Everywhere Gage goes, he's looking to put on a show for his fans and help build deathmatch wrestling.
From wrestling a deathmatch on a Friday with Matt Cardona to making his AEW debut on a Wednesday night against Chris Jericho,Nick Gage continues to write his own story. Through thick and thin, Gage continues to pave new ground for a style he loves and also does it for the love of his fans. After every single show, Gage continues to take pictures and remind his fans that this is for them. While many may judge those who support Gage, know he lives for this and for his fans, as well as for himself, it's MDK All F'N Day!