In 2019, IWGP Intercontinental Champion Tetsuya Naito announced his desire to hold both the IC Title and the IWGP Heavyweight Championship simultaneously, a decision eventually backed by both the next IC Champion Jay White and the Number One Contender to Kazuchika Okada's Heavyweight Championship, Kota Ibushi. Following a fan vote, New Japan Pro Wrestling announced that there would be a mini tournament at Wrestle Kingdom 14, with Okada defending his IWGP HW Title against Ibushi, Jay White defending his IWGP IC Title against Naito, and the winners facing off for both titles. In the end, Naito laid history to rest as he defeated both White and Okada to become the first dual champion, winning the IC Title for the fifth time and the HW Title for the second time.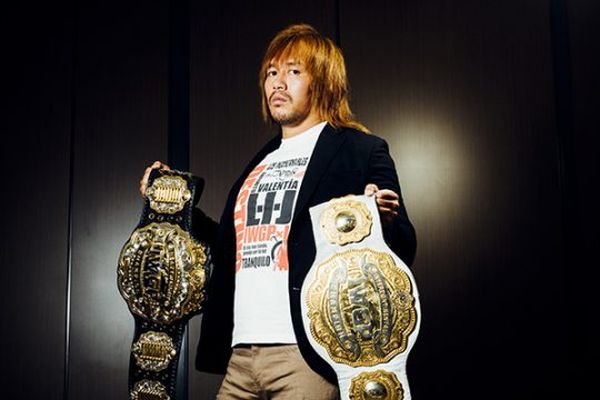 Over the next year, despite the ongoing pandemic, Naito exchanged titles with Evil, before being defeated by Ibushi on Night One of Wrestle Kingdom 15 for both titles. Ibushi would defend both titles the following night against Jay White, and then announce his wish to unify both titles. Despite the best efforts of Naito, Sanada, and IWGP Junior Heavyweight Champion El Desperado, Ibushi's wishes would be granted when he successfully defended both titles at the NJPW 49TH Anniversary Show and became the inaugural IWGP World Heavyweight Champion. And just like that, both titles were gone. While the IWGP Heavyweight Championship was undoubtedly one of the most prestigious titles in the world, the IWGP IC Title had grown to become just as prestigious. This even culminated in the two championships being recognised as 1A and 1B respectively, demonstrating how respected the IC Title had become.
In Part One, I revealed my intentions to look back at the beloved Intercontinental Title, going to a vote for fans to help decide. Unsurprisingly, the resounding choice was Shinsuke Nakamura's five reigns as IWGP IC Champion, reigns that collectively helped elevate the championship to its level of prestige. Over the course of those five title reigns, Nakamura would make a total of 17 successful title defences (more than double the nearest challenger) and hold it collectively over a quarter of its 3,580-day lifetime (especially impressive considering he left in 2016, five years before the title was unified and made defunct). The first three IWGP IC Champions were MVP, Masato Tanaka, and Hirooki Goto, but the audience were not yet invested in what felt an unceremonious midcard title.
In Goto's third title defence, he faced a former IWGP Champion and certified main eventer in Nakamura, and in less than 17 minutes, the efforts of both men helped make the title matter. Nakamura's victory was that of a superstar elevating a championship, a decision that made undoubted sense. His first title defence occurred a month later for Sacramento Wrestling Federation, defeating Oliver John, but more importantly, the title was updated from a bronze style that looked akin to a ten yen coin, into a gorgeous and timeless white strap and gold plate design. His second title defence was a rematch with Goto, and instantly a difference can be felt – the crowd are completely invested in this championship match.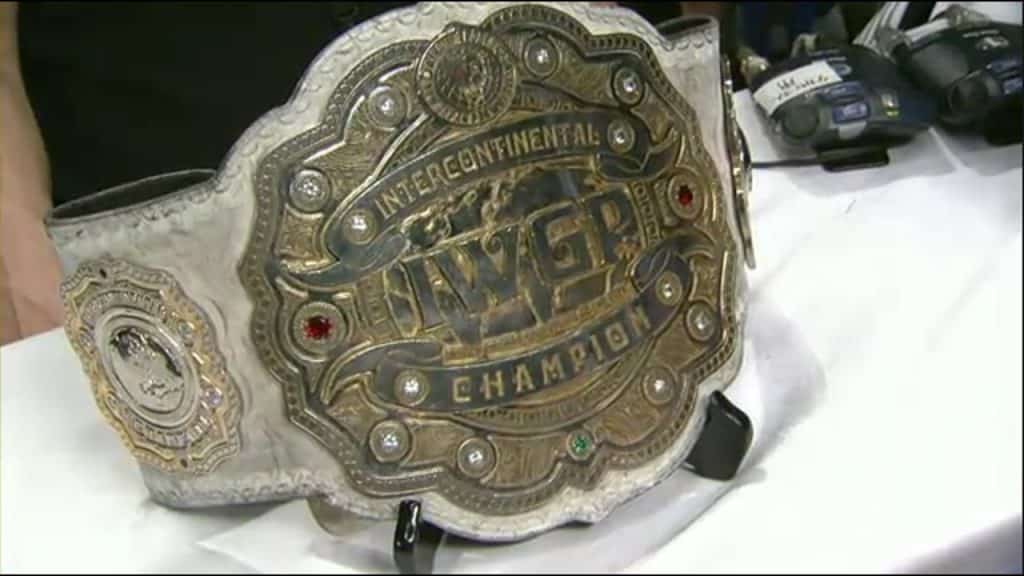 Nakamura's third title defence was against 'Machine Gun' Karl Anderson, a burgeoning main eventer who recently battled Kazuchika Okada in the G1 Climax Final. This was an opportunity for the champion to equal the then-record of three successful IC title defences, but history and Anderson's recent push suggested the odds were against Nakamura. Despite the challenge, Nakamura eventually overcame the odds, defeating a challenger who only a few months prior had been battling for the Number One Contendership for the IWGP Title. This was undoubtedly a big victory for both the champion and the title, and the question now was whether Nakamura could set a new record and successfully defend the championship for the fourth time.
To add to the pressure, Nakamura was to become the first IC Champion to defend his title at New Japan's own version of WrestleMania, the seventh iteration of Wrestle Kingdom. As if that wasn't difficult enough, Nakamura was allowed to choose his own opponent, so he nominated Kazushi Sakabura. A Mixed Martial Arts specialist and shoot fighter, Sakuraba held victories over MMA legends such as Ken Shamrock, Quintin Jackson and Roycie Gracie, as well as being undefeated since joining NJPW in August 2011. This match is actually the first of a billed 'double main event' alongside Hiroshi Tanahashi' defence of the IWGP Heavyweight Championship against Kazuchika Okada, just to convey how big this match is for the IC Title. Before we proceed, an important notice: NJPW have count outs up to twenty seconds, not ten, and champions can lose their titles by count outs and disqualification as well.
NJPW Wrestle Kingdom 7 – Evolution In Tokyo Dome (4th January 2012)
IWGP Intercontinental Championship Match:
Shinsuke Nakamura (C) vs. Kazushi Sakuraba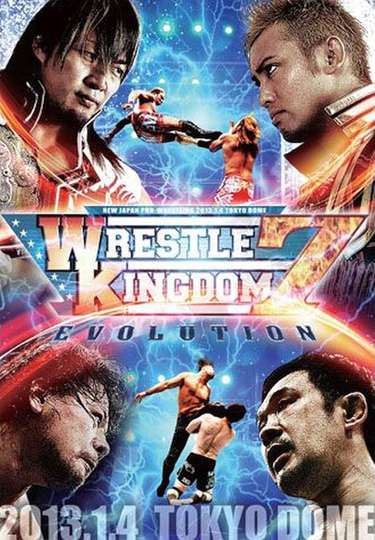 We open with Sakuraba already in the ring, mouthguard in place, awaiting the champion, who enters dancing in a red jacket, flames and cheers alike surrounding him. Gaijin legend Stan Hansen parades the IC title to both men and the crowd, as both competitors psych themselves up. Sakuraba offers a handshake to Nakamura in respectful exchange, and the bell rings. Nakamura is on the tips of his feet as Sakuraba adopts a fighter's stance. The challenger tries a few kicks, and the champion goes for a takedown. They jockey for control of the match, but Nakamura's own MMA experience (3-1-1 win-loss-no contest respectively) helps keep Sakuraba at a distance, avoiding any locks before getting the third ropebreak and rolling out.
Nakamura returns and adopts a similar fighting pose, with both men motioning for kicks before breaking in the corner with Nakamura slapping his opponent. Sakuraba returns in kind with an exchange of slaps and knees, before he sweeps Nakamura's leg and jumps on his head. Sakuraba follows up with a sleeper and Nakamura struggles to the corner, before hitting a succession of knees to Sakuraba's gut and head. Nakamura misses the running knee in the corner and Sakuraba lands a sleeper and slap to the head, with strikes galore to Nakamura's gut and head. He goes in for a Release German Suplex but Nakamura jumps back up, goes to dive and takes a knee straight to the face.
The referee quickly checks Nakamura after a possible legitimate knee shot, but the champion is stirring, Sakuraba covers with punches and then rolls into a Triangular Hold. Nakamura escapes by rolling Sakuraba back, and then hitting a vicious Bomaye to the back of the head. Nakamura, back and psyching up, goes for a second Bomaye but Sakuraba reverses into a waistlock and rolls into the Cross-Armbreaker. Sakurab gets up top with strikes and is going for the Kimura, but Nakamura transitions into his own Cross-Armbreaker. Sakuraba escapes and goes for the Kimura again, sending Nakamura to the ropes. Sakuraba refuses to let go and Nakamura hits a Samoan Driver to escape.
Nakamura picks Sakuraba up, but the challenger rolls into a side Kimura lock. Nakamura's knee shots prompt Sakuraba to transition into the Cross-Armbreaker, but Nakamura escapes and drops a knee into Sakuraba's face. An unsteady Sakuraba gets to his knees and turns into another Bomaye, cover, one, two, three, Sakuraba can't kick out in time.
Winner by Pinfall – Shinsuke Nakamura
Currently 167 Day Title Reign and Four Title Defences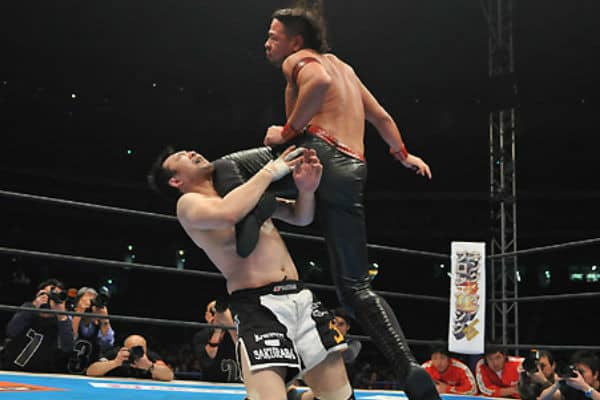 The sort of match that I imagine Stan Hansen loved, my face hurts just from watching it. Respect to Nakamura for continuing after a knee to the face that would have wiped out most, and an exchange of respect between both men after. This was a fascinating match, mixing strikes with tactical wrestling. At one point, it seemed primed for Sakuraba to win with the knee strike, but an impressive champion performance from Nakamura saw him retain his gold instead. Whereas Sakuraba stuck in his comfort zone of MMA, Nakamura's ability to blend his styles allowed him to catch the challenger unaware, such as with the Samoan Driver and the eventual winning Bomaye. With this victory, Nakamura was now not just the longest reigning IC champion, but the champion with most successful defences.
During this time, NJPW were in the midst of co-promotional events with the Mexican wrestling company, Consejo Mundial de Lucha Libre (CMLL), who featured future stars such as Rush, Gran Metalik, and La Sombra, the future Andrade El Idolo. Nakamura's fifth title defence was at the second night of NJPW Presents CMLL Fantastica Mania, in the main event against La Sombra.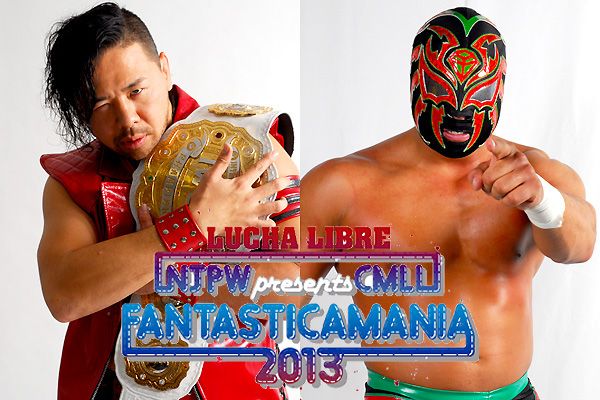 March of 2013 became an important month for NJPW as their first ever event Opening Series (named by founder Antonio Inoki) occurred on March 6th 1972. In 2012, New Japan debuted the NJPW Anniversary Show to occur annually in the first week of March, with Nakamura defending his championship the following year against a member of Suzuki-gun, one half of the IWGP Tag Team Champions, Lance Archer.
NJPW Anniversary Show (3rd March 2013)
IWGP Intercontinental Championship Match:
Shinsuke Nakamura (C) vs. Lance Archer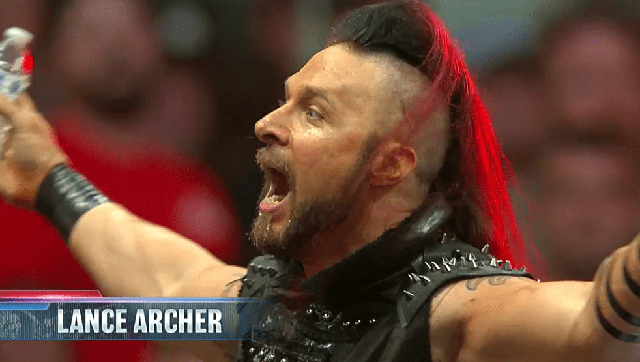 I've now reached the point that I start bobbing my head in anticipation of Nakamura's entrance, his movement is simultaneously slovenly and electric. Archer meanwhile is in a spiked jacket and looks like someone you'd hate to bump into in lighted ballroom, let alone a dark alley. Archer is a caged animal, pacing around before missing a huge boot by inches, Nakamura is at both a power and size disadvantage, so he's attempting to chop the challenger down. That just angers Archer, who rushes Nakamura into the corner. Nakamura attempts an Armbar, but Archer just shoves him into the ropes with ease. Nakamura tries again and keeps getting cut off, culminating in him attempting a move off the second turnbuckle only for Archer to boot him to the outside.
Archer is unrepentant as he instantly follows out and smashes the back of Nakamura's head and kidneys against the railings. After a Big Legdrop by Archer to Nakamura on the apron, the referee begins to count Nakamura out, who takes his time before returning straight into an onslaught by Archer. A Big Powerslam for an Archer two count infuriates the challenger. A Missed Legdrop gives Nakamura a breather, lulling Archer onto the apron and hitting his patented running Knee lift and Diving Knee Drop. Archer barely makes it in at nineteen, allowing Nakamura time to get his energy back.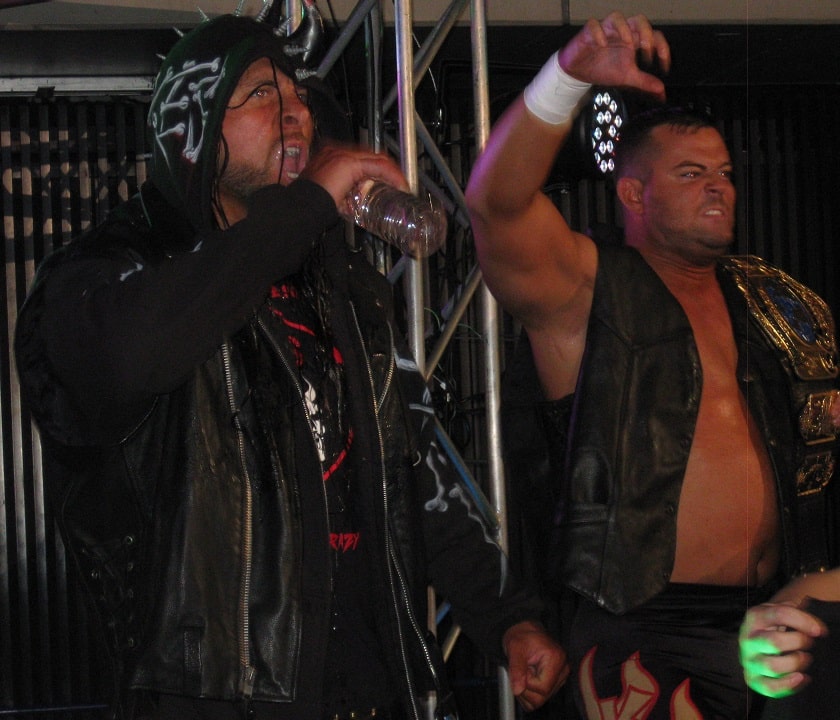 Nakamura with knees in the corner to ground Archer, theatrically tries to psych himself up, but Archer avoids the attack. Nakamura drapes him over the corner and hits his Running Kneelift for a two count. After an exchange of forearms, Nakamura hits a Roundhouse and Dropkick and sets up for the Boma Ye before Archer rolls to the apron. A Sleeper attempt from the champion, Archer goes down to one knee but hits a sudden F-5, wiping out the referee before going for the cover.
Archer has a visual three count over Nakamura, and suddenly his Killer Elite Squad tag team partner Davey Boy Smith Jr appears. KES hit their Killer Bomb finisher (Sit-out Full Nelson Slam and Sit-out Powerbomb combo), Archer covers and Davey Boy drags the referee in, but he's still unconscious. Senior Referee Red Shoes Unno is dragged out, and Archer tries giving him grief but Red Shoes instantly reprimands him. Archer tries for the Blackout, butNakamura escapes to hit a Backstabber and a sudden Bomaye to the back of Archer's head. A second attempt is cut off by an Archer Big Boot, followed up with a Moonsault for a close two count. Archer motions for a Chokeslam and drags Nakamura into the air but a knee from Nakamura is followed up with a Bomaye. He covers, and Nakamura retains.
Winner by Pinfall – Shinsuke Nakamura
Currently 225 Day Title Reign and Six Title Defences
This feels strange to watch in that Archer nowadays is an excellent big man, a physically dominating force who understands his character, and yet here in 2013, you're seeing someone who has the potential, but it hasn't yet clicked. Archer has the physicality to challenge Nakamura, and the maniacal nature, but whereas nowadays he's portrayed as a chaotic monster who can suddenly direct his anger on any unfortunate soul, here he lashes out without direction.
Nakamura is a good babyface at battling back against his opponent, utilising his explosive nature to achieve victory, but here the booking lets him down slightly. Instead of making the champion look good, the aim seemed to be that Archer was to look strong despite losing, culminating in a visual three count over the count. However, all that does is make an otherwise strongly booked champion look lucky, as he doesn't kick out of the Reverse DDT or the Killer Bomb, only surviving because the first referee was unconscious and the second took too long to come out to the ring. A disappointing and confusing booking choice considering the tremendous work Nakamura had achieved so far with the IWGP Intercontinental Championship.
NJPW Invasion Attack 2013 (7th April 2013)
IWGP Intercontinental Championship Match:
Shinsuke Nakamura (C) w/ Tomohiro Ishii vs. Davey Boy Smith Jr w/ Lance Archer & TAKA Michinoku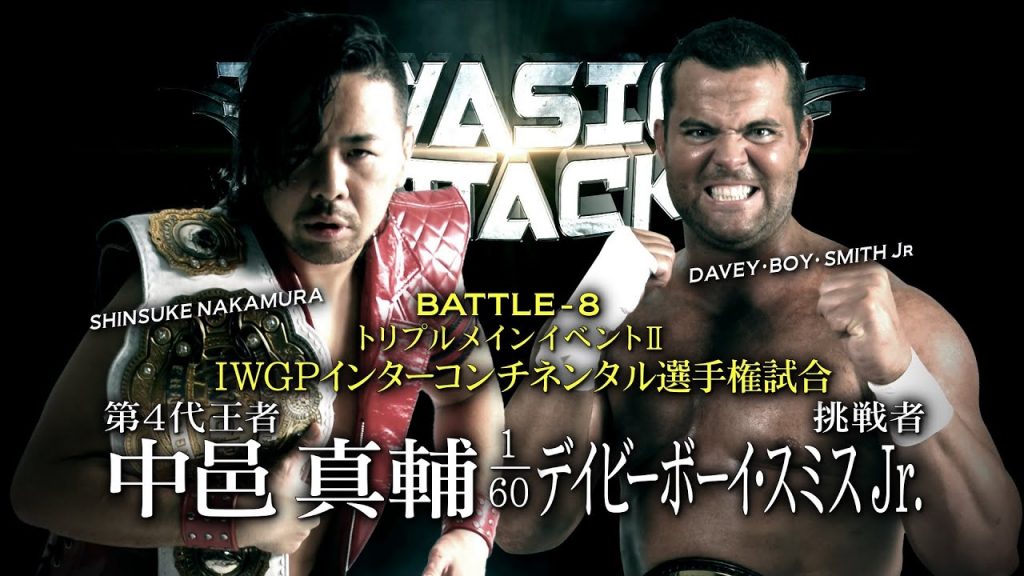 After his sixth title defence, Nakamura entered the 2013 edition of the New Japan Cup, surprisingly losing in the first round to Archer's partner, Davey Boy Smith Jr (who himself made it to the Semi-Finals). That victory earned Smith Jr a future title opportunity, which occurred at the inaugural Invasion Attack, in the semi-main event below Hiroshi Tanahashi's IWGP Heavyweight Championship defence against New Japan Cup winner, Kazuchika Okada. There was a big match feel, with Nakamura's usual confidence paired against Smith's determination, motioning that he will win the title as the crowd loudly cheers for the champion.
Nakamura's first kick is quickly returned with Smith's own, and Smith quickly demonstrates his strength by lifting Nakamura twice during armdrags, putting pressure on the champion's left arm. Smith flips off the crowd as they boo, controlling the first takedown before Nakamura escapes. Nakamura goes for strikes and knees galore, but a running knee is reversed with an Overhead Belly-To-Belly Suplex that sends Nakamura to the outside. Archer's attempted attack on the champion draws a furious Ishii and Red Shoes tries to keep them separate, with Smith using the opportunity to send Nakamura in the railings.
Smith focuses his attack on Nakamura's midsection and neck, getting a two count off a gorgeous Northern Lights Suplex. The challenger continues to talk trash with the crowd, before hitting two Scoop Slams in a row, posing in between and then missing a Top Rope Legdrop. Nakamura tries to make a comeback, hitting a dropkick and some knees in the corner, psyching the crowd up as they cheer him on. He hits a Running Kneelift to a prone Smith on the top turnbuckle for a two count, and the crowd support is even louder.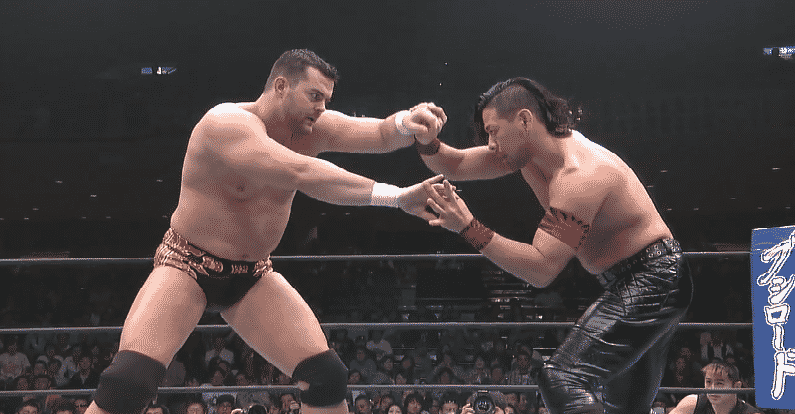 Nakamura locks in a Sleeperhold, looking to ground the bigger man, then hits a Wheel Roundhouse Kick and a Release Back Suplex, setting Smith up for the Bomaye. Nakamura goes for the kill, but Smith moves just in time. They reverse each other and Smith ends up hitting a Fireman's Carry into a Jackhammer and covering, as Nakamura just kicks out before three. Smith locks in a Sharpshooter leaving the crowd on the edge of their seats as they cry out for the champion, who barely makes the bottom rope. A cocky Smith tries for a Powerbomb, but Nakamura with the rolling heel kick and a Fireman's Carry Neckbreaker leaves both men down in the middle of the ring.
The crowd nervously cheers for Nakamura as they exchange forearms and kicks, and Smith is sensing blood as pulverizes the champion into two nearfalls. As Nakamura kicks out yet again, Smith is shocked, the crowd is shocked, Archer is furious, and Smith rushes to hit a Tiger Suplex, one, two, thr- again the champion kicks out again to everyone's surprise,. Smith goes for another Powerbomb but Nakamura hits the knee to the head, leaving Smith unsteady as Nakamura lands a knee off the top rope. The Crowd is chanting, Nakamura feels it, he hits the Bomaye and he has done it.
Winner by Pinfall – Shinsuke Nakamura
Currently 260 Day Title Reign and Seven Title Defences
This was a cracking match as Nakamura struggled against Smith's tremendous power and strength. The most impressive element is the new legitimacy of the championship, contrasted to just nine months ago, the audience is completely invested in the rock star antics of Nakamura. The nearfalls in the third act were dangerously close to ending Nakamura's reign, with the crowd convinced that Smith might take the championship. However, every time Nakamura kicks out, the audience cheers even harder, willing him on as Nakamura busts out a rare top rope knee to set up for the Bomaye.
By this point, Nakamura and the Intercontinental Championship were becoming synonymous with one another, having held the title a hundred days longer than anybody else. This card was predominantly renowned for Okada winning the IWGP Heavyweight Championship for the second time, defeating Tanahashi in an absolute classic, but Nakamura was also demonstrating his reliability as an unquestionable highlight on any NJPW event. The IWGP Heavyweight Championship was already one of the most prestigious in the world, but Nakamura was helping build the prestige of the newer title.
Next time, we return to see Nakamura venture into the world of Lucha Libre…