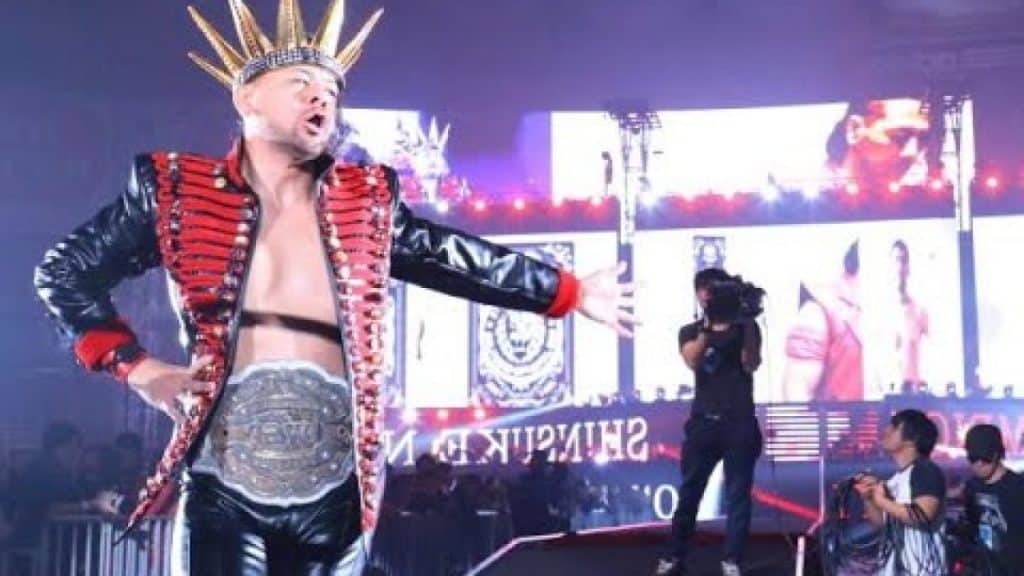 In 2019, IWGP Intercontinental Champion Tetsuya Naito announced his desire to hold both the IC Title and the IWGP Heavyweight Championship simultaneously, a decision eventually backed by both the next IC Champion Jay White and the Number One Contender to Kazuchika Okada's Heavyweight Championship, Kota Ibushi. Following a fan vote, New Japan Pro Wrestling announced that there would be a mini tournament at Wrestle Kingdom 14, with Okada defending his IWGP HW Title against Ibushi, Jay White defending his IWGP IC Title against Naito, and the winners facing off for both titles. In the end, Naito laid history to rest as he defeated both White and Okada to become the first dual champion, winning the IC Title for the fifth time and the HW Title for the second time.
Over the next year, despite the ongoing pandemic Naito exchanged titles with Evil, before being defeated by Ibushi on Night One of Wrestle Kingdom 15 for both titles. Ibushi would defend both titles the following night against Jay White, and then announce his wish to unify both titles. Despite the best efforts of Naito, Sanada, and IWGP Junior Heavyweight Champion El Desperado, Ibushi's wishes would be granted when he successfully defended both titles at the NJPW 49th Anniversary Show and became the inaugural IWGP World Heavyweight Champion. And just like that, both titles were gone. While the IWGP Heavyweight Championship was undoubtedly one of the most prestigious titles in the world, the IWGP IC Title had grown to become just as prestigious. This even culminated in the two championships being recognised as 1A and 1B respectively, demonstrating how respected the IC Title had become.
Ever since its debut at the beginning of 2011, there has been a long and renowned history of the title. These include prized reigns by champions such as Hiroshi Tanahashi, Jay White, Naito, and Hirooki Goto, absolute classics at Wrestle Kingdom with wrestlers such as Ibushi and AJ Styles, and even an occasion where it main evented Wrestle Kingdom over the IWGP Heavyweight Title. Like any writer, this seemed an opportune time to look back at the championship, but I was curious to hear the fans' choice for what deserved the most attention, and it went to a vote as shown below.
The resounding choice was to look back at Shinsuke Nakamura's five reigns as IWGP IC Champion, reigns that collectively helped elevate the championship to its level of prestige. Over the course of those five title reigns, Nakamura would make a total of 17 successful title defences (more than double the nearest challenger) and hold it collectively over a quarter of its 3,580-day lifetime. This was especially impressive considering he left in 2016, five years before the title was unified and made defunct. During this series, we will examine every IC Title match Nakamura featured in, the reputation of the championship at the time, and the moments that helped made it so special. But first, we must go back to the beginning. Before we proceed, an important notice: NJPW have count outs up to twenty seconds, not ten, and champions can lose their titles by count outs and disqualification as well.
Fourteen months after the IC Championship debuted, there had so far been three champions in its lifetime, the inaugural champion and former WWE star MVP, Japanese and ECW legend Masato Tanaka, and nine year veteran Hirooki Goto. At the time, most of the title matches were lasting less than fifteen minutes and hadn't yet grabbed the audience, even being left off NJPW's premier event of the year in Wrestle Kingdom 6. For Goto's third title defence, he faced the biggest challenge yet, a former three time IWGP Heavyweight Champion in Shinsuke Nakamura. At the time, Nakamura wasn't heavily involved in the main event scene due to the recent shock crowning of 'The Rainmaker' Kazuchika Okada, former champion Tanahashi and new challenger, Tetsuyo Naito.
NJPW 40TH Anniversary Tour Kizuna Road – Night 11 (22nd July 2012)
IWGP Intercontinental Championship Match:
Hirooki Goto (C) vs. Shinsuke Nakamura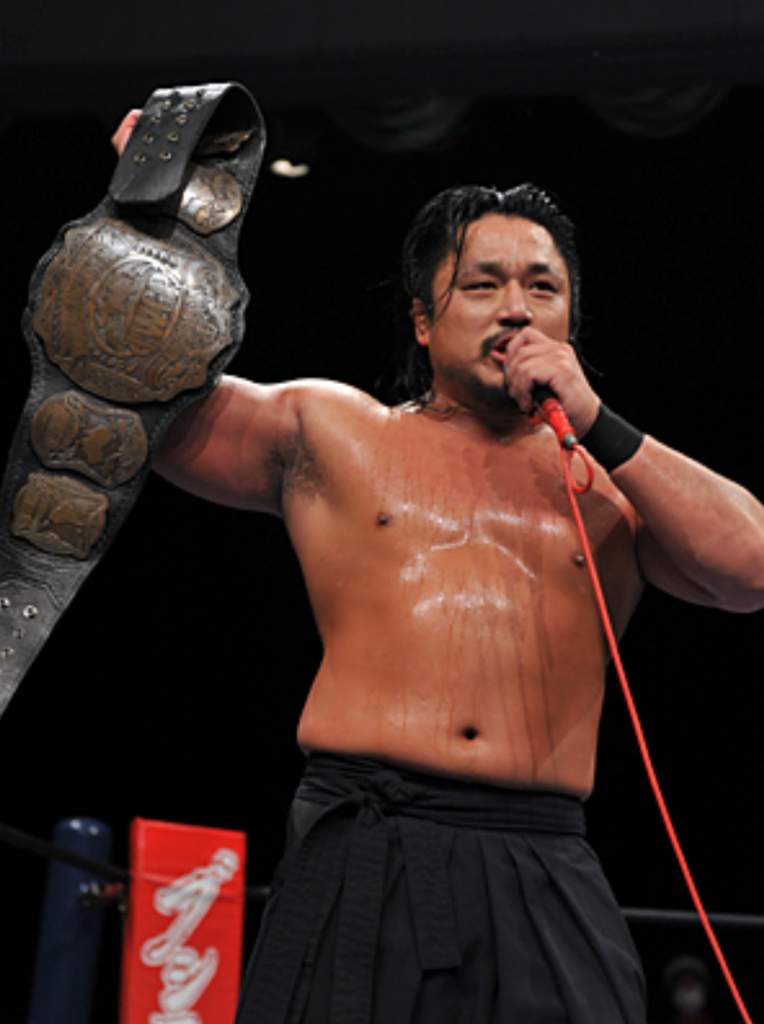 Out comes the challenger first, his red jacket and leather trousers that are so familiar as he rocks to his music, the crowd showing their support. The swager is unmistakable as he moves around the ring, awaiting the champion, who enters with the title around his shoulder. Nakamura's left shoulder is bandaged as he and Goto begin a feeling out period, ground based grappling with neither gaining control. Nakamura's early nonchalant releases from a tie-up annoy Goto, who starts going for strikes, antagonising Nakamura, who responds likewise, cut off by a clothesline from Goto.
Brawling on the outside puts Nakamura in control, using the guardrail and ringpost before hitting a running uplift knee and then a diving knee drop to a prone Goto on the apron. Nakamura chills in the ring as referee Red Shoes counts, getting to 19 before Goto can make it back in, and now Nakamura begins to slap and strike Goto around. Some hard roundhouse kicks to Goto's chest almost gets Goto battling back, but an Enziguri and knees in the corner puts Nakamura back in control. It isn't until a massive Backdrop Suplex by Goto that he slows Nakamura down, following up with a huge Clothesline and several kicks to the chest, rocking the challenger. A wheelspin kick in the corner, another Backdrop suplex and a Penalty Kick to the chest gets Goto a close two count.
Despite Nakamura's attempt to battle back, a Fireman's Carry Neckbreaker downs Nakamura, who desperately hits several kicks to slow Goto down. A mistake from the champion as he climbs up top and Nakamura crotches him, hitting a running knee to the gut of Goto for a two count. With Nakamura smelling blood, he savagely throws knees to a downed Goto's head. Nakamura hits a Backstabber and back suplex to set up for his patented Bomaye, but a desperate Goto rolls out of the way. Nakamura cuts off Goto with a Cross-Armbreaker in the middle of the ring. Goto scrambles to escape to the ropes, as Red Shoes checks to make sure Goto is still conscious. Nakamura tries to cinch the arm properly as Goto fights every step of the way.
Goto tries to deadlift Nakamura and stumbles, just escaping in the process, but Nakamura follows up with a Jumping Knee off the second rope. He goes for Bomaye again, but a last ditch Clothesline from Goto leaves both men down, to applause from the crowd. Both men get to their feet with forearms galore, unrepentant fighting spirit until Goto slaps Nakamura to the ground. Goto with a Go To Heaven (wrist-clutch Olympic Slam), one, two, Nakamura kicks out and the crowd cheers. Goto takes Nakamura up top, hitting a massive Fireman's Carry Neckbreaker off the second rope, one, two, thr-Nakamura just kicks out for a massive nearfall.
Nakamura tries to escape, and gets hit by a Discus Lariat but Goto only gets a two count. The crowd cheers on as Goto hits a Spinning Front Slam, pointing to the skies. Goto tries for a suplex, but Nakamura hits a knee and Guillotine Choke. Red Shoes checks the champion and Goto escapes. A few Clotheslines are exchanged, followed by a series of headbutts, and a Jumping Knee by the challenger. Goto's down, Nakamura feels it, runs and hits an emphatic Bomaye to get the three count to the raucous cheers of the crowd.
Winner by Pinfall and NEW Champion – Shinsuke Nakamura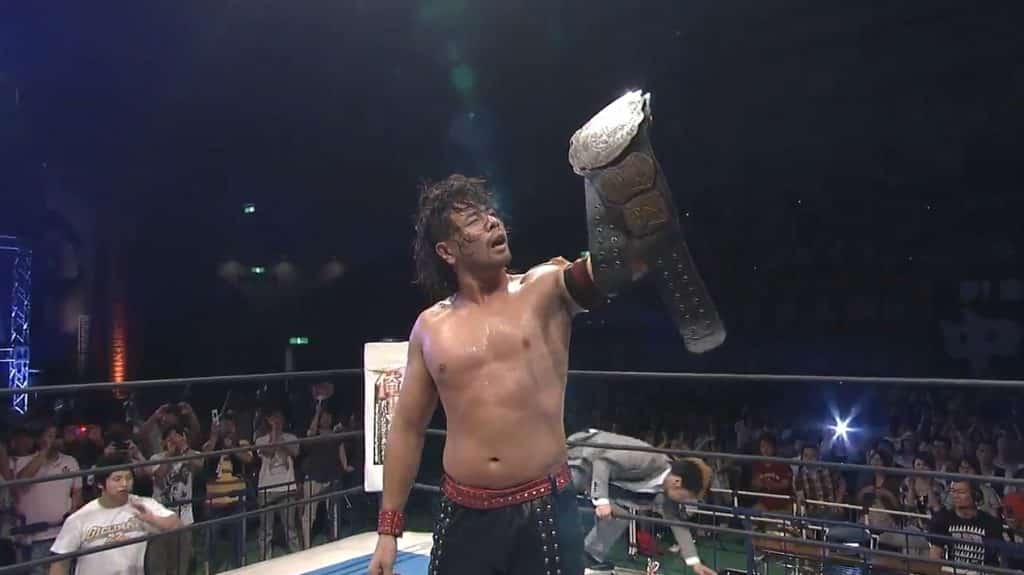 This is a hard hitting, physically painful sprint with two tough men that both were determined to come away with the title. By the halfway point, a previously quiet crowd was completely invested and by the end, they exploded for Nakamura's victory. You feel watching the match that you're experiencing an important moment, one where the efforts of both men made a previously undervalued title suddenly matter. Either man could have legitimately won, and it would have made the same impact, whether Goto getting a huge victory that helped give the title a bigger identity, or a superstar elevating the championship. The decision to have Nakamura win makes tremendous sense, his previous experience as IWGP HW Champion helped him overwhelm Goto and make his eventual victory heard earned, but inevitable.
Nakamura's first title defence actually occurred just a month later, but instead of for NJPW, it was for Sacramento Wrestling Federation at their August event SWF International Wrestling Wars. Nakamura defended his title against a wrestler called Oliver John, who retired in 2016 and once held the NWA Heritage Championship. Unfortunately, I was unable to find a copy of the match, and if not for this random tweet from a Nakamura fan, I'd probably have begun to wonder if it was similar to Pat Patterson in Rio De Janiero. If anybody finds a copy, please contact WrestleJoy and I'd gladly edit the match into this article retrospectively, but it's especially gutting as it also features the debut of the classic white straps for the IC Title.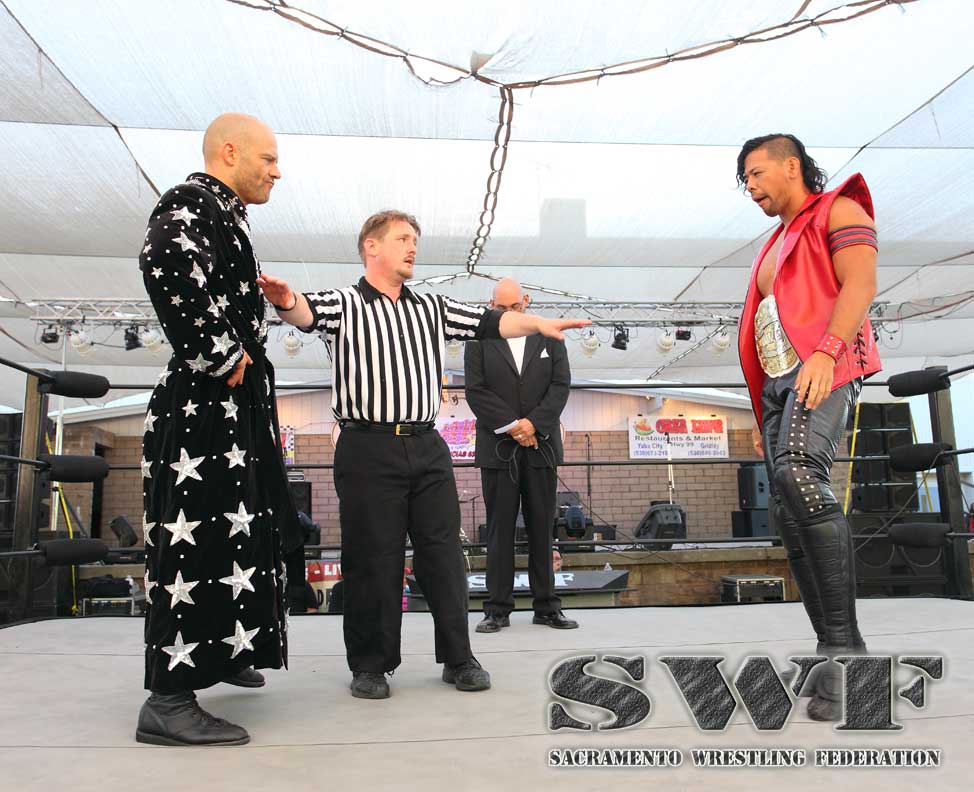 Supposedly the change was prompted by Nakamura himself, who felt the original design was too reminiscent of a ten yen coin, which is hard to disagree with. The new white straps with gold plates gave it a beautiful look, a more timeless design that already helped make it look more prestigious. Meanwhile, we jump to Nakamura's second title defence, where he entered having been champion for 79 days so far, this time a rematch against the former champion, Goto.
NJPW 40TH Anniversary Tour King of Pro-Wrestling (8th October 2012)
IWGP Intercontinental Championship Match:
Shinsuke Nakamura (C) vs. Hirooki Goto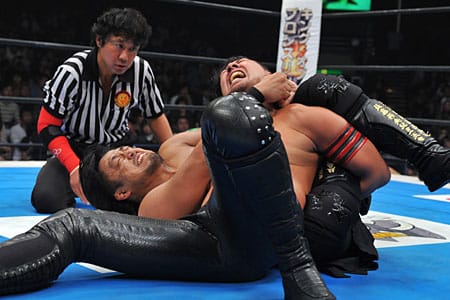 Nakamura struts out with the white strapped IC Title and both look come across like stars, the colour of the belt stands out during the presentation and demonstrates the importance of a championship's look. The atmosphere is tense as they start off battling for control in the middle of the ring, a standoff that prompts applause from the crowd. Nakamura's cocky break on a tie-up prompts an angry Goto to attack, hitting shoulder blocks and a hip toss to send Nakamura out. Goto follows him and hits a Clothesline to send Nakamura into and over the guardrail. After being thrown into the ringpost, Nakamura is rolled back inside, where a sequence of elbows gets Goto a two count.
Nakamura tries escaping to the outside, but Goto quickly returns him inside and grounds the champion with a headlock, smothering him as much as possible. Both men jockey for a suplex, with Goto transitioning into a Cross Arm Breaker and then a sort of Anaconda Vice in the middle of the ring. As Red Shoes checks on the champion, Nakamura struggles to the bottom rope, finally escaping and rolling to the apron. But he's playing possum as he hits Goto with a kick and hits a quick double knee lift and then a flying knee drop onto the back of Goto's head. Nakamura rolls back in, and suddenly the complexion of the match has changed completely. Goto beats the nine count, but he's now vulnerable.
With kicks to the chest and an Enziguri by Nakamura, he's throwing kicks aplomb to down the challenger. A cocky Nakamura tries a Bomaye in the corner but Goto quickly hits a Wheelhouse Kick and a Backdrop Suplex to get out of it. Both men are hitting explosive strikes and suplexes to gain control until a running dropkick from the champion leaves them both down. Staggering up, they exchange forearms. Goto is winning the exchange and goes up top, only for Nakamura to kick him in the face and hitting a running knee to the gut for a close two count.
Nakamura goes for a Sleeperhold, and Goto is struggling, almost getting the ropes only for Nakamura to suddenly hit a Backstabber and Release Back Suplex, leaving Goto on unsteady legs. Nakamura avoids Goto's attacks and hits Goto's own Fireman's Carry Neckbreaker. Nakamura is primed for the Bomaye, but Goto hits his own Fireman's Carry Neckbreaker in retaliation. Has Nakamura overplayed his hand due to his cockiness? Goto hits a massive Discus Lariat, one, two, th-Nakamura just kicks out. Now Goto feels primed, backing Nakamura in the corner and lifting him up top, with a flurry of elbow strikes to the champion's head.
Goto hits a vicious Fireman's Carry Neckbreaker off the second rope, and covers: one, two, thr-Nakamura barely kicks out. The crowd is on the edge of their seat as they will both men on, Goto hits a Spinning Front Face Slam leading Nakamura to kick out, out barely a hair's breadth from losing the title. Goto lifts him up but gets hit with a knee strike. He then headbutts him, but Nakamura returns with a massive jumping Knee. Goto's down, and Nakamura measures up and hits the Bomaye, one, two, three, Nakamura retains.
Winner by Pinfall – Shinsuke Nakamura
Currently 79 Day Title Reign and Two Title Defences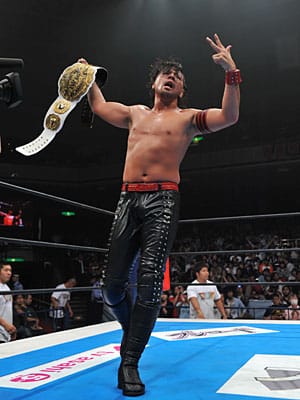 Somehow, despite sandwiched between an excellent Okada-Karl Anderson match and a classic Tanahashi title defence against Minoru Suzuki, this match still impressed as a fifteen minute sprint. Goto showed he'd learned from the previous match, taking control on the outside compared to last time. However, Nakamura has this unquestionable explosive energy, and his Strong Style can turn the tide of the battle in an instant. Though a less emphatic victory for Nakamura, the stakes already feel bigger as the crowd are seemingly much more invested. The victory feels big, and while the weakest of the three main events, it still helped cement the show as one of the best of the entire year.
NJPW 40TH Anniversary Power Struggle 2012 (11th November 2012)
IWGP Intercontinental Championship Match:
Shinsuke Nakamura (C) vs. 'The Machine Gun' Karl Anderson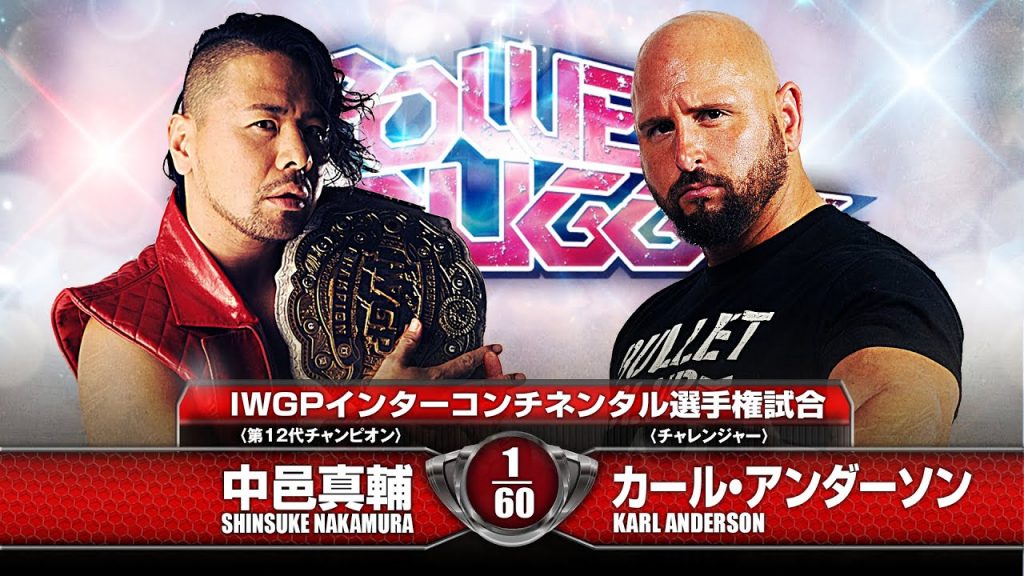 With the short history of the championship, this match actually gave Nakamura an opportunity to equal the record of title defences made by former IC Champion, Masato Tanaka. However, he was taking on 'The Machine Gun', who that year had already reached the final of the G1 Climax and pushed Okada to the limit in multiple matches. With history against him and such a challenger, Nakamura was far from guaranteed for this match. He begins with an early takedown to control the left leg of Anderson, who escapes after a moment. Nakamura's cocky release gets rewarded with an uppercut, an exchange of arm drags and hip tosses ends with Anderson in control.
Anderson catches Nakamura's kick but gets rewarded with an Enziguri. This exchange ends with both men at a standoff, equal so far. Anderson with a headlock to ground his opponent cuts off the champion and takes him to the corner, stomping and 'shooting off machine guns'. Nakamura avoids a Senton and knees Anderson into the corner, mimicking the machine guns. Nakamura kicks Anderson over the guardrail, with referee Red Shoes imploring them back in the ring as Anderson catches a kick and throws Nakamura into the guardrail. Anderson hits a massive TKO to Nakamura on the guardrail, who starts spasming on the outside floor.
Anderson returns to the ring and awaits Red Shoes' count. Nakamura barely gets in at the 18 count, saving his title. Now Anderson focuses his offense on the champion's left shoulder, with knees and stomps galore before a Chickenwing is locked in. Nakamura tries to gather steam, but Anderson with the Leg Lariat cuts Nakamura off completely, followed up with two successive Sentons for a two count. Nakamura lulls Anderson in and hits his patented double lifting knee on the apron and a Diving Knee Drop to Anderson's head, allowing him a breather. Anderson's back in at 15 and Nakamura hits with an onslaught of kicks, he misses the Bomaye but lands the running knee to Anderson on the top corner, two count only.
With the instinct of a shark, Nakamura sends some vicious knee strikes into Anderson's head, earning a two count from an Inverted Suplex. A desperate Anderson hits a Neckbreaker on the champion, a pump kick in the corner, and a Running Powerbomb, for a close two count. Nakamura cuts off Anderson with a dropkick and locks in the Guillotine Choke, before transitioning into a Release Back Suplex, setting up for a Bomaye that's reversed into a Spinebuster. Anderson follows up with a TKO for a two count, and then a Diving Neckbreaker off the top rope, one, two, t-Nakamura kicks out.
Escaping a Tombstone, Nakamura hits a Roundhouse, but Anderson equals him with a Running Kick to the head, and aims for the Ace Crusher. Nakamura escapes and hits a Bomaye to the back of the head. Both men are down and unable to capitalise, they stagger up, and tired forearms are exchanged. Anderson attacks the left arm and hits a vicious Uppercut that spins Nakamura in the air. Anderson hits a Sit-Out Piledriver and covers, one, two, th-Nakamura just gets his arm up. Anderson aims for the Ace Crusher, but Nakamura with a desperate knee to the face and an emphatic Bomaye downs the challenger, one, two, three.
Winner by Pinfall – Shinsuke Nakamura
Currently 113 Day Title Reign and Three Title Defences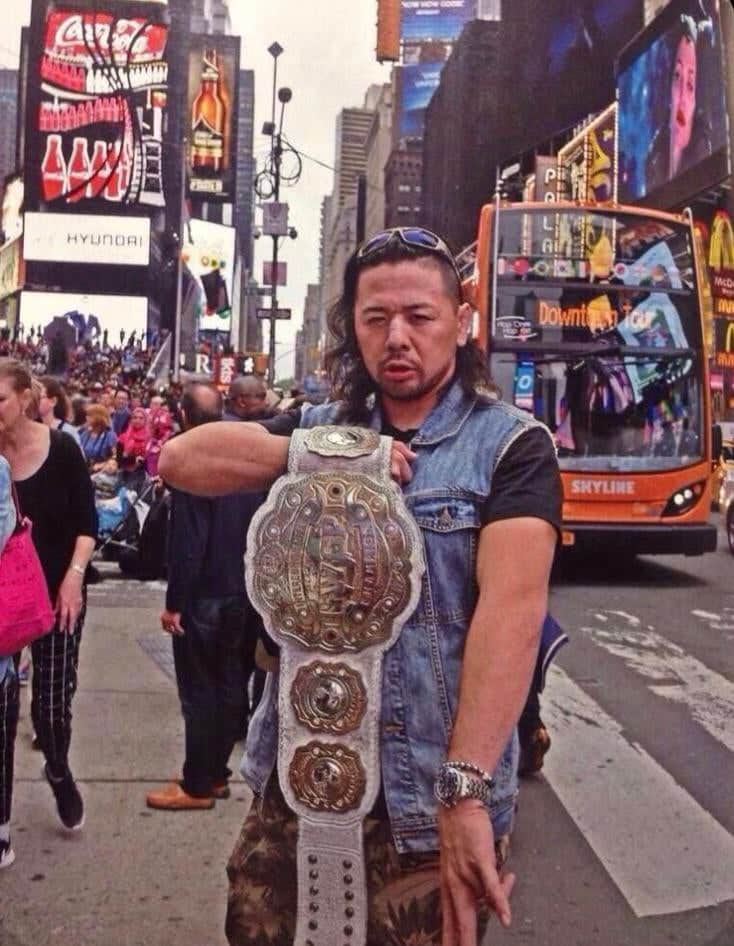 Where his previous match had Nakamura relatively on top throughout, Anderson proved a much more difficult challenge, with the champion having to battle from underneath with an injured left shoulder. A hard fought battle from Shinsuke against a more than capable contender, at times it looked possible that Anderson was going to prove too much. However, that explosive nature the champion possesses means at any moment he can win, epitomised by this victory. Having defeated a man who was challenging for the Number One Contendership for the IWGP Heavyweight Title just a few months ago was a big victory for both the champion, and his championship.
Having equalled the record of title defences by an IWGP Intercontinental Champion, the next challenge for Nakamura was simple: could he set a new record, and in the process, become the longest reigning IWGP Intercontinental Champion? Join us next time as we continue our journey…