AEW's weekly YouTube show 'AEW Dark' has presented a platform for independent wrestlers to showcase themselves to an audience of over 200,000 each week. For fans of AEW Dark, they have been given the experience of seeing a number of talented superstars like Will Hobbs, Top Flight, and Red Velvet get their start within an AEW ring. Each week we focus on one talent from AEW Dark who has stood out and shine a light on them to give an idea about who they are and where they come from.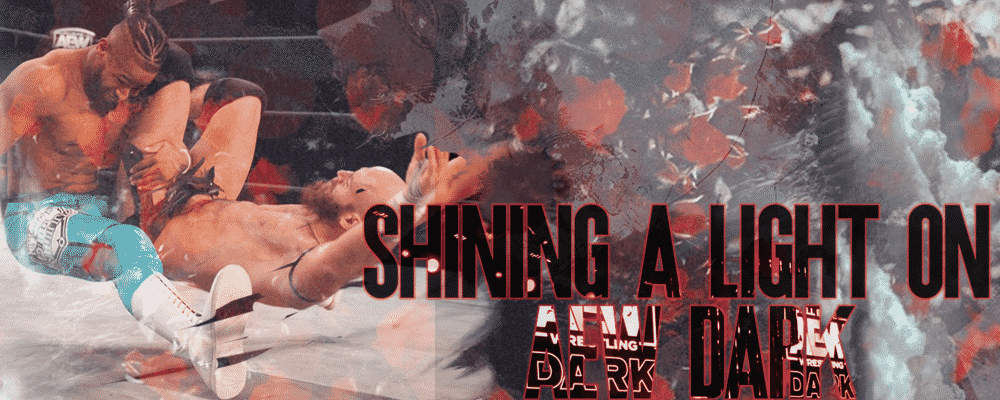 Today we shine a light on a member of the Nightmare family and a superstar who has quietly become a standout for AEW since early last year. Lee Johnson has been with AEW since the top of the pandemic, making his debut at the Atlanta tapings at the Nightmare Factory.
Johnson has been a fan of professional wrestling since he was a young child. Ever since he was three years old, he had an infatuation with professional wrestling, even being pictured as a young child holding up a championship belt. Like many others, this dream to become a professional wrestler started with watching enigmatic entertainers like The Rock and Dave Batista, two superstars Lee Johnson attributes to making him fall in love with professional wrestling.

Other superstars like Eddie Guerrero and The Undertaker inspired him, but it was Batista's run as a world champion on Smackdown that really made Johnson want to become a pro wrestler. While he didn't participate much in sports throughout his school years, Johnson did recognize a need to become somewhat familiar with wrestling in general. For his senior year, he would join the school's wrestling team. This was a decision he made to get some of the fundamentals of wrestling down while he became more well versed in chain wrestling and takedowns.
After high school, Johnson knew he wanted to become a wrestler, but was hesitant to make the jump immediately. He would first attend college for one semester, giving school a try, but realized that it wasn't something he had much love for.
Johnson realized he had to start chasing his dreams and began searching for a wrestling school to attend. Like many others in the Atlanta area, Johnson would come across AR-Fox's WWA4 wrestling school and promotion. He would train with Fox before making his professional wrestling debut in 2017. Johnson took these dreams seriously as he was constantly training or watching something related to wrestling so he could grow as a wrestler.
His desire to consistently train and grow as a superstar led him to QT Marshall's Power Factory, now known as the Nightmare Factory. Here, Johnson would train for up to six days a week, bettering his skill as a performer while also helping others as well.
During his time on the independent wrestling scene, he would initially wrestle as a tag team with Liam Gray in WWA4. More recently, he won the GPW tag team titles with Alan Angels in 2019. While Johnson has some experience in tag team wrestling, he has primarily focused on his singles work. He would wrestle for promotions such as IWA Mid South, AIW, and Southern Honor Wrestling, before eventually working for AEW.

Following his initial appearances for AEW during their Atlanta tapings, first wrestling QT Marshall on Dark, then Brodie Lee on Dynamite, Johnson made a good enough impression to be brought back. Since then, he has wrestled Wardlow, MJF, Brian Cage, Rey Fenix, and Ricky Starks, among others. In September of 2020, he wrestled Ben Carter on AEW Dark in a match that received rave reviews. He has consistently appeared with the company since April of last year and in October of 2020 was announced as an official member of the Nightmare Family.
Johnson would officially become a member of the AEW roster in February of this year. After getting his first victory in a tag team match with Cody Rhodes, Johnson would be notified by AEW owner Tony Khan that he was officially signed to an AEW contract. Khan would make the announcement on Twitter, making Johnson an official part of the AEW roster.
Since being signed, Johnson is 9-2 in his win/loss record, only coming up short to Ethan Page in his AEW singles debut, and in a six man tag against QT Marshall's new team The Factory. At such a young age and still so early in his career, Lee Johnson is clearly a standout athlete for AEW and could potentially have a long and very successful career with the company. Thus far, they have shown a great amount of belief in Johnson, and he's done well with every opportunity he has been given. With such a strong start to the year, it'll be interesting to see how Johnson performs over the second half of 2021.