You know who I am.
But you don't know why I'm here.
On Monday, the professional wrestling world lost one of its greatest minds and performers. Scott Hall, also known to WWE fans as Razor Ramon, passed away after complications from surgery after breaking his hip. Hall's journey from Magnum TA-clone to "Bad Guy", to one of the smoothest big-man talents became a cautionary tale, as Hall's personal struggles with drugs and alcohol derailed his career. Chronicled in the film The Resurrection of Jake The Snake, Hall's fight to regain his sobriety with the help of Diamond Dallas Page became the driving narrative of his life. However, in the spring of 1996, Hall's decision to exit the World Wrestling Federation for World Championship Wrestling became the first step in what has colloquially been referred to as the Monday Night Wars.
An old parable tells of the Buddha instructing one of his students to toss a pebble into a pond and then asking the student how he would stop the ripples. When the student tries to stop the waves with his hand, he discovers that he only creates more ripples by doing this. The Buddha tells his student that the only way to stop this ripple effect, which he relates to how one action could influence a series of reactions far greater than that of a simple pebble, is to have never thrown the pebble to start. Scott Hall was the pebble that changed everything.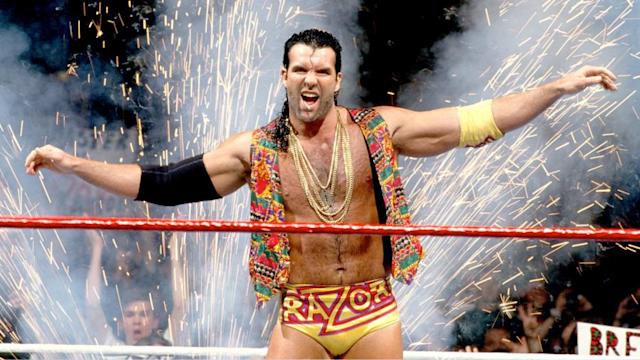 Pro Wrestling had been moving in a specific direction since 1983. At that point, World Class in Texas was the hottest territory in the US. That would change when Vince McMahon brought AWA mainstay, Hulk Hogan, into the WWF. Within a year, the WWF was the promotion in America with Jim Crockett Promotions making a challenge in the spring of 1985. In the decade that followed, every territory folded. Crockett would be purchased by Ted Turner in 1988 and would eventually become WCW. Though WCW existed mainly because of Turner's big pockets, the company struggled with house shows gates, merchandise, and pay-per-view revenue. While WCW never challenged the WWF financially, the company gave jobs to wrestlers away from the WWF. While McMahon would constantly degrade Turner's promotion as "not real competition," his business practices never entirely aligned with that statement.
However, by the mid-90s, the pro wrestling business struggled to stay afloat. The remaining territories, Portland, Memphis (then called the USAW), and the upstart Smokey Mountain, all started to fold. WCW stopped running house shows in 1993 and focused on television and PPV production. Even the WWF felt the crunch. In its heyday, the Fed would run up to three towns a night. By this time, they started pulling back on most of their B-towns, which hurt the wrestlers who were paid on the nightly gates. This also marked the end of the once-powerful era where syndicated television ruled all. Now, the WWF focused on turning Monday Night Raw into its central hub. After receiving a particularly irritating letter from Vince McMahon, who told Turner he should be embraced by his wrestling organization, the TBS mogul told WCW Executive Producer Eric Bischoff that he wanted to give WCW an hour of primetime television on Monday nights opposite of Raw.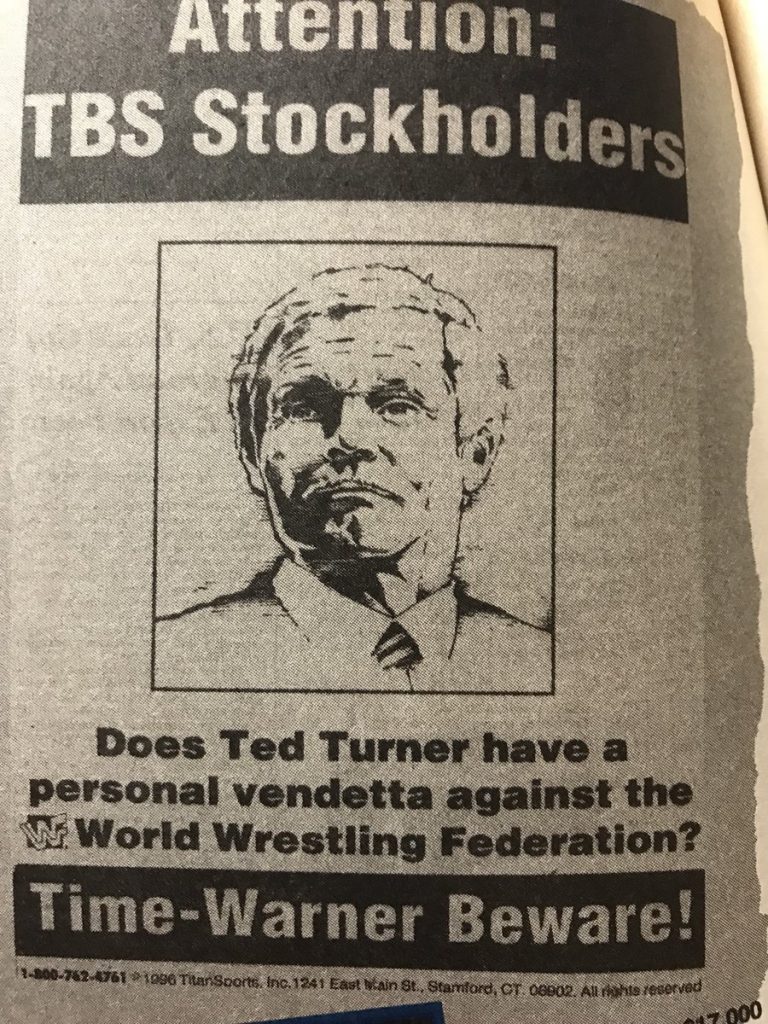 Far away from wrestling, Turner was preparing for a massive merger with Time Warner Communications. This greatly disturbed McMahon, who believed that this unprecedented influx of wealth and the current state of the wrestling business would hurt the WWF. Publicly, McMahon attacked Turner, going as far as to file a complaint with the Federal Trade Commission and buying space in the New York Times to air his grievances. McMahon also aired the infamous Billionaire Ted skits. McMahon tried to lampoon his issues with Turner on Raw in a series of vignettes that went over the heads of his audience.
Meanwhile, TNT launched Nitro in October of 1995, and the show beat Raw in the ratings in its second week. The two programs would tug back and forth over ratings points for months. In 1996, WCW started doing a small number of house shows again, mainly on the success of the Randy Savage/Ric Flair feud. McMahon's war of words with Turner forced the media impresario to pay more attention to his wrestling promotion. Suddenly, WCW was spending money, bringing in the likes of Lex Luger, while growing its roster to include talent from Mexico and Japan. With close TV numbers and a big bank account, WCW finally was become a viable alternative for talent. One talent, in particular, took notice, Razor Ramon.
Scott Hall was a journeyman worker pushed way too soon as Curt Hennig's tag partner in the AWA and struggled to maintain a foothold in the business. Hall wrestled for WCW in 1989 as Gator Scott Hall, wrestling as low-midcard talent. After spending most of 1990 and 1991 in Japan and Germany, Hall returned to WCW with a new look and gimmick. His dry bushy hair was long and slicked back. His burly mustache was trimmed, and he came to ring with a toothpick, which he flicked into the camera lens.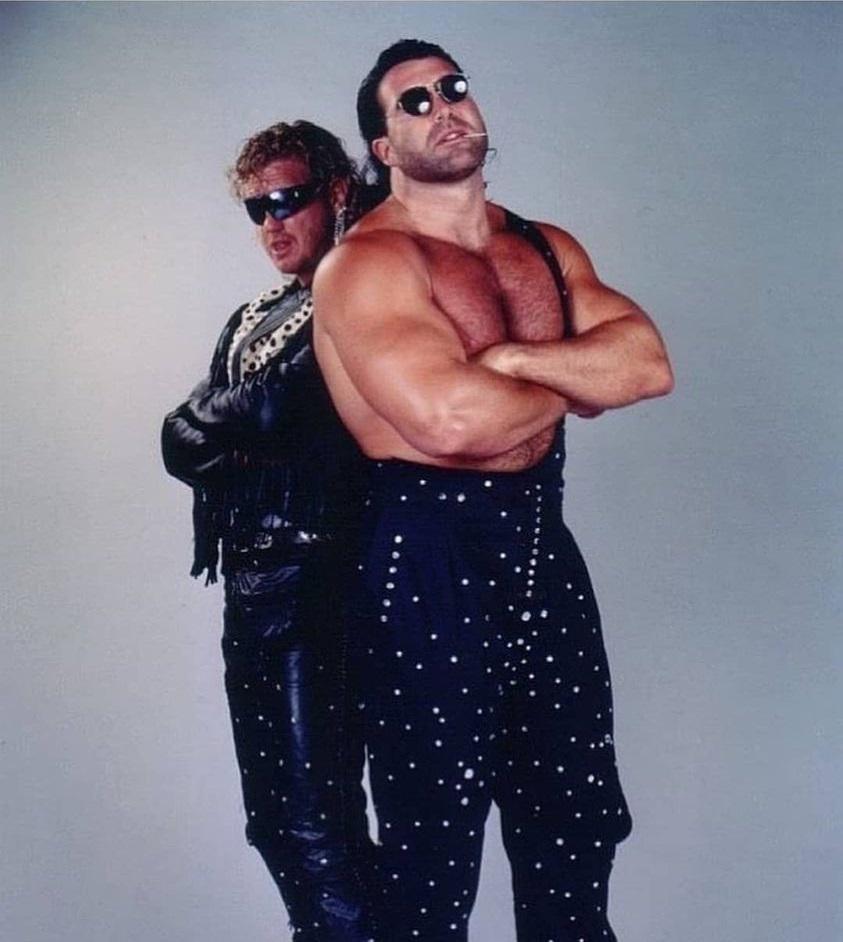 The Diamond Studd was the prototype for what would become Razor Ramon in the summer of 1992. Ramon was pushed to the top of the WWF almost at once. He teamed with Ric Flair against Savage and the Ultimate Warrior (later Hennig) before challenging Bret Hart for the WWF title at Royal Rumble 1993. Along the way, Hall became one of the best big man workers in the game, wrestling with a pace and style ahead of its time.
However, Ramon hit a wall after three years and four reigns with the Intercontinental title. While in a comfortable upper-midcard position, Ramon found himself unable to earn more money. Due to its own struggles, the Federation claimed it couldn't afford to bump Razor's earnings. Ramon asked if he could supplement his income by doing tours in Japan, a common practice in the 1980s. The WWF had a working relationship with Genichiro Tenryu's WAR promotion earlier in the decade, but McMahon declined Ramon's request. Backed into a corner, Scott Hall reached out to Bischoff, who made the wrestler a fantastic offer.
At the time, the standard WWF deal was a one-year contract for ten dates at $150 per night. Everyone made significantly more than that, but everything was based on house show and PPV revenue. For Hall to even negotiate with WCW, he had to give notice ninety days before the contract was set rollover. Though business had picked up in early 96, McMahon still wouldn't budge on his offer. The offer from Bischoff would be competitive to what he made in WWF, but with significantly fewer dates.

Hall was so impressed with his proposal that he shared the deal with one of his best friends, former World Champion Diesel (Kevin Nash). Nash brought his own frustrations to Bischoff. The idea of guaranteed money, not money paid based on a math equation that only the promoter was privy to, appealed to both men who committed to jumping to WCW.
On May 27th, 1996, in a relatively inconsequential match between two other former WWF talents, Mike Enos (Blake Beverly) and Steve Doll (Steven Dunn), Scott Hall jumps over the railing and storms the ring. There is a verisimilitude to the segment. Hall's intrusion doesn't come off as worked angle. There is no physical confrontation. Referee Randy Anderson physically holds back a confused Enos. Hall, clearly aping his Ramon character (who was really just an ethic twist on the Diamond Studd), used verbiage from the Billionaire Ted skits to set up one of wrestling's most popular angles, the invasion of the New World Order. Nash would join two weeks later, and by Bash at the Beach, everything would be different.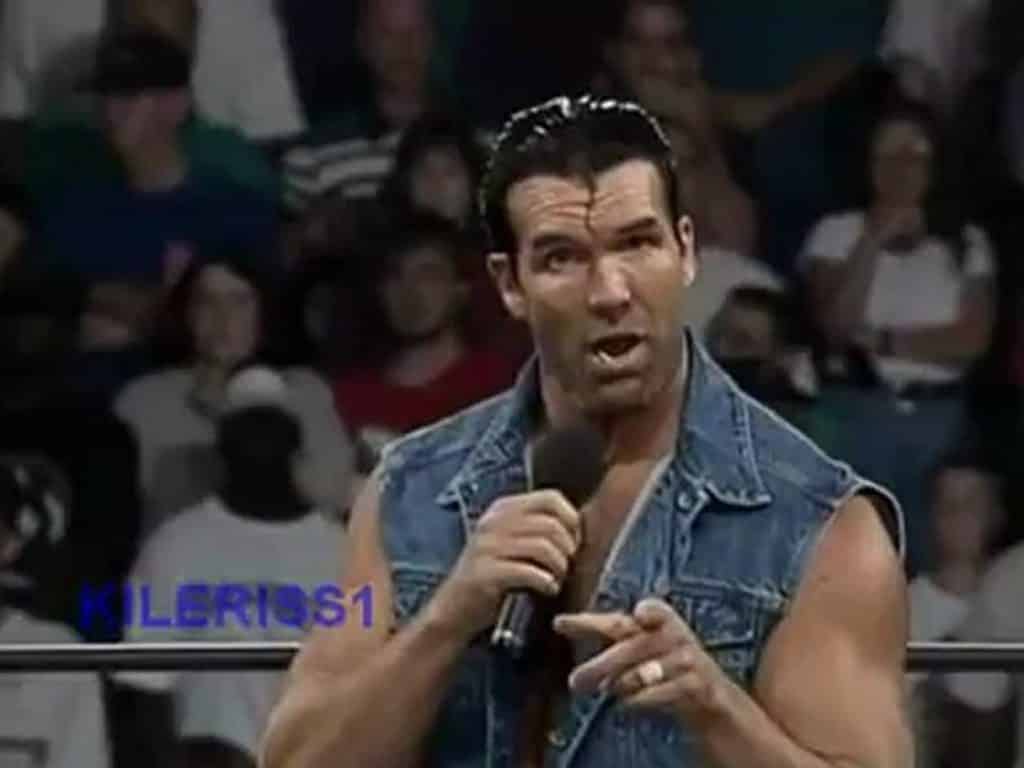 Talent would flow between the companies, as each performer looked to financially better themselves. The stale nature of the wrestling TV shifted. Audiences were trained to expect chaos and surprises. Even the contract structures would change. Finally, the talent could dictate their value, and the competition would have to adjust. Everything about pro wrestling's past, present and modern landscape would change after May 27th. Though the war between Turner and McMahon heated up in the prior year, the actions of one man, one pebble in the pro wrestling landscape, started the inevitable change to what we see today.
Scott Hall was the right person at the right time, and his most significant legacy would be reminding talent that when in doubt to always bet on themselves. To always bet on the Bad Guy.