What defines a champion? For some, it's the drawing power that comes with being "the face of the company", the person fans clamor the most to see week in and week out. Others consider it to be the reign at the top, standing tall and proud as the leader of their world. For many, it's the strength and power found in the fight. A legacy that is built from fighting against all odds, overcoming the struggles faced with perils of strength lying in wait, and finally reaching the top of the metaphorical mountain, reigning victorious in triumph.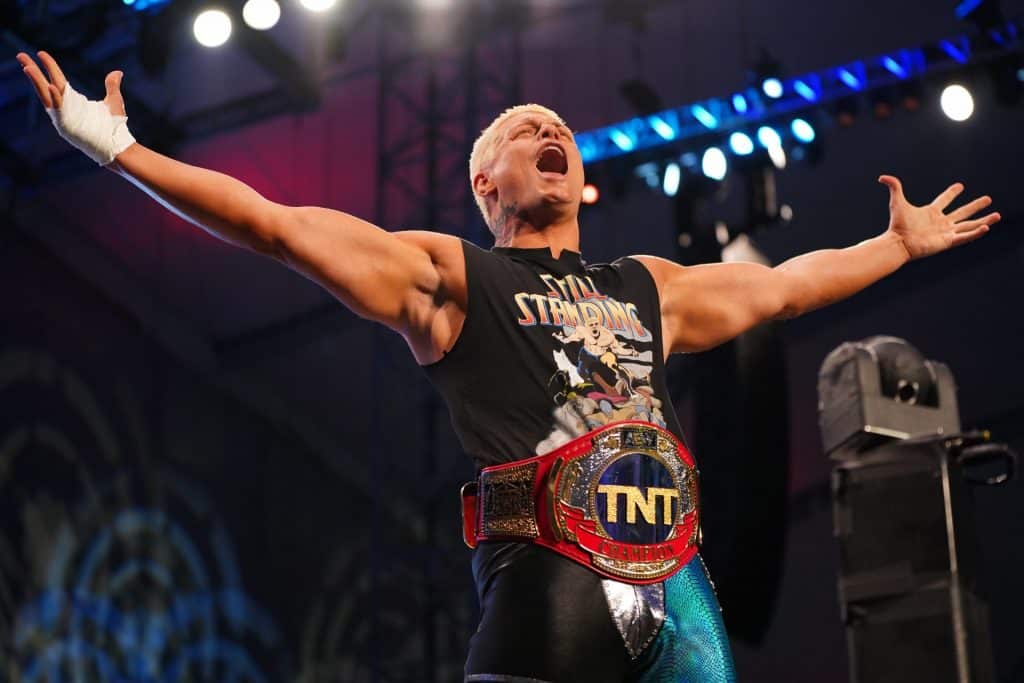 Building a Legacy
The story of the TNT Championship begins with Cody Rhodes. This is a man who, breaking away from the conglomerate of wrestling, sought to carve his own destiny and find his own identity. In the process, Cody became the face of a revolution. His impassioned promos and "Do The Work" ethic quickly propelled him to the face of the company. Indeed, prior to the COVID pandemic, he would address the crowd after every show, greeting fans and high-fiving delighted children. He brought fans into his world of Rhodes- a world of gratitude, passion, and an undeniable transformation of the wrestling landscape.

Master of the stage, Cody is extravagant, with larger than life entrances, themes that begin with operatic crescendos, and pyro that can light up the night sky. However, while he could comfortably bask in his accolades, Cody uses his presence to build up the successes of those around him. Darby Allin, Jungle Boy, Scorpio Sky, Eddie Kingston, MJF, Brodie Lee, these are but a few of the names that have risen to the top of AEW's echelon after having their own impactful matches and storylines with Cody.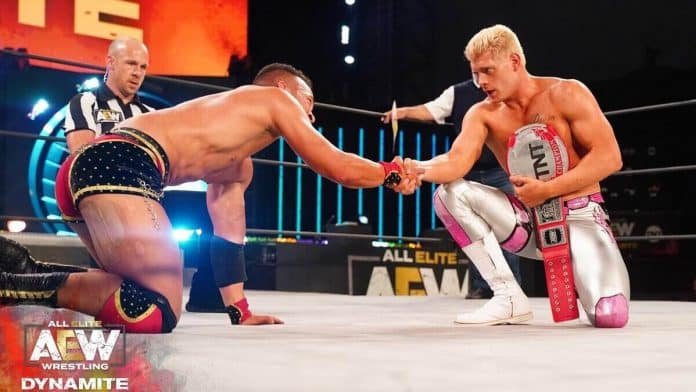 The TNT Championship
Within the first year of All Elite Wrestling's operations at TNT, Cody unveiled the TNT Championship on AEW Dynamite. For TNT, it represented the lineage of TNT and its history with wrestling. For Cody Rhodes, it became the foundation of a new legacy. A fighting champion, he would defend this title primarily on AEW's weekly program, and opened its defenses to anyone willing to step up to the plate and challenge for it.
With a "bridges down, doors open" mentality, Cody opened the championship to anyone who was willing to fight for it. This resulted in spectacular matches with some of the best of the independent wrestling scene. Warhorse, Ricky Starks, and Eddie Kingston all stepped up to the plate and into the ring, looking to find championship gold. Starks and Kingston found themselves signed to the AEW roster due to the talent they showed in their matches. The TNT Championship had become a beacon of opportunity, within reach of anyone willing to work for it.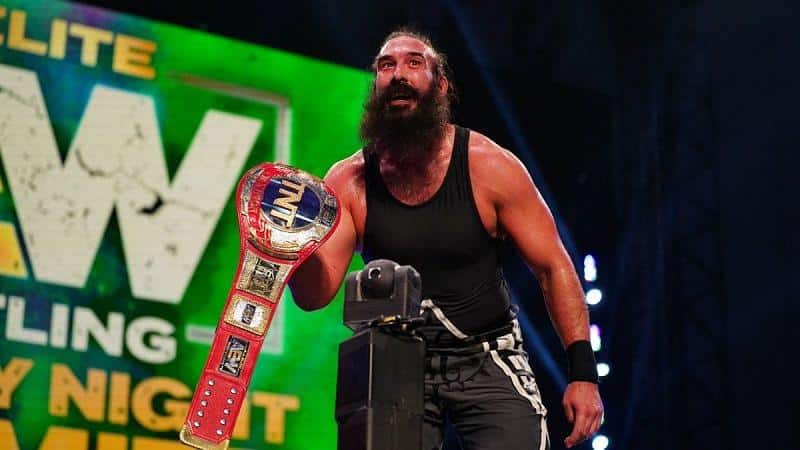 Within a few short months, Cody's TNT Championship matches saw the building of numerous stars. Jungle Boy fought deftly to hold that glory; while he found himself defeated by Cody, he nonetheless became elevated into new heights of star power. Scorpio Sky stepped out with the stature of Superman, temporarily putting friendship aside for a taste of glory. While Cody again reigned victorious, we saw the potential of championship residing in Sky; one who could hold the legacy of TNT and one day, carry that legacy forward in his own right.

The TNT Championship has also seen the build of indomitable monsters, such as The Exalted One, Mr. Brodie Lee. He rose to power and finally ascended higher than the Prince of Wrestling, becoming the first to usurp his throne. It would take enduring the brutality of a Dog and Collar match for Cody to reclaim this title, and with it, the legacy he had built.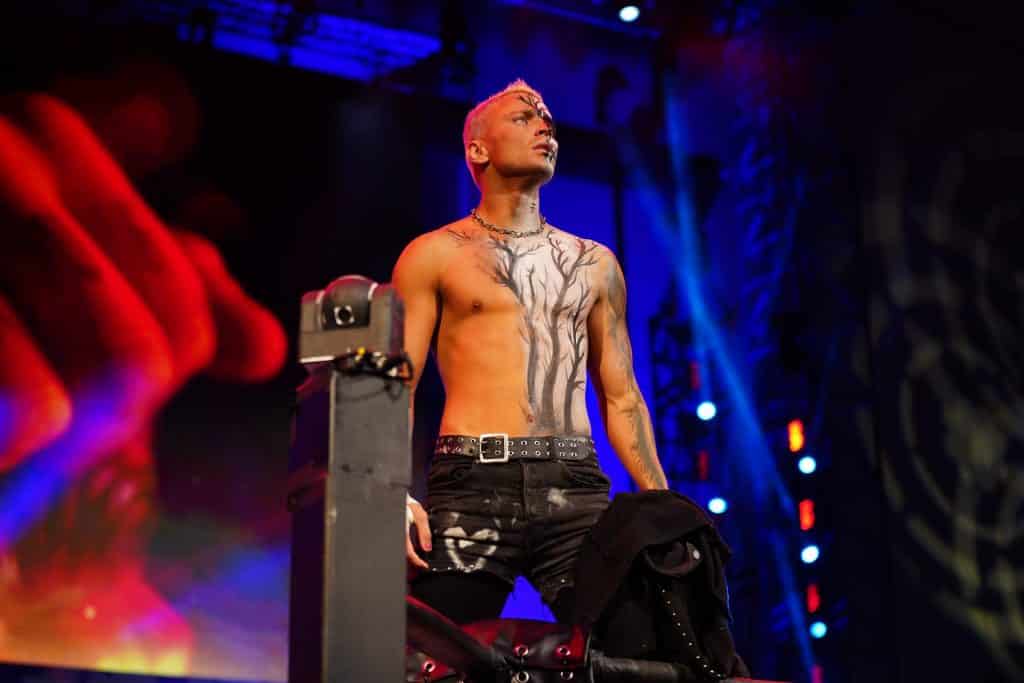 A Rising Star
If a champion is defined by strength and resilience, no one embodies those traits better than Darby Allin. Relentless, driven, and at times, reckless, Darby has taken on any challenge thrown at him. Wins satiated his desire, while defeat only fueled his hunger for more. With an enigmatic yet dangerous theme, he is often accompanied by a body bag with his opponent's name on it. Darby defines his entrance and presence with the mark of death gracing one half of his face.

He first made his mark at the Cracker Barrel Clash at AEW's All Out PPV in 2019. Captivating the crowd with a skateboard covered in thumbtacks, he jumped off the turnbuckle and on to Joey Janela's back. Images immediately propagated on social media, delighting fans with this new kind of daredevil aggression. Skateboarding legend Tony Hawk even got in on the action, naming Darby's skateboard attack the "Back Disaster".
Perhaps the biggest matches in Darby's AEW career have come at the hands of Cody, Chris Jericho, and Jon Moxley. At Fyter Fest, 2019, he faced Cody in singles action with his first big match with the AEW. This was a match that pitted the muscle bound strength of Cody against the small, quick witted stature of Allin. While Cody emerged victorious, Darby's relentless perseverance and quick counters thrilled the crowd and showed the world what he was capable of.

In a match against Jericho for the AEW World Championship, Darby once again found himself making an impact. Skateboarding down the long ramp, he instantly cemented himself as an iconic figure in both the wrestling and skateboarding worlds. In this Philadelphia Street Fight, Darby held firm against the Walls of Jericho, assaults by Kendo stick, a steel chair, and even worked the match with his hands duct taped behind his back. His quick counters, and relentless defiance in the face of the legend before him worked the crowd into a frenzy. Even though he lost this match for the world championship, Darby emerged from his chrysalis of suffering a bonafide star.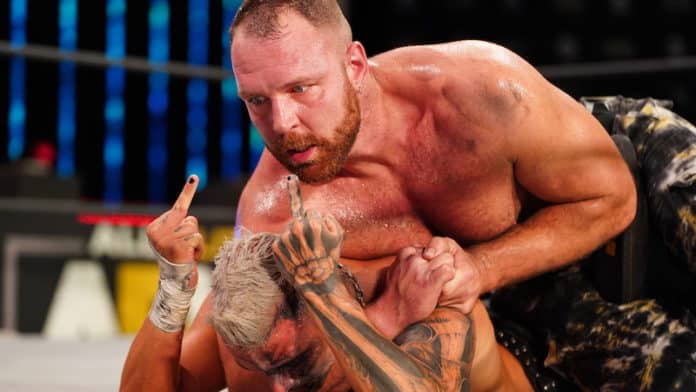 In perhaps the most riveting match yet, Darby Allin entered into the ring with deathmatch veteran, Jon Moxley, in a challenge for the AEW World Championship. Once again, Darby surprised his opponent with his relentless determination. He continued his quick counters, rising up to endure Mox's assaults when even the strongest man would be well within his rights to fall. Moxley at one point, begged Darby to relent, telling him he had proven his worth, that he had done enough. This was met by two middle fingers as Darby yet again stood up and just kept going.

By the end of the match, both men were bloodied and exhausted. Yet Darby had earned an exceptional respect from the man known for unscripted violence. To a world stunned by Darby's determination and the brutality that both men had laid out with respect for the game, Moxley cradled Darby's head in his hands. Jon Moxley kissed Darby's head in a fatherly bond only blood could bring.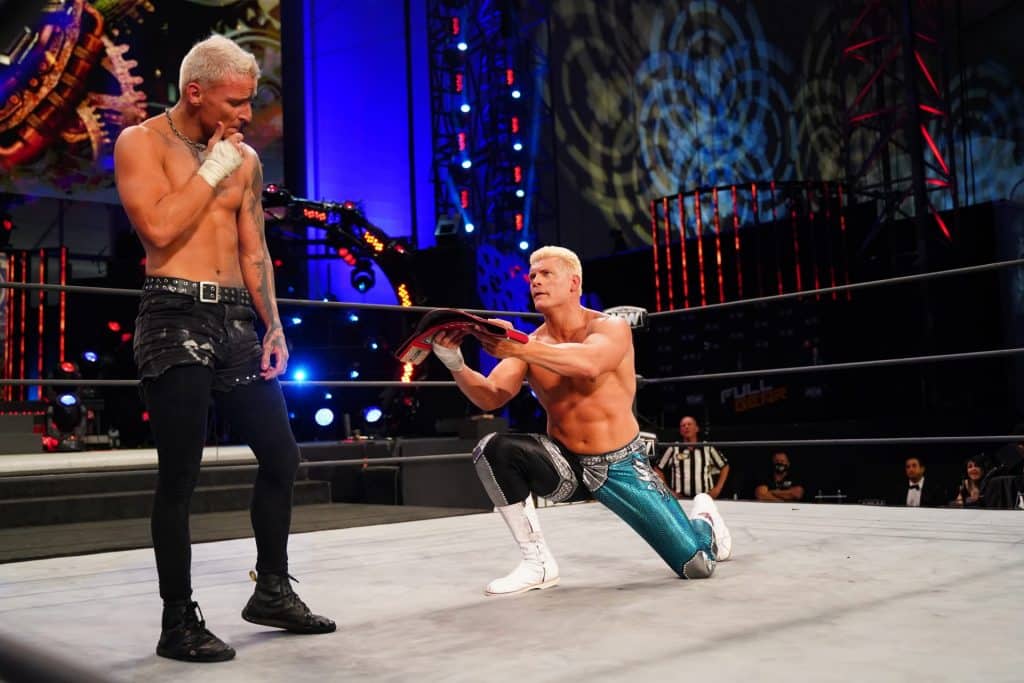 The Passing Of The Torch
In AEW, wins and losses matter, and in Darby's case, his losses have mattered a great deal. With every defeat, he rose higher in prominence, with the clamoring of fans behind him every step of the way. Prior to the COVID Pandemic, fans were often spotted in the crowd wearing Darby's signature face paint. Each Halloween, more and more fans would dress as the death defying star, filling their social media with pictures. Likewise, Cody was at the height of fame, beloved by fans, and Executive Vice President of AEW. He was building on his career in entertainment with TNT's Go-Big Show, alongside Snoop Dogg, Rosario Dawson, and Jennifer Nettles. These two men stood on common ground, each their respective faces of talent, determination, and relentless perseverance.
It's no surprise then, that the two should meet again, this time in a battle for the TNT Championship. The stakes had never been higher. Cody stood on the foundation of his legacy, etched into the battle scars on his body, and in the newly polished TNT Championship. He fought talents far and wide, enduring grueling battles. Cody had dug deep into himself for the reserve of strength and dedication. Darby had worked his way to a win-loss record of 13-5, fighting through obstacles with names like Starks, Luther, and Hobbs, to get there.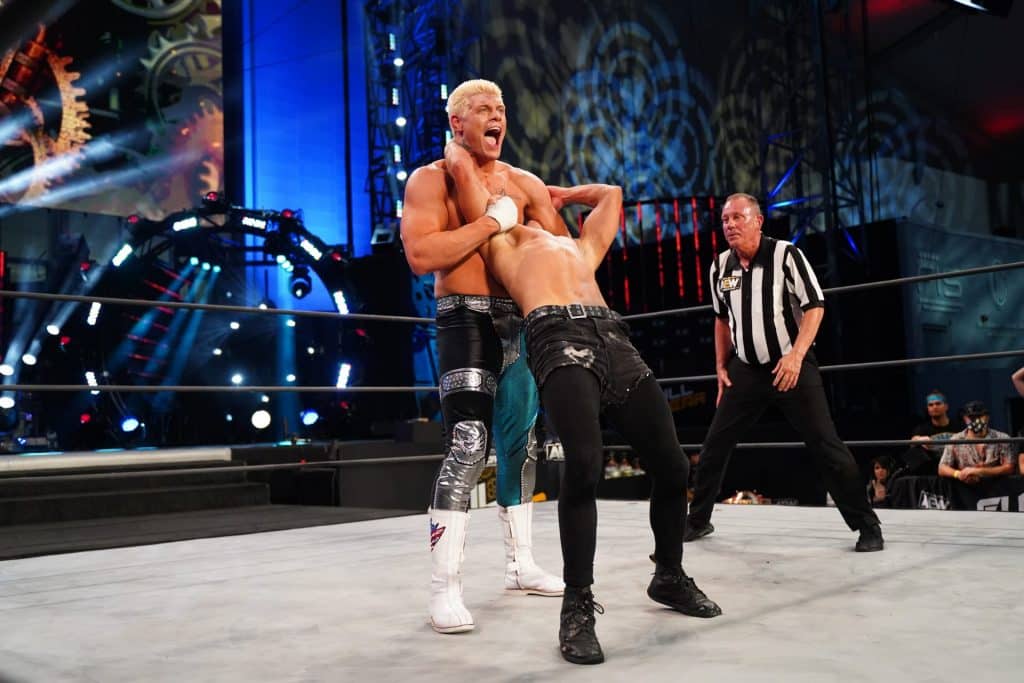 Their bout at AEW's Full Gear would become a battle for the ages. In stature, this was a battle of David vs Goliath. In the ring, this was a proving ground where neither man would stand down without a grueling fight. The TNT Championship had only changed hands once before, and Cody, the Prince of Wrestling, was not one to give up the keys to his kingdom so easily.
In defiance of pain, Darby stood tall against everything Cody threw at him in the ring. Debilitating submissions, crippling suplexes, and a Cross Rhodes from the top turnbuckle left Darby struggling to stand, but he kept rising nonetheless. By the end of this punishing bout, Darby Allin emerged victorious, with a clean win to cement his ascendency. Both men exhausted, Cody rose once again, only this time, he knelt back down on his knees, presenting the legacy he had built, as he passed the torch of the TNT Championship to the new face of the company, Darby Allin.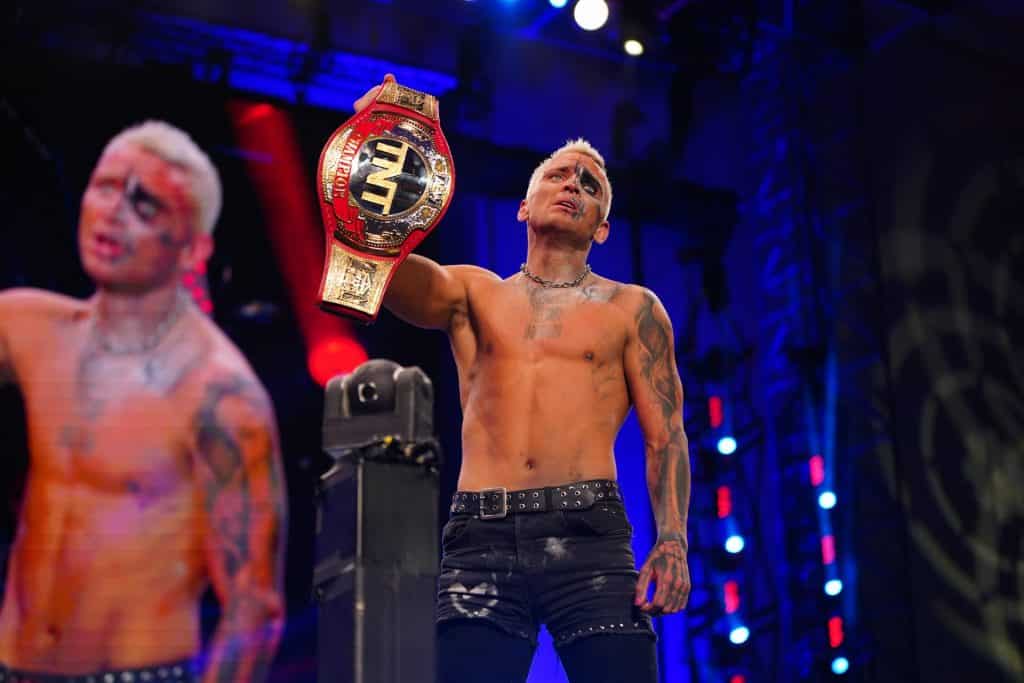 A New Kind Of Champion
What defines a champion? For Darby Allin, it's relentless perseverance while standing defiant in the face of death. Darby embodies the strength and power found in the fight. He's shown he can face a mountain of obstacles with his head held high, while many others could easily crumble under the weight of a loss. Instead, Darby gets up over and over again, using his relentless adaptability to finally come out on top. His artistic expression with his vignettes feature the likes of Tony Hawk and Steve-o from MTV's Jackass. This shows a massive crossover potential in the worlds of pop culture and wrestling. Furthermore, he has drawn enamored fans into his world of tenacity, rebellion, creativity, and determination. Darby is well on his way to becoming the "face of the company" to fans all around the world.

Cody Rhodes built a legacy of prestige with the TNT Championship, and in a moment defined by undeniable purpose, he passed the torch to Darby. Darby has reached new heights as a champion, and it's up to him to see how far he'll carry it on his own journey of relentless artistry. Now it's Darby Allin's turn to form his own legacy.