On Sunday January 23rd 2022, Game Changer Wrestling will host the biggest wrestling event in Hammerstein Ballroom history. GCW's The WRLD on GCW Pay Per View will be the biggest wrestling show to commence from the historic venue. Well known for it's wrestling history Hammerstein is a classic wrestling venue. Particularly praised for the famous ECW wrestling events commencing from the venue in the 2000s. Brett Lauderdale, the owner of GCW, met with Hammerstein Ballroom officials to remap the venue and create additional seating, allowing GCW to have the biggest wrestling show in the venue's history. An independent wrestling show of this magnitude has not been seen since before the pandemic. Now, GCW stares down the biggest show in the company's history and fans couldn't be more excited.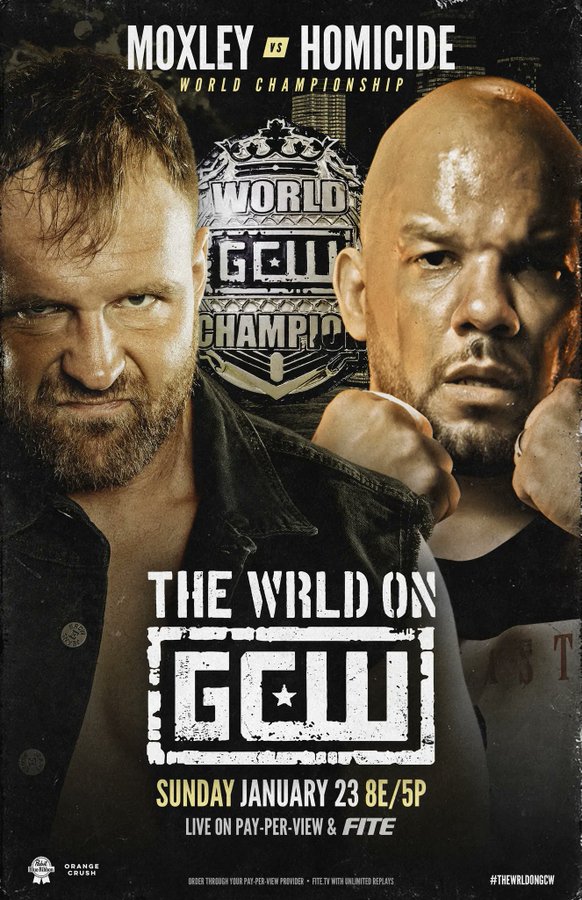 The Road to Hammerstein
Up until recent weeks GCW didn't have much officially slated for the card. They have to book in a traditional independent wrestling style booking show to show. Even with Hammerstein on the horizon, GCW had a number of shows leading to their big event. Therefore, they had to be patient with their announcements. Even with no announced matches, GCW sold out the Hammerstein Ballroom in days with a majority of the tickets selling out in hours.
This was a great feat for the company and heightened the excitement and anticipation for The WRLD on GCW. While the GCW schedule made it difficult to announce matches, so did personal issues. Current GCW Champion Jon Moxley has been on a hiatus from wrestling for nearly three months. During this time Moxley took time to focus on himself and enter rehabilitation. Fans were supportive of Moxley, but fans of the product were also curious what this meant for the GCW championship. Brett Lauderdale and GCW stood firmly behind Moxley, mentioning in interviews that they had no intentions to strip the championship from Moxley and were supportive of him taking as much time as needed. Even with the biggest event in the company's history on the horizon, the biggest focus was Moxley's health.
While fans patiently waited and supported his journey to health and rehabilitation, of course the hope remained that Moxley might appear. The first hint of a potential Moxley return came ahead of GCW's Die for this Event. GCW announced a #1 Contenders Do or Die Rumble for "Die for This". The winner would be set to challenge for the championship at Hammerstein. While nothing was announced officially, fans immediately began excitedly speculating the potential of Moxley returning.
At "Die for This", Homicide would overcome the likes of Atticus Cogar, AJ Grey, Tony Deppen and others to win. He earned a spot in the Hammerstein Ballroom main event in his home of New York City. Following Homicide's victory, fans were curious what the direction might be. Homicide was quick to clue them in on one thing. He wanted the same thing they did. After winning the rumble Homicide cut a promo for the crowd announcing he was going to "Fuck Up Moxley". This was surprising to many as nothing had been formally announced for Moxley to return.
After Homicide's victory, speculation continued to grow until Friday January 14th. Just nine days ahead of the Hammerstein Ballroom event GCW announced that Jon Moxley would face Homicide at The WRLD on GCW. It was an announcement that sent shockwaves through Wrestling Twitter. Jon Moxley had not even returned to AEW yet and Hammerstein is just over a week away. Now, his in ring return will occur at AEW Rampage, followed almost immediately by what will surely be an epic championship match at The WRLD on GCW on Sunday.
Moxley has been away from a wrestling ring for nearly three months. He last wrestled at The Wrestling Revolver's Tales from the Ring 4 event on October 30th. His last GCW appearance was against Nick Gage on October 9th at GCW's Fight Club event in Atlantic City. This is where Moxley retained the GCW World Championship. Now, fans are just excited to see one of their favorite wrestlers make their return to the ring and defend the GCW World Championship. For many this may be the first time they'll see Homicide and Jon Moxley square off. However some might recall that these two have a feud that's been brewing for over ten years.
The History between Moxley and Homicide
In 2010, Jon Moxley was at the height of his independent wrestling fame. He was making a name for himself with his charismatic promos and hardcore wrestling style. Moxley was wrestling all across the country working for CZW, Evolve, and Dragon Gate USA among others. Moxley was even traveling to Germany to work WXW in partnership with CZW. He was quickly becoming one of the names to watch in independent wrestling with his potential stardom feeling almost inevitable. Moxley signed with the WWE a year later so its safe to say he was a top prospect at this time.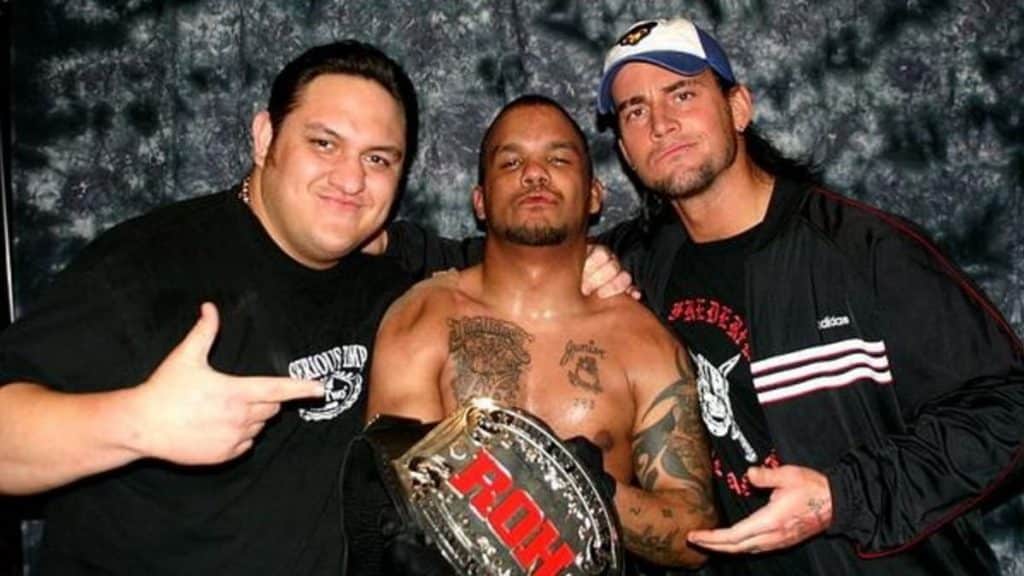 At this point, Homicide had already made a name for himself on the independent wrestling scene in the late 90's and 2000's. Homicide did this by working for a number of promotions but the most prominent being Ring of Honor. Homicide was on the first ROH show and was a prominent wrestler in the company for nearly six years, even becoming ROH World Champion.
He would eventually leave the company due to contract obligations with TNA Wrestling in 2007. In 2010 Homicide decided to leave TNA as they were under new management. Hulk Hogan and Eric Bischoff didn't see Homicide as a major player within their vision of TNA. Homicide opted to leave and return to independent wrestling rather than allow TNA to continue chipping away at his popularity. Homicide was granted his release from TNA in August of 2010. He would return to the independents just a month later. Homicide's first independent appearance came on September 10th for Combat Zone Wrestling where he announced he'd be returning to wrestle on October 9th. Homicide would then appear for Evolve at the Evolve 5 event, confronting Jon Moxley for the first time.
The Beginning of the feud at Evolve 5
At Evolve 5 on September 11th 2010, Homicide made his Evolve debut by interrupting Johnny Gargano during an interview and kicking him out of the ring. Jon Moxley would eventually join Homicide in the ring and the two would trade barbs. Homicide told Moxley that he believed he was the hottest wrestler in wrestling, but he's come to Evolve to take his crown back.
Homicide told Moxley he'd be keeping an eye on him and Moxley said that's a good idea. The two would eventually come face to face once again shortly after. On October 29th 2010, Moxley and Homicide were both scheduled for Dragon Gate USA's Bushido: Code of the Warrior PPV. Moxley lost a grudge match with Jimmy Jacobs and Homicide won his debut match with the company over Rich Swann. After his victory, Homicide cut a promo backstage but was attacked by an incensed Jon Moxley. Moxley left Homicide laid out and declared that he wasn't afraid of him.
Things continue at Dragon Gate USA
Dragon Gate USA followed up on this feud the next night at Freedom Fight 2011. Homicide teamed with Open the Freedom Gate Champion BxB Hulk to take on Jon Moxley and Akira Tozawa, representing Moxley's Kamikaze USA stable. Throughout the tag match, Homicide and Moxley consistently had their sights set on each other. Hulk would score the victory for their team after pinning Akira Tozawa. Post match, Moxley continued to talk trash to Homicide while Kamikaze USA member Yamato attacked BxB Hulk. Referees finally got BxB Hulk and Yamato to the back but Homicide finally had enough of Moxley's trash talk and attacked him in the ring. Both men brawled around the ring with neither man gaining a clear advantage until Moxley started to target Homicide's arm with a chair. Fortunately, Homicide referees and the ring crew hit the ring to separate the two.
The two would meet again just under a month later at Evolve's Evolve six event. Ahead of the match Moxley cut a scathing promo in a back alley. He compared Homicide to a bully he dealt with that had a reputation for being a bad guy. One day, that bully left and people would ask Moxley what he'd do if he came back. The bully never came back but Homicide did, and if you push Moxley then it gets ugly really fast. He warns Homicide that at Evolve Six he's gonna get burned real bad by a flame he's flying too close to. Jon Moxley tells Homicide he runs independent wrestling now. Moxley let Homicide know to take his reputation and shove it up his ass. He closes with independent wrestling just ain't big enough for the two of them.
He followed the promo up with results. On November 20th 2010, Moxley would go on to win his match against Homicide at Evolve 6. However it wasn't without controversy. Ahead of the match, Homicide already had issues with Evolve official Larry Dallas, arguing with him as he made his entrance. The issues only grew for Homicide after the match ended. The match ended in a referee's decision after Homicide was unable to get to the ropes or break free from Moxley's crossface chickenwing submission. It was a solid back and forth 20 minute match with Moxley continuing to work Homicide's shoulder as he did before. Homicide was clearly not pleased with the result.
After the match, Homicide attacked referee Jason Harding, which inspired Moxley to return to ringside. Moxley played up the fact that Homicide would be suspended for his attack, repeating that he plays by the rules unlike Homicide. This was a change in direction for Moxley's character as he used Homicide's aggression against him. Moxley continued to instigate Homicide throughout his assault berating him, mocking the way he speaks and constantly reminding him he would get suspended for his actions. Just when the assault seems like it's over, Moxley talks more trash which prompts Homicide to return and hit Moxley with a piledriver onto a steel chair finally laying him out once and for all.
Continuing the feud in various other promotions
This would be the extent of their feud in Evolve, primarily because by the time Evolve ran another show, Moxley was on his way to WWE. However they continued their feud on the independent scene through the end of 2010 into early 2011. They would actually mix it up once again in a singles capacity less than a week after their Evolve 6 match. Moxley and Homicide wrestled in a singles match for the second time on November 26th 2010 for ICW in New York. They wrestled on ICW's Final Impact event in a brawl that went through the crowd and back into the ring, before Homicide finally got a pinfall over Moxley following a lariat. They played into their previous match, with Moxley locking in the crossface chicken wing near the end of the match. Homicide quickly got a rope break before dropping Moxley with a cutter and a lariat for the victory.
After their match for ICW, Moxley and Homicide would battle yet again, this time for Combat Zone Wrestling. Moxley was the CZW World Heavyweight Champion and had recently defended the championship multiple times while touring in Germany with CZW. Homicide had only been back with CZW for one show and held a victory over Sami Callihan on October 9th at CZW It's Always Bloody in Philadelphia. On December 11th, Moxley would defend the championship against Homicide at CZW's Cage of Death event. Moxley and Homicide had a stiff back and forth contest with Moxley getting bloodied but still coming out victorious.
The Finale at Dragon Gate USA
The two were set to wrestle one more time at Dragon Gate USA's UNITED: NYC event on January 28th. It was a big show as it was DGUSA's debut in Manhattan, Homicide's hometown. Something came up that prevented Homicide from being able to appear at that show which prompted yet another scathing promo from Jon Moxley. Moxley insulted Homicide for not being able to make the Manhattan show and turned his attack on the entire state of New York.
Moxley let Homicide know his complete disdain for the state and people of New York. He ended the promo by stating he used to be impressed by Homicide but he recently found out "Homicide is just another pussy from New York City." During his match on the January 28th show, Moxley would continue to take shots at New York as well as Homicide. During his match with Jigsaw, he did an Ace Crusher as a dig at Homicide who uses the move frequently. The two would put a cap on this feud on January 30th. Their final match was a no disqualification match at Dragon Gate USA's UNITED: Finale event in New Jersey.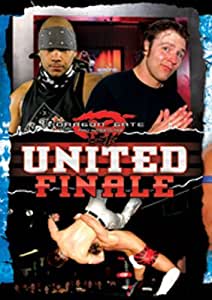 Moxley would come out victorious over Homicide and once again, it would not come without controversy. Throughout the match, Moxley would pick at Homicide constantly, telling him that he can't beat him. Homicide would use weapons, outside interference from Reby Sky, and even nailed Moxley with multiple lariats but he continued to kick out at two. Every time Moxley would kick out, he'd continue egging Homicide on telling him he can't beat him. Homicide puts Moxley on the top ropes and hits him with the Hamachan cutter and again Moxley kicks out at two.
He is pissed and hits Moxley with the Cop Killa. Homicide gets up and stares down Moxley for a moment before putting Moxley on top of himself for the three count to the shock of everyone. After the match Homicide continues his assault. He hit Moxley with a piledriver and says he could care less about winning he just wants to shut Moxley up. Homicide pulls out a pair of scissors and tries to cut Moxley's tongue out of his mouth. Moxley narrowly escapes thanks to an assist from Kamikaze USA member Akira Tozawa.

The story is simple in that Moxley pushed Homicide to the edge in order to get him out of his hair by way of suspensions from reputable promotions like DGUSA and Evolve. That said, the booking of this feud, particularly the last match, rubbed many the wrong way. Homicide losing intentionally was weird but I believe we're supposed to think Moxley got so in his head he just wanted to destroy him and shut him up. I think this feud was still in it's early stages. However Moxley was signed which prevented it from closing out, but now ten years later we'll get a final match.
Homicide's History with Jersey Championship Wrestling/Game Changer Wrestling
Ten years later,Homicide has a chance to settle the score at the Hammerstein Ballroom and become GCW Champion. Homicide's history with GCW goes back to the early days of Jersey Championship Wrestling. Before the promotion was owned by Brett Lauderdale and named Game Changer Wrestling, it was known as Jersey Championship Wrestling. It was JCW until 2004 when it was rebranded and shut down. When this happened, Homicide was the reigning JCW Champion, holding the title 187 days before the championship deactivated.
JCW would return in 2013 before being bought and rebranded by Brett Lauderdale as GCW in 2015. Homicide wrestled two shows for JCW in 2014 before returning to work with GCW in 2017. He has consistently wrestled with the company since 2017, appearing at least two or three times a year if not more. In 2019, the promotion hosted an event titled 5150 as a tribute to his 25 years in wrestling. Homicide has challenged for the GCW Championship three separate times since 2017, coming up short to Matt Tremont, Nick Gage, and Rickey Shane Page respectively. Now he has a chance to become the champion yet again. And become champion of a promotion he was around for some of the earliest days in their history. He just has to beat a man he's had issues with in the past.
Jon Moxley's History with Game Changer Wrestling
Jon Moxley's history with GCW is not nearly as long standing. He was initially supposed to debut for the promotions Bloodsport event in 2019, but had to pull out due to a MRSA infection. He was then scheduled to debut at Bloodsport 3, in the summer but it was delayed due to the Covid-19 Pandemic. Moxley finally made his debut in October of 2020, facing Chris Dickinson at Bloodsport 3. He wouldn't make his non Bloodsport GCW debut until Joey Janela's Spring Break in April of 2021. After Nick Gage won the GCW World Championship from Rickey Shane Page, Jon Moxley would come to the ring and attack his old rival.
Moxley's relationship with Nick Gage goes back to Moxley's early years in CZW. It is a longstanding feud/relationship that's held up for years. Moxley would once again attack Gage at GCW's Draft Day event a month later. After Gage retained the GCW Championship in a match with AJ Gray, Jon Moxley would attack Gage after the match. The two brawled throughout the crowd as the show went off the air, with the pair having to be separated by members of the GCW roster. Moxley would continue to appear for GCW, primarily at their Bloodsport events. That changed in September of 2021, when Moxley made yet another surprise appearance. This time it wasn't to attack Nick Gage but instead become GCW World Champion. Moxley was announced as a surprise opponent for Matt Cardona's GCW World Championship. Moxley made his in ring debut quickly winning the GCW Championship at GCW's Art of War Games show.
After his championship win Moxley would stare down Nick Gage, setting up a match between the two a few weeks later. Moxley would successfully defend his GCW championship against Gage at their Fight Club show in Atlantic City. Shortly after this match, Moxley would take his hiatus from professional wrestling to enter rehab for alcoholism. He is now ready to return and will be part of the biggest main event in Game Changer Wrestling's history. He will face a familiar foe who has an interesting history with.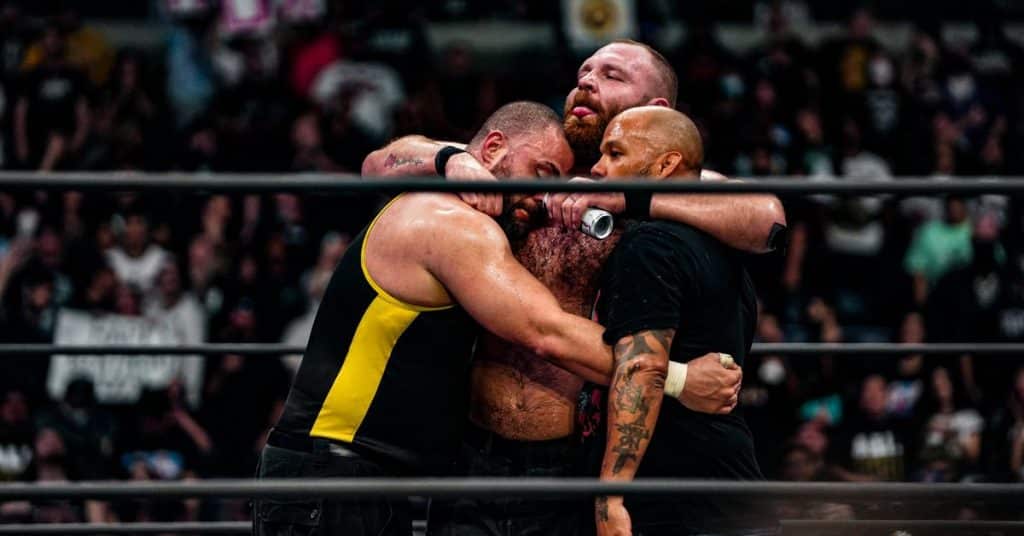 Bitter rivals turned friends look to square off one last time
Most recently, Homicide and Moxley shared a moment at AEW's Grand Slam event at Arthur Ashe Stadium in New York City. Homicide would make the save for Moxley and Eddie Kingston as Minoru Suzuki and Lance Archer attacked the tag team. That was a huge moment for Homicide to get to appear on a grand stage in front of his city. A moment that Moxley helped facilitate.
Now both Moxley and Homicide are looking for a moment in New York City. For Homicide, he's mentioned in an interview that he's looking to take a role behind the scenes soon and he hopes for his final match to be in New York City on a grand stage. This Sunday at the Hammerstein Ballroom could be one of the biggest moments for Homicide to retain a championship he never lost, put an end to a feud he didn't get to finish, and cap off an incredible career. For Jon Moxley, he just got started with GCW, only wrestling one formal match for the company. Now, he will return on Sunday night to a raucous Hammerstein Ballroom that'll be excited to see him. Moxley is no slouch and looks to remain champion so Sunday night will be a big night for two superstars with a history that spans over ten years.