Wrestling cards across the world will always attempt to hype the uniqueness of a match, whether through the contrast between the competitors, how they complement in styles, or very rarely, the fact it is a first ever meeting between two superstars. You need only see the excitement of American fans when AJ Styles first appeared at Number 3 in the 2016 Royal Rumble, or the anticipation of Lucha Underground faithful when they realised that Mexican legend Rey Mysterio Jr would be debuting.
More often, wrestlers may end up facing one another multiple times over the years due to a lack of variety on the rosters, which can sometimes lead to situations such as multiple matches between opponents, gradually deteriorating to diminished returns. For an example of this, I used Cagematch to see how many times John Cena and Randy Orton appeared opposite one another in matches, whether opposing tag team, singles or multi-man matches, working backwards and reaching one hundred matches by 2009, with another eight years of matches to go.
However, sometimes there will be wrestlers who instantly have chemistry and go on to face each other several times in high quality matches, creating a historical series of matches that fans can enjoy, sometimes culminating in a classic trilogy. The most obvious of classic trilogies will be the tremendous Kazuchika Okada and Kenny Omega Trilogy for the IWGP Heavyweight Title, which gained critical acclaim and helped bring New Japan to a bigger international audience. Another classic example would be the 1989 series between Ric Flair and Ricky Steamboat for the NWA World Heavyweight Championship – possibly the yardstick that other trilogies are still often compared to over thirty years later.
In this series, we shall be highlighting a lesser known trilogy that quickly captured imaginations worldwide at the possibilities that could occur, when two of the best wrestlers from the 1990s and 2000s locked eyes on one another: Kurt Angle and Shawn Michaels. When looking at all three matches, we will see what made these matches so good, what developments occurred throughout the trilogy, and what would be the ramifications for this trilogy, beginning in January of 2005…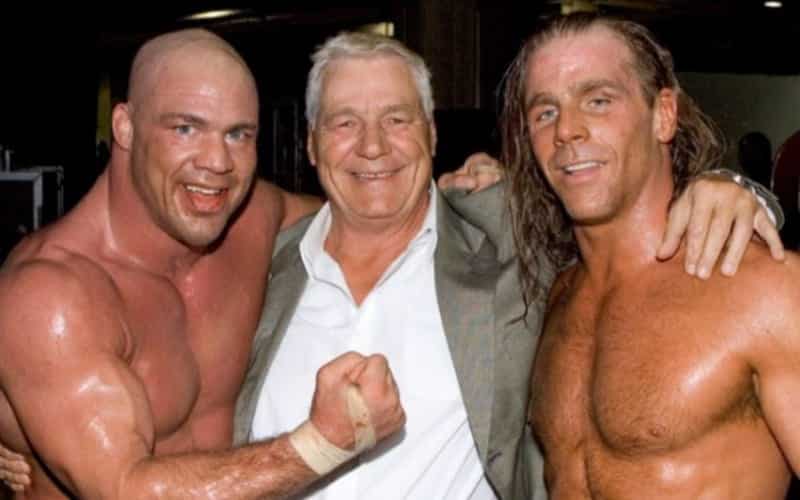 The Backgrounds
During the 1990s, Shawn Michaels had grown into one of the best performers in the world, beginning with a solid feud against his former Rockers partner Marty Jannetty in several solid matches. He would then begin cementing himself as a showstealer after successive classic Ladder matches against real-life friend Razor Ramon, at WrestleMania X and Summerslam 1995, before finally reaching the mountain top in 1996. In a one hour Iron Man match, Shawn Michaels would defeat then-Champion Bret Hart to achieve his childhood dream of being WWF Champion, staying in the main event scene over the next two years in successful title defences against Diesel, Vader, Mankind (a true hidden gem and at one point Mick Foley's favourite match), and even Sycho Sid (in a match Michaels would refer to as his most expensive carry job).
Undoubtedly massively talented, Michaels was also renowned for slight brattish tendencies, politicking his way backstage alongside Kliq mates Triple-H, Razor Ramon, and Diesel, and dropping titles without wrestling. These tendencies weren't helped during the substantial substance abuse he had developed since 1987. Whilst Michaels' politicking could be excused when guaranteeing classic matches, his reputation was forever tainted when he would become involved in the infamous Montreal Screwjob, becoming WWF Champion in the process.
Helping bring to the forefront the more edgy Attitude Era as marketed by Vince McMahon, he would unfortunately gain a severe back injury at the 1998 Royal Rumble, herniating two discs in his back and crushing a third, forcing him to retire as a professional wrestler after dropping the WWF Championship to 'Stone Cold' Steve Austin at WrestleMania XIV, leaving fans to wonder "what could have been?" His time away from the ring would be spent meeting and marrying former WCW Nitro Girl Rebecca Curci, aka Whisper, in 1999, before becoming a father in 2000, two elements that would inspire Michaels to become clean from drugs and become a born-again Christian in 2002.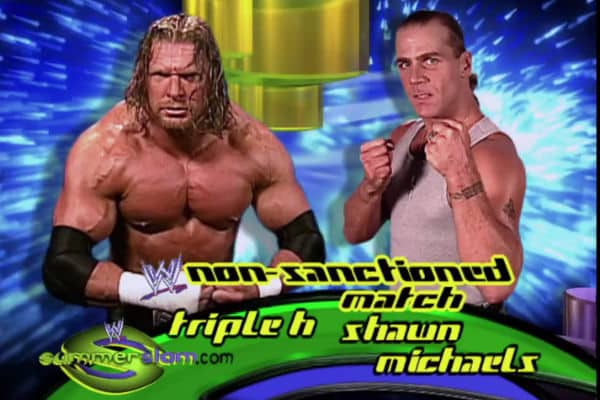 In comparison, Kurt Angle had spent the 1990s preparing for the 1996 Summer Olympics, battling through the death of a close friend in Dave Schultz, and a severe neck injury (pulled four muscles, herniated two discs, and fractured two of his cervical vertebrae), before finally winning a Gold Medal in the Heavyweight class. Following this, he would end up signing with WWF in August 1998, less than six months after Michaels' retirement, and in just over two years, would not only have debuted, but would become one of the most successful debutants in wrestling history.
Angle would become WWF Champion by October 2000, as well as already having been WWF European and Intercontinental Champion, the 2000 King Of The Ring, and have been recognised as possibly the quickest learner of professional wrestling. Having proven himself an undoubted natural professional wrestler, by 2002 Angle was a proven main eventer and one of the most reliably consistent wrestlers in the company; able to carry any wrestler to a good match, similar to what Michaels once did.
In 2002, Shawn Michaels shocked the world by returning to the squared circle, turning a supposed one-off match with best friend turned enemy Triple-H at SummerSlam 2002, into a full-time position on the roster. This would be during the days of the Brand Split, where Raw (where Michaels resided) and SmackDown (which featured Angle) would have completely separate championships, rosters, and even events – prohibiting inter-promotional matches except for the yearly Royal Rumble.
It wasn't until 2004 that brands would allow matches between Raw and SmackDown, beginning at WrestleMania XX. This show would feature SmackDown's Torrie Wilson and Sable defeat Raw's Stacy Keibler and Miss Jackie in a Playboy Evening Gown match, Raw's Goldberg defeat SmackDown's Brock Lesnar in a heated fiasco of a match, and SmackDown's Undertaker return to avenge himself against brother Kane of Raw. With this, the threads of possibility began to weave over the two brands, which would lead to the Royal Rumble 2005.
The Build-Up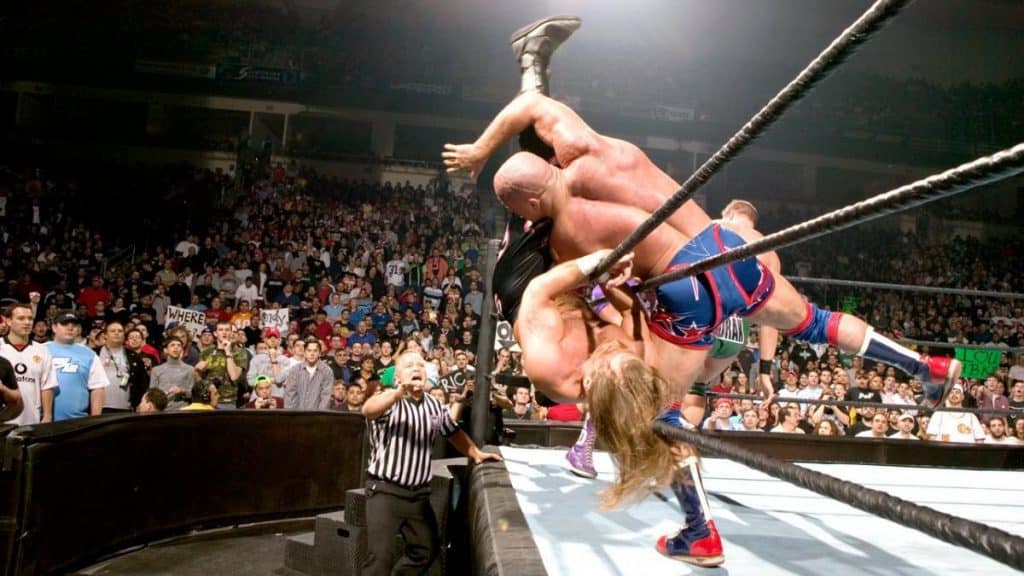 During the Rumble, both Shawn Michaels and Kurt Angle would participate; Angle having stolen Nunzio's number after an unsuccessful attempt at the WWE Championship earlier in the night. To the shock of many, Angle would be eliminated in less than a minute by Michaels, leading to furious retribution from Angle as he would not only eliminate Michaels but attack him with the ring steps and an Ankle Lock. Over the next month, Angle would compete in a tournament to become number one contender to SmackDown's WWE Championship, eventually losing to John Cena at No Way Out.
The following night on Raw, Shawn Michaels would officially challenge Kurt Angle to a match at WrestleMania, with Angle responding the next week with a brutal beatdown (after Michaels defeated Edge in a Street Fight) to accept. In a moment of confidence, Angle would proclaim that over the next four weeks in the lead-up to WrestleMania, he will achieve everything that Michaels did in his sixteen-year career.
The next few weeks would feature some of the highlights of Angle's career during his attempt to eclipse Michaels' career, beginning with the infamous ladder match from WrestleMania X against Razor Ramon. On the March 10th edition, Angle would defeat jobber Mike Haywood in a Ladder match with relative ease before announcing that next week he would face Michaels' former partner of The Rockers, Marty Jannetty, who would go on to appear on the next episode of both Raw and SmackDown. On Raw, Jannetty would tag with Michaels and defeat La Resistance in a solid match but would lose to Angle on SmackDown after a hidden gem of a competitive match.
Having proven himself a 'better athlete', Angle would spend March 24th edition of SmackDown proving himself the 'better entertainer', bringing out former Michaels manager Sensational Sherri for a spoof duet of Michaels' entrance theme, entitled "Sexy Kurt". He then attacked Sherri with the Ankle Lock after she showed sympathy for Michaels. Yet despite all the promos, all the skits, and all the jokes, the WWE Universe knew that at WrestleMania 21, they would be seeing two of the best, most naturally gifted wrestlers of the last fifteen years take one another on in an unprecedented dream match; both desiring to prove they are the better wrestler.
WrestleMania 21 (3rd April 2005)
Singles Match
Shawn Michaels Vs Kurt Angle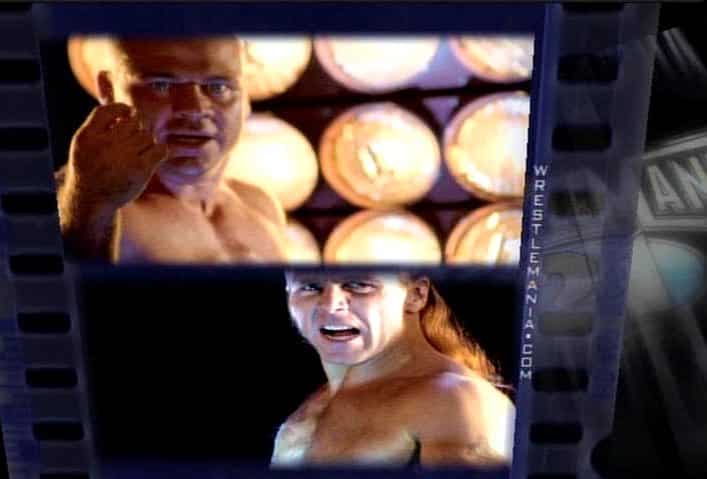 Michaels enters first in black leather to a good ovation at his eleventh WrestleMania appearance, fireworks galore as he shows a serious depiction on his face. Angle meanwhile, enters with his straps already down, soaking in the chants of 'You Suck' as he stares a hole towards Michaels. Both men are primed for battle, Angle pulling his straps up in preparation, Michaels grimly chewing at his gum. As the fans are buzzing with excitement; both men smile as the bell rings. Michaels controls the early going as he grounds Angle with a headlock, returning to it several times in the first few minutes to frustrate Angle. The referee has to separate the men in the corner and a frustrated Angle instantly reverts to right hands.
Angle's first attempt at an Angle Lock has Michaels roll out and clotheslining Angle out of the ring, an Angle Slam to Michaels against the ring post puts Angle in control. Angle utilises knees, forearms and kicks to attack Michaels' lower back – with the crowd already chanting for both competitors. Michaels attempts to retaliate with slaps and chops, but Angle's vicious attacks keeps him in control. An escape to the ring apron backfires as Angle follows and attempts a terrifying German Suplex off the apron – a desperate Michaels clinging to the ropes – having to resort to an elbow and a low blow to save himself.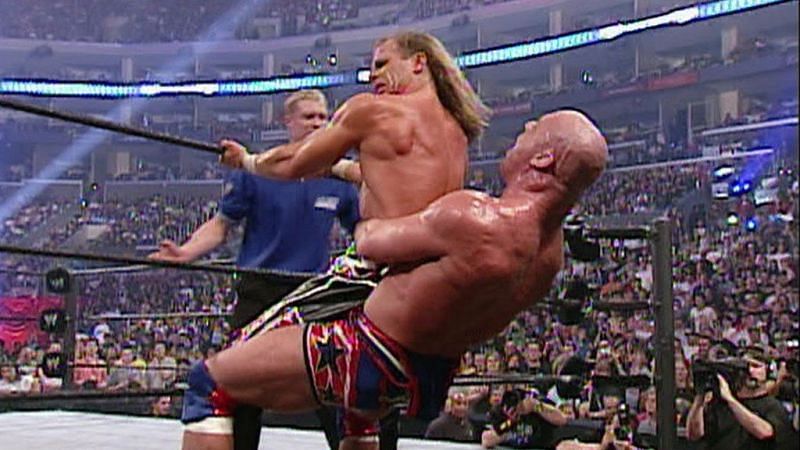 Michaels leaps off the middle rope with a splash to Angle on the SmackDown announce table, both men sliding off the broken table in pain. Michaels and Angle both return to the ring on opposite sides at the nine count, crawling together to exchange chops and right hands. A fiery Michaels hits a huge flying forearm, building up to an Elbow Drop off the top rope, shaking in anticipation of Sweet Chin Music as the fans rise to their feet. The stomps on the mat arise; Michaels steps up and kicks straight into an Angle Lock, with Michaels barely scrabbling enough to grasp the ropes. Angle and Michaels jockey for control – Angle Slam and Angle Lock both reversed, Sweet Chin Music ducked – and Angle hits a successful Angle Slam for a two count only.
Angle humorously raises his straps up to psych himself up, only to pull them back down and attempt a gorgeous moonsault off the top rope that Michaels avoids. HBK's own attempt up top leaves him caught out and Angle hits a huge Angle Slam, covering for the pin, but Michaels just kicks out to the amazement of the crowd. A frustrated Angle screams at Michaels who retaliates with a sneaky Sweet Chin Music, but a tired Michaels takes too long to cover and Angle kicks out just before three. Michaels struggles to get to his feet, only for Angle to take advantage and trap Michaels in the Angle Lock. Stuck in the centre of the ring, Michaels cries in agony; Angle latching on like teeth from a snake, dragging Michaels from the ropes and locking in the grapevine. Michaels holds strong, but finally, the pain is too much, and he taps.
Winner Via Submission – Kurt Angle
A truly excellent contest that had tremendous pacing from start to finish; a slow build-up that picks up gradually and ends in a state of exhaustion as both warriors battled. Michaels came out looking strong as he battled through the pain several times, whilst Angle looked like a tactical genius by taking advantage with such suddenness. There was enough to expand on in a future match, what with Michaels having taken too long to cover after a Sweet Chin Music and only losing due to a brief moment of lost concentration. The chemistry between the two was electric and was perfectly suited for a WrestleMania event, stealing the show and earning a deserved standing ovation for Michaels.
The two men would be kept separate for several months due to featuring on their separate brands, but this would change on the June 13th edition of Raw, when Angle would be revealed as the second draft lottery pick, transferring to Raw from SmackDown. On the same night, less than two weeks from Vengeance, Michaels would officially challenge Angle for a rematch, which would be quickly accepted by Angle.
Vengeance (26th June 2005)
Singles Match
Shawn Michaels Vs Kurt Angle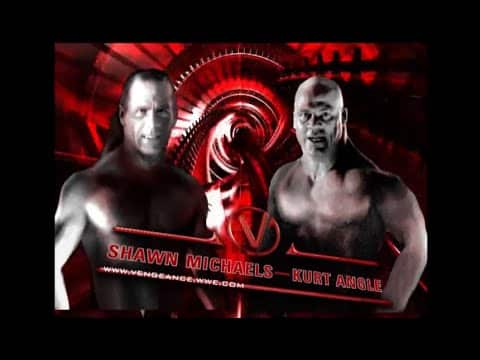 Angle enters, full of intensity while Michaels is much more relaxed, with a cocky smile on his face. Michaels quickly tries to utilise his gameplan from their first match, but his attempts at a headlock are transitioned by Angle into an armbar and a shoulder break sending Michaels outside. Michaels' left shoulder bothers him as he utilises chops, but Angle changes focus to the left leg – a Single-Leg Boston Crab and an Angle Lock attempt – forcing a desperate Michaels to send Angle out of the ring. This quickly backfires as this time Angle hits a German Suplex onto the Raw announce table, wiping Michaels out.
A confident Angle utilises a Neckbreaker, a Powerbomb into the turnbuckle (possibly the earliest iteration I've ever seen of a Buckle-Bomb), and a huge Release German Suplex for several close two counts. Angle is fully in control at this point of the match, cutting off any offense from Michaels with lightning quick Overhead Belly-to-Belly Suplexes. Angle tries knocking Michaels out with a deep Sleeper, with Michaels almost counted down, but he builds up for a back body suplex to escape. The match descends into a slugfest between both men, Michaels winning out with a flying Forearm Smash and hitting his patented Kip-Up to huge cheers.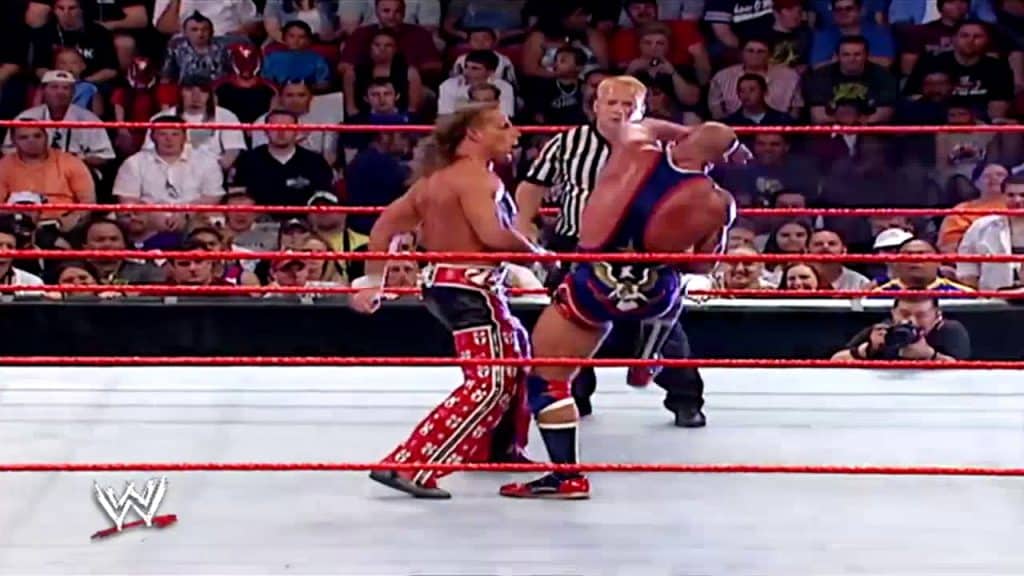 A flurry of offense from Michaels brings the crowd rocking for him as he clambers up top for a massive Flying Elbow Drop – the band have the instruments out and are preparing to start tuning up – only for Angle to hit a huge Clothesline to save himself. Two count only on Michaels, an Angle Slam reversed into a Swinging DDT gets three consistent two counts only on Michaels. Michaels escapes a trifecta attempt of German Suplexes but walks into an Angle Slam for a nearfall, Angle goes for the Angle Lock but Michaels uses an Inside Cradle – another two count only – but a desperate Michaels eventually gets caught in the Angle Lock.
Michaels battles against the Angle Lock and eventually rolls forward to escape; wiping out referee Jack Doan in the process. Michaels is limping with the left knee, but Angle scares off medical personnel as he pulls down his straps, ducks a desperate Sweet Chin Music to lock in the Angle Lock, avoiding two escape attempts, forcing the leg down, all while the crowd is chanting 'HBK' to help will him on. Angle pulls back to the centre, just like at WrestleMania, but this time Michaels rolls through and sends Angle shoulder first into the corner. Huge chants of 'HBK' and Sweet Chin Music completely wipes Angle out – both men down for an 8 count – Michaels drapes his arm over and Angle's shoulder just kicks out at 2.78 seconds.
A groggy Angle rolls to the apron and climbs up top, with Michaels barely able to stand, and jumps off. Michaels hits him with a picture perfect Sweet Chin Music to the chin of Angle. Angle crumples to the floor, Michaels falls on top, and the three count is academic.
Winner Via Pinfall – Shawn Michaels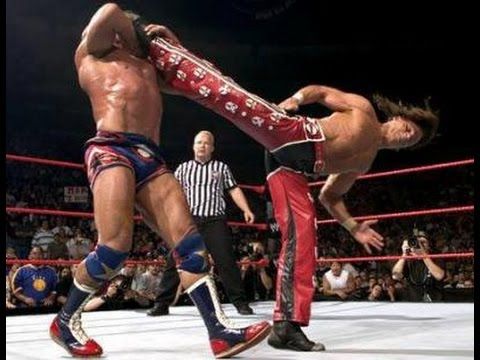 The gameplan from Angle quickly differentiates from their first match, with Angle using his size and strength quickly to control the match. Whereas last time it took frustration for Angle to utilise an Angle Slam on the outside, here Angle does it much earlier to injure Michaels and follows up with several attacks to the back and neck of HBK. The match then portrayed a more underdog theme: Angle the confident, bigger man wearing down HBK, who had the WrestleMania loss in the back of his mind. But this overconfidence ends with Angle going up top, leaving himself open for a Sweet Chin Music; a finisher that Michaels last time took too long to take advantage, and does the same here early on.
That early tuning of the band reminded Michaels of how he lost the first match, and when he first hits Sweet Chin Music this time, he's quicker but still not quick enough to take advantage. In the end, it took an instinctual third attempt to win, where Michaels covers straight away to defeat his opponent. The lesson learned for Michaels here is that when he does hit Sweet Chin Music and covers straight away, he can win, but it's that extra time taken that cost him twice.

The first match proved that Angle could make Michaels tap, this match proved that the Sweet Chin Music can beat Angle, and both matches excelled by combining their different skills. Michaels is one of the best sellers in history, making Angle look an absolute beast on offence while telling a story, but Angle is a natural wrestler and unquestionable workhorse that helps raise Michaels' game level. Angle never lowers his workrate, and Michaels rarely had such an equal when it came to putting on wrestling clinics.
With two slightly contrasting but amazing matches between two of the best wrestlers of the last thirty years, they are both an unquestionable pleasure to watch. The favourite of the two seems to change depending on who you ask – a compliment to the success of both matches – but what about their third match in this trilogy? Tune in next time to find out…