"You say you want a revolution, well you know, we all want to change the world."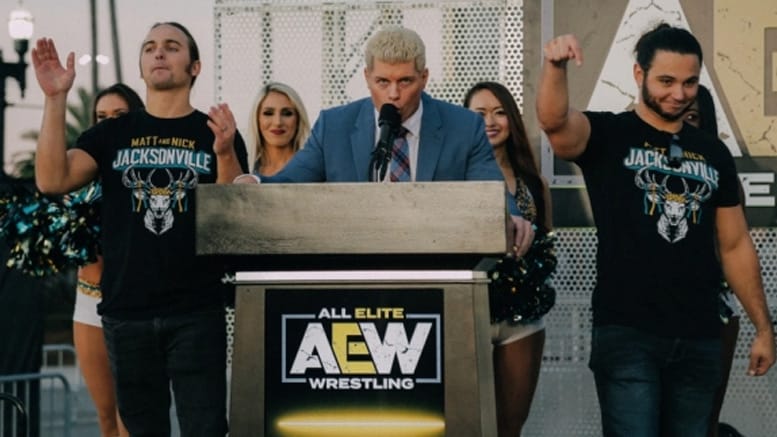 Set amidst fireworks and fanfare on a sunny day in Jacksonville Florida, some of the hottest acts in professional wrestling gathered together to make a statement that would define the world of wrestling for years to come. "We are going to Change The World, and it all starts today!"

In the two years since that fateful day, All Elite Wrestling brought professional wrestling back to TNT with its weekly program, AEW Dynamite, they've shattered ticket sales records for their PPVs, and have developed working relationships with several companies in the wrestling industry. Where competition used to bring divided territory lines, and hard fought ratings wars, AEW began building relationships with other promotions in the wrestling world. What began with a partnership with AAA grew to see collaborations with NWA, Impact Wrestling, and most recently, New Japan Pro Wrestling.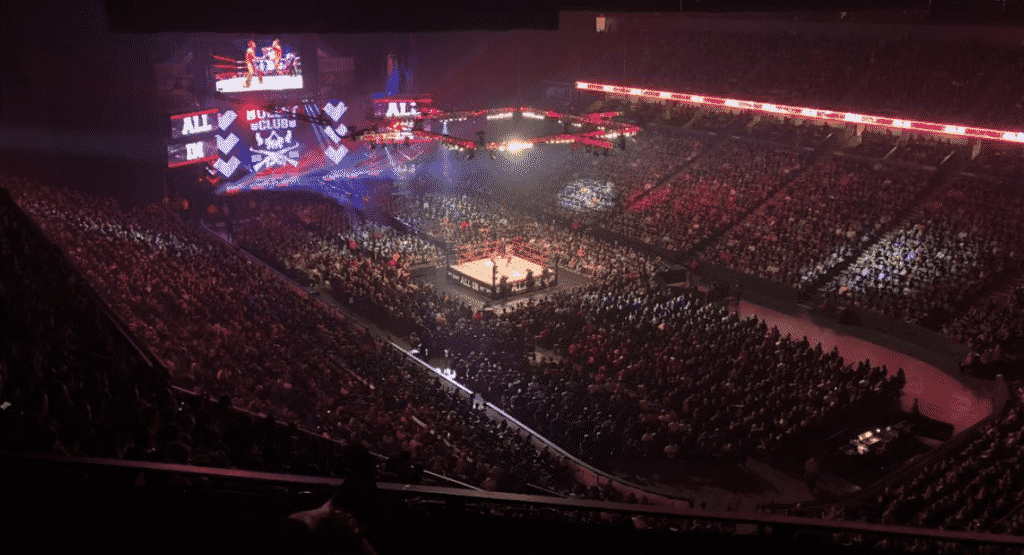 To Spark a Revolution
"No man, no entity, no company owns pro wrestling. WE OWN PRO WRESTLING!" – Cody
This wouldn't be the first time the international wrestling world would come together in a jubilant celebration of wrestling. All In, often credited as the catalyst for AEW's formation, captivated the wrestling world in an explosion of euphoric energy as favorite wrestlers across NJPW, ROH, and the independents all came together in a spectacular celebration of wrestling. It was something the likes of which had never been seen before, with people like Rey Mysterio, Kazuchika Okada, The Elite, and the bright upstarts of the indies like MJF and Joey Janela, all coming together under one banner to the thunderous chants of adoring fans. All In truly felt like the world had convened in a moment of revolution, showcasing talent, and celebrating the best of what the wrestling world had to offer.
The term "Revolution" would become the battle cry for AEW after it's formation as it began its first year as a wrestling company. After every PPV, Cody, Kenny, and The Bucks would come to the ring to reaffirm their new alternative to the wrestling world, promising exciting wrestling shows that centered around the happiness of the wrestlers participating in them, as well as the fans watching them.
This excitement brought fans of all backgrounds together to celebrate a new era of wrestling. People who had been watching since childhood, lapsed fans, even people who were new to wrestling, but caught on the buzz of their friends came to check it out. From the first PPV of Double or Nothing, to the first episode of AEW Dynamite on TNT, AEW was fulfilling its promise to their fans to bring something fresh, new, and exciting to the wrestling landscape.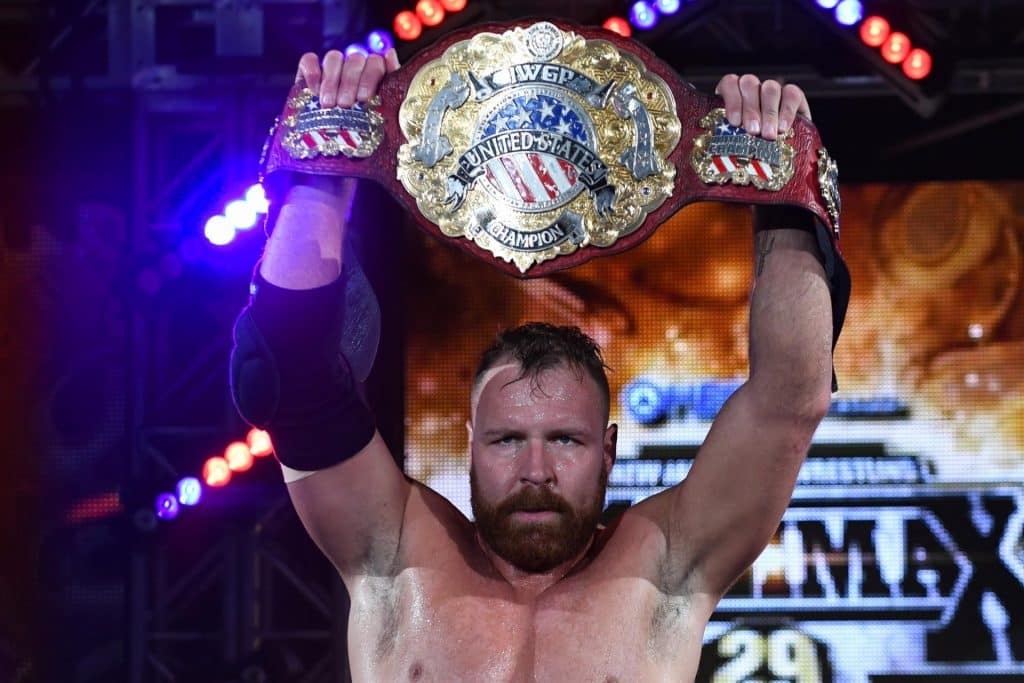 To Change The World
"You can counter program me, but you can never counter program a revolution!" – Cody
All Elite Wrestling's first year saw many exciting debuts, like Jon Moxley, Miro, Brodie Lee, and Matt Hardy, to name a few. Breathing new life into wrestlers and fans alike, there was a new, palpable excitement in the air. Dream matches were rife with possibility, and loose ties to the premier company overseas only fueled the longing many fans had of a potential to see some of their favorites mixing it up with New Japan Pro Wrestling.
Indeed, AEW's formation came hot off the heels of an incredible main event between Kenny Omega and Hiroshi Tanahashi at NJPW's Wrestle Kingdom 13. A year later, Chris Jericho, then AEW World Champion, would bring the AEW Championship belt to Wrestle Kingdom 14, where he too, faced Tanahashi. A few months later, Jon Moxley shocked the world as he arrived at NJPW's G1 Climax. There, he became a mentor to the promising young lion Shota Umino, and jumped right into a storyline with Juice Robinson, culminating in Jon Moxley becoming the new IWGP US Heavyweight Champion.
These moments sent the world reeling with excitement at the mere possibility of the two companies working together. Even though these appearances were locked into contracts for individual wrestlers, and not a sign of true working relationship, dream matches and cross promotional supershows, were all at the fingertips of fantasy booking fans around the world.

Presidents and CEOs of the respective companies denied any possibility of working together at the time, but these statements did little to suppress their hopes, nonetheless. These dreams were too tantalizing to discard, as even Chris Jericho, Tanahashi, and later, Kazuchika Okada all expressed hope that one day, the "Forbidden Door" may open to the hopes and dreams of many within the wrestling world.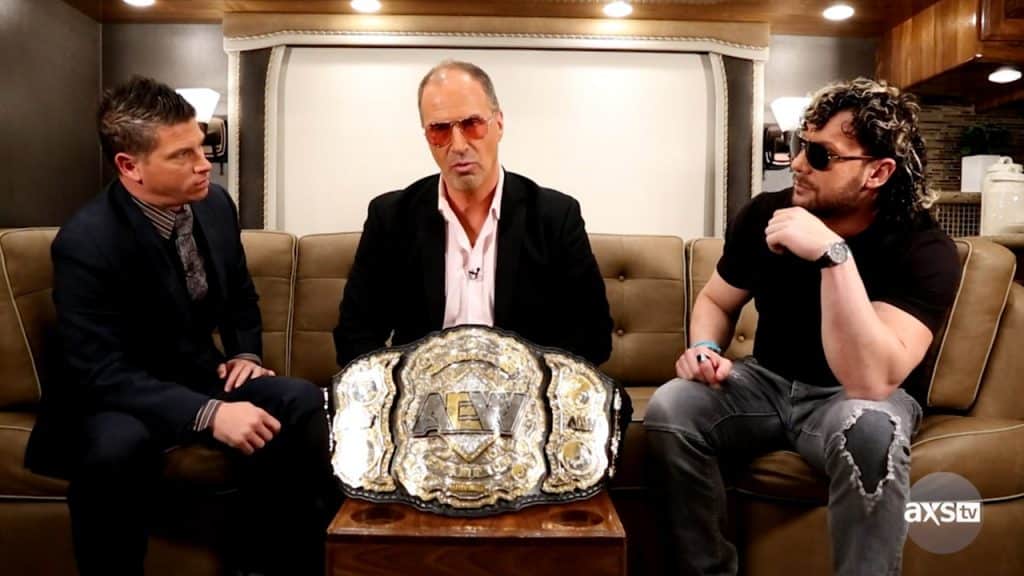 Making an Impact
My loyalties don't lie to companies, or things, or money, or position. The business has changed, and we have changed it. – Don Callis

As AEW approached its 2 year anniversary, they once again set out to change the wrestling landscape, and delight its fans along the way. Kenny Omega and Jon Moxley faced each other in an epic battle for the AEW World Championship. Omega emerged victorious, and was immediately ushered out of the arena with long time friend and Impact Wrestling EVP in a moment that would deprive fans and AEW executives alike of a highly anticipated celebratory moment. Thus would begin a newfound working relationship between the two companies, and with it, a reunion that would keep fans buzzing.
On the first Dynamite of 2021, Omega, accompanied by Don Callis, would face Rey Fenix in a World Championship match. He retained the title, although he would immediately face a brutal beatdown with a surprise attack from Moxley. To the shock and delight of Bullet Club fans of AEW, The Good Brothers ran out to save him! The Young Bucks came out, and suddenly the ring was filled with nostalgic destruction at the hands of the Bullet Club. With a "Too Sweet", the world was buzzing with excitement for a vicious new take on Omega, The Bucks, and Bullet Club domination.
AEW and Impact Wrestling would then begin a working relationship, with The Good Brothers regularly appearing on episodes of AEW Dynamite and Being The Elite, while Omega would regularly appear on Impact Wrestling, including its PPV, Hard to Kill. Matt Hardy and Private Party have also begun regularly appearing on Impact Wrestling, with Private Party set to challenge for the Impact Tag Team World Championship on their next PPV, No Surrender.

With the Bullet Club reunited across promotions in the United States, it wasn't long before the Bullet Club in NJPW, harkening back to The Elite's days in NJPW, started taking notice and calling out shots. The Elite Bullet Club and NJPW Bullet Club spent several weeks prodding and poking at each other through social media, podcasts, interviews, and The Elite's Youtube show, Being The Elite. Once again, wrestling fans around the world were set alight in speculations and excitement about the seemingly impossible dream of these two wrestling promotions working together.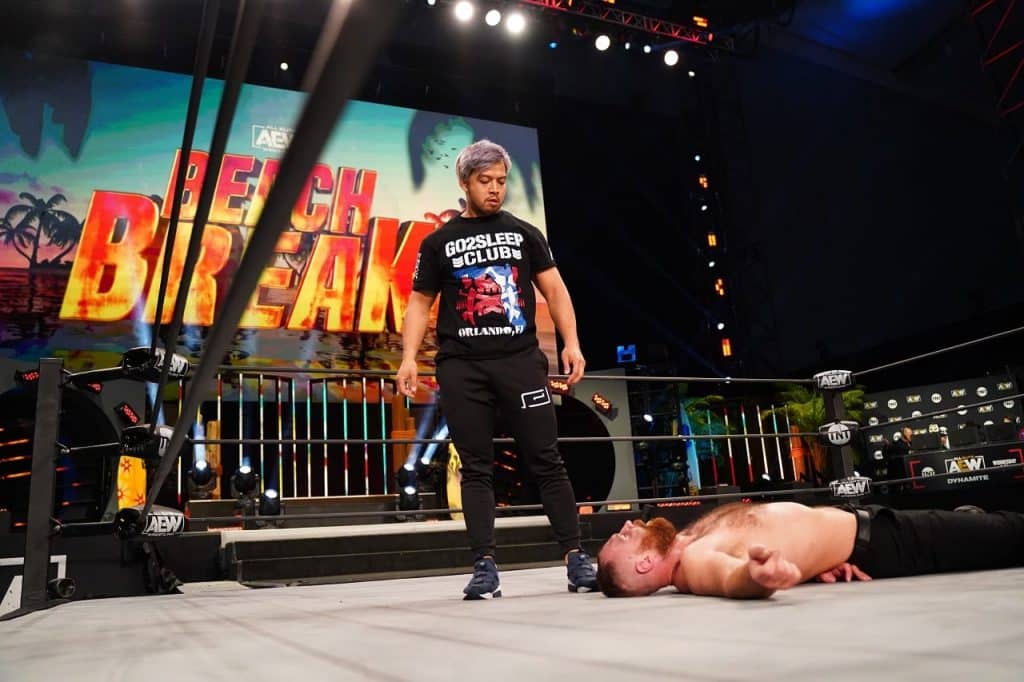 Breaking Through The Forbidden Door
"When the world calms down, I would like to give back with other wrestling companies to all wrestling fans in the world. New Japan, WWE, AEW, CMLL, AAA all together. Sounds pretty cool, don't you think?" – Kazuchika Okada

On Wednesday, February 3rd, 2021, AEW would once again astonish and delight their fans on AEW Dynamite. Newly reunited Bullet Club members Kenny Omega and Impact Wrestling's The Good Brothers fought against Jon Moxley, PAC, and Rey Fenix. The Bullet Club/Elite cemented their win, and proceeded to beat down Moxley. Lance Archer ran out in an attempt to break up the fight, leaving the former AEW champion Moxley in prime position to enact a vicious revenge on Omega. Suddenly, a man dressed in a tracksuit, beanie, and face mask ran out, blindsided Moxley, and tackled him to the ground.
The reveal of who this mysterious man was, sent shockwaves through the entire wrestling world in a storm of the euphoric celebration of what fans had been dreaming of for years. This man would be none other than KENTA, of NJPW, of "The Real Bullet Club" and contract holder to Moxley's IWGP US Championship belt.
The excitement rippling through the wrestling world was immediate and palpable. Fans in the arena erupted in "Holy Sh*t!" chants, just as social media blew up with the roar of equally ecstatic fans cheering in shock and delight. In one fell swoop, KENTA, Moxley, and The Elite had broken through "The Forbidden Door", shattering barriers between promotions, and bringing about a thrilling future filled with endless possibility.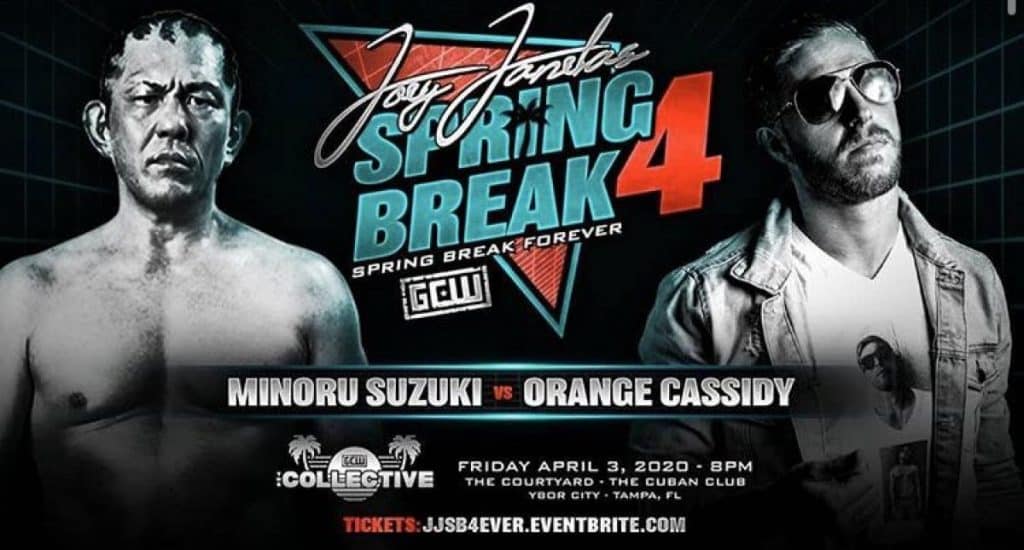 Indeed, fans almost immediately began to speculate on what crossover matches they could look forward to with this relationship. Matches that had seemed impossible months ago, like Rey Fenix and Will Ospreay, or Cody and Tanahashi, or even one that we had been robbed of due to the pandemic, Orange Cassidy vs Minoru Suzuki, all seemed within reach! Even if that reach was distant, it didn't matter. Fans were excited by the mere possibility of seeing incredible interactions between their favorite wrestlers across promotions.

The following day, Dave Meltzer reported that there is a working relationship between the two companies, built upon a mutual desire to work with Moxley at the forefront of their respective branches (NJPW with Moxley at the forefront of their United States expansion, AEW with Moxley at the forefront of AEW Dynamite and PPVs). Not long after this shocking run-in, AEW released a graphic for a non-sanctioned match featuring Kenny Omega and KENTA vs Jon Moxley and Lance Archer. NJPW was not only represented in an AEW ring, but KENTA would be wrestling on the show itself!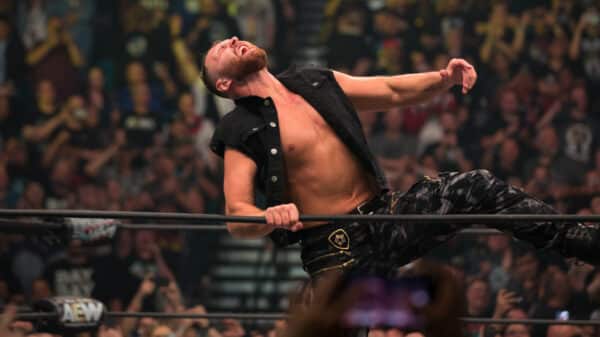 The Road To Revolution
"All Elite Wrestling belongs to the fans. You are the energy that fuels AEW, and we are bringing Pro Wrestling back to the people!" – Jon Moxley

In the two years since that fateful day in Jacksonville, AEW has brought new life and creativity to some of the profession's most beloved athletes, built a stellar roster of bright new stars, and changed the landscape of professional wrestling as we know it. As we look to the next PPV, aptly titled Revolution, with AEW, Impact, NWA, and NJPW all in the mix, one can't help but watch in wide eyed wonder and eager anticipation at what's to come.

So, is The Forbidden Door open after all? For years, the answer would point to an emphatic "No, the door will never be opened." Even as wrestlers would openly talk about their desire to work together, people would still deny that this door could ever be open. On Dynamite last week, when KENTA appeared on AEW Dynamite, people were still questioning whether the door was open and what it would realistically mean. Personally, I'm of the belief that once you have wrestlers from other promotions appearing on your show, that means the door has been busted wide open, leaving a world of possibilities in its path. But I'll let Tony Khan, President and CEO of All Elite Wrestling answer that question, definitively.
All Elite Wrestling burst onto the scene making a big promise to their fans. They set out to Change the World and spark a revolution in professional wrestling. By bringing wrestling promotions and fans together through thrilling surprises and exciting possibilities, the landscape of professional wrestling has never looked more promising. As for AEW, they've been delivering on their promises made to fans two years ago in Jacksonville Florida. With the spirit of Revolution, they've set off on an explosive path to a new future, with shards of The Forbidden Door lying in its wake.