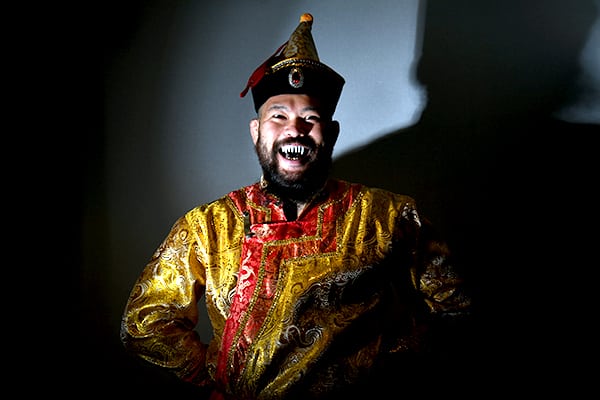 When the Great O-Khan gracelessly stumbled to the aid of Will Ospreay at the culmination of G1 Climax 30, it became painstakingly clear that the promising Young Lion, Tomoyuki Oka, was returning to NJPW with his faulty UK-excision gimmick remaining.
At first, I was uncertain of what was to come with his return, but ever since then, O-Khan has grown on me, and countless others. Match by match, promo by promo, minute by minute, he's convincing vast sections of the fanbase to jump on the bandwagon.
Alongside Will Ospreay, Jeff Cobb, and Bea Priestley, he is a central element of New Japan Pro Wrestling's newest faction: the United Empire. He's been established as the premier mouthpiece for the faction; delivering commanding promos after the faction's tag team triumphs. These, like many elements of his character, have progressed in quality ten-fold, as he looks to be incredibly comfortable within his unique gimmick.
O-Khan embodies the sentiments of the group better than any of his stablemates, even the group's leader, Will Ospreay. This speaks to his strength in character work; as he's managed to craft the faction's protruding image, and giving it plentiful reasons to exist.
So far, O-Khan has had six singles matches since his return. Ignoring his New Japan Cup second round match Toru Yano, which was YTR's conventional comedy-fest, I'm going to focus on the other five. O-Khan's five serious singles matches since his return paint a clear picture of progression, and the best way to see it is by going through them one by one.
Great O-Khan vs Kazuchika Okada (Power Struggle – Nov 7th 2020):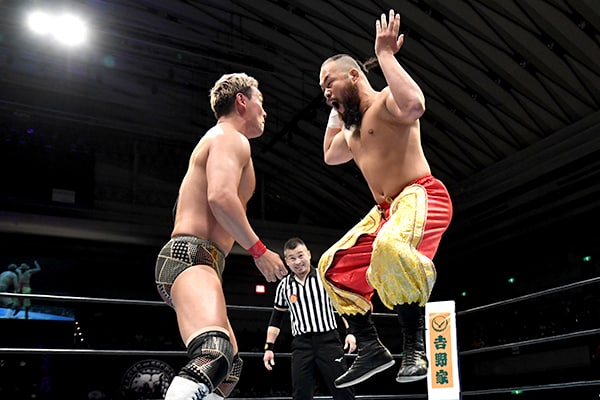 It was the obvious next step in building the huge Okada/Ospreay feud for Wrestle Kingdom 15, but O-Khan's first singles match back from excursion wasn't exactly exemplary. It's important to note that the match was essentially just build for the later Ospreay vs Okada encounter, as this tempers expectations somewhat.
This match wasn't supposed to be a Match of the Year contender by any stretch of the imagination, but O-Khan's progression has to have a lowly starting point. Overall, it was a slow, and at times dull, affair with a prettily perched Will Ospreay at ringside seemingly taking centre stage throughout.
The accompaniment of English commentary placed the focus near purely on Ospreay, but there are lessons to be taken about O-Khan here too.
He was a mostly unknown commodity upon his return from excursion, with only the fan who followed his UK based Revolution Pro Wrestling run knowing what to expect from him. Early positives lit up parts of the match, with O-Khan's excitable selling fitting perfectly with his character.
The jarring nature of O-Khan's squealing Mongolian Chops could be seen as a detractive factor, but with his unique mannerisms it all seems to fit quite well. The Dominator clearly has a mind for pro-wrestling, which was nurtured during his time as a Young Lion. We see this more and more throughout his post-excursion matches – notably in his Wrestle Kingdom debut.
Great O-Khan vs Hiroshi Tanahashi (Wrestle Kingdom 15 – Jan 4th 2021):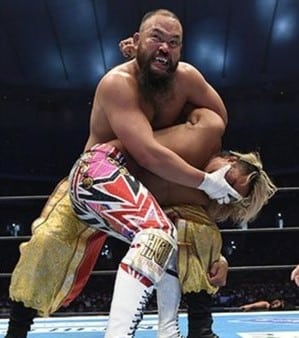 Glimmers of further promise were shown during O-Khan's Wrestle Kingdom 15 encounter with the Ace Hiroshi Tanahashi, notably in the ameatur wrestling roots of O-Khan. His great wrestling acriment was given a clear spotlight in this match, advancing his 'Dominator' mantra, as quite simply he can dominate his opponents on the mat. O-Khan's authoritative move-set was also a signifier of his progression, as he delivered sharply hit moves throughout this sub-20 minute match.
Wrestle Kingdom in the Tokyo Dome never fails to deliver the grandeur of a much lorded show. Importantly, this fed into O-Khan's already instantly recognisable ring entrance. As he made his deliberate, confident and menacing way to the ring, it was clear above all else that he has full commitment to his gimmick.
For this reason the Great O-Khan is very, very refreshing.
At this point, O-Khan's progression was already clear to see. From Okada in November to Tanahashi in January, O-Khan had really come on leaps and bounds, but there was more to come.
Great O-Khan vs Hiroyoshi Tenzan – Loser must retire the Mongolian Chop (New Beginning in Nagoya – Jan 30th):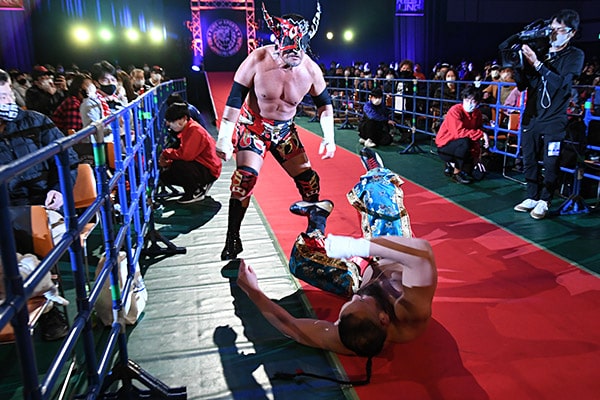 Facing, and importantly, beating, a living legend of pro-wrestling is a surefire way to advance the career of a young, up-and-coming talent. To serve this purpose, Tenzan was a smart choice, given the obvious parallels of the Mongolian Chops between him and O-Khan. This of course was central to the match's stipulation – with the loser having to stop using the move FOREVER, at least in theory.
This was O-Khan's first showing of real aggression in a singles match, evidencing the opinion that this United Empire vs TenCozy feud was not only successful, but also a bright highlight of recent months in NJPW.
This match also displayed various facets to O-Khan's move-set, all of which enhanced an element of his character. His character was also advanced by the new ring gear he debuted in this match-up, with it being an improvement on its predecessor.
The way Tenzan was afforded a momentary comeback after popping up for the TTD, before O-Khan finished him off with the Eliminator, was another indicator of his great pro-wrestling IQ, for lack of a better term. This structural point of the match was incredibly important to getting across the story of it – yet more progression from O-Khan!
Great O-Khan vs Hiroshi Tanahashi (c) – IWGP NEVER Openweight Championship (Castle Attack – Feb 28th)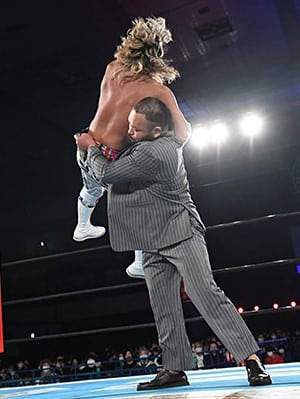 O-Khan vs Tana volume 2 overwhelmingly outdid the first, being a quality NEVER Openweight title defence. It was the best match of O-Khan's relatively fledgling career, until at least his match against Tetsuya Naito a week later, with the Dominator's first glance at New Japan gold being a wealthy showing of the classical pro-wrestling style.
The stoicism of O-Khan standing unmoved, with his hands clenched behind his back, whilst Tanahashi made his energetic entrance is yet more evidence that he understands what it is to build a strong character.
There are wrestlers which are "chameleons" of their craft – able to compete in multitude of different styles – and I believe it's too early to tag this next to O-Khan's name, but he is already showing the signs that he possibly has this in his arsenal. This match brings that sentiment out as it was noticeably different from their first match at Wrestle Kingdom 15, whilst being unique from O-Khan's encounters with both Tenzan and Okada too.
I don't think it would be a stretch to say this match displays an evolution of O-Khan in the short-term past, as he has begun to effectively wrestle various styles. As each match passes by the Dominator simply gets better and better.
We'll see this only a week later too!
Great O-Khan vs Tetsuya Naito – New Japan Cup First Round (49th Anniversary – Mar 4th):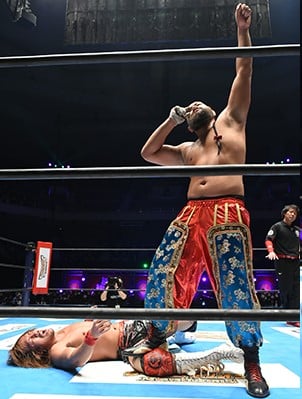 With a place in the New Japan Cup field comes a small spotlight. With a first round match against a top star comes a much brighter spotlight: look no further than O-Khan vs Naito for an example of this.
I strongly hold the view that this match was a watershed moment in the young NJPW career of the Great O-Khan; showcasing his astounding skills.
The central focus of this 20-minute match was the ailing knees of the Ungovernable One, Tetsuya Naito. This allowed the match to build to a spectacular crescendo, with the continuous knee work directly playing into the match's conclusion. After the fact, O-Khan presented yet more outstanding character work, mocking Naito, beating him down further and demanding admiration from the Osaka jo-Hall patrons.
Proof, if proof were needed, that the Great O-Khan has come in leaps and bounds in the mere months since his return from excursion.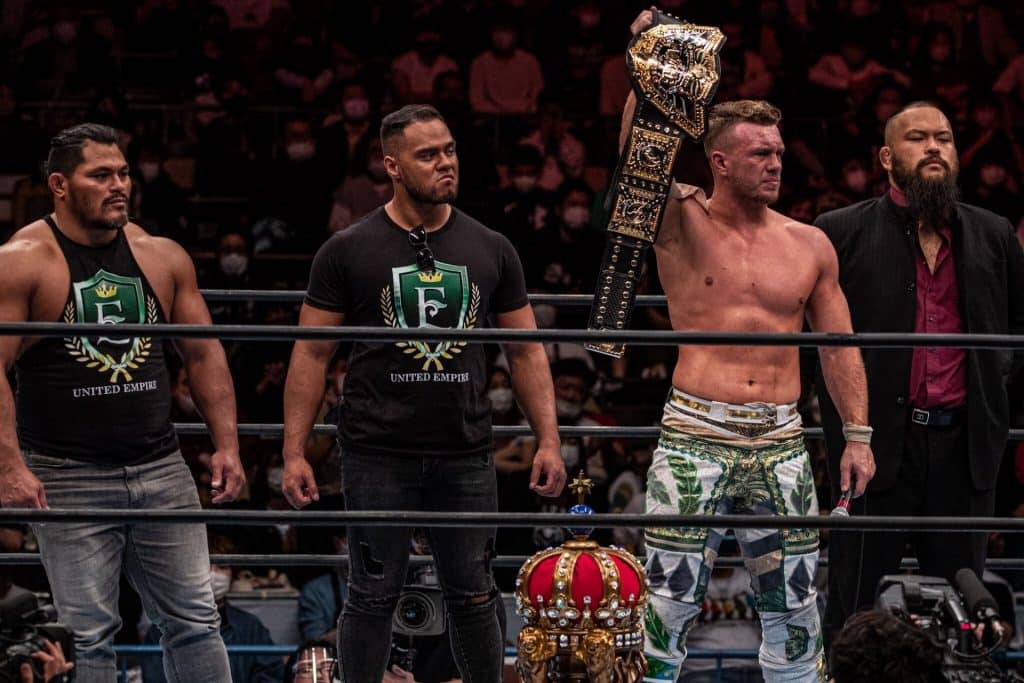 We all have at least a slight tendency to refuse to change our opinions, no matter how misguided they may be. This has certainly been the case for many with the Great O-Khan, myself included in the first few months, but I have since changed my mind.
More pertinently, O-Khan has changed my mind.
O-Khan isn't exactly my favourite wrestler, nor is he the world's best just yet, but his improvement over the last few months has been nothing short of astonishing and stark. For that, he deserves much praise. The Great O-Khan could definitely be the future of New Japan Pro Wrestling, and I would valiantly argue that if he is, it's a future full of promise, excitement, and intrigue for the company.