On Wednesday January 5th, 2022, All Elite Wrestling made history with its debut on the TBS network. Over a million people worldwide watched this stacked show, and with three title matches on the card, they set the stage of what AEW Dynamite on TBS could look like as we head into a new year of explosive wrestling. This night would also see the debut of the TBS Championship, the highly coveted new title for the women's division, and the culmination of a weeks long battle through the TBS Title Tournament.
As the lights went down at the Prudential Center of Newark, New Jersey, electricity crackled through the air, and a storm took to the stage in the form of a powerful superhero come to life: Jade Cargill.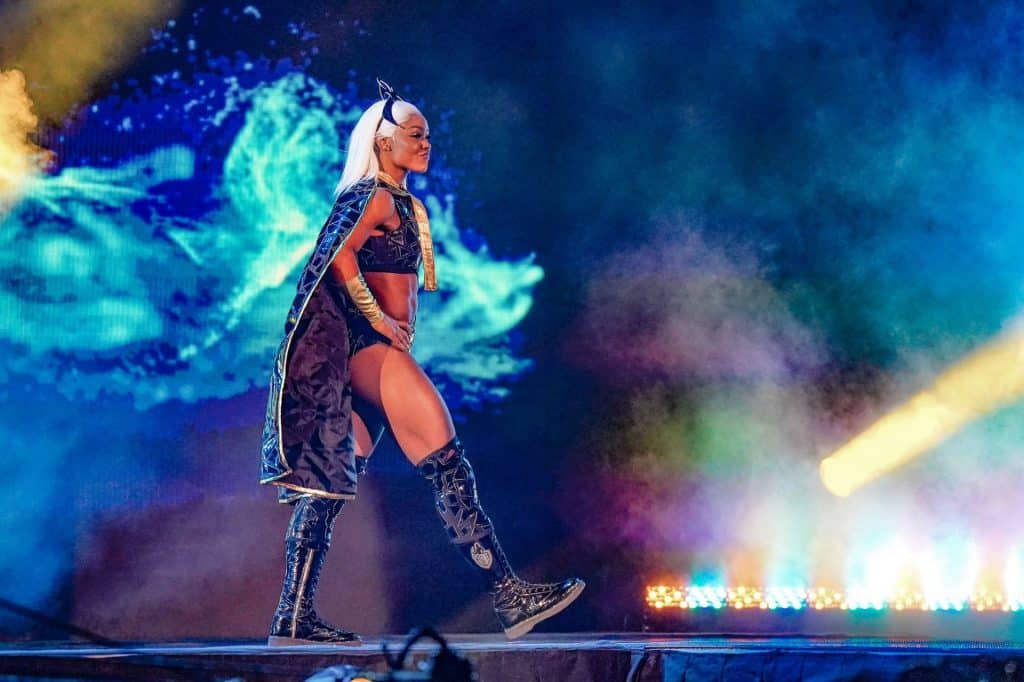 Clad in stunning black and gold gear that was reminiscent of X-Men's Storm, with the geometric shapes that have become synonymous with Jade, she made an entrance that immediately commanded the attention of everyone watching around the world. As she and Ruby Soho fought a grueling match as finalists vying to make history, her young daughter watched from ringside – watching her mom become the superhero on the big stage that she had been for her in real life.
With dazzling white hair, sculpted power-packed muscles, and the confidence of a woman who has dedicated her life to strength, power, and prowess, Jade is a woman who commands attention. Since her AEW arrival in March of 2021, she has dominated the AEW women's division. Then, she burst onto the scene with a massive cross promotional event with NBA legend Shaquille O'Neal, Red Velvet, and Cody Rhodes.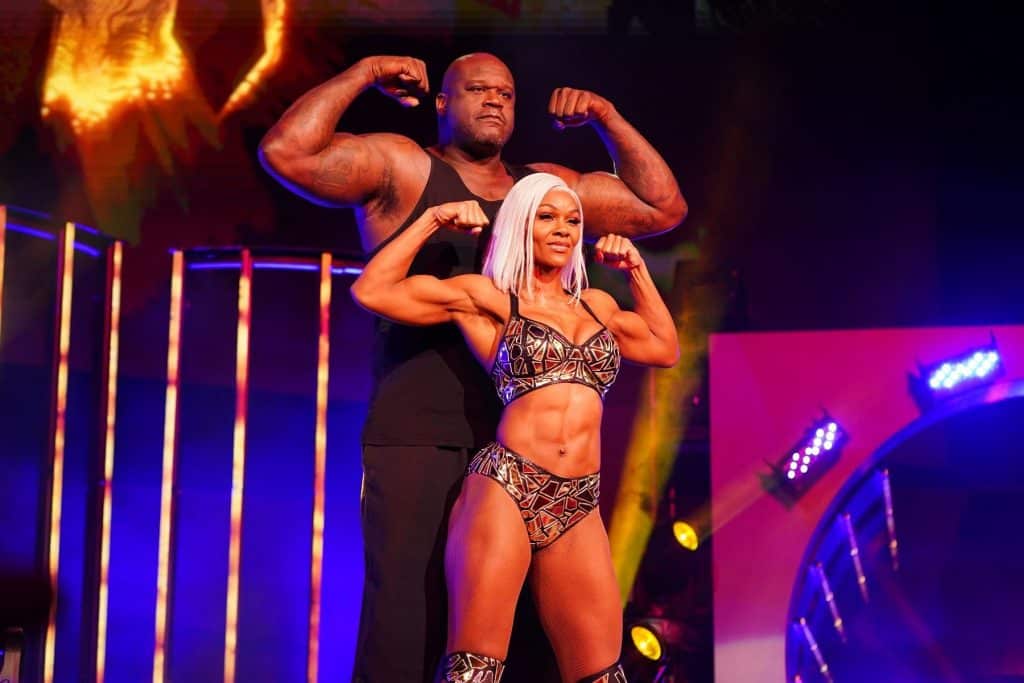 While no stranger to the spotlight, this was a proving ground for the up-and-coming star. Jade seized her opportunity with ferocity and a smile, and shone brilliantly on AEW's flagship show. Then, she spent a year putting in hard work, training with Dustin Rhodes and QT Marshall. For Jade, as someone who has an extensive background in athletics, Dustin and QT both made for a perfect pairing of trainers for her to work with as straight shooters, giving solid advice and consistent training in the ring. She was often at the Nightmare Factory 4-5 times a week, dropping everything to train whenever she would get the call to see if she was available.
As Jade put in the work in the ring and with promo practice, her presence was quickly felt within the AEW women's division. Since her 2021 debut, she has gone on an undefeated streak on Dark, Elevation, Dynamite, and Rampage, as well as dominating AEW's inaugural TBS Championship Tournament. Grappling with the likes of Red Velvet, Nyla Rose, and Thunder Rosa, Jade has consistently risen to the occasion, has been an indomitable force for AEW, and remains undefeated.
Jade Cargill is no stranger to hard work, perseverance, and overcoming obstacles.When she was young, Jade was often picked on by her peers because she was so muscular. Then she saw Chyna step to the ring and dominate men, women, and everyone around her. Chyna embraced the beauty in her strength, and she loved how she looked. Growing up, Jade too, would go outside and fight with the guys. Initially, they didn't want to wrestle with her, but she would poke and prod, one-upping them at every turn, forcing a frustration that made them fight with her. She would get bloody noses, skinned knees, and power through it all, resisting those who would cast doubt upon her as she relished in the triumphs of her own personal successes.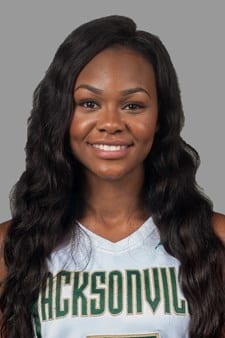 As she began attending Jacksonville University, she focused on building her strength, endurance, and overall fitness. Highly athletic, she excelled on the Jacksonville University women's basketball team, while using her education to pursue her lifelong dream of becoming a Child Psychologist; a dream she's had since she was 13 years old.

While pursuing her degree in Child Psychology, Jade simultaneously fell in love with fitness, and began attending classes on health, fitness, and nutrition. Looking to absorb any and all information while she had the opportunity, Jade grew a wealth of knowledge in health and fitness and began pursuing a side career in that field. For her, fitness is both a physical and mental battle, and she loves seeing people overcome their own doubts and obstacles, helping people to accomplish things they never thought they could before.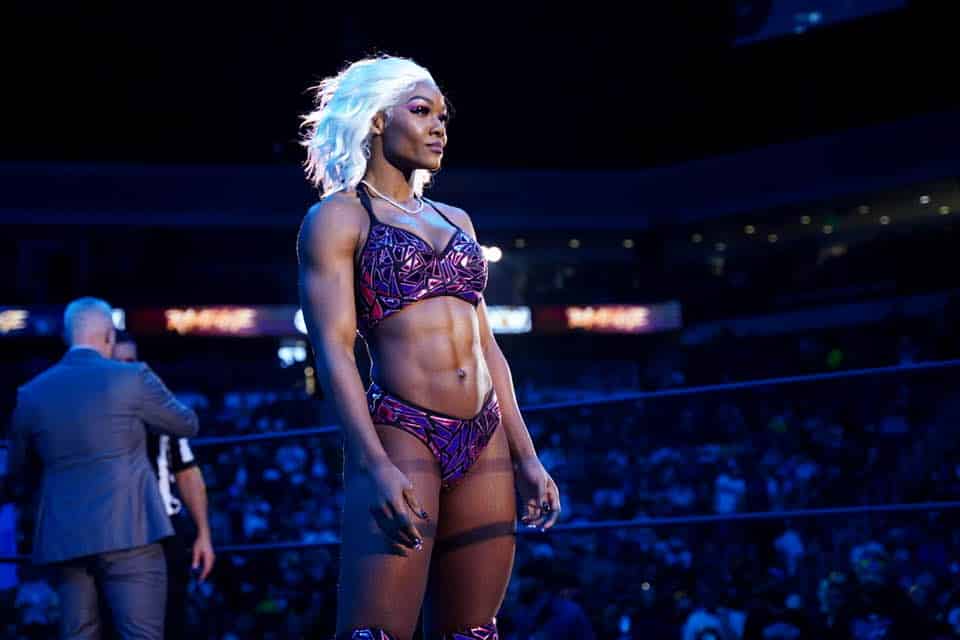 Jade Cargill is a woman who looks at life as an open book, its pages filled with opportunity, challenges, and triumph. When she sets her eyes on a goal, whether it's getting her master's degree in Child Psychology, health and fitness, or being an unconquerable storm in the wrestling ring, Jade Cargill goes for the gold, at all costs. In her triumphs over adversity and embracing the strength within herself, Jade finds inspiration in Storm, the Marvel superhero. This likeness is something she lovingly shares with her young daughter, Bailey.

Jade spoke about this on the AEW Unrestricted Podcast with Aubrey Edwards and Tony Schiavone:
Storm is a powerful black woman, and I stand for that too. I want to show my daughter her strength, and to own that. I want my daughter to look at me on that stage and say "My Mom is a wrestler!". I wrestle with my daughter. She'll put up her fists and she'll be my sparring partner. That, more than anything, excites me. I want my daughter to look at me and know that she too, can be anything she wants to be. She can go into male-dominated fields, in any industry, and break glass ceilings.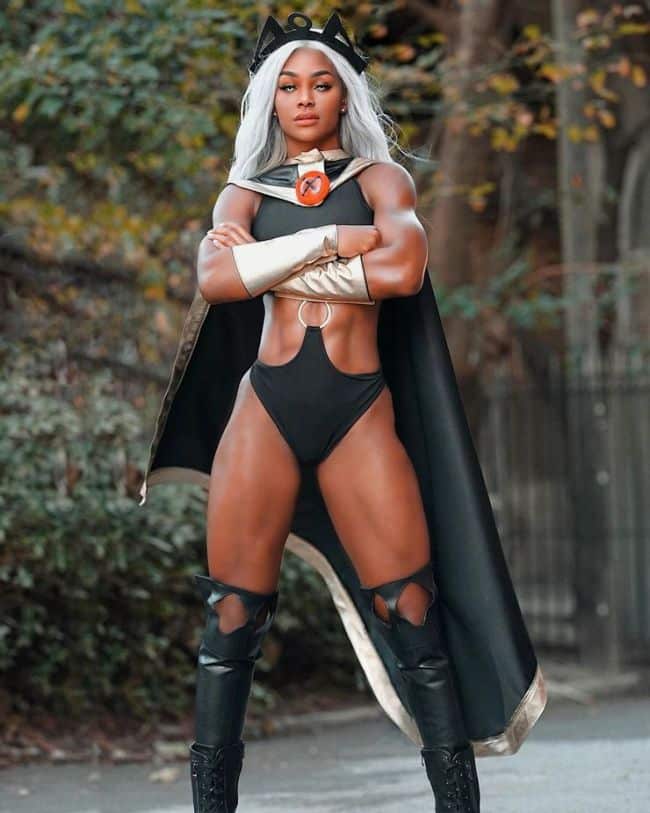 On Wednesday, January 5th 2022, in the Prudential Center of Newark New Jersey, Jade Cargill took a lifetime of ambition, strength, and progress, and showed the world what she's made of. But perhaps most importantly, she showed her daughter that she too could take on the world and triumph. That she could be strong, she could be beautiful, and she could be powerful. Perhaps most important of all, she could be true to herself and rise to the top of the world, standing tall and proud as a Champion on her throne.