In the world of professional wrestling, few characters can captivate an audience quite like Dalton Castle. With his unique blend of flamboyance, charisma, and exceptional in-ring ability, Castle has built a loyal following and made a lasting impact on the industry. Becoming a face of Ring of Honor, taking the power of the peacock around the world, and bringing in championships and accolades throughout his career, Castle's presence is effervescent. As Ring of Honor evolves under the new ownership of AEW CEO and President Tony Khan, Dalton is enjoying a renaissance of his own in a life of happiness, fulfillment, creativity, and of course, pro wrestling.

Over Wrestlemania weekend, the world's grandest peacock took to West Hollywood. Just off of Sunset and Santa Monica Blvd at the legendary Whiskey A Go-Go, Dalton Castle stepped away from a bar packed with Busted Open Radio guests to speak with me at length about glitz, glamor, Ring of Honor, and the captivating journey that led him to wrestling stardom. Fitting within the pomp and circumstance of Beverly Hills and Hollywood, we were then entertained by a special appearance from AEW's charismatic backstage interviewer and host of HEY!(EW), RJ City.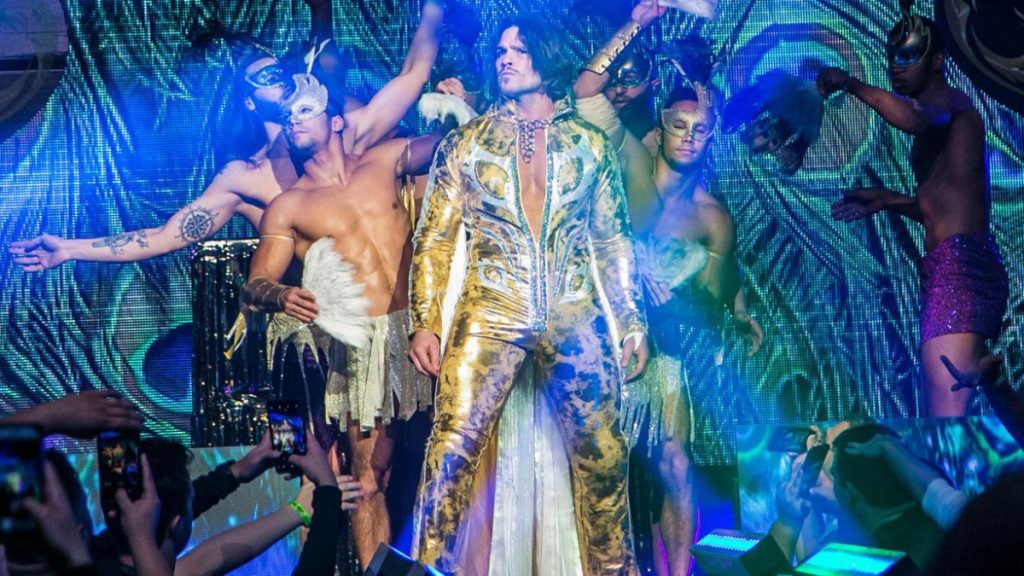 Early Life and Wrestling Beginnings
Born in Rochester, New York, the dramatic flair of Dalton Castle began taking shape at a very young age. Growing up in a large family, he was the youngest of his siblings, with two older brothers and his older sister. It was in this dynamic that Dalton found himself looking for his voice. "I think I was very lucky that my entire life has prepared me for what I do in pro wrestling. I'm the youngest of four. It was a very loud family, and as the youngest, I felt like I was struggling a bit to get attention. I had to be loud, had to find some way to get people to hear me. That's how my personality grew to whatever this is now."

Dalton's family dynamic also shaped his passion for wrestling, "As the youngest, I got beat up all the time. I got calloused from my brothers pounding on me. I joined amateur wrestling in middle school and luckily took to it after a couple of years. It became something I really loved and it was all I ever really wanted to do and think about."

As Dalton Castle found his footing in the wrestling ring, he also took his love for drama to the stage. Unexpectedly for Dalton, this opened the doors for a different kind of stage, as the applause from the crowd changed to chants, cheers, and the raucous energy of a wrestling arena.

Dalton elaborates on this shift in viewpoint, "In college, I did a lot of theater. I took classes, did some plays, but I never thought that I would go into pro wrestling. At the age of 15, my best friend started to train as a pro wrestler. I would just hang out with him and all of his friends who were pro wrestlers. I would travel to independent wrestling shows with all of these people and learn how the industry and the art form worked, but never with the approach that I wanted to do it. It was like osmosis to me, it just all soaked into me."

Dalton enthusiastically exclaims, "And I LOVED it! I loved the people around it, I loved watching it, and when college wrestling ended, there was this moment of 'what do I do now?' My friends Jimmy Olsen and Colin Delaney, who, at the time, was in WWE's ECW, and he's the first guy from our city to break out, to do something. Seeing him be successful with it showed me that this silly thing that all my friends do, it has an ending. A guy from our neighborhood can make it.

"So he took me aside, and said, 'Hey idiot, you know how you do wrestling and you do theater? You should be doing this.' And it made all the sense in the world at that moment. "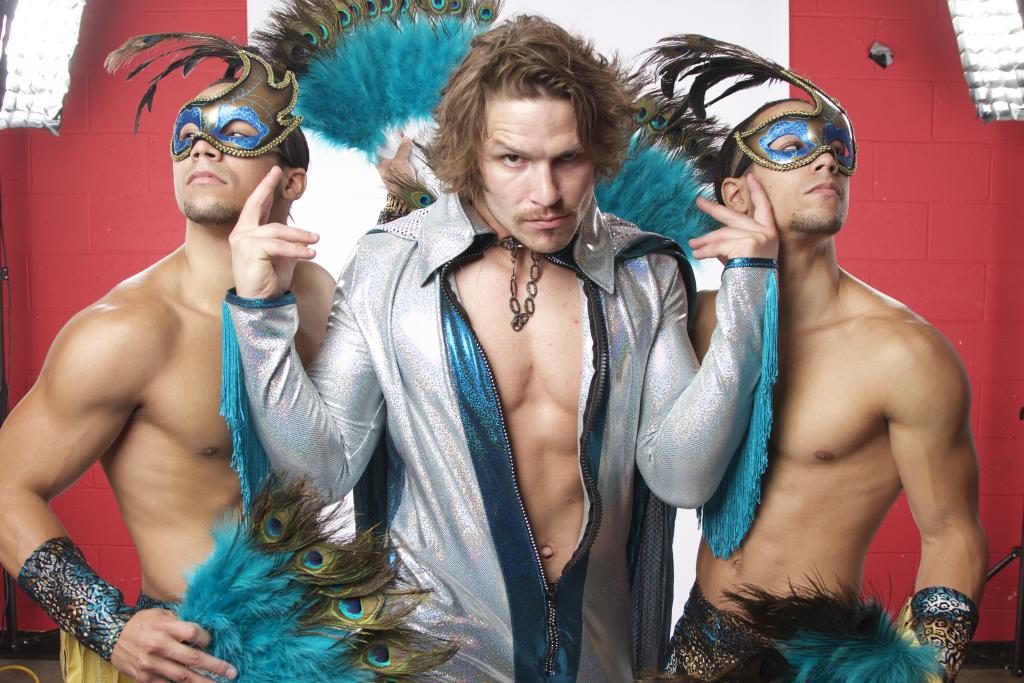 While he was an accomplished amateur wrestler in his own right, winning Varsity, Nationals, and NCAA championships and touring internationally with Team USA, this epiphany completely changed how Dalton viewed professional wrestling. "I only see this as theater now. I didn't always, I didn't figure out that that's what this was when I first started. Because when you start wrestling, you're doing what you're taught, you're doing the moves, and you want to make it look like a real tough guy sport. You don't know what people want to see, and I'm trying to figure out what people want to see."

He continues, "But that's the stupidest thing to do in a performance like this, you should be doing what YOU want to see. It took me years to figure that out. Looking tough and the technical background, that all came naturally because of my amateur background. That stuff was easy. It was more getting the personality across in the ring, which was the struggle. I think it's because I didn't know it was okay to let go and be funny."

Captivated by the creation of larger-than-life characters and the spectacle of it all, this ignited a passion that would never fade. After years of dedication, he would finally make his wrestling debut in 2009, embracing his theatrical instincts and embarking on a new journey of theater, drama, and pro wrestling.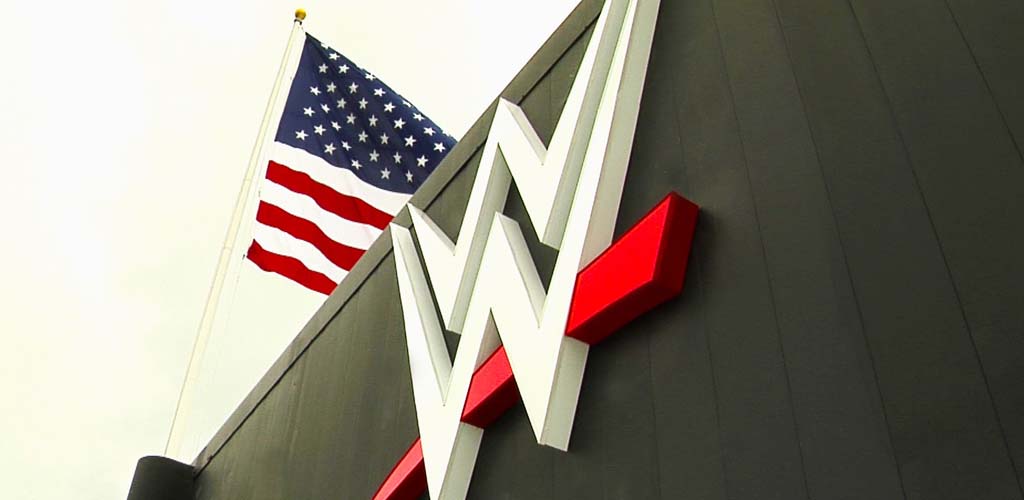 A Fork in the Road: WWE? Or Ring of Honor?
The story of Dalton Castle is one of opportunity, adversity, and serendipity. Before Dalton Castle embraced the power of the peacock, he was still figuring out the direction he wanted to take in his professional wrestling career. As a world of opportunity opened up for him, he found home, community, and passion in the place that would define his career as much as he would come to define the promotion. But first, he would embark on a winding road that took him to Florida Championship Wrestling, trying out for WWE.

"Ring of Honor changed my life."

Here, Dalton begins his tale, "It was probably 2013 or 2014, I started getting a lot more bookings and traveling on the road. I wasn't doing the act that you see today, I was still Dalton Castle, I was still a peacock, but I wasn't coming out in the jumpsuit with The Boys. I had tassels and a lot of color, but I didn't really have a lot of direction in what I was doing. But because I was still functional in the ring and was still charismatic, I got the opportunity to try out with WWE."

For a young Dalton Castle, it was hard not to have stars in his eyes when thinking about what the future could bring with WWE. He said, "Being young, I was on the radio at the time, and I hated my job, and I got called down. At the time, I was like, 'This is it, this is everything I've been working for'. I go down to WWE, I go to one of those 3 day tryouts at FCW. I felt like I was crushing it. I felt so good! Day 3 was promo day, they said come as you want, come comfortable, come as you are. I wore flip flops, and went up and I did my promo. And like, there's no doubt in my mind that I didn't crush it, because I'm really good! Even then I was really good, I obviously got invited down."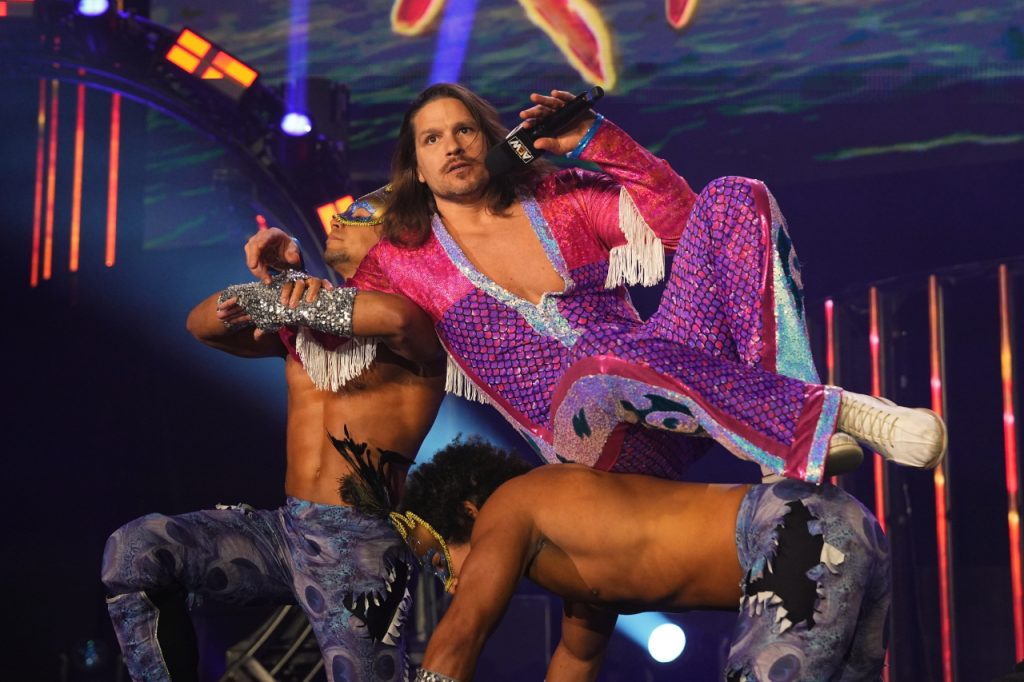 Unfortunately, it was here that Dalton Castle would face one of his greatest challenges yet. Once he had finished with his promos during the WWE Tryouts, the feedback was less than kind. Dalton elaborates, "They just dressed me down the second I stopped talking. They didn't say one positive thing about the way I talked. They just shit on me for wearing flip flops. Seven men that I looked up to, that I grew up watching and respecting, they were just running me down. I think the only person who didn't say something mean, and was just kind of nice, was Dusty Rhodes. That was something, that's kind of nice."

Reflecting on this time in his life, Dalton grew pensive. "That crushed me. I thought I was done. It was clear I wasn't getting the job. I went home and I thought it was over. I got to the top of the mountain and they said no. For 3-4 months, I was going through the motions of taking bookings and feeling like it was over. One day, I was flying into New York. I texted Rhett Titus and asked 'Is there any way I can come help set up Ring of Honor?' Final Battle was that weekend, I got there early and helped set up the ring and the chairs and everything, and I stayed for the opening."

Recalling the energy of this Ring of Honor PPV, Dalton Castle immediately perks up. This is clearly a defining moment in the life of the peacock, and a moment that would change the course of his trajectory forever. "The second the Jethro Tull song played, I'm standing in the wings of the Hammerstein Ballroom, it was this energy that I've never felt in my life. People are banging on the boards, and with the music and the lights, the crowd was just so unified as this tight knit group, it all just clicked."

He continues, "I was like, 'Holy shit. THIS! This is where I belong!' Whatever I thought I wanted before, I don't need that, I belong here! I could come here and be myself! Then I started working hard on trying to get their attention. I eventually got invited to do the Top Prospect Tournament. Two years later, I had finally developed the Dalton character, and I brought that to ROH and they gave me a shot."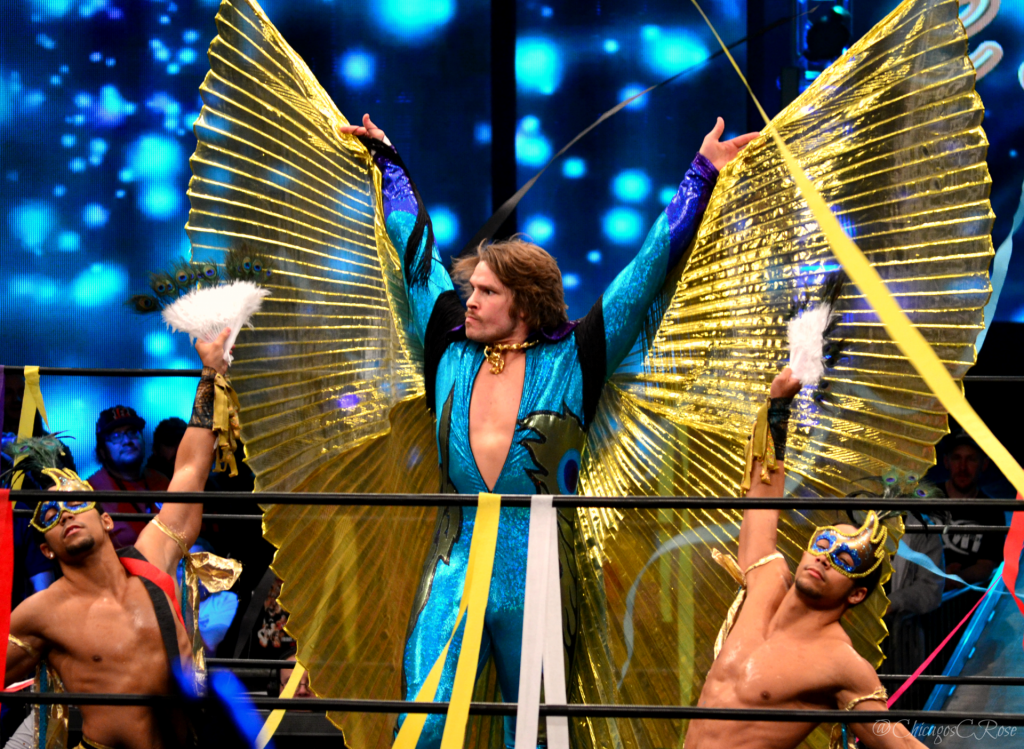 Dalton Castle's journey in Ring of Honor came at a time when the wrestling world was set to ignite a revolution of pro wrestling. With New Japan, Ring of Honor, and international acclaim, things were looking better than ever. Speaking on that time, Dalton said, "From that moment, to the next 7 years, it was the most fun ever. It was an upward swing. Every year got better for me, The Bucks and Cody were bringing the company to a new level, and I got to be a part of all of that! (Dalton laughs) I felt like when I signed on, it was all because of me that everything was getting better. We got a new TV deal, we got more money, the production value stepped up, we got a stage and LED boards, it was all really exciting!"
Dalton Castle's work in Ring of Honor would solidify his status as a must-see performer. His first taste of Ring of Honor championship gold came in 2017 when he won the ROH World Six-Man Tag Team Championship. Later that same year, he challenged Cody Rhodes in a story that culminated at Final Battle, where a victorious Dalton Castle became the new Ring of Honor World Champion. His journey in ROH is filled with memorable moments, including unforgettable feuds and alliances with some of the industry's most respected names. Once again, Dalton Castle was proving that his eccentric personality was backed by undeniable talent.

For many who caught on to Ring of Honor during its new height in 2017-2018, Dalton Castle became an enigmatic and exciting face of the company, right along with The Briscoe Brothers – Mark Briscoe and the late, great, Jay Briscoe.

Dalton paused, reflecting on this time in Ring of Honor, during a newfound heyday, and with the Briscoes. Thoughtfully, he responds, "First, hearing you say my name along The Briscoes like that… it feels really good to hear, it feels very surreal. These guys are my friends, but I still view them as this mythical person, they're The Briscoes, they're larger than life, they're somebody I knew of before I knew them as a person. And now they were my coworkers and my friends, and I still look at them on this pedestal. To have you compare me alongside them, it feels really nice and I thank you for that."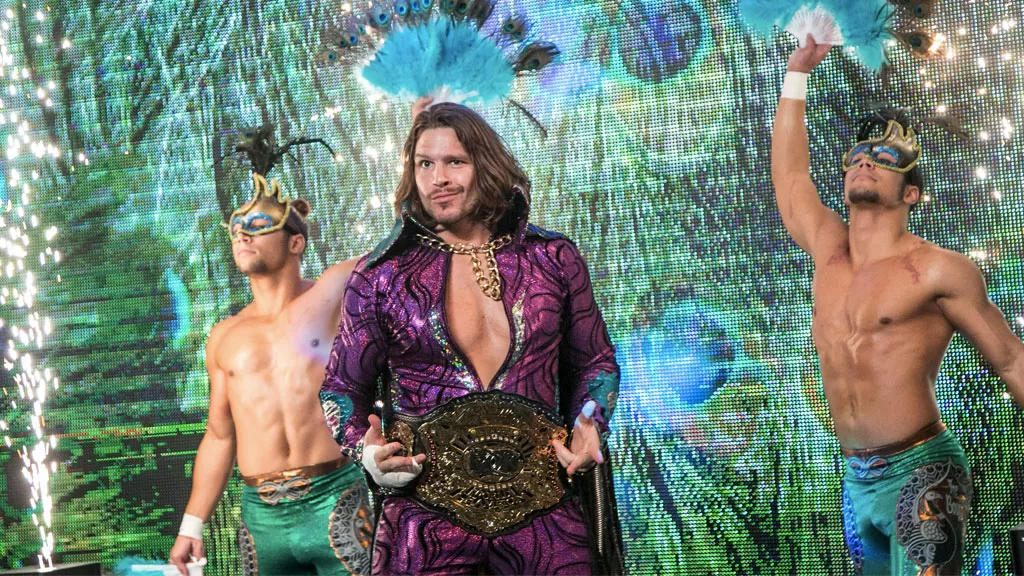 Ring of Honor, The Pandemic Era, and back to WWE?
Dalton Castle didn't shy away from discussing the challenges of wrestling during the pandemic. While the world was rife with uncertainty, professional wrestling had its own challenges to face. There is a special symbiotic relationship between professional wrestlers and their fans, as these larger than life performers relish in the cheers and jeers that fans are eager to provide in the thrill of the spectacle. As the world closed down, wrestlers and fans alike found themselves looking for new forms of entertainment in the squared circle.

Dalton also found a new way to express himself creatively, when faced with the daunting task of wrestling without an audience. "A positive that came from those tapings and the dwindling of the entertainment was that it really made me work harder at trying to find new ways to be entertaining. I had an act that relied a lot on the crowd interactions. I would watch the show back, what we were producing in these empty rooms, and it was just… sad. On top of that, it was just boring! It was so freaking boring! We were all acting like we were in a crowded room, but we were in a closed room. So it helped me take a different approach. I started saying 'Okay, I'm just going to focus on the thing in front of me, and treat this as real as possible.' I also started coming up with new entrances."

Dalton has even taken some of these new approaches and brought them into what he does today, "The camera spin that I do in my entrance now, was because of the pandemic. What can I do to make this more interesting? I would run up the bleachers and leave the ring as many times as possible just to change the shot of the camera. Because I know when I was watching, I hated it. I hated these boring flat shots of a quiet room. It just made me get more creative, and I feel like the stakes were low because there was nobody there, which let me try and let go of a lot. And I haven't stopped."


Unfortunately, for Dalton Castle, the challenges of the pandemic grew beyond empty rooms and trying new creative outlets to make wrestling exciting for him, as well as those watching at home. It was at this time when he found himself facing an uncertain future with his contract expiring in Ring of Honor.

For Dalton, this was soul crushing. A place he had spent the last 7 years of his life, growing in happiness and prestige, no longer wanted him. He reflected somberly, "Then, the pandemic happened. In 2021, my contract was expiring, and I was going to leave the company. I wasn't getting offered a raise because of the pandemic. WWE called and offered me almost double what I was making. And it became clear that I had to leave. I told them what happened, and Ring of Honor didn't make any effort to keep me. It hurt. It hurt a lot."
Speaking on what he thought would be his final match in Ring of Honor, Dalton recalled, "I remember, we were doing closed arena tapings. We were setting up a PPV match for me, against Josh Woods maybe, they said they had to film two finishes in case you don't re-sign. I told them, 'No, I'll do the PPV! Regardless, I'll stay and finish the job.' But they didn't want me. The GM said 'We're not going to reward someone who's not going to re-sign.' No matter what I had done before that with the company. It was crushing, it hurt. I had spent 7 years there."

For someone who had flourished and devoted so much of his life and happiness to Ring of Honor, this was almost too much to bear. A time of happiness, fulfillment, family, and growth seemed to be dissolving right in front of him, and there was nothing he could do but find comfort in those who had shared this world with him for so long. "Somehow, by happenstance, I worked my way up to one of those top guys that people look to as an example of how to act. So that day, I went around and I said all of my goodbyes. I went to my production friends, and went to all the wrestlers. I remember crying with Matt Taven in the back, just knowing it was all over."

Dalton Castle weighed his options heavily. On one hand, he had a home in Ring of Honor, though through the darkest times, those doors looked to be closing. On the other, once again, he found himself looking at WWE, and asked himself some hard questions, "I went home, and I couldn't sleep. It just felt wrong. I was lying awake at night, thinking about all my friends who had gone to WWE and were telling me about what it was like. And all I could think about was how happy and free I was at Ring of Honor versus what I was about to step into. I asked myself, 'Why do I wanna go?' Because you'll be more famous. 'Why do I wanna be famous?' Because you'll make more money."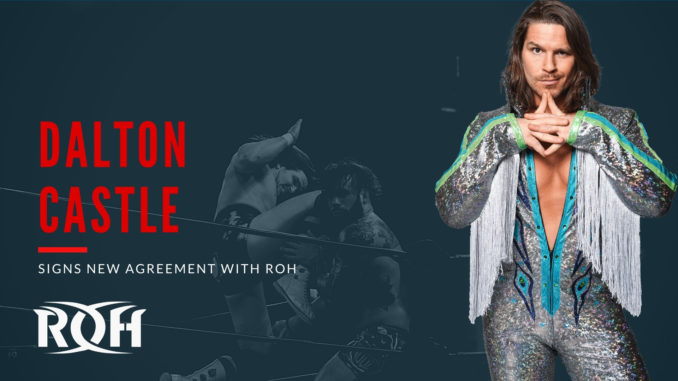 Dalton seems to bring himself back to that moment as he recollects, "I was sitting on my patio in Tennessee, doing nothing, drinking my coffee, and I just realized, 'Oh! I've already got money! I've got enough money. That's not going to make me happy.' So one night, in a panic, I woke up in a cold sweat, and woke my wife up and said, 'I can't go to WWE!' And she goes, 'Well, then don't.' It was like this weight lifted off of my shoulders and chest, and I could breathe again."

Smiling at the memory of his wife's impact on his decision, Dalton continues, "I was like, 'Oh my god, you're right!'. This woman, the reason I married her is because obviously she's a genius. So I called them and said I can't come right now, and Ring of Honor said I could stay. It didn't feel like I was losing a negotiation, it felt like I WON."
With this great weight lifted from his shoulders, Dalton found peace. He also found serendipity in circling back to that initial moment back in his early years, during that fateful WWE Tryout at FCW. "I was giving up a lot of money, but I was earning so much freedom and happiness. And also, this place that had told me no 7-10 years prior, I'm telling THEM no. It was a weird twist of fate."

"That was in January of 2021. And it was the greatest time of my life. For the next 8 months, I had an epiphany, I figured out life, I could not find a negative thing about anything. Even though the world was on fire with everything going on, I was happy."
"AND THEN." Here, Dalton pauses with a weighted sense of expectation.

"Over a Zoom call, in October, they fired us all. They told us, Ring of Honor is closing the doors and everyone's contracts are going to be expired."

Even with yet another hard stop being placed right in front of him, Dalton maintained his positive outlook, "I was still in good spirits!" Entranced in the story, I couldn't refrain from asking him, "How?!" Dalton answers, "I don't know! I had just known the truth of the happiness this place had brought me, and I was just happy to be a part of it. So when they were closing the doors, I wasn't freaking out because it was being taken away from me. I also really believe in myself a lot more these days, I trust in my abilities. So if I'm not doing ROH, I'm going to get a job somewhere else. I'm too devoted and motivated, and I believe in myself. I'll be okay. "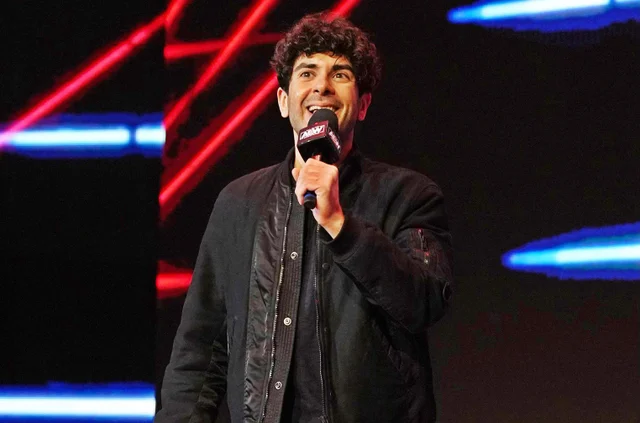 A New Vision for Ring of Honor: Enter Tony Khan
In a heartbreaking turn of events, Ring of Honor was shutting its doors. The curtain call came and went, but there were no fans to throw their roses to the stage. Silence and uncertainty followed, before yet another serendipitous twist of fate rocked the world of professional wrestling. Dalton elaborated, "Three months go by, and Tony Khan buys the company. We all found out via TV when it happened. Nobody knew it was going to happen. Maybe, like, two higher ups knew, but nobody else. I felt like a spark in my belly. It was GOOD! Some people were scared with the change, but I felt nothing but positive things about it, this is good. ROH was dying. They were letting it die! But Tony LOVES wrestling. And it's evident in everything he does. So to have it in his hands, this could only be good."
Even this had its own uncertainty, for Dalton and the rest of the wrestlers who had found a home in Ring of Honor. "Was I going to be a part of it? That was a question. Even if it wasn't, I was still happy! Ring of Honor is something that I loved, and I knew he was going to treat it well. And then I got called, and I got to do some jobs with him, and it was a good environment. Most of my friends that I had come up with were working there, and I'm back to being really happy!"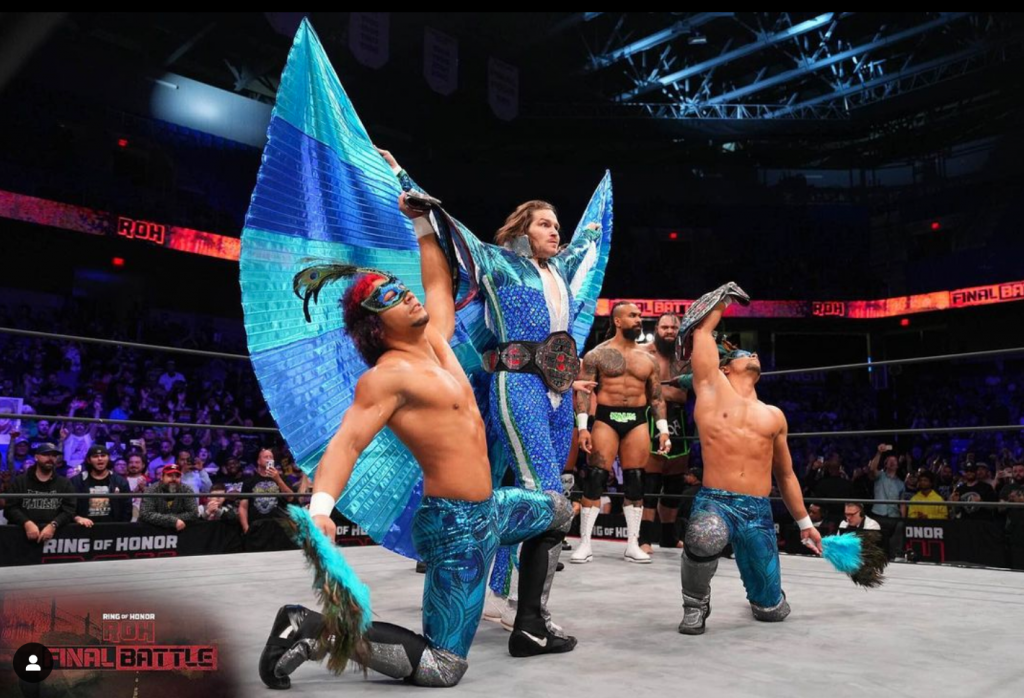 Dalton Castle has nothing but high praise for Tony Khan. It quickly became clear that his purchase of Ring of Honor injected a new excitement, not only in the wrestling world, but also for those who deeply care about the promotion. "I think it might be clear, how much gratitude I have for him, not just in Ring of Honor, but wrestling, and… with AEW existing, the world of pro wrestling is better. There are so many jobs, and everyone gets to work, and the fans get to watch a million things. But when he bought Ring of Honor, the big question was, 'Well, what's he going to do with it?' He could have just bought it and put it up on a streaming service and used all of the library, but he didn't! We're going for it! There's a TV show, Honor Club is back and running, and it looks great!"
He continues, emphatic with excitement, "He's keeping it alive! He's putting more into it, and like, it's gonna get big. It feels like it's just going to get bigger and bigger, and that's exciting!"

Ring of Honor is back in all its forms and for many of the fans who love to watch, it's better than ever. The resurgence of ROH includes stellar PPVs, a newly revamped Honor Club, and weekly ROH TV shows. Speaking on the tapings for Ring of Honor television, Dalton had this to say, "Like, when you go down to the tapings in Orlando… I thought it was going to be like the pandemic days where it's studio wrestling. But you walk in, and it's all dressed up real nice, they made every effort to make sure it's a really exciting environment."
Speaking further on his appreciation for Tony Khan, Dalton continues, "Tony Khan cares a lot about the lineage and people who mean a lot to Ring of Honor, he's bringing them in, there's a lot of familiar faces. Not everybody got full time jobs, but they're still in the ring, getting exposure, and people watching them. While also doing 4 other shows plus whatever sports teams and things he's involved in. I don't know how he does it all, but I'm so happy to be watching it, participating in it, and benefiting from it."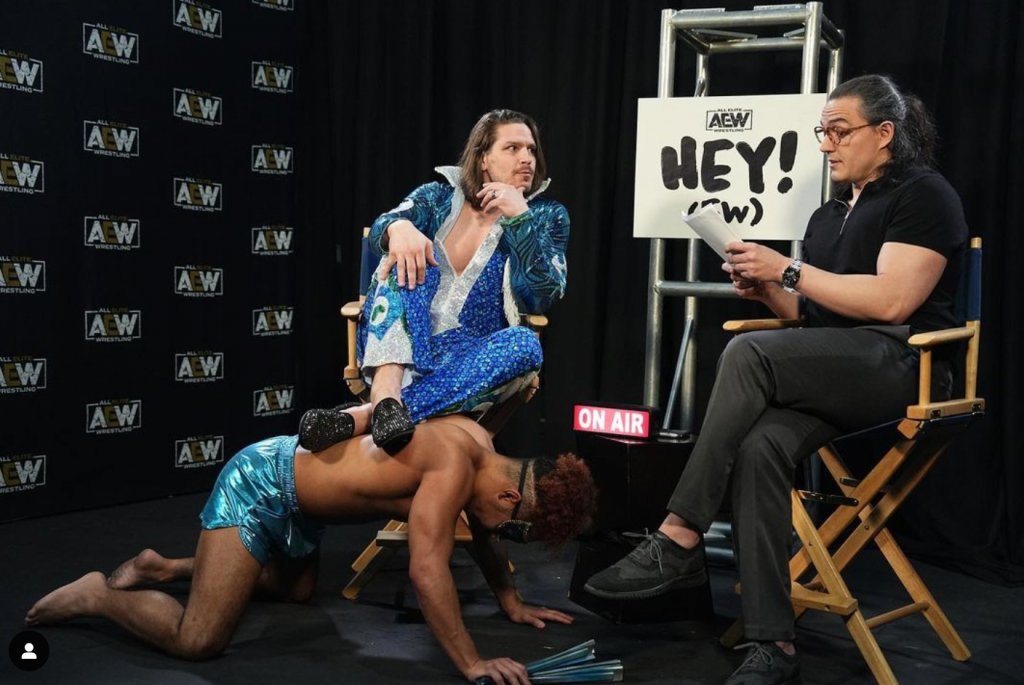 RJ City Crashes The Interview
As Dalton Castle and I sat under the midday sun outside of Whiskey A Go-Go in West Hollywood, a surprise guest made a grand appearance. RJ City, the critically acclaimed host of HEY!(EW) joined our discussion, which quickly took an unexpected turn:
RJ City: "How many more questions could you possibly ask him? He fans the wings, bends them back, he's got The Boys, that's it! We don't need to get into the pandemic, we all know what happened!"

Dalton Castle: "But that's the thing, I've given her way too much information, I've been way too honest, I regret this entire thing!"

I attempted to alleviate their concerns, explaining that my intentions were pure, there would be no clickbait found within these social media walls. Dalton and RJ City quickly countered this argument.

Dalton and RJ: "No, You're worse than a dirtsheet!
RJ: "She's gonna misquote you innocently, with no maliciousness."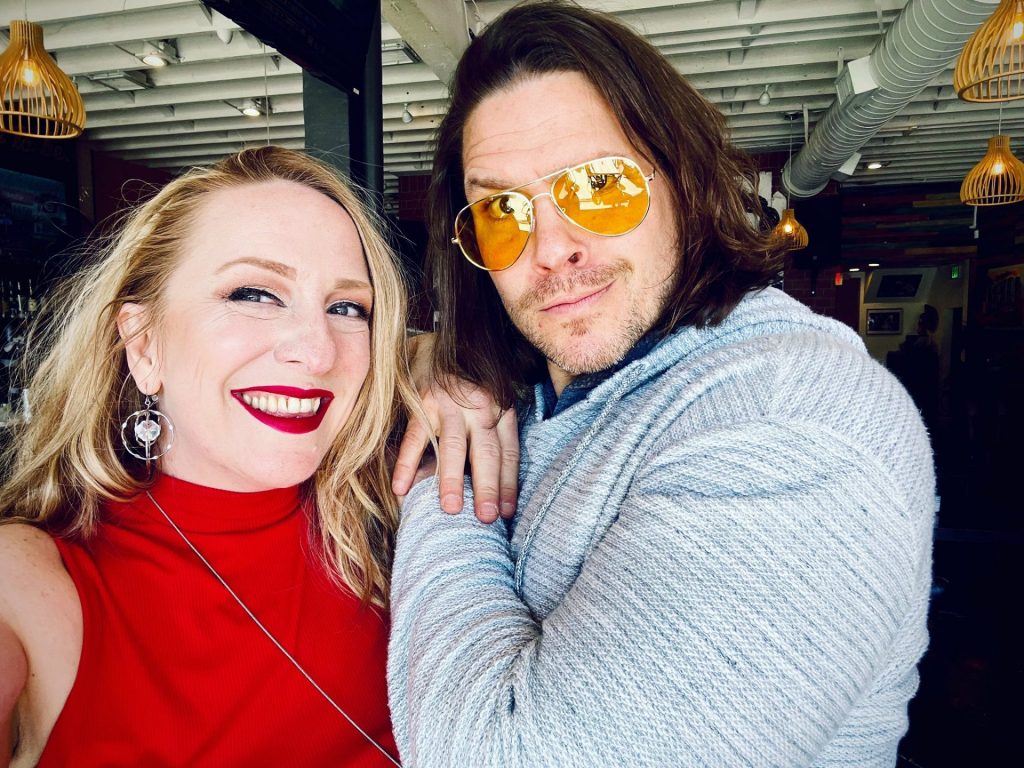 Dalton Castle and The Boys
With RJ City joining the table, we began to talk about Dalton Castle and The Boys, Brent and Brandon Tate, also known as The Tate Twins. Recently, Dalton Castle was a guest on HEY!(EW) where, despite being very busy, Dalton Castle spoke about his career, inspirations, and the intimidating mating rituals of peacocks. During the interview, Dalton had one of his Boys under his feet, using him as an ottoman to rest his legs.

Speaking on the endurance of The Boys, Dalton said, "RJ waited four minutes to let that boy fall. He got fatigued for real. In this business, you do it for real! It was a bit we wanted to do, but I didn't know we were going to be doing it for the entire time. He was quivering under my legs! "

RJ: "Those Boys are just…"
Dalton and RJ in unison: "PERFECT."

Dalton elaborates on The Boys, "Every little nuanced thing, the way they spin around behind me for the 'Bangarang', I never told them to do that, it's just something they started doing on their own."

He spoke about how The Boys first joined Dalton Castle in Ring of Honor. His face alight with yet another tale of serendipity for the Peacock, he said, "I met them in Nashville, my first day with Ring of Honor. They were just there, as extras. We asked them – I always use two local guys for my entrance. I asked them to be a part of my entrance, and they took it so seriously and did such a great job. I remember calling Delirious the next week, he said, 'Man, if we had WCW money, I'd just fly them around with you every week to be your full time Boys.' And then they emailed him and said 'we wanna come be Dalton's Boys', on their own! We had literally JUST talked about wanting to hire them and they reached out right after. And now I got them back!"

There was a time when The Boys had split from Dalton and began embarking on their own careers. Speaking on the breakup, Dalton said, "It wasn't the same without them. I put a lot of trust in them. When I use other people at independent shows, I have to go through the steps, I have to teach them every day. I waste a lot of time focusing on the entrance, instead of planning the match or anything else. But with them, they've got it. Brent and Brandon are wonderful, they have names by the way, I want to be very clear. They don't talk, they cannot talk."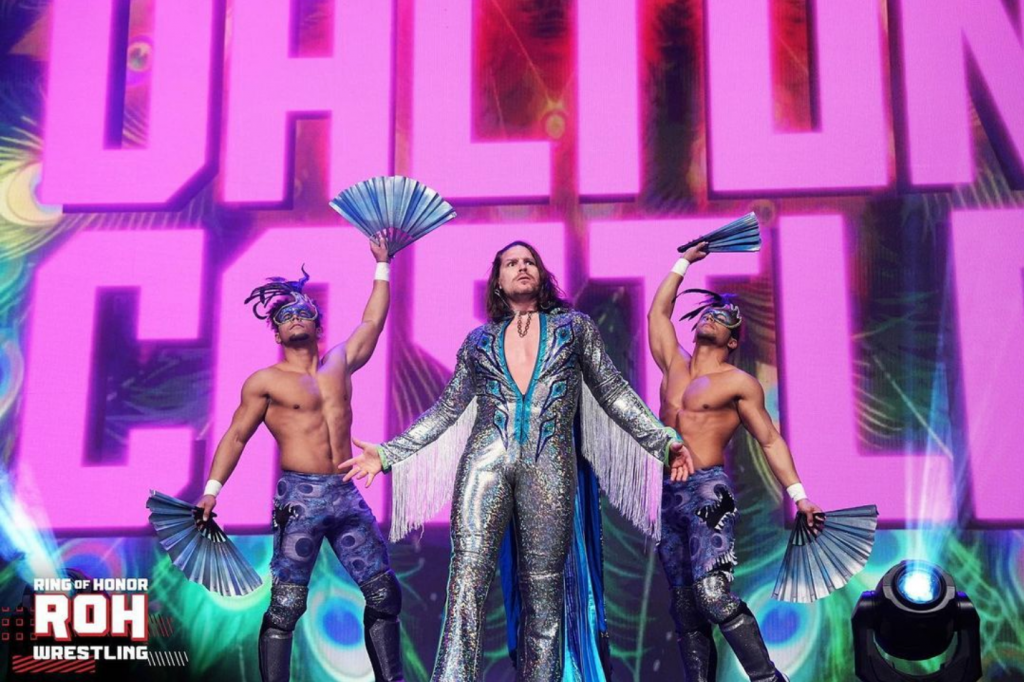 Dalton Castle has had many other Boys in his entourage. Independent wrestlers while they were traveling on the road, as well as stars like War Machine (now WWE's Viking Raiders), Bobby Fish, Kyle O'Reily, Ciampa and "A very reluctant Chuck Taylor", Jody Fleisch, and, perhaps the greatest of all, Ryusuke Taguchi and Hiroshi Tanahashi.

Speaking on The Ace of New Japan Pro Wrestling, and how Hiroshi Tanahashi came to be one of Dalton's Boys, Dalton recalled, "That might be my top Boy, the best Boy. Tanahashi and Taguchi. We were going to Japan, for a six-man tag that was announced. And when I showed up, Tana said 'Do you have masks?' And I said, 'Yeah!' And he goes, 'I want to be your Boy'."
Dalton continues, "And I tried so hard to talk him out of it. Because I love him! I respect him, he's one of my favorites, so I'm like, 'Please don't do this, I don't want to be disrespectful, please don't do this, you really don't have to.' He was so happy about doing it, that I said, yes, and like, he wrestles in long tights. But for this, he wrestled in bare legs! He wanted to do the whole thing, he wore the skirt, the masks, everything. At the end, I was so thankful for it, I put one of the masks in his bag, and then later that night he Instagrammed a picture of him on his motor scooter with the mask on."

"He's not the only star who's played the role, but he's definitely my favorite."

Dalton's face lit up with a smile when explaining how it feels to have various wrestlers join his entourage as The Boys, "It really makes me happy when some of the people really want to do it. Because I'm not asking! It would be weird!" Dalton laughs before using a mock-egotistical tone, "Hey, do you wanna be my Boy?"

"Tanahashi can be a Boy any day of the week."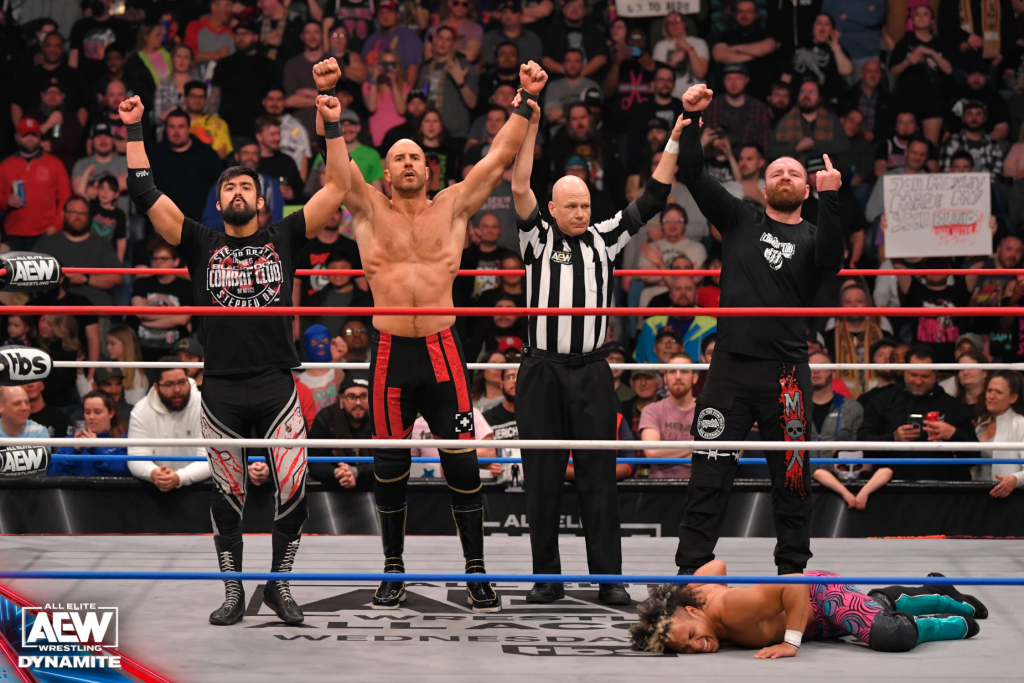 The Blackpool Combat Club's Dishonorable Attack on Dalton Castle and The Boys
On a recent episode of AEW Dynamite, just before Ring of Honor's Supercard of Honor PPV, Dalton Castle and The Boys were set to take on the Blackpool Combat Club's, Claudio Castagnoli, Jon Moxley, and Wheeler Yuta. Fans were eager to see the peacock take to the ring with The Boys in tow. However, during Dalton's entrance, the Blackpool Combat Club ran up from behind, attacked Dalton and The Boys, and put them down in under two minutes.

Dalton reflected on the audacity of this moment, "It's bullshit. They broke the rules! Rules are rules and without rules, what separates us from the animals? Jon Moxley is just a brute, he's an animal, and he must be put down. Claudio ran right through that boy like the Kool-Aid man, but that galoot fell on the ground, he got what was coming to him, fell right on his face. It was dishonorable!"

Here, RJ City chimes in, and this is where our story quickly goes off the rails.

RJ City: "How can you even call it a match?! 'Oh well, you know I was at the baseball game, and the umpire peed everywhere…' It's not a match, you know? That's what happened."

Dalton Castle: "It's like starting the baseball game, and right before they throw the first pitch, they hold the pitcher down, and the whole 9 players just circle the bases, scoring runs. They didn't get a fair shot."

RJ: "We talk a lot about baseball. Not like the teams, or the World Series or anything, we just make analogies."
Dalton: "And the grass, we're really big into the irrigation of the fields."

RJ: "And the tills."

Dalton: "No you don't till them! Never till."

RJ: "You have to! Oh, this is a post-till world?"

Dalton: "You want the earth to regenerate. If you don't till, the soil keeps its strength, the roots can really grab onto something."

RJ: "You're really gonna transcribe this?! All of it?!"

Amy: "Oh, this is one hundred percent going in the article."

Dalton: "I mean, we could really talk about gardening if you want. Wrestling is boring."

RJ: "We've got succulents on the table!"

Dalton: "These little guys can survive just about anywhere."
Circling back to Supercard of Honor and The Blackpool Combat Club, Dalton Castle pauses, takes a breath, and dives in with his real thoughts on the situation. "It made me really sad that I couldn't be a part of [Supercard of Honor], but being there still made me very happy, watching it from the back, watching it happen. But you know what disappoints me the most about not being on that show? I blame the Blackpool Combat Club. You would have gotten that high five."

Dalton is very clear that this affront goes far beyond professional wrestling. Indeed, the audacity of this moment had far reaching impacts into Hollywood itself! "By attacking me like that, I didn't get to be on [Supercard of Honor]. And I really thought, if I got to wrestle in Los Angeles, some big movie producer was gonna see me, and I was gonna be the star that everybody knows I'm able to be. Could you imagine?! Me?! In the new 007 movie?! Or the next Avatar? That's really what happened."

He continues with indignation, "They robbed Hollywood of a blossoming flower. They robbed the world of Dalton Castle. Bunch of heels."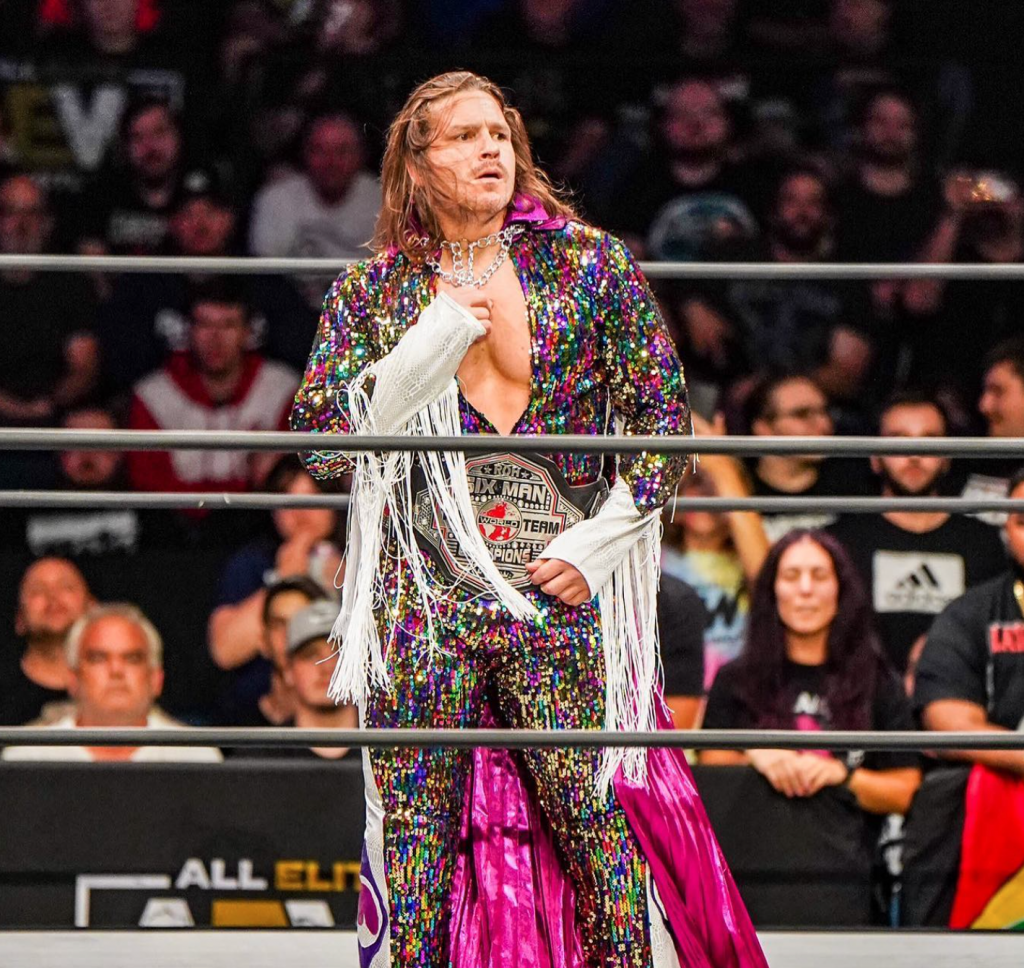 Peacock Power vs A Gaggle of Geese… And A Duck
Throughout his career, Dalton Castle has become known for his ability to captivate an audience, both in the ring and on the microphone. His natural charisma, sense of humor, and undeniable connection with the crowd make him a fan favorite wherever he goes.
The evolution of Dalton Castle's character began when he embraced the persona of "The Party Peacock." This character, complete with flamboyant attire, elaborate entrances, and loyal Boys by his side, showcased Dalton's unique charm and wit, capturing the hearts of fans worldwide. The Peacock quickly became synonymous with entertainment and excitement, as fans eagerly anticipated each of Castle's performances.
Yet, Dalton Castle is quick to correct the "Party Peacock" moniker. "Power Peacock. Or maybe we can find another term for it. I dropped Party Peacock before I got to ROH. But I couldn't erase it. I'm not a party, I'm an experience. Party seems too loosy goosy, and I am no goose."

Dalton quickly checks off other wrestlers who he does in fact, think are geese. "Jericho is a goose. Moxley is as well for that matter. And Claudio. Quite the goose. Now, Yuta. He's more of a duck."

Asked to elaborate on what makes Wheeler Yuta a duck as opposed to a goose, Dalton grinned and exclaimed, "He's got a cute butt!"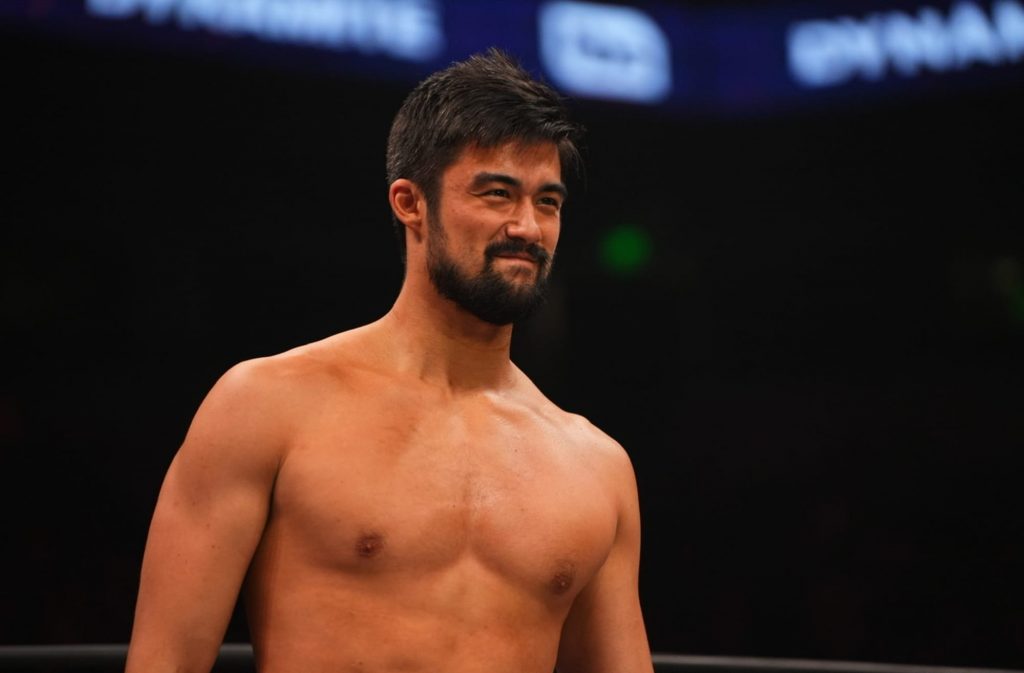 Dalton's praise for Wheeler Yuta goes beyond having the "cute butt" of a duck. Speaking about how Yuta and Daniel Garcia both stepped into the spotlight in a big moment against their respective opponents, Shibata and Tanahashi, Castle had this to say, "When they did the call out spot, when [Yuta] called out Shibata, I knew where this was going, and I'm so excited about it.

It's very well deserved too, because they're both very talented, very nice couple of kids. Seeing Danny [Garcia] has been really fun for me. He was a really young guy who used to come to the shows I was working, and to see him grow up and be so good right now, it's fun to watch. And I get to be there alongside of it. I don't have any pride in it, as I have no stake in it, but it's really fun to watch, and I'm so happy for him."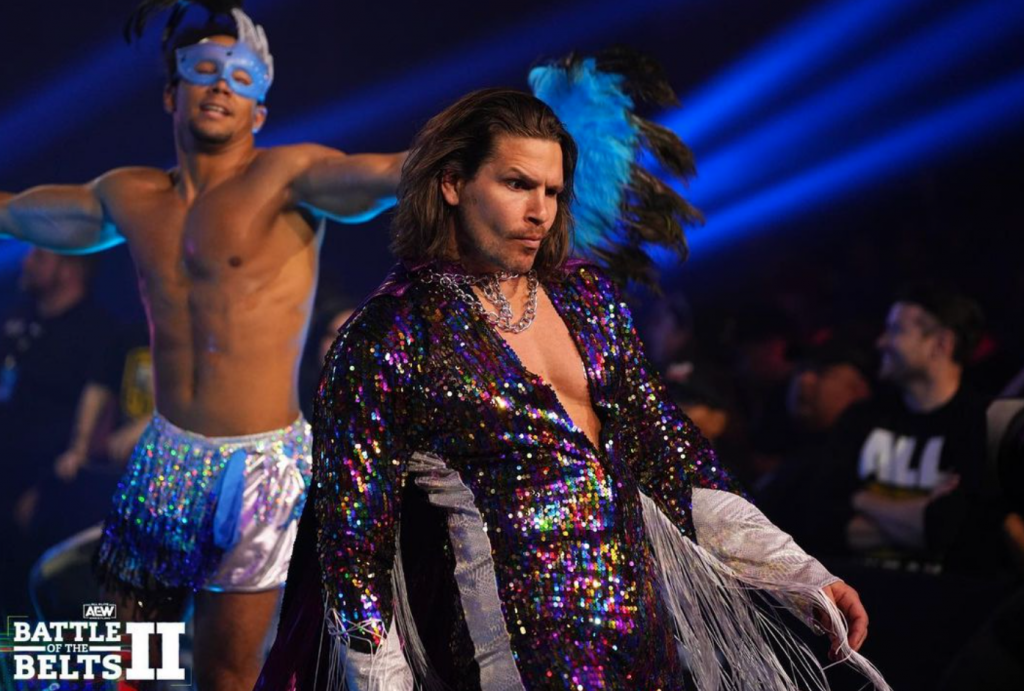 The Road Ahead
As Dalton Castle's wrestling journey continues, the power of the Peacock remains a force to be reckoned with. Ring of Honor is back, and it's better than ever. New Japan, All Elite Wrestling, and Ring of Honor all co-exist within the best professional wrestling in the world, and Dalton Castle is happier than ever. While The Blackpool Combat Club had sadly prevented Dalton's appearance from Superard of Honor, he still looks on with hope and happiness for the future, especially with Ring of Honor.

Reflecting on the appearances of both Tanahashi and Shibata at the recent PPV, Dalton said, "it's comforting to see the Ring of Honor I remember is still alive. Shibata, Tanahashi, I know Japan is really exciting, but for me, it's really comforting. It's what I'm used to, it's what I love about it. We took a little break, but now we're back to the good times."

With the revitalization of Ring of Honor at the hands of Tony Khan, professional wrestling, with all of its larger than life characters, stories of hardship in the ring, and tales of champions and triumphs, is better than ever. Yet even in the midst of this world, lies something very few could ever capture. The heart, passion, happiness, and drama of Dalton Castle.

Dalton Castle is an experience.

Dalton is captivating, charismatic, enigmatic, and charming. He has an immediate connection with his fans, bringing them into his world of dramatics, flair, and dazzling peacock brilliance. When he steps into the arena, his theme, "a mixture of Queen's Radio Gaga and Tears for Fears' Everybody Wants To Rule The World" immediately sets the stage for the Dalton Castle Experience. Fans become a part of the experience, and while he may have tried to drop the "party" moniker, his beloved antics truly do feel like a party in the best kind of way.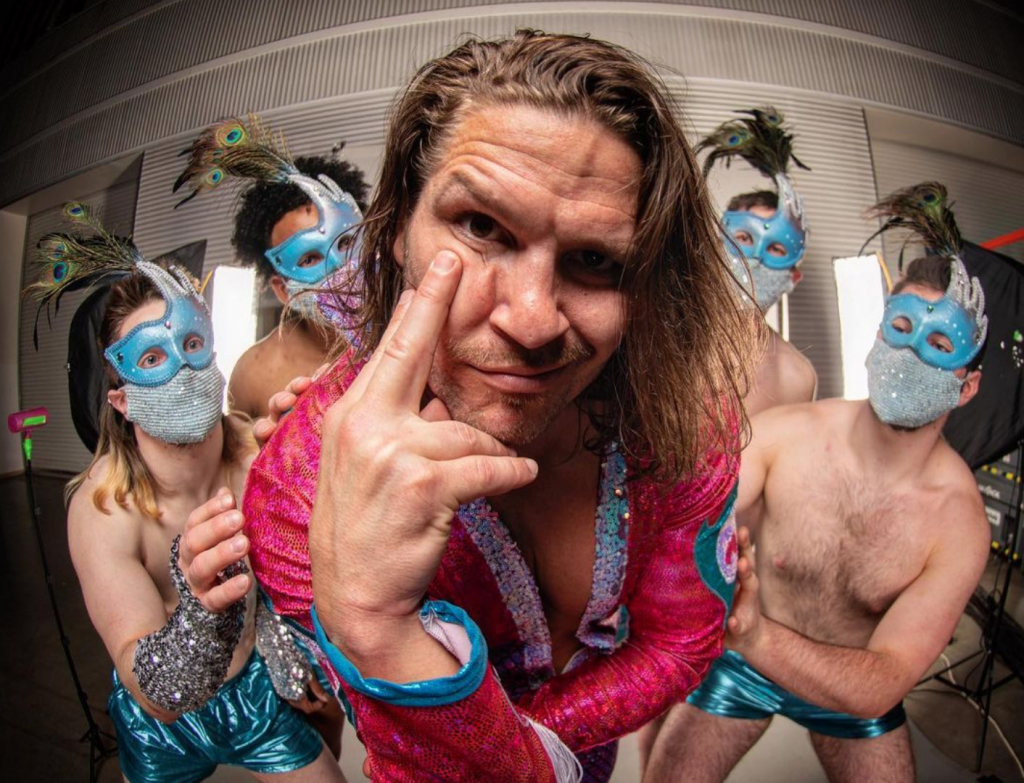 The charm of Dalton Castle sets him apart in a world of gritty wrestling. He's quick witted, fun, and not afraid to be funny. Yet he backs all of his stage presence up with the merits of award winning technical wrestling, granting him a longevity in the business, and in the hearts of fans, that will propel him into the annals of history as one of the best to ever do it.
Dalton Castle's journey in the world of professional wrestling is a testament to his creativity, passion, and dedication. As he continues to entertain audiences worldwide with his unique blend of flamboyance and technical prowess, fans can expect nothing less than the extraordinary. Whether he's competing for championship gold or simply stealing the show, one thing is certain: the Power of the Peacock will forever remain an unforgettable force in the wrestling industry.