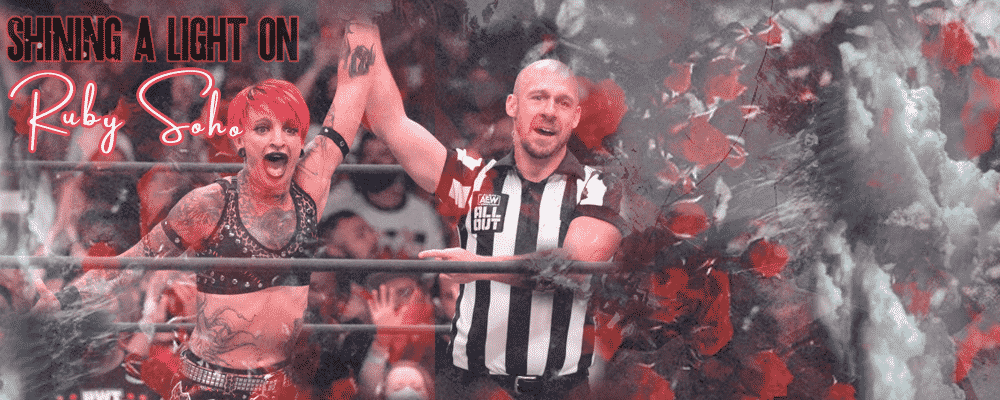 On September 5th 2021, the sold out crowd at Chicago's NOW Arena erupted with thunderous cheers as Ruby Soho made her heavily anticipated AEW debut at the company's All Out pay-per-view. She debuted as the surprise 'joker' entrant in the Casino Battle Royale – a match she eventually won. The crowd was excited for her debut as cheers for 'Ruby Soho' rang throughout the building before her theme even hit. Her victory in the Casino Battle Royale nets her the opportunity to challenge for AEW's Women's Championship, and on Wednesday, September 22nd, she will face Britt Baker for the AEW Women's title on the special 'Grand Slam' edition of AEW Dynamite at Arthur Ashe Stadium.
Ahead of that match next Wednesday, we look to shine a light on the career of Ruby Soho, a superstar who had a bit of an unconventional journey into the world of professional wrestling. After eleven years in the business and stops in several companies including a run as Ruby Riott of the Riott Squad in WWE, Ruby is now at the height of her career and things look to be just getting started.
While things are on the upswing now, she didn't always have her sights set on professional wrestling. Growing up, her close friends and family were always watching wrestling but her interest for the product wasn't that high. It wasn't until years later when she would attend an independent wrestling event to support her friend's brother that she found herself intrigued.
While her interest in wrestling grew, it wasn't until 2010 that she would start training. After going to college and changing her major a few times, Ruby was still trying to lock in her idenity and passion in life, and for that, she looked to professional wrestling. Despite her parents' desire for her to become a dental hygienist, she took time away from school in the summer to start training.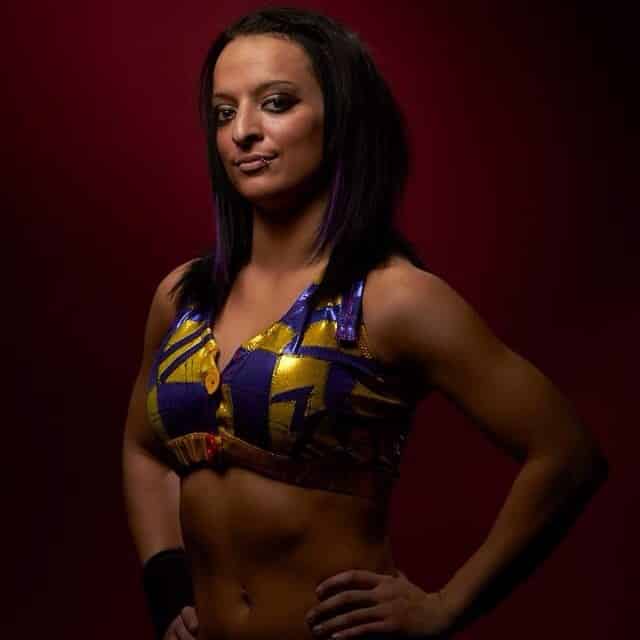 Her initial training was non-traditional and primarily in a backyard setting. At the age of 19, she would make the choice to drop out of college and focus entirely on wrestling. Ruby spent about six months training in a backyard before making her in-ring debut under the name Miss Heidi. Prior to her debut, she would also work as a valet for a group named Large and in Charge. After her training, she debuted in December of 2010 in a match against a Detroit based superstar named Mina Libra.
Ruby would continue to wrestle for this company over the next few years. She primarily wrestled intergender matches due to the lack of female opponents. She would win the tag team championships with a superstar named Brutus Dylan early on in her run.
During this time, she was able to really find herself and find an appreciation for individuality. Growing up, she, like many young adults, fought hard to fit in with her peers. As she embraced pro wrestling, she began to dive deeper into the punk rock scene and find her own individuality. This process of finding herself through pro wrestling made her quickly fall in love with it.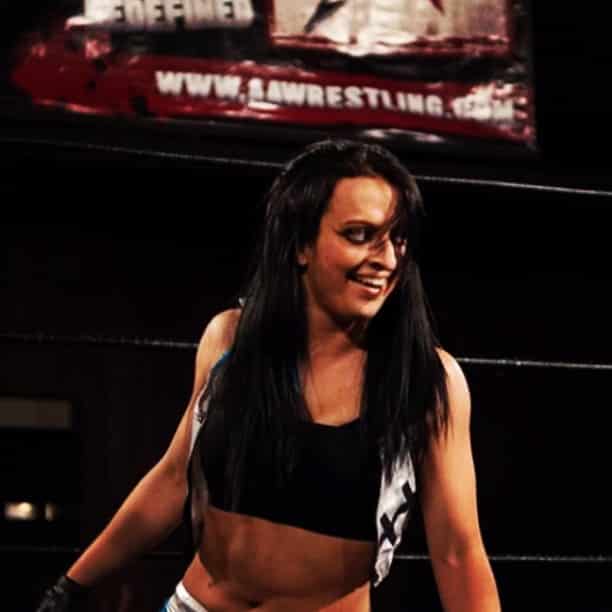 In late 2010, Ruby would come in contact with Billy Roc. She then would start to receive more traditional training through his school in Lafayette Indiana. Afterwards, she would eventually begin to branch out and get more opportunities on the independent scene. This would begin with a tryout for Ohio Valley Wrestling in May of 2012, where she began regularly appearing for the company under the name Heidi Lovelace.
She also made her debut for Juggalo Championship Wrestling and Shimmer Women's Athletes in the Fall of 2012 under the same name. While she worked for a variety of companies, OVW would become a primary place for Ruby to grow and make a name for herself. During her time there, she would capture the OVW Women's championship from Taeler Hendrix after defeating her in non-title competition.
Hendrix would eventually cost her the championship and the two would then embark in a controversial feud. In January of 2013, Hendrix began to receive gifts from a secret admirer, believing it to be one of her male acquaintances. After months of speculation, it was eventually revealed that Heidi Lovelace was the one sending the gifts. She finally expressed her feelings to Hendrix but she was left confused. This led to a championship match for Lovelace. She challenged the champion after Hendrix encouraged her to confront Trina (the champion whom Hendrix claimed had it out for them).
Lovelace would lose her match with Trina and the storyline would quietly end. Due to the risky nature of the storyline for its time and place (the Midwest in 2013), it was dropped. Hendrix and Lovelace worked hard to present it in an interesting way but ultimately it was too much for the Midwest company. She would also wrestle for Shine during this time, getting the opportunity to have matches with a number of talented women including Mercedes Martinez and Daffney.
In 2013, just before finishing up with OVW, Ruby would make her debut for Chikara Pro Wrestling as Heidi Lovelace in February 2013. She took part in Chikara's Tag World Grand Prix, teaming with Saturyne. Later on in the year she wrestled a singles match with Eddie Kingston for Chikara's Wrestling Is Heart show. Somehow, she would overcome adversity and defeat the seemingly unbeatable Eddie Kingston. This victory would give her the momentum to win the Chikara Young Lions Cup tournament in 2014, becoming the first woman to hold the coveted championship. Ruby was the 16th Young Lions Cup holder, a title held by the likes of Larry Sweeney, Chuck Taylor, Fire Ant (Orange Cassidy), and many more.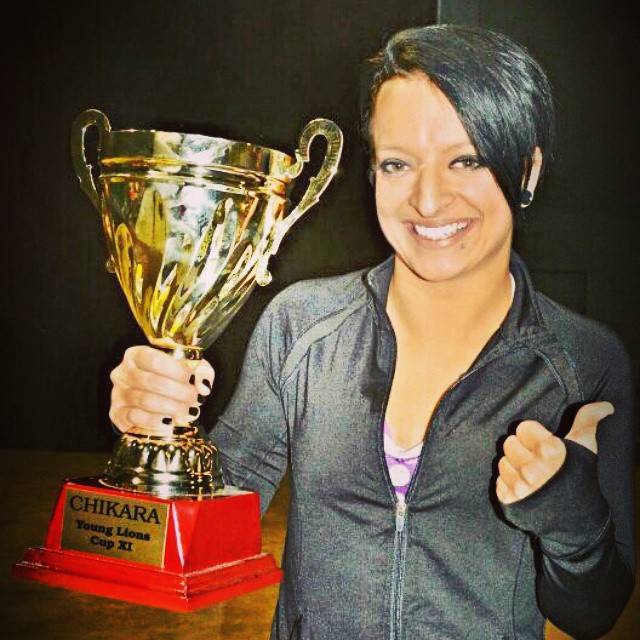 She would continue to wrestle for Chikara, successfully defending the Young Lions Cup twice in 2015 and coming up short of the grand championship twice in 2016. Once against Kimber Lee in the first woman vs. woman match for the title. Along with her success in Chikara, Ruby would find success across the midwest independent wrestling scene. Companies like AIW, NWA, JCW, and AAW were consistently having her wrestle against a wide variety of opponents, both male and female.
In August of 2014, she captured the AAW Heritage Championship from Matt Cage. This title had plenty of prestige having been held by Cage for over 250+ days, ACH 270+ days prior to that, and Michael Elgin 406+ days ahead of that. During this time, Ruby was having matches with some of the most talented men and women on the independent scene. She would go from wrestling the likes of Eddie Kingston or BJ Whitmer one weekend to Tessa Blanchard or Kimber Lee the next.
Ruby followed up this fantastic independent run with a tour in Japan, debuting for Stardom in 2015 for a three month tour. This was a great opportunity for her to grow as a talent and gain more experience. She would return to America and continue to wrestle for the independents as the buzz for her continued to grow. Her name was starting to really gain traction just as WWE began to refocus its emphasis on the women's division. Following some helpful input from Jimmy Jacobs, who was recently hired by WWE, Ruby was given a WWE tryout. She signed with the company in December of 2016. Shortly after she began working for the company as Ruby Riott.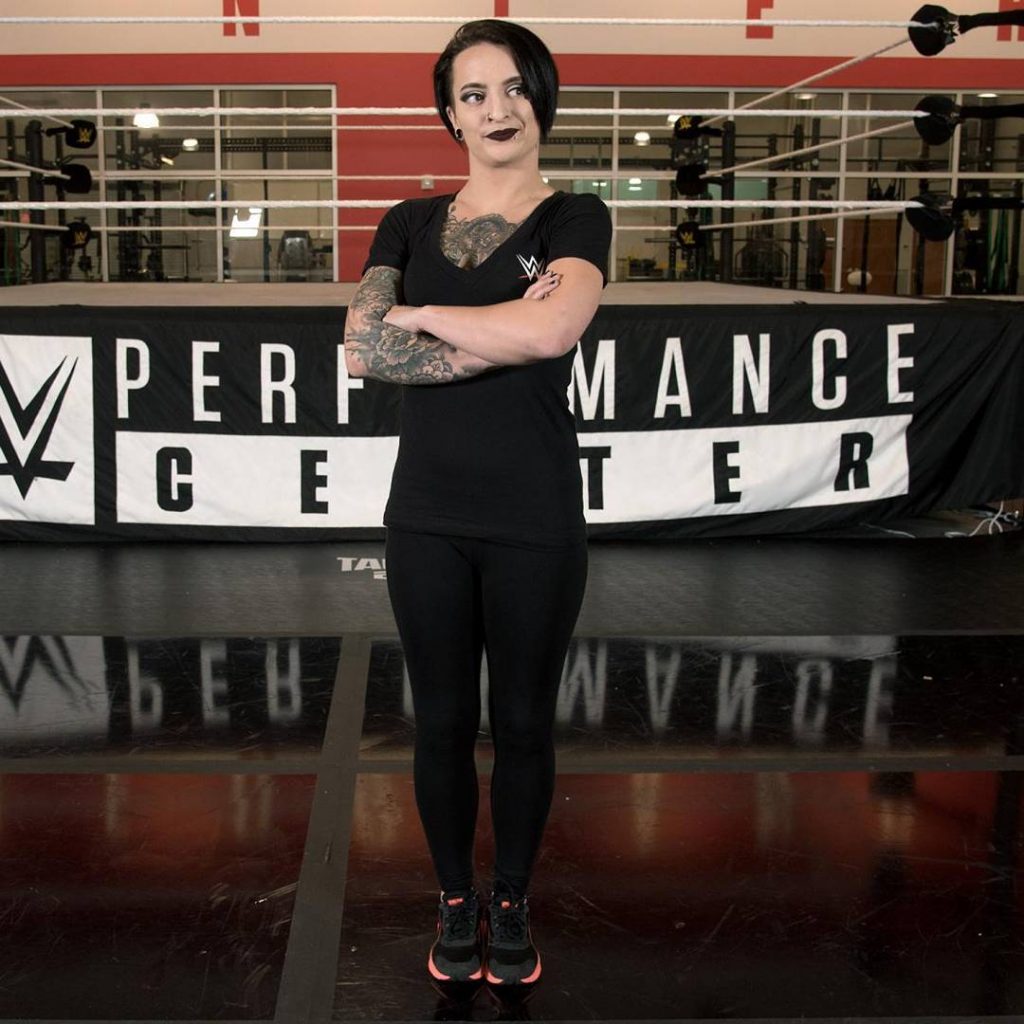 She would start wrestling on WWE's NXT developmental brand, feuding with talent like Nikki Cross, Asuka, Ember Moon, and more. At NXT Takeover Chicago, Ruby received an NXT Women's Championship opportunity, but came up short to the current champion, Asuka. In November of 2017, she would be asked to stay with the main roster following a dark match on Takeover. She wasn't told what the plan was and was only informed that other female talent would also be brought in. That Monday, they explained to the talent that they would be making their main roster debuts that week.
That Friday, Ruby would debut on the main roster as the leader of an all-female faction known as The Riott Squad. They would attack Becky Lynch and Naomi early on in the night and then Charlotte and Natalaya later. The group would be relatively successful despite being paired with the idea that it would be short-lived. Initially, the plan was for the Riott Squad to only be together for a few weeks. However, the chemistry of the trio was so good they stuck together.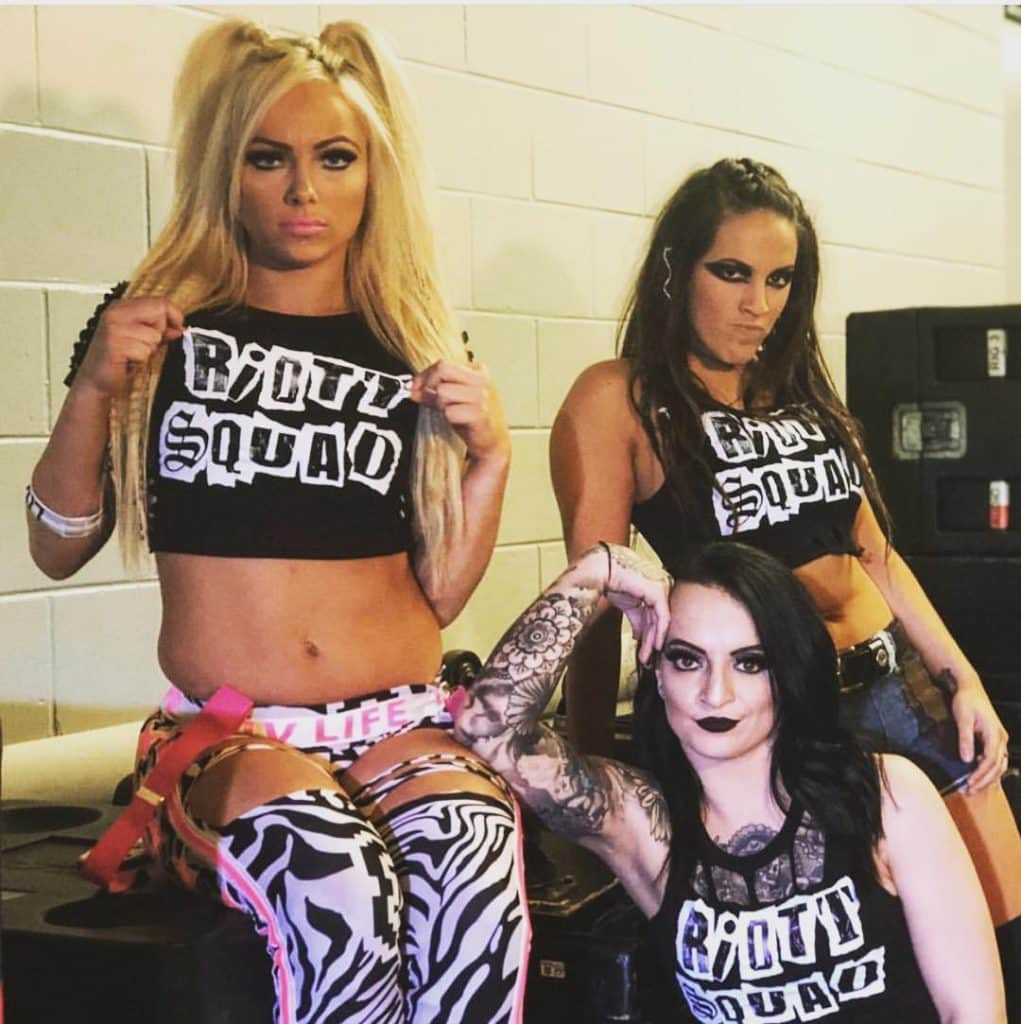 Ruby would be featured well during this time, getting a solid run in the Women's Royal Rumble and even challenging Charlotte for the Smackdown Women's Championship at Fastlane. The group was drafted to Raw as part of the Superstar shakeup. This would lead to a huge match for Riott. In February of 2019, Riott challenged Raw Women's Champion Ronda Rousey for the championship at the Royal Rumble. She would lose quickly in that match but would have a more competitive non-title effort the following night on Raw.
It's telling how often Ruby has been trusted to deliver in unique moments. Whether it be trusted by promoters to put on fantastic, believable intergender matches or facing the most important star of the division weeks ahead of WrestleMania. Ruby has proven she can deliver. Unfortunately, The Riott squad eventually disbanded by way of the WWE brand draft. Following this, Ruby would take some time off to receive surgery on both of her shoulders. She was out of action for the second half of 2019.

Upon her return, she began a feud with former Riott Squad member Liv Morgan. The two would feud for some time before Ruby eventually tried to repair their friendship. Morgan was initially hesitant, but the duo did finally come together to feud with the Iiconics. The two teams would feud before the Riott Squad beat the Iiconics in a match at Payback, forcing the team to split up. She continued to work sparingly for the company throughout the rest of the year. In June of 2021, Ruby Riott was released from her WWE contract. The company cited budget cuts as the reason for her and a number of other talents released that day.
Almost immediately following her release, social media began clamoring for AEW to sign the talented female superstar. Ruby wasted little time working on her next step, despite not knowing exactly what her next step was. Due to her 90 Day No Compete Clause, Ruby was unable to negotiate her next move for several months. Despite this, she maintained the excitement and kept fans intrigued by way of vignettes posted to social media.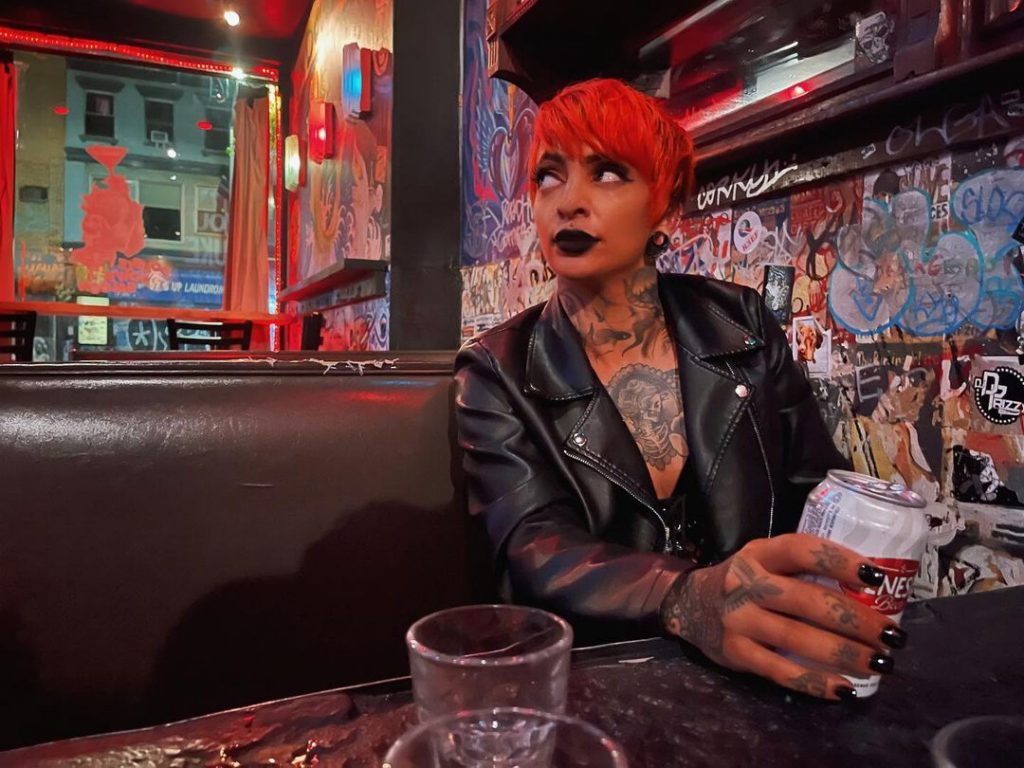 Ruby would partner with Giancarlo Dittamo to create some fantastic visual elements for social media that kept fans excited for her next step. She teased that she was a runaway, traveling across the country searching for a destination. She would drop subtle hints and Easter eggs in every vignette, consistently building an interesting and easy to follow story. Eventually, the vignettes came together in a perfect way. Rancid's "Ruby Soho" rang through the Now Arena for Ruby's debut at AEW All Out as the fans went crazy.
The ability for her to use the Ruby Soho name and theme song was a blessing that came together organically following her release. She appeared on a podcast with Lars Fredriksen, lead singer and guitarist of the punk band Rancid, and a big fan of professional wrestling. During the podcast, Lars and his co-hosts planned to offer her some suggestions for a new name following her WWE release. After explaining that the name "Ruby" was important to her and her identity, in part because of her affinity for Rancid's "Ruby Soho", Lars would lead with the idea that she utilize the Ruby Soho name and song. Ruby was immediately excited to have such a wonderful opportunity. Lars recognized and explained that she is something different in a world of wrestling that still, to an extent, sexualizes women. He wanted to be part of that and felt it would be an honor for Rancid's song to be her entrance music.
For many, the anticipation for Ruby's debut built way up over the weeks following her release. For others who've followed her story and her journey, the anticipation to see her in such a high profile position was years in the making. She is a high level performer whose been hidden away, grinding for her next opportunity. Now after eleven years and a non-traditional path, Ruby seems to have found the perfect destination to showcase herself.