One of the most remarkable things about AEW is the uplifting and energetic environment that fills the locker room. With a growing list of homegrown stars like Britt Baker, Darby Allin, Jungle Boy, and MJF, AEW presents its roster with a unique opportunity to learn, grow, and become your own star in the wrestling world. However, the company has also brought in a few legends to round out the big show feel of All Elite Wrestling. Sting, Paul Wight, Matt Hardy, and most recently, Christian Cage.

While these stars are exciting to see in the ring, what's even more intriguing are their plans behind the scenes in AEW. For Christian Cage, this has presented a unique opportunity, not only to lend his knowledge and expertise in coaching younger talents, but to also use those same tools to build upon his own ring-work. Seven years after he was told he would never wrestle again, he suddenly found himself in a new promotion, with new opportunities filled with explosive matches, gripping storytelling, and some of the best wrestling in his career.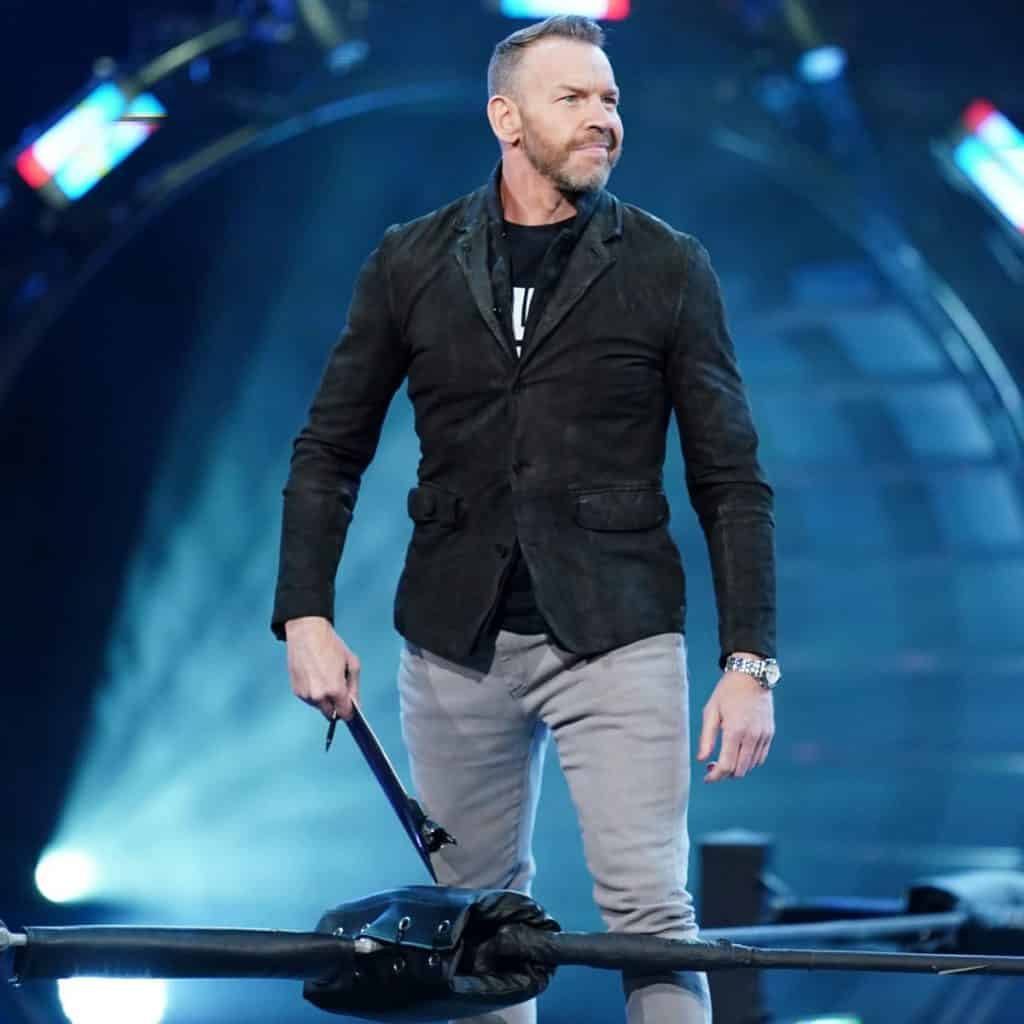 This week, Christian Cage sat down with Aubrey Edwards and Tony Schiavone on the AEW Unrestricted Podcast to talk about his time in AEW and how it came to be. Here, he sheds light on his plans in AEW, what he means by "I'm here to outwork everyone", and the changing wrestling industry as a whole.
A Revolution For Christian Cage
Christian Cage made his AEW debut shortly after he shocked the world with a surprise return at WWE's Royal Rumble in January, 2021. Speaking on how this came to be, he said,
People saw me return a few weeks previously at Royal Rumble, and I'm sure everyone thought I was going to be there for a long time. But Jon Moxley is a good friend of mine, and he was telling me all about how great it was to be working for AEW, and all the positive experiences he had there. Mox said, "Look man, you're a free agent, you'd be doing yourself a huge disservice if you didn't' at least talk to Tony (Khan)."

Now, I had already met Tony through a mutual friend seven years prior. We met over dinner, and it blew my mind back then what an encyclopedia of knowledge he was, he was telling me things about my career that even I didn't remember. Meanwhile, I was just trying to convince him to let me be the general manager of the Jacksonville Jaguars.
The conversation he had with Jon Moxley about his options as a free agent would prove to become quite fortuitous, as less than 30 minutes after he ended the call, he received a text from Tony Khan. They spoke for two hours during the initial call, and the passion, excitement, and opportunities Khan spoke of immediately pulled Cage into his vision of what he could be in AEW, and what he could bring to the table at this stage of his wrestling career.
Tony Khan and Christian Cage would go back and forth with several conversations ironing out the details of how they would bring him into All Elite Wrestling. However, it wasn't until another recent and legendary signing, Paul Wight (formerly known as WWE's Big Show), teased a surprise announcement, that he realized they had both come away from those calls with the same conclusion: this was really happening, Christian Cage was coming to AEW.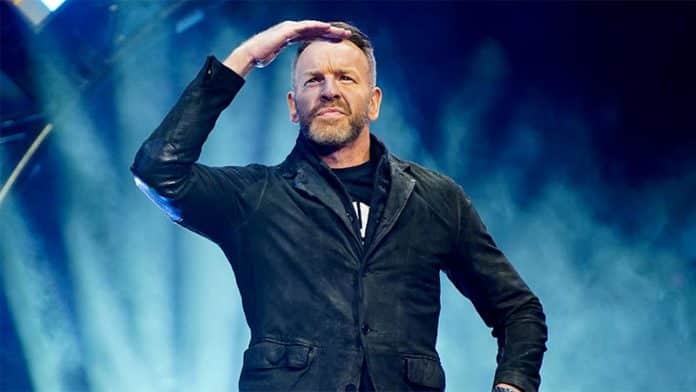 When he arrived on set for AEW's Revolution Pay Per View, he recalled how nervous he was feeling that day. There was a lot of excitement in the air, but as he spent time pondering his new endeavor while traveling to Daily's Place, he wondered how the locker room would react to his presence. Would they care? Would they be excited? Would he be able to fit right in with everyone?
He spoke about Cody Rhodes entering his bus that day, and how the words shared by one of All Elite Wrestling's biggest stars brought him a new perspective.
Cody met me on the bus and said: "It's a big deal that you're here. For guys like you and me, it was Hogan, Andre, Macho Man, Ted Diabase. The majority of the talent in that locker room, that is what you are, to them."


That put me in a whole new headspace going out there. I walked out and saw all the faces light up as I walked through. I was nervous going through that curtain, but when I got out there, came out to the crowd and then came back to everyone in the back, it put me at ease right away. This was a great environment, and a great place for me to be.
Filled with excitement and reverie for this future of new possibilities, Christian Cage was looking forward to getting his feet on the ground and working with a new roster, and a new creative environment. Here in AEW, Christian would be free to tell his own stories, through unscripted promos, energetic matches, and most importantly, be in the ring with the thrill of the crowd, the explosive sounds of pyro, and the blinding lights of excitement, right as he headed into a new prime of his career.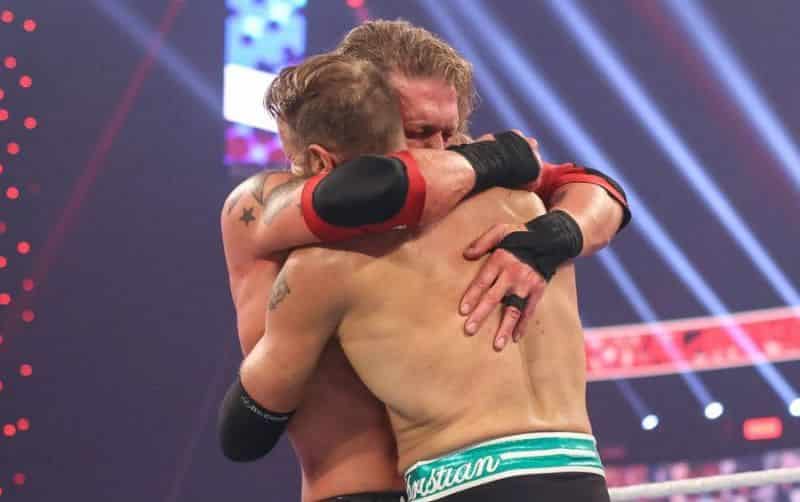 Breaking The Cage of Retirement
For Christian, this was a huge deal for him. Seven years ago, a string of concussions forced him into an early retirement. Cage was faced with the end of a story that he had no choice in, and frustratingly for him, no voice in. He found himself in a new reality as a retired wrestler, grappling with the motivations of his desire to work with the reality of risk he faced while doing what he loved.
He took the initiative to work with doctors on his own accord. In 2020, he was booked in an unsanctioned match, facing Randy Orton on WWE Raw. He found out that he was on the non-contact list, that he couldn't be touched, even in a match of this caliber. Speaking about his thoughts at the time, Cage remarked,
"Really? I'm that fragile? I feel great. But I can't even be touched?"
Frustrated with the juxtaposition of how he felt versus how delicately he was treated, he sought help on his own accord. He spoke with doctors at the University of Florida, undergoing a series of concussion related tests that he passed with flying colors. Specialists cleared him for work, but he went to Pittsburgh to undergo further testing to really cement that he was finally free and clear to wrestle after seven long years.

He saw another 3 or 4 specialists there, and underwent further concussion-related testing. Given the same results as he was given in Florida, Christian Cage knew it was finally time. With all the love and passion he had for a sport he had given decades of his life to, he was finally cleared to go back in the ring, with confidence, from several concussion specialists in two states.

Christian Cage was back.
Following the inner "Do The Work" ethos, he hired a nutritional consultant company and built a gym at his home in Florida. Every day, he worked, honed his body and mind, grinding the workouts that would rebuild the strength and resilience he had lost over the years. He saw his best friend and long time tag team partner Edge return after retirement in WWE, and saw a new world of possibilities open up for him. He was motivated, determined, and dead set on getting back in the ring.

When he made his surprise appearance at WWE at 2021's Royal Rumble, he stood face to face with Edge. Edge smiled, he smiled in return, and they embraced, impromptu, taking in the moment of being together, being in the ring, and finally being back in action in the way they had for so long, dreamed to be.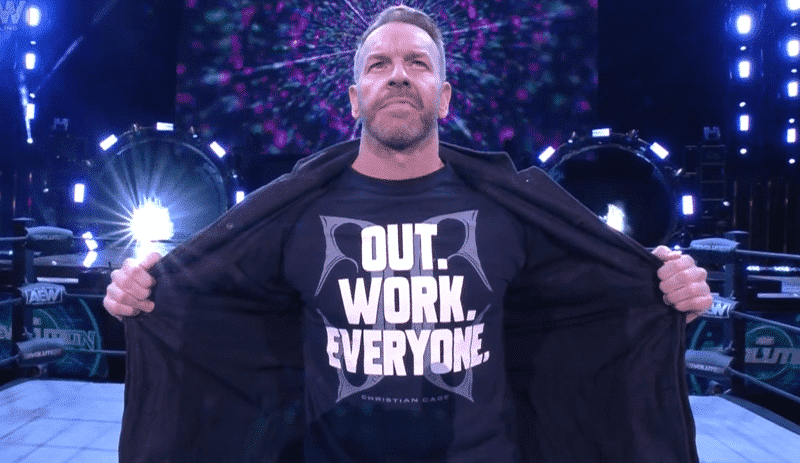 Outwork Everyone
After the Royal Rumble appearance, and after receiving the clear go-ahead from several doctors that he was cleared to wrestle, Christian Cage found himself in a new prime of his career. His new mindset found him more motivated than ever to break new ground in a new environment. Once he made his debut with All Elite Wrestling, he had a choice to make: Coach and mentor young talent, or be a new workhorse in the ring? For Christian Cage, the answer was, why not both?

He and Tony Khan came up with a new slogan for him, "Outwork everyone", and soon enough, new merch bearing the same phrase hit online retailers and began selling out. Cage, however, wanted to live up to the hype of what he was promising and get back into the ring. He would soon find himself face to face with yet another old friend, Krankie Kazarian.
"Everyone I talked to, people I trust, Frankie's name was first all across the board. That's a huge statement to the talent of Frankie. And it's a huge statement of trust. I hadn't wrestled a match in 7 years. He's a close, dear friend of mine, and I wanted to do just as much for him as he did for me. I wanted to raise his stock, no matter what happened in that match. He felt the same for me, and when you have two guys going into a match with that mindset, you're gonna have something really special."
What Frankie and Christian put together that night immediately became just that, something really special. For a man who had been in retirement for seven years, wondering if he would ever be able to step back into a ring again, this match showed that not only was Christian Cage back, but he might even be better than he was before! His feats of strength were perfectly paired with Kazarian, and his emotive charisma told a story through movement, with his own story of motivation, dedication, and perseverance showing through every step he took in the ring that night.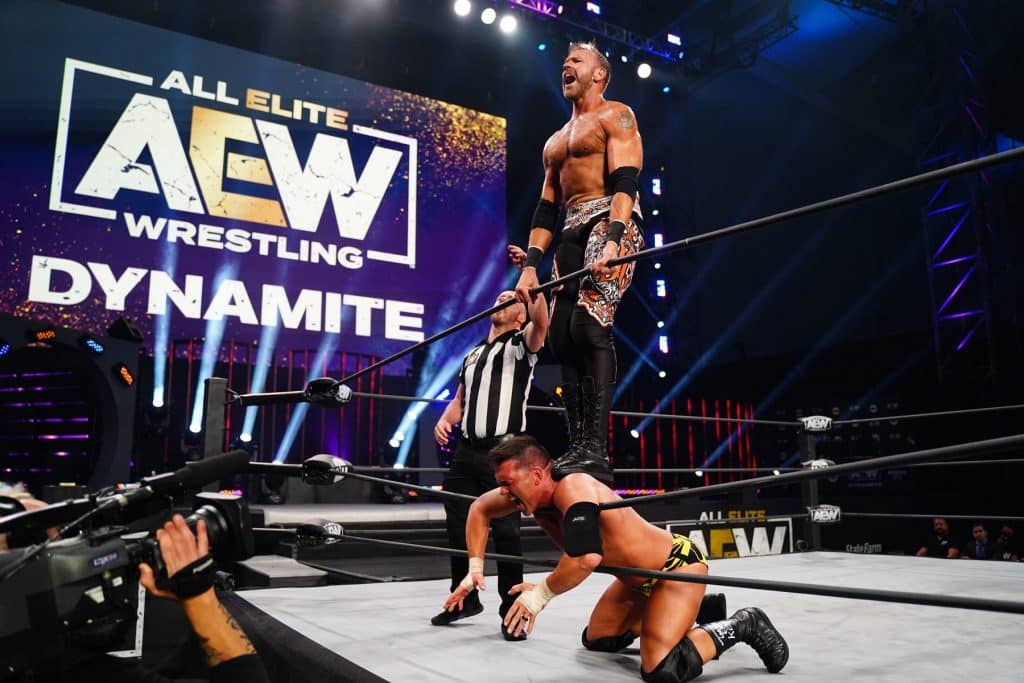 Christian Cage lived up to the hype of his announcement. He lived up to the hype of his "Outwork everyone" slogan. But most importantly, Christian Cage lived up to the hype of his own dreams, that he could carve a new future and a new story, on his terms. Speaking of the reception after his match, he said,
To have a moment like that, where your peers are standing at the curtain waiting for you, patting you on your back, saying things like, "You looked like you never missed a step, you never lost it." To not wrestle a match for 7 years and come back and do it at such a high level, I wanted to come back as I once was, but I came back even better. It motivated me to do even better.
Christian Cage is motivated to take on a world filled with new challenges and new opportunities. While he spoke about his gratitude to Tony Khan, for taking a chance on him sight unseen, and how he'd never forget the belief that was shown in him, he also extends that belief to himself and outward through the rest of the locker room.

With AEW, he sees an environment full of creativity, excitement, and endless possibilities for anyone to carve their own story. Whether they are veterans of the craft looking to embark on a new chapter, or bright young upstarts carving their own destiny, this rocker room is filled with people who have a thirst for knowledge and a shared excitement for those they share the stage with.

For Christian Cage, his next chapter may have only just begun, but already he's found himself unrestricted, uncaged, and clearly ready to outwork everyone.

AEW Unrestricted is the official podcast for All Elite Wrestling, hosted by Aubrey Edwards and Tony Schiavone. You can listen to their full interview with Christian Cage, here.