A new champion walks out to the sparkling lights of celebration and fanfare. A gleaming silver tray carrying hundreds of burgers is thrown by a challenger who is hell bent on recapturing her glory, while the champion watches what remains of her celebration litter the ring in disarray. A week later, the AEW Women's World Champion is hurled through a table, crashing to the floor, leaving her beaten and battered, hair spilling out around her, at the hands of the one woman she's never been able to beat.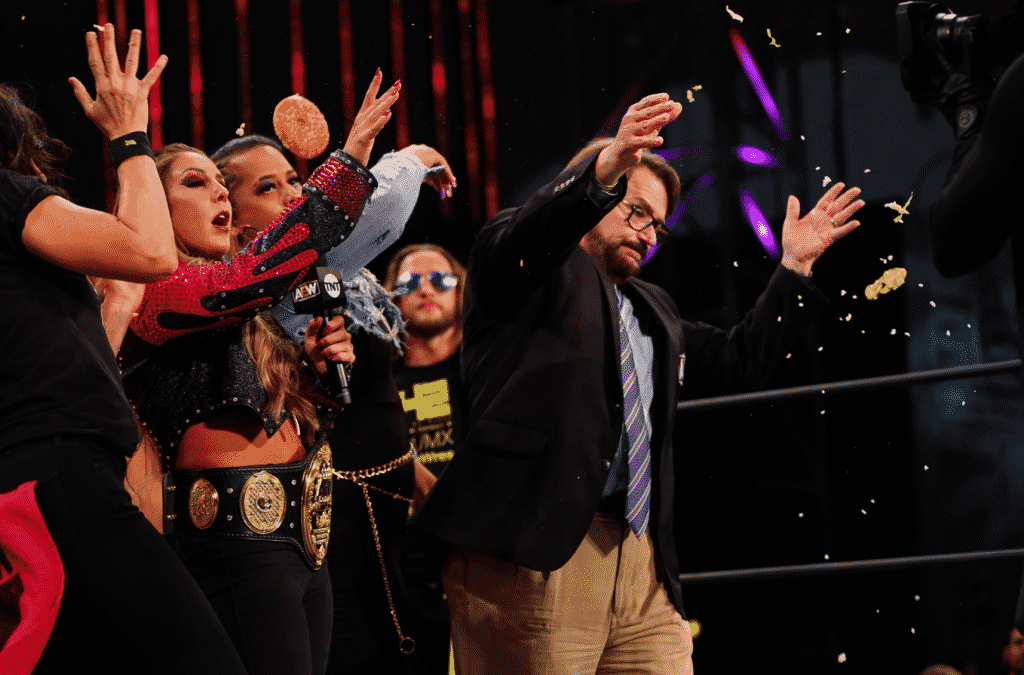 "Don't worry about my well being, because I've dealt with multiple tables, and ladders, and chairs, and thumbtacks, and you know what happened? The blood stopped, the wounds healed, and I came out the baddest bitch on the block. So if you think you see fear in my eyes, you better look again."

Britt Baker speaking to Tony Schiavone on AEW Dynamite: Fyter Fest
"Good thing you reminded me that you're the baddest bitch on the block. So let me remind you, what I do to bitches."

Nyla Rose, Road To AEW Dynamite: Fyter Fest Night 2
Nyla Rose breaks bitches.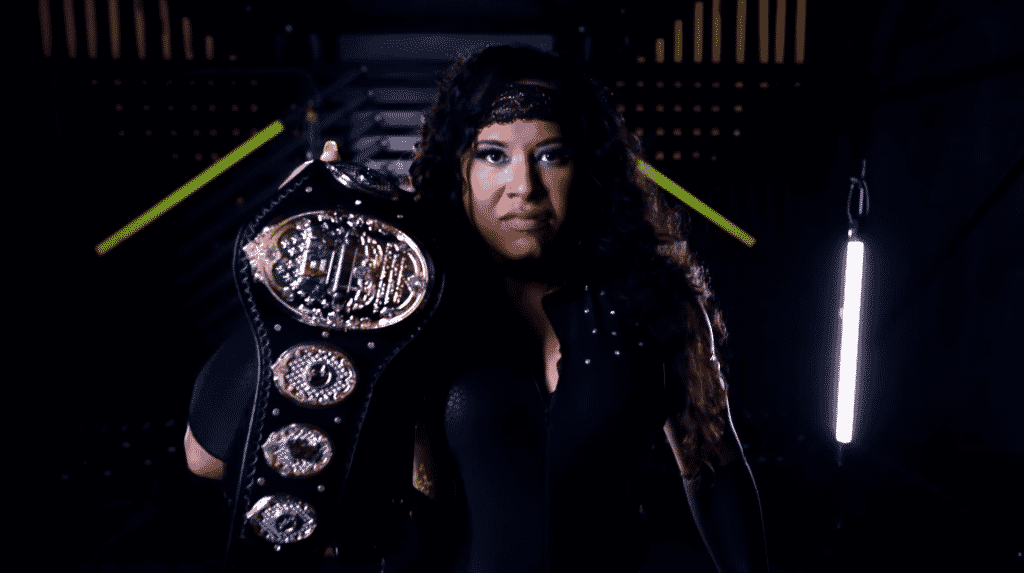 Nyla Rose has already had a taste of championship victory, becoming the second AEW Women's World Champion after defeating Riho on AEW Dynamite. Since then, she has had several laudable matches with Riho and Shida, with her background in Joshi wrestling showcasing her intensity and skill. However, after a successful round of title defenses, she lost the championship to Hikaru Shida at Double or Nothing, 2020. Since then, Rose has been focused on one thing and one thing only, reclaiming what was lost and standing tall as the dominant, defiant, record breaking champion.
Nyla Rose knows a thing or two about power and strength. A descendant of the Oneida Nation, and with a background in Judo, a Black Belt in Tae Kwon Do, and heavy-hitting Joshi wrestling, she channels her power with a soul on fire.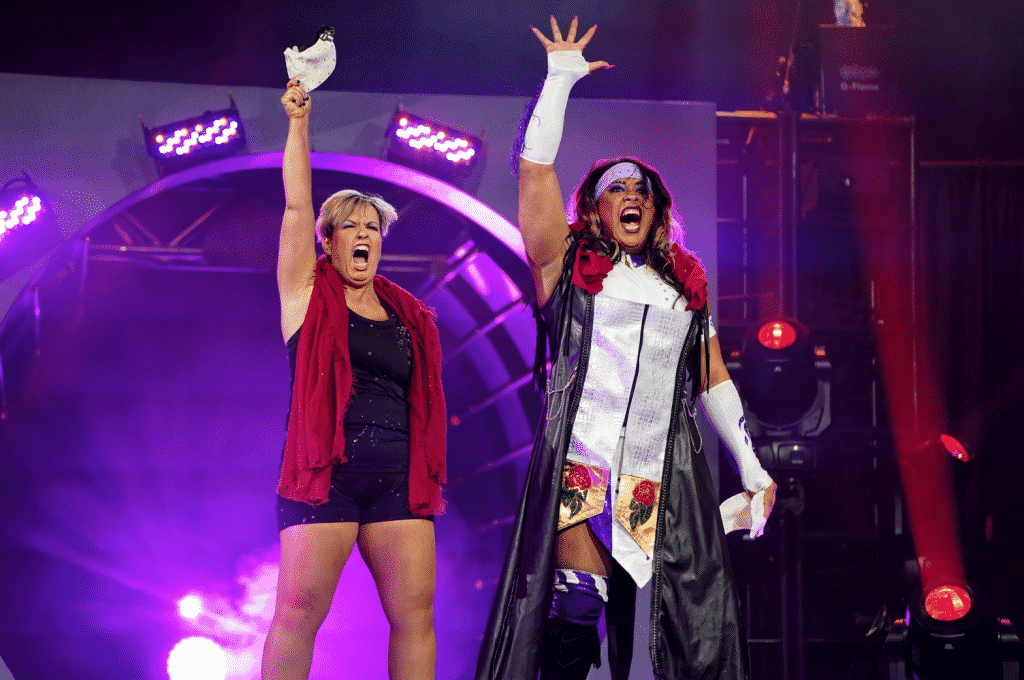 Dubbed "The Barbie Breaker", "Nyla The Destroyer", and in Japan, "The American Kaiju", Nyla burns with passion, power, and fierce determination. She burst onto the scene with All Elite Wrestling, debuting at Double Or Nothing, along with Awesome Kong, Britt Baker, and Kylie Rae in a fatal four way match that immediately impressed upon fans of the new promotion, that Nyla's power was a force to be reckoned with. Indeed, at AEW's All Out in 2019, she entered the Women's Casino Battle Royale as the first combatant, and outlasted every single competitor, emerging victorious and standing tall with a shot at the AEW Women's World Championship.

Nyla Rose has become synonymous with viciousness and brutality. In December of 2019, she was famously suspended after putting both her opponent and referee Rick Knox through a table. In her first match back from that suspension, she immediately followed up with sending Hikaru Shida crashing through a table in the middle of a fatal four-way match. In the years since AEW's formation, Nyla has dominated its division with strength, ferocity, and an unbending will. Nyla is the embodiment of war.

Since the debut of All Elite Wrestling, Nyla Rose and Britt Baker have danced around each other like warriors preparing for battle. After Rose's dominant victory of the AEW Women's Casino Battle Royale, she has bested Baker at every singles match they've had. From the Jericho Cruise to the AEW Women's Championship eliminator tournament, Britt Baker has been unable to find purchase with her devastating lockjaw, instead finding herself the victim of the devastating Beast Bomb, or crashing through tables at the hands of of a furious Rose.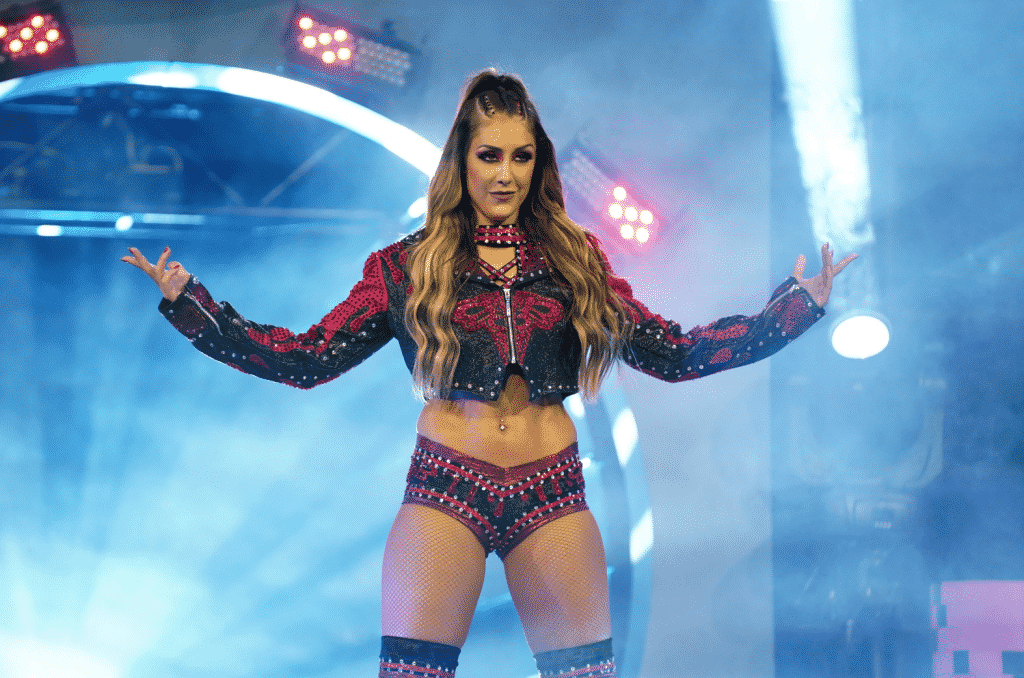 This year, Britt Baker has emerged as the face of AEW's women's division, hot off the heels of her historic and bloodied "Lights Out Match" with Thunder Rosa. She has proven herself to be battle hardened against those who would wish to take her down, as she found herself iconically grinning in the face of pain at the hands of Shida, just as she revelled in blood-fueled fury at the hands of Rosa.

However, before she even stepped foot in an AEW ring, Baker had already become no stranger to battling through pain and putting on a brave face. Even while studying to become a doctor of medicine in dentistry, her legend began to take root. During her final exams, she famously attended her finals with a black eye she had received from a wrestling match, showing just how resilient Baker could be in the face of adversity.

That said, there has been one obstacle Baker has yet to overcome, and that is the dominating ferocity of the Native Beast, Nyla Rose.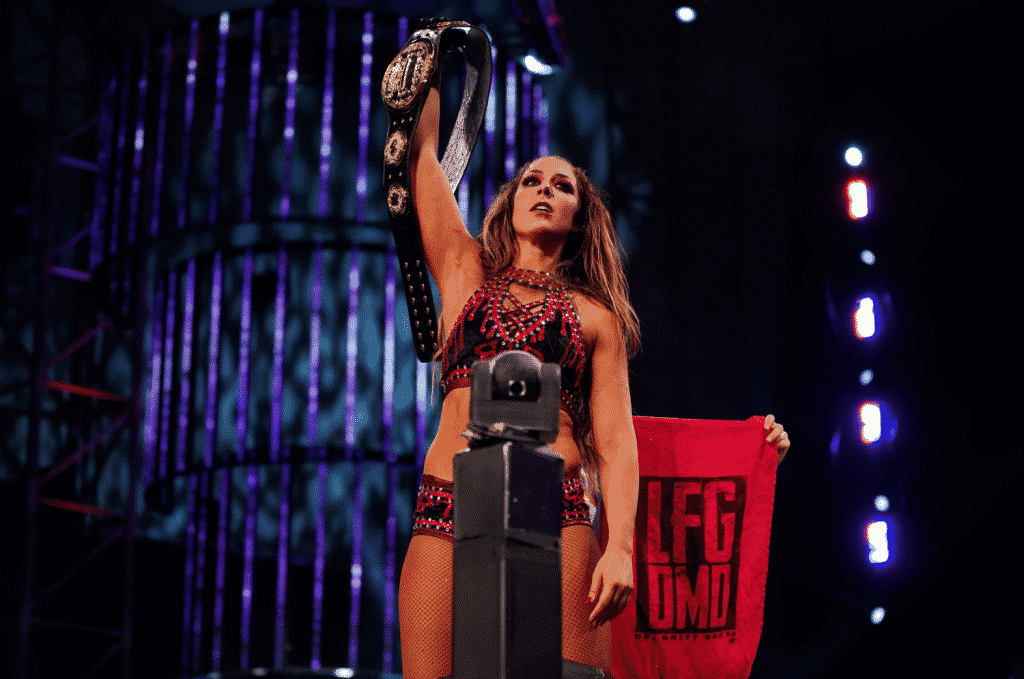 This year, at Double or Nothing 2021, Britt Baker emerged victorious in a hard fought battle against Hikaru Shida and became the AEW Women's World Champion. Newly crowned, the Doctor has solidified herself as a star of the women's division. Building off nearly three years of growth, with hard-fought matches against the likes of Hikaru Shida and Thunder Rosa, she has also emerged as a force of her own to be reckoned with.

As sharp on the microphone as she is in the ring, Baker laughs in the face of danger, dancing to a dangerous melody of strength, wit, and resilience. Her entertaining AEW Dark series, "The Waiting Room" has shown that she can be just as quick to eviscerate her opponents with her words, as she is with her skills in the ring. While Nyla grins maniacally while crushing her opponents, she too, is a powerhouse on the microphone. Her Twitter banter has led to her being voted the best wrestler to follow on Twitter, and her vocal antics in and out of the ring are sharp as a knife and quick on the attack. With formal training as an actress and in improv, Nyla's wit is the perfect pairing for Britt's clever quips.
As the new AEW Women's Champion, Britt Baker has become an undeniable force of the AEW Women's division. Drawing millions of viewers, building high intensity feuds, cracking sharp witted promos on AEW Dark and Dynamite, and outlasting some of the most devastating matches on record with AEW, she has become a battle hardened warrior of her own right.
Under the blazing heat of Garland, Texas, a long burning rivalry is set to explode on the set of AEW Dynamite: Fyter Fest, Night 2. As Nyla looks to become a record breaking two-time champion, Britt Baker prepares to defend her title against her most formiddable, unbeatable opponent yet, The Native Beast.