Many in the feature film industry initially feared the monstrous presence of television. Many screen moguls wondered why people would leave their homes to visit the theater if they could watch high-quality movies at home. However, Screen Gems saw the potential in television to become a place where old films could be given new life. In 1948, Screen Gems packaged a collection of Universal Horror films of the 30s and 40s for television syndication. The product, called Shock! or Shock Theater, was an instant hit with early TV audiences, as local stations would hire a costumed host to introduce a collection of spooky movies to a new audience. The show particularly appealed to young viewers who grew to love the program's hosts as much as the movies themselves.

Early pioneers like Vampira of Los Angeles or Zacherely of Philadelphia became stars in their own right. The idea was so successful that variations of the format continued for generations, influencing programs like Mystery Science Theater 3000 and today's Svengoolie. Even Superstation TBS, home of World Championship Wrestling, got in on the act in the late-80s with Super Scary Saturdays.
The SSS program was hosted by Al Lewis, portraying his Grandpa Munster from the 1960s sitcom The Munsters. The show starred Fred Gwynn (who went on to star in the 1990 horror classic Pet Semetery) as Herman, a lovable father who lives in sprawls of suburbia with his wife and father-in-law. Oh, and he happens to be a Frankenstein's monster. His son is a werewolf, and his wife is a vampire, as is her father, the aforementioned Grandpa Al.

The show made stars of its cast, including Lewis, a comedian. Lewis donned the cape and fangs again to introduce millennials to creature features watched by their parents and grandparents, along with imports from Japan like Godzilla and Mothra. With the show running on TBS, it wasn't uncommon to see connections to Turner's wrestling promotion.
With nostalgia being prime in the cultural zeitgeist, perhaps a revival of Super Scary Saturdays is in order? Horror movies are more popular than ever. With characters like Rich Koz's Svengoolie still occupying space on TV and TBS access to the WarnerMedia film catalog, why not try to revive the program? But with Grandpa Al Lewis's passing in 2006, who could TBS bring into potentially host a revival? The answer is already under the Warner umbrella. He's very nice and very evil.
A void was left in the independent scene as the top indy pro wrestlers were being scooped up by fledging AEW and perennial power WWE. One of the first major stars to emerge was Danhausen. Donovan Danhausen was a veteran grappler looking to stand out. Taking his influence from Conan O'Brien-style humor, he turned into Danhausen. The demonic imp is basically a walking Simpson's character played for laughs. Aside from his bold facepaint and utter commitment to the gimmick, Danhasuen's antics, like dumping teeth into his opponent's mouth's (for you see, there is no rule saying a wrestler can't have extra teeth in their mouth!) made him a hit on the indies.

Danhausen's comedy chops became even more evident in a series of video blogs. In a business where comedy often devolves into a series of fart jokes and food fights, Danhausen is legitimately funny with his quick wit and ability to improv. Eventually, he drew the attention of his hero Conan O'Brien, who invited Donovan Danhausen on to his podcast to discuss the character's origins.
Danhasuen was surprisingly added to the Ring of Honor roster in 2019. While Danhausen never seemed to catch on in the promotion, it did help him on his goal of trying to accumulate as many human monies as possible. How else could he eventually afford a blimp? When ROH announced their restructuring in 2021, Danhausen took his release from that company and parlayed into a spot on Chris Jericho's Rock 'N' Rager Cruise. From there, it seemed that as soon as his broken leg healed, he would land in All Elite Wrestling.
To AEW fans' surprise, the impish being appeared during the Adam Cole/Orange Cassidy Lights Out match. Cole tried to pull a steel chair from under the ring and was shocked when Danhausen emerged. Though the company hasn't really explored the character or explained him, it's probably better not to explain Danhausen because why explain the joke? He seems right at home with the goofballs in Best Friends. Due to their relationship with Rocky Romero, he makes Danhausen tangentially connected to IWGP Champion Kazuchika Okada. Before the purists get upset, they need to remind themselves that so is Toru Yano. But how else could AEW better utilize this unique performer?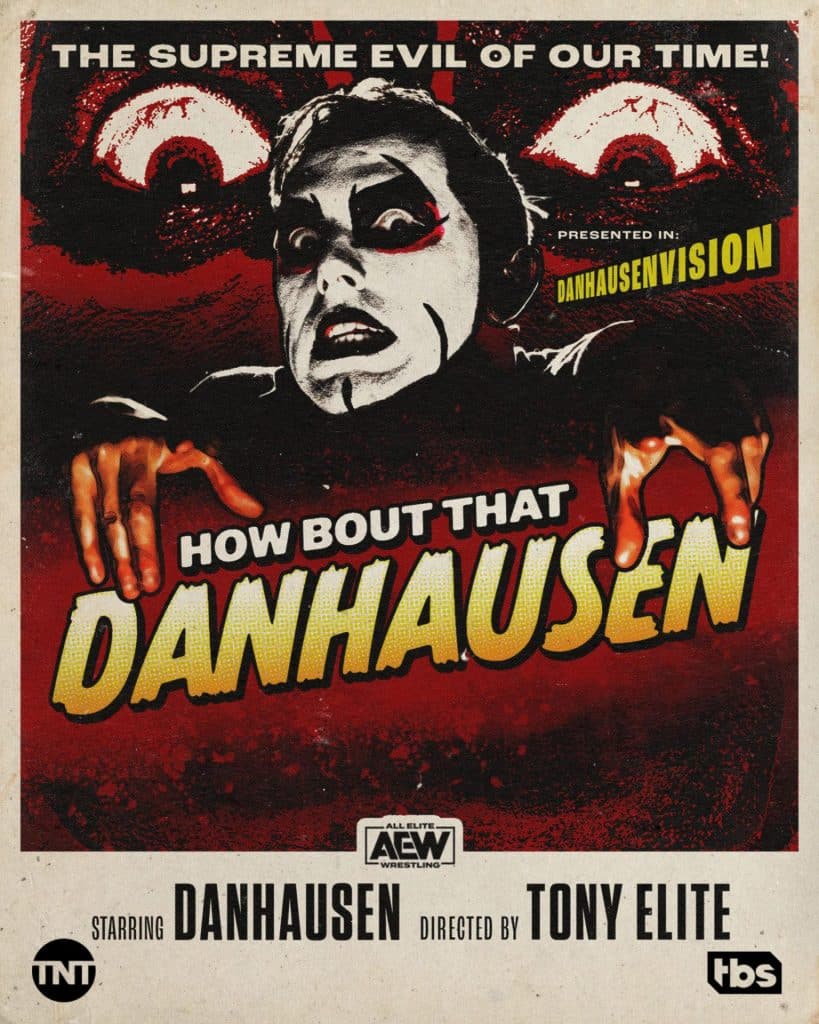 Danhausen is a good wrestler, but so is everyone on the AEW roster. What makes Danhausen stand out is his bizarre character. A revival of Super Scary Saturdays, or an equivalent show connected with HBO Max, would best showcase his comedy skills in a manner that actually makes sense. If you put pictures of Svengoolie or Grandpa Al next to Danhausen, it isn't hard to see the transition. Imagine tuning into TBS for a post-Rampage double feature of 2014's Godzilla and Underworld with humorous bumpers provided by Danhausen in his own lair, a "Denhausen," perhaps? (Shout out to the great John Muse for letting me crib that!)
The idea of mixing the absurdity of Danhausen and horror movies is too great to pass up. It's an idea whose time has come! Just no swearing.