Wrestling is filled with larger than life characters who exude an almost superhero-like presence in the ring. Adults relate to them, and kids look up to them. But as we watch these athletes perform superhuman feats of strength and athletics with stories filled with determination and triumph, it's what they do outside of the ring that can have a real heroic impact on the people around them. With the AEW Community Outreach Team, Cody Rhodes,Amanda Huber, Shawn Dean, Thunder Rosa, Mark Henry, Paul Wight, and other AEW wrestlers have an opportunity to give back to the communities they visit and have a positive impact on the people around them.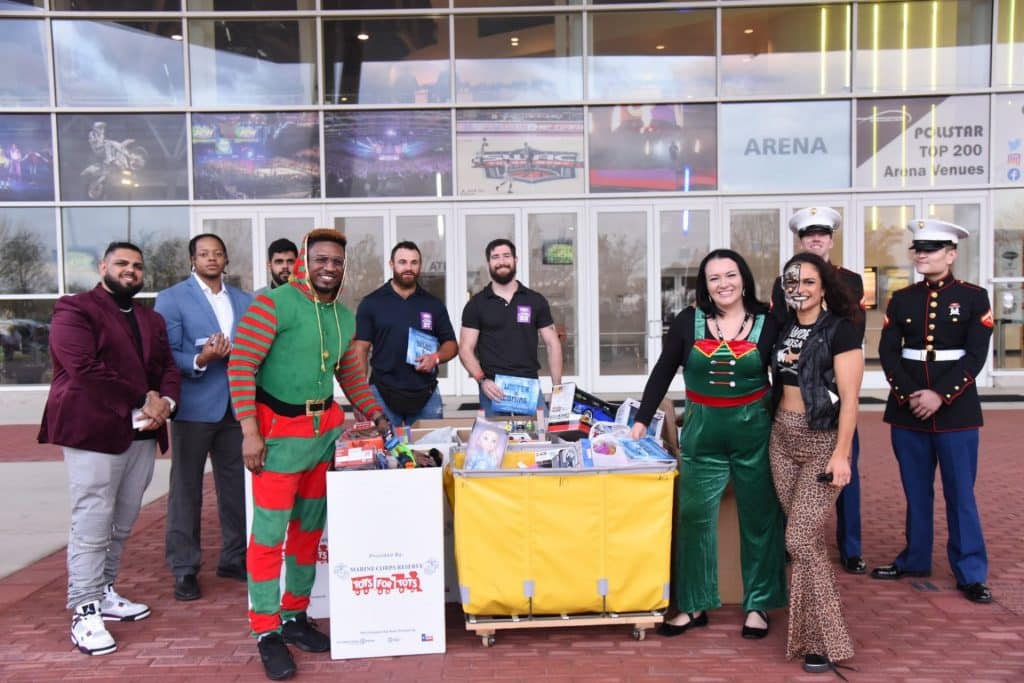 As AEW tours the country with its dynamic live shows, each show is often accompanied by meet and greets, charity events, and donation drives to benefit local organizations that directly serve the communities they reach. Sometimes, these are done away from the cameras entirely, as the AEW Community Outreach team directly visits and works with more sensitive organizations such as women's shelters or crisis response organizations. In other cases, like the Brigance Brigade and Jimmy's Seafood event, or the Bowling for Charity drive, AEW Community creates a larger platform to bring fans and organizations together directly, enjoying a festive, fun-filled evening with wrestlers and fans alike.

Speaking on AEW Unrestricted, Cody Rhodes says that AEW Community Outreach came about with a simple desire.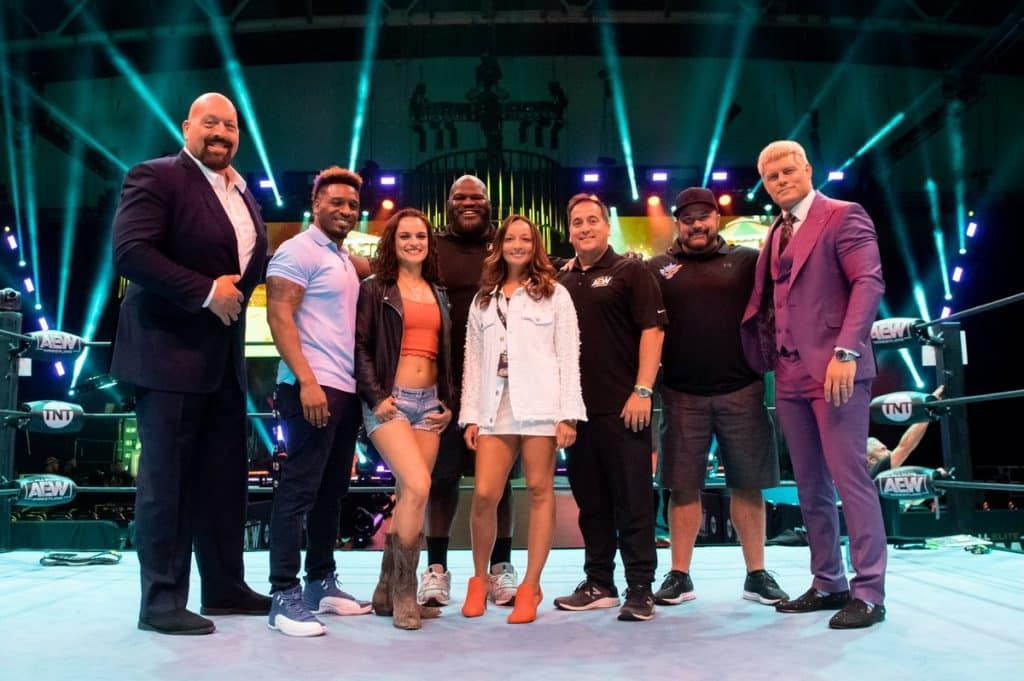 "I Want To Do Good When No One Is Looking" – Cody Rhodes
I've been in the business my whole life, and a recurring trend is that whenever I'm not at my best, there is no experience that will ground and humble you more than when you do good for others.

We do a lot of things when the cameras are on, but it truly is about what you do when the cameras are not on. Every city we go to provides an opportunity, whether it's a family where we upgrade their seats, or a fan who's going through chemo and we bring him back and introduce him to everyone.

Cody Rhodes, AEW Unrestricted
Indeed, much of AEW's community outreach has branched off directly from this approach. While the first year of AEW saw charity events like Fight For the Fallen or donation drives for PAWS Chicago at AEW's All Out PPV, many of their efforts have been behind the scenes, often involving small families or individual fans who are taken backstage for a unique look at AEW's operation and opportunities to meet with their favorite wrestlers.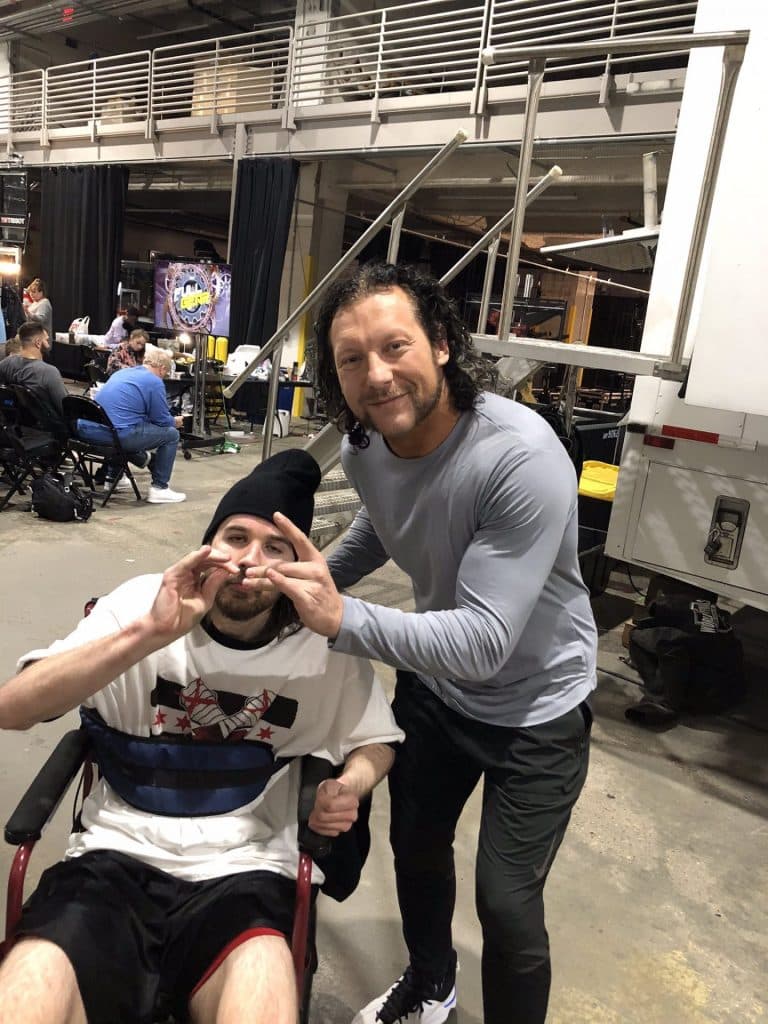 At AEW's Double or Nothing in 2021, Kathy and Ryan Kurtz attended the Fan Fest festivities that weekend, along with holding tickets to the show itself. Ryan Kurtz is a lifelong wrestling fan who is dealing with the debilitating effects of Huntington's Disease. Ryan's mother, Kathy Kurtz, has made it her mission to fill his life with as many "Bucket List" opportunities as she can, including taking him to AEW's live events when possible. As they were perusing the festivities of AEW Fan Fest, AEW staff Jeff Jones and Dakota Runnels took notice of the family.
Soon, Kathy and Ryan were approached with the opportunity to create memories of a lifetime, as Ryan was ushered off to meet Kenny Omega, Jon Moxley, Cody and Brandi Rhodes, Dustin Rhodes, and several AEW Talents behind the scenes. He was even given a chance to hold the AEW World Championship Belt at the show! This continued through to Full Gear, and AEW's Charity Bowling event, as the relationship fostered between AEW and the Kurtz family, based on an impromptu action by the AEW staff, flourished into memories they will carry with them and cherish forever.
There are countless stories just like Kathy and Ryan's, where moments of magic are created for families and fans, based on a spur of the moment action by someone within the company. Fans are taken backstage to meet their favorite wrestlers, family seats are upgraded, and Nightmare Family belts are handed off by Cody Rhodes to special fans cheering at ringside.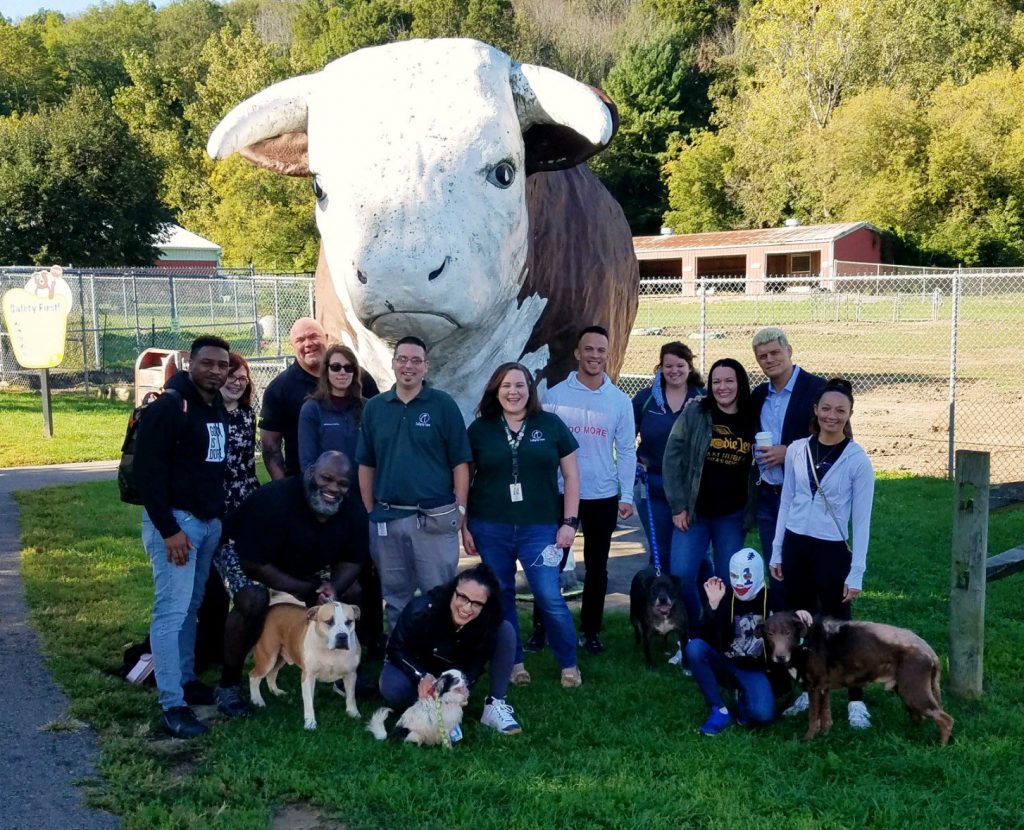 Working With Grassroots Organizations to Boost Local Impacts
When it comes to AEW Community Outreach, Amanda Huber, Cody Rhodes, and Shawn Dean are the captains at the helm of a team that is more than happy to find ways to help in the communities they visit. Amanda spoke on AEW Unrestricted about the process in creating these collaborations with various local organizations:
When we visit new cities, I try to find a grassroots place to work with. There are so many wonderful national charitable organizations that do incredible work. I want to find something that's specific to local communities, a little bit off the beaten path. We have such a beautiful platform with AEW and its fans, it's nice to try to elevate these organizations and introduce them to a whole new community of people that might not even know they exist.

Amanda Huber, AEW Unrestricted
The feedback they've gotten from these organizations has been incredibly positive. Recently, AEW Community Outreach worked with Jimmy's Seafood and the Brigance Brigade, a foundation that works with people who are living with and affected by ALS. Their dinner and a meet and greet fundraiser raised over $8000 for the organization. In Jacksonville, they teamed up with the Wounded Warrior Project, raising over $5000 to help veterans in need. At Battle of the Belts, they worked with Loaves and Fishes to raise over $2500 for people battling hunger. Happy Bottoms, an organization that helps families in need saw a huge amount of diapers brought in by happy fans donating to a great cause while enjoying some fun meet and greets.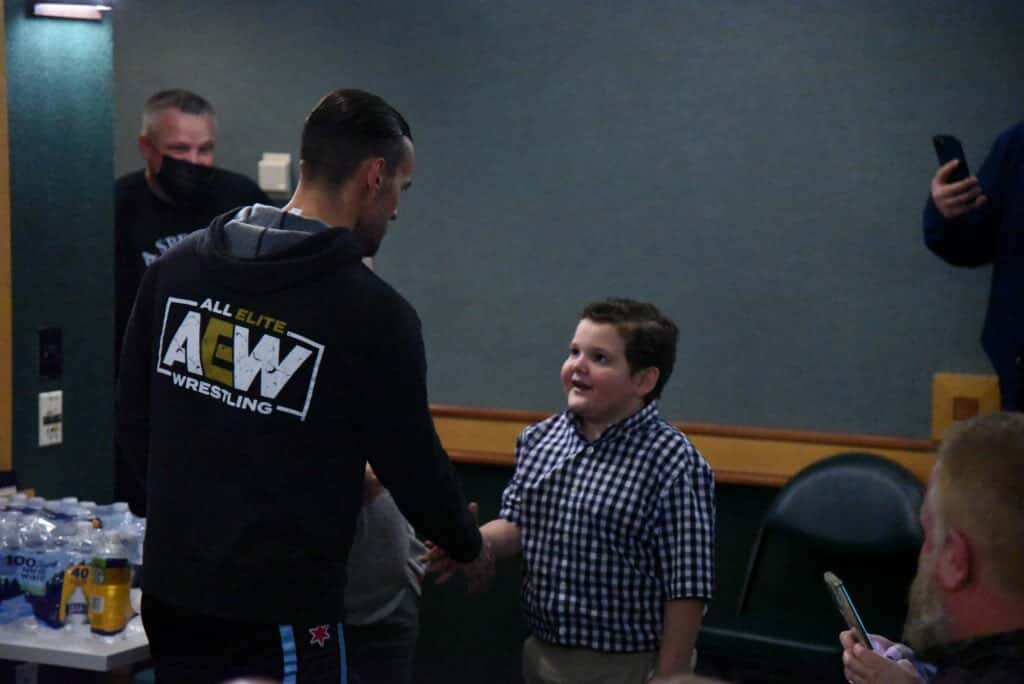 In Cleveland, Ohio, Ruby Soho, Cody Rhodes, Malakai Black, and CM Punk met with families and children from A Special Wish Foundation, an organization dedicated to granting wishes and fostering memorable experiences for children who are dealing with terminal illnesses. Speaking on AEW Unrestricted, Amanda Huber looked back on this as one of her most memorable experiences so far with AEW Community Outreach:
Working with A Special Wish and meeting these kids who have survived things like Leukemia and Brain Cancer, and seeing how strong these kids are and how excited they were to be there and get to meet all of these wrestlers was just incredible. Especially as a mom, and after watching my husband be sick – I don't think I could have that situation with my kids – Meeting these parents and knowing we're making such cool memories for their entire family, I'm so grateful to be a part of this.

Amanda Huber, AEW Unrestricted
These are but a few examples of the larger impact AEW has had, both on the communities they've visited, and the fans who've attended these programs, getting to have special opportunities with their favorite wrestlers, while also fostering community support for the people around them.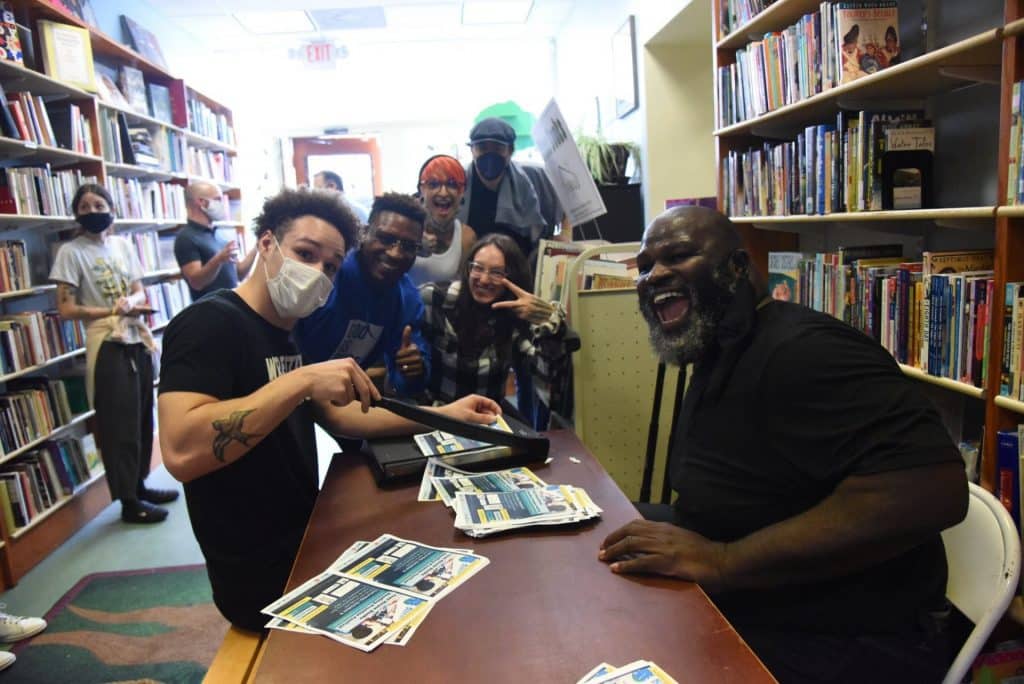 Breaking Barriers and Changing The Perception of Wrestling
As wrestlers and AEW Community Outreach staff work with the communities they visit, they also have a hand in changing the perception of what wrestling means to the outside world. Cody Rhodes in particular, wants to use the platform AEW has created, with its weekly shows, growing fanbase, and the professionalism in "professional wrestling" to foster and cultivate working relationships that can create lasting impacts and positive benefits with communities at large.
Sometimes people have preconceived notions about what wrestling is, and what they would expect to see on TV with it. It's one of the reasons why I wear a suit everywhere, to show that wrestling, and its perception, has changed a lot from when people were watching in the 80s, 90s, or even 2000s.

Cody Rhodes, AEW Unrestricted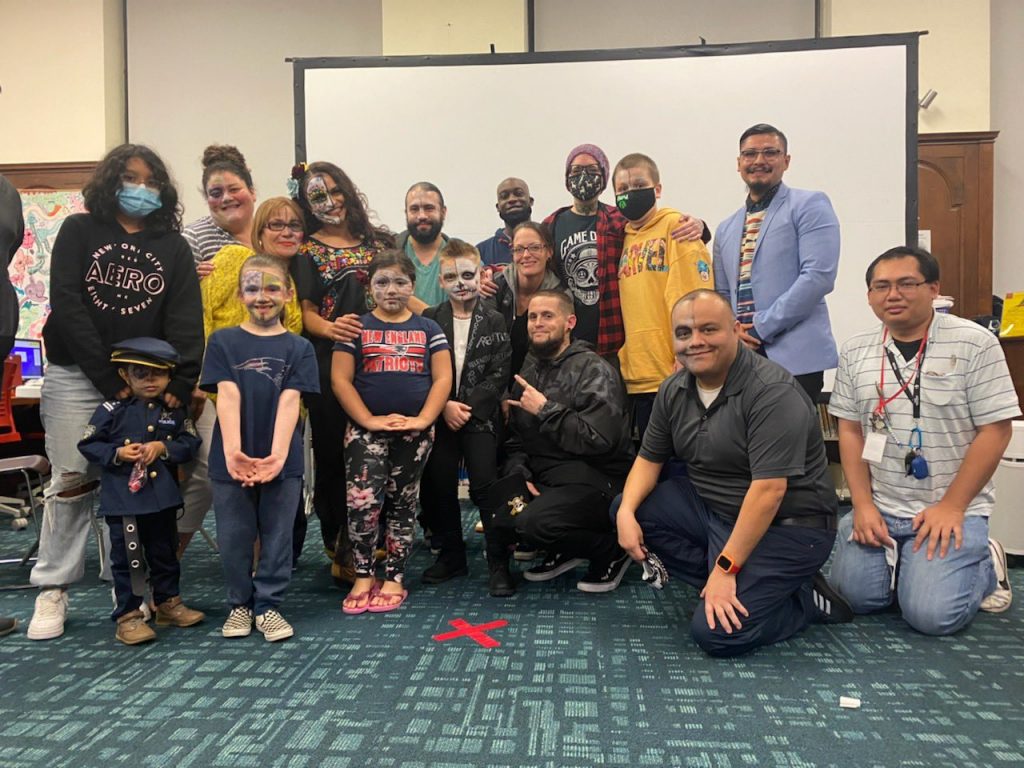 While Amanda, Cody, and Shawn Dean are the core team of AEW Outreach, there are a lot of people who put the wheels in motion behind the scenes. People likeThunder Rosa, Paul Wight, Mark Henry, Aubrey Edwards, Tony Schiavone, and Brandi Rhodes, just to name a few, are often recommending organizations and talents to work together to create the most impact. So far, every talent that has been approached has been fully on board, motivated, and excited to lend their talents to a positive impact in local communities.
In Chicago, we worked with a women's shelter, Thunder Rosa came up and immediately wanted to work with her on it. Ruby Soho wanted to be involved as well. This was more of a sensitive situation, so we tailored our presence to be respectful of the environment. Malakai Black is heavily involved in anything to do with kids. On screen, he's such an intense character, but when he's involved with AEW Community, he just melts my heart, he's so great and involved with everyone when he's there.

Amanda Huber, AEW Unrestricted
What's In Store For the Future?
All Elite Wrestling and its AEW Community Outreach team have some big plans in store for the future. First and foremost, with February being "American Heart Month", AEW is working with The American Heart Association in a huge drive to bring awareness to cardiovascular health and fitness. Shop AEW features a limited-run "AEW Has Heart" shirt, where $2 from every purchase will directly benefit The American Heart Association and those suffering from heart and cardiovascular disease.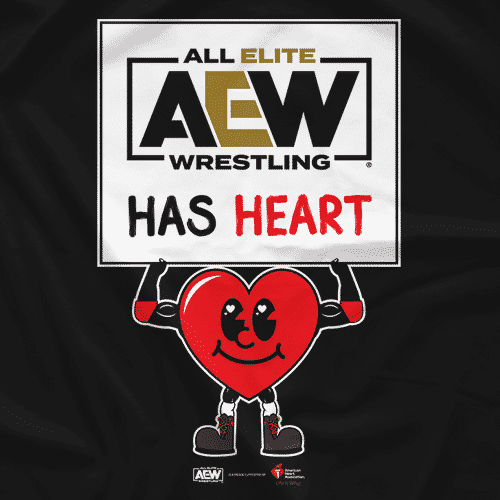 For Black History Month, All Elite Wrestling announced the release of their upcoming Hip Hop compilation album, Who We Are: A Celebration of Excellence, Vol. 1., a compilation album that will bring to life the stories of more than twenty black AEW wrestlers through the music of established hip-hop and R&B artists. Pitched and produced by AEW Music Director Mikey Rukus, the album features 19 tracks by Hip Hop and R&B artists like Mega Ran, Wrestle and Flow, Monteasy, Omega Sparx, Max Caster, and Sonny Kiss, just to name a few. It will also feature an intro and interlude by Bootsy Collins, talking about the Bootsy Collins Foundation. Proceeds from the album will go to benefit the Bootsy Collins Foundation, an organization that strives to inspire, educate, and enrich the lives of individuals from all backgrounds through music and career opportunities.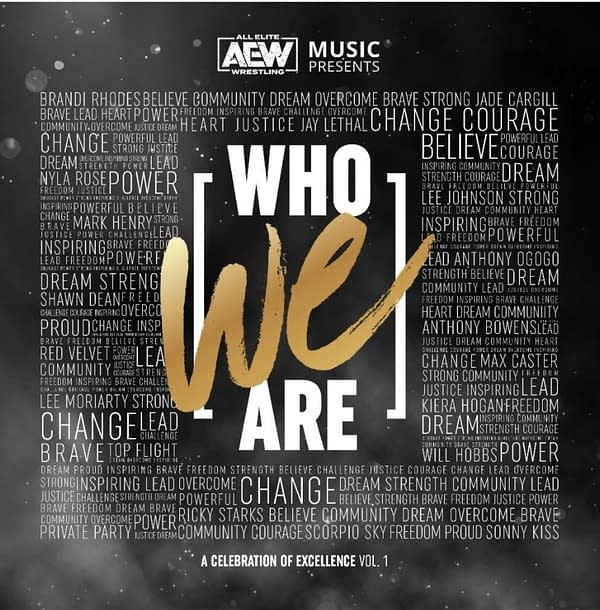 AEW Community Outreach also has plans in store for future PPV events. The AEW Charity Bowling event received positive feedback from all involved, as fans got to bowl, hang out with, and take pictures with a large amount of AEW's roster. Without barriers, without separated meet and greet areas, the event saw everyone mingling together, enjoying the night, and benefitting a great cause. Amanda Huber, speaking on AEW Unrestricted stated that there are already plans in motion for AEW's upcoming Revolution PPV in March, as well as for AEW's All Out PPV later in the year. The goal is to have a major event for every PPV, and as events get closer, further details will emerge for each show.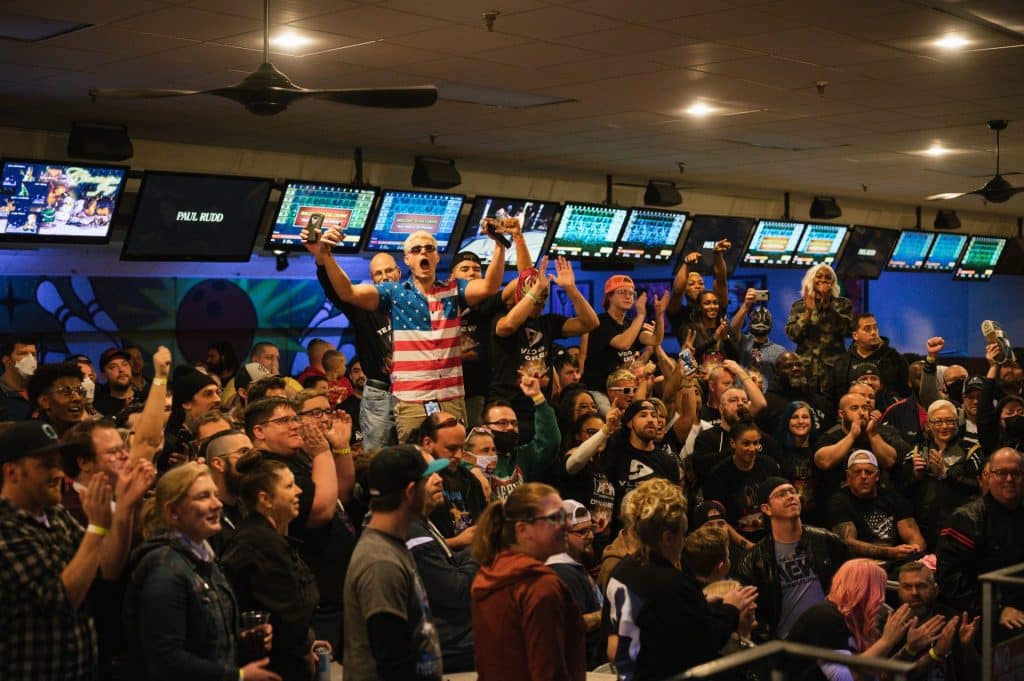 Lasting Impacts – Look For The Helpers
When it comes to community outreach, spreading kindness and positivity is at the core of AEW Community, its fans, and the organizations they work with. However, it's also had a lasting impact on people who work with the program. Cody Rhodes has spoken about how uplifting and humbling it is to create these magical moments for people at shows, evidenced by the sheer number of fans who've been brought backstage, upgraded seats, or received something like his Nightmare Family belt directly from him.

Amanda Huber has also had some lasting impacts from the effects of her community outreach work. As a mom raising two bright and rambunctious young sons, she wants to impart what goodwill can do when you're working within the wrestling world. As her family is no stranger to wrestling, her young son Brodie (also known as -1 of The Dark Order) has begun embarking on his own excursions behind the scenes.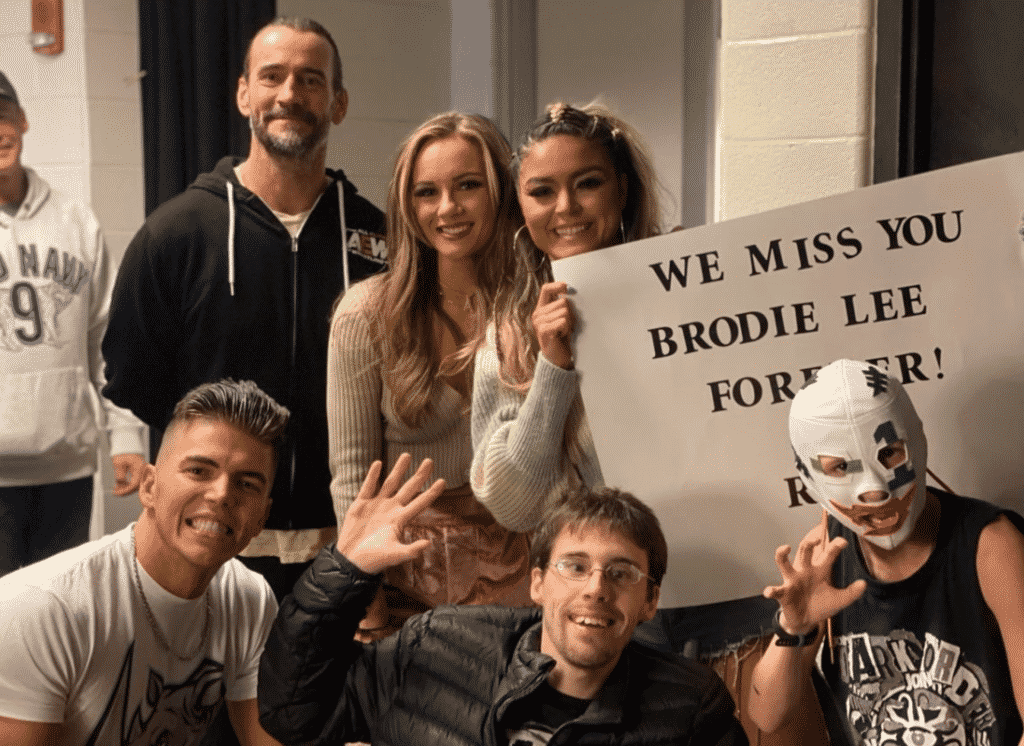 There was a moment when we were in Orlando, I had brought the kids with me, there was a fan backstage who was disabled, separate from AEW Community, and Brodie ran around bringing everyone to meet him.

He told me, "I kind of know what you do now, and I want to do it too. This is awesome!" He was flagging people down. I was in a meeting, and out of the corner of my eye I see my kid, and he's running up to Ruby Soho, grabbing her arm "RUBY! RUBY! THERE'S A GUY WHO WANTS TO MEET YOU!"

Amanda Huber, AEW Unrestricted

This speaks to one of AEW Community's greatest strengths. When it comes to AEW, its Community Outreach programs, and the people who devote themselves to finding ways to help the people around them, they've set a wonderful example of sharing goodwill towards others, whether the cameras are on or off. This often has a ripple effect, not only with the organizations they work with but with the fans who attend the events as well.

Being a part of something bigger than ourselves, something that spreads compassion and kindness to the people around us often inspires us to want to do more. And with a tangible focus on community, AEW's Community Outreach team has inspired people to look out for others, find ways to help in their communities, and be a part of something good, something that tangibly helps other people in the world.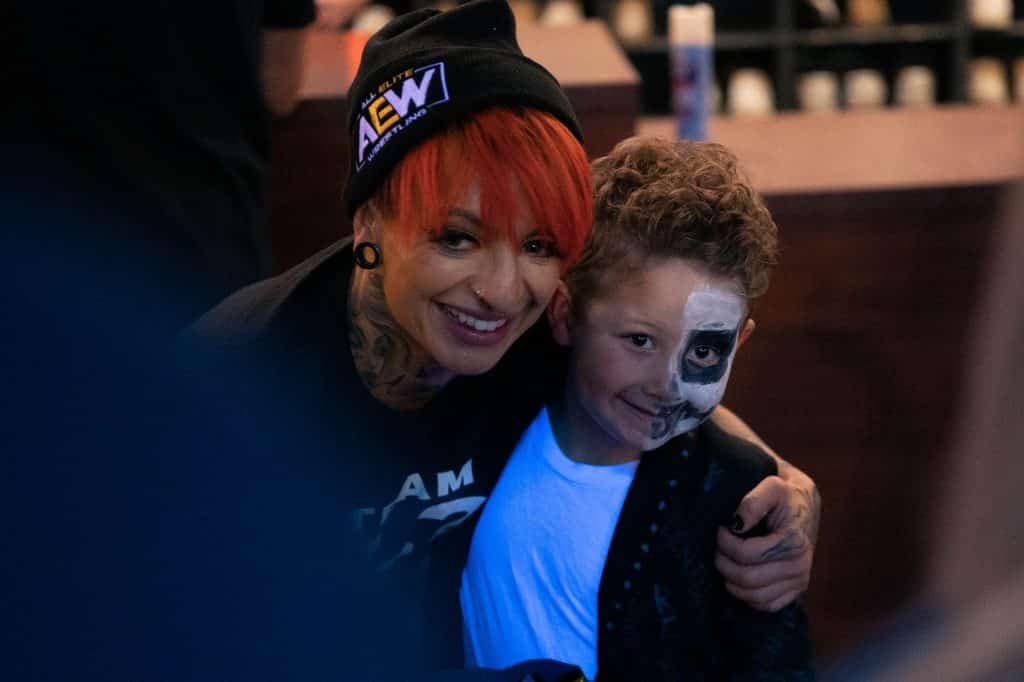 There is a famous quote by Mr. Rogers where he says, "When I was a boy and I would see scary things in the news, my mother would say to me, 'Look for the helpers. You will always find people who are helping." AEW is filled with people who want to help, and by their influence and good-hearted nature, they're inspiring each other and their fans to take charge do something good that can have a long-lasting positive effect on the people around them.

For the full episode of AEW Unrestricted, featuring Cody Rhodes and Amanda Huber of AEW Community Outreach, listen here.

Want to help? Follow AEW Community on Twitter or check All Elite Wrestling's Community website. You can attend Outreach events and bring donations, or you can donate directly to the websites of the organizations they work with, as each charity has been fully vetted by the Outreach team. Stay tuned to AEW Community Outreach for further ways you can help, either in person or from a distance.