AEW's weekly YouTube show 'AEW Dark' has presented a platform for independent wrestlers to showcase themselves to an audience of over 200,000 each week. For fans of AEW Dark, they have been given the experience of seeing a number of talented superstars like Will Hobbs, Top Flight, and Red Velvet get their start within an AEW ring. Each week we focus on one talent from AEW Dark who has stood out and shine a light on them to give an idea about who they are and where they come from.
This week we're taking a look at a superstar who has made his presence known on AEW Dark over the last year and has since landed himself a spot on the official AEW roster, Shawn Dean.
'The Captain' Shawn Dean was born in Chicago at the Osteopathic Hospital in Hyde Park on February 19th 1986. The third child of six Dean had a large family that grew up in Englewood, Chicago, a part of the city known for its rough surroundings. This is something Dean cites as a part of what made him the man he is today. Dean's parents did their best to provide and it was the influence of his father telling him stories of Ric Flair that initially sparked his interest in the art of professional wrestling.
Dean would complete high school and go on to serve the United State and join the military. He would join the Navy and get stationed in Norfolk, Virginia aboard the USS Dwight D Eisenhower CVN-69. His time with the Navy helped him grow and challenged him in ways that would prepare him for obstacles later in life.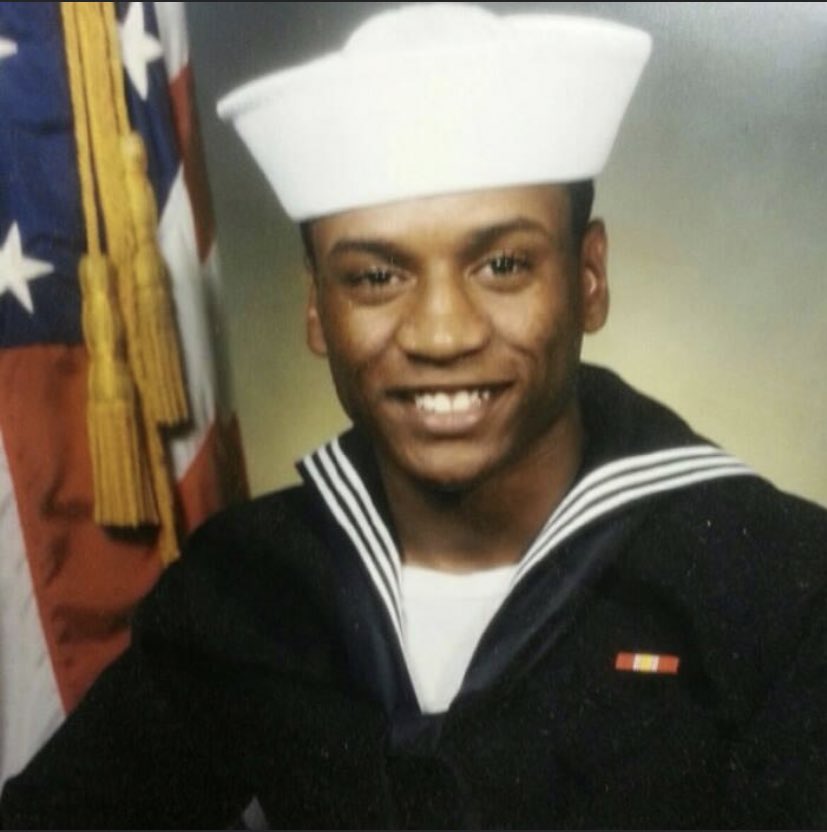 After leaving the Navy, he returned his focus towards gaining higher education. He decided to return to college for an opportunity to get a degree while also getting a chance to play College football. He graduated from Chicago State University, pursuing a degree in criminal justice. He would later get an opportunity at playing indoor professional football, even earning a championship with his team.
After his time in college and playing indoor professional football, Dean heard about a chance to try out for WWE's Tough Enough. He would submit an audition via his YouTube channel and saw some positive reaction, while his promo gained some traction on social media. Following the positive reaction, Dean was inspired to pursue professional wrestling, despite not being picked up for Tough Enough.
He would decide to pursue his dream while living in his home state of Chicago and began training there. While wrestling for a local independent show, he would meet A.R. Fox, a wrestler who had made a bigger name for himself on the indies and had a much longer history wrestling on the independent scene. During this meeting, the two would have a lengthy conversation that would include Fox inviting Dean to Georgia to train with him at his wrestling school. While the distance was quite far, with Dean being so early into his career, he recognized the opportunity to grow and work with some highly skilled wrestlers.
Dean would think this over with his wife, but the two had both shared an interest in moving to Georgia. After his wife graduated college, she would receive a job opportunity in Georgia, giving them a chance to make the move. Dean would get a chance to train with a well known talent, and his time with A.R. Fox would prove to be pivotal. While working at Fox's WW4A promotion, he would get the chance to work with a number of talents who would go on to gain success in the independent scene, including Leon Ruff, Lee Johnson, Alan Angels, Dani Joryn, and many more.
Dean would continue working the independents, primarily wrestling for Action Wrestling while also making stops at promotions like Southern Honor Wrestling, MCW Pro Wrestling, and Evolve. Moving to Georgia to work with AR Fox would also give Dean the opportunity to begin working and training with Q.T. Marshall at the Power Factory. Building this relationship with Marshall would eventually open the door for Dean to begin appearing for AEW Dark at the beginning of the pandemic.
This came at a perfect time for Dean as he had begun to really gain traction in 2020. However, with the pandemic and the cancellation of Wrestlemania weekend, things were up in the air for him. He would make the most of his AEW opportunity gaining a consistent placement on AEW Dark and even getting a chance to appear on AEW Dynamite twice, once against Brian Cage, and the other against MJF. The consistency and quality of matches Dean had on these platforms earned him a chance to sign full time with AEW. In March of 2021, AEW owner Tony Khan would tweet out the news that Shawn Dean was All Elite.
This was a wonderful, well deserved opportunity for a superstar who has worked hard for his spot on the card and can now follow his dream and support his family. Dean is not just a professional wrestler, but also a husband and father of two. His dedication to his craft and ability to produce has earned him a great opportunity. He isn't just a member of the AEW roster, he also coordinates the extra talent for AEW and hopes to pursue acting and modeling work in the future.
A wrestling fan from a young age, Shawn Dean had a number of obstacles to overcome. From growing up in Englewood, to joining the Navy, Dean experienced a great deal of adversity and was able to grow from these experiences. This growth gave him the ability to join wrestling at a later age and within a relatively short time gain a great opportunity. Now, Dean looks to take the helm, as The Captain hopes to secure his first official AEW victory.