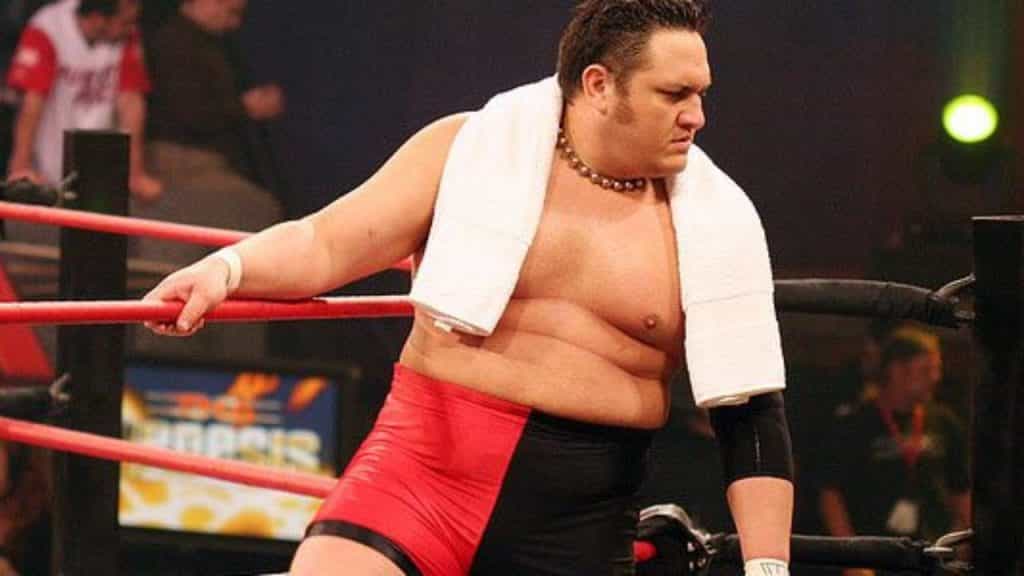 In 2005, Samoa Joe was professional wrestling's Galactus—an invader of worlds, a mighty and fascinating being, seemingly unbeatable. Galactus traveled the Marvel world in search of planets to consume; Samoa Joe ventured to TNA (now Impact Wrestling), to IWA-Mid South, entertaining us sadistic sickos with his quest to satiate his bloodlust.
The cross-promotional trek he took that year made it clear that he was a world-class star.
A new set of spectators got to watch him devour prey. The TNA faithful came to know Joe's unreal blend of MMA-infused offense, surprisingly agility for a hoss, and monstrous presence.
The wide-bodied bruiser with a lion's scowl had been a centerpiece for Ring in Honor in 2003 and 2004. Samoa Joe reigned as ROH heavyweight champ for 645 days. With that gold on the line, he and CM Punk battled in a memorable trilogy of classic title bouts in 2004.
But The Samoan Submission Machine would top all that with a 12-month stretch for the ages.
In a single year, Joe was a bedrock for Ring of Honor, TNA's hottest asset, and a marquee attraction for a handful of indy companies. He starred in one of TNA's best matches ever, a top-five ROH bout, and arguably the best action IWA-Mid South has ever produced. And 20 days after having one of the matches of the century, Samoa Joe duplicated the feat.
It's no surprise that when he was done ramming horns with the likes of AJ Styles, Kenta Kobashi, and Necro Butcher, Joe's name came up aplenty during wrestling award season.
He claimed the CageMatch.net No. 1 Indy Wrestler of the Year award for starters. The powerhouse also took home a trio of accolades from Wrestling Observer Newsletter (h/t Chris Harrington):
Most Outstanding Wrestler
Match of the Year (vs. Kenta Kobashi)
Bruiser Brody Memorial Award (Best Brawler)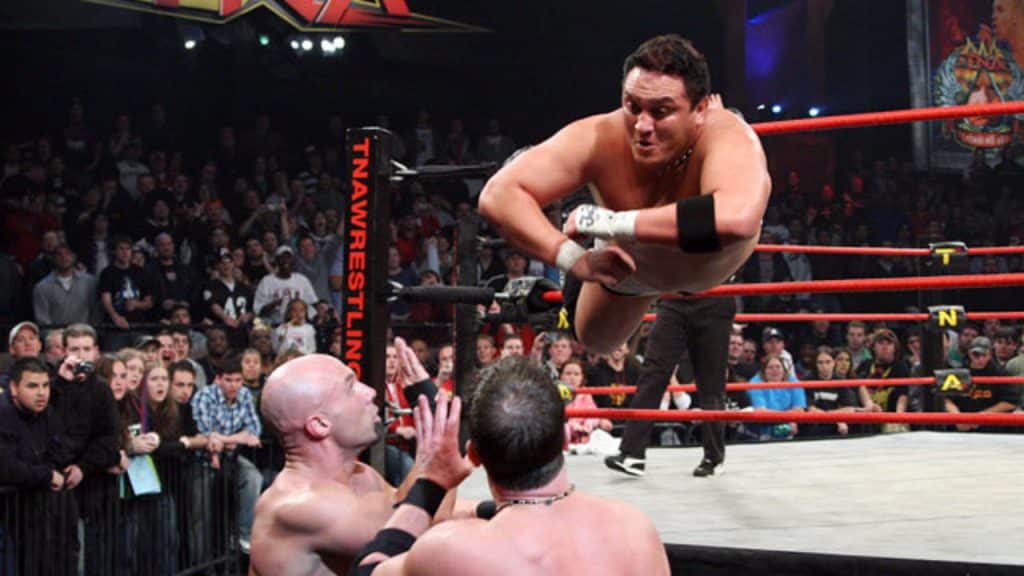 What earned Samoa Joe all these honors? What had him prove himself a wrestling immortal at just 26 years old? We begin the answers to those questions with a trip to Frank & Son collectibles shop in the City of Industry.
February 12
Samoa Joe vs. Super Dragon (PWG All Nude Revue)
Around 200 fans gathered to see Super Dragon do his damndest to hold onto the Pro Wrestling Guerilla World Championship against a bigger, stronger foe.
Super Dragon played the gutsy warrior unafraid of the monster bearing down on him. Samoa Joe, meanwhile, showed off his hard-hitting offense and masterful facial expressions. In between kicks to the sternum and bowling over the champ with his girth, Joe fired off a flurry of unnerving nasty looks.
In one of the match's biggest moments, a suicide dive from the challenger sent Super Dragon flying into rows of chairs.
The chemistry between Super Dragon and Samoa Joe crackled. Their David-versus-Goliath dynamic clicked.
Had this not ended in a less-than-satisfying count-out, it would surely be ranked higher on Samoa Joe's greatest hits list.
King Joe followed this up with some solid performances in tag matches, as well as against Austin Aries (at ROH's Third Anniversary Celebration), AJ Styles (at PWG All-Star Weekend). It was against an old enemy in an unfamiliar country, though, where Joe's year really started cooking.
Rating: Goodie
March 19
Samoa Joe vs. CM Punk (International Showdown)
When these rivals fought in Coventry, England, Punk was still in search of his first win against Joe. It didn't matter whether it was in PWG or ROH. It didn't matter if it was a non-title bout or a championship affair. Punk just couldn't beat the big man.
Chicago's favorite son got another crack at him inside the Coventry Skydome at a show headlined by AJ Styles challenging Christopher Daniels for the TNA X-Division title. This meeting of old foes, however, felt like the real main event.
The wrestlers were cautious at first, each man respecting how dangerous the other was. Soon we saw things pick up with dives out onto the concrete and Joe's trademark walloping style on display.
Punk was resilient against the battering he takes throughout, but, in the end, he couldn't hit the Pepsi Plunge and he couldn't fell the beast.
By the end of the year, the archenemies' paths had diverged. Punk entered the WWE developmental system in Louisville while Joe was making noise in TNA.
Rating: Banger
May 7
Samoa Joe vs. Jay Lethal (ROH Manhattan Mayhem)
A familiar face awaited when Lethal walked into the New Yorker Hotel with the ROH Pure Championship. Early in Lethal's ROH run, Joe took him in as his protégé. By this time, thought, The Samoan Submission Machine was done being a teacher and support system. He wanted gold.
Joe pounced on the dynamic champ early. Lethal hung in there with him, even when it ventured into slugfest territory.
A ton of great action, power moves, and chain wrestling, intensity, and emotion all made for an electric title bout. The wrestlers made good use of the "pure" rules that accompany the championship as Joe's reliance on illegal punches cost him all his allowed rope breaks.
As Joe made a habit of doing, he made sure his match felt like the main event despite its placement in the middle of the card.
Joe took the belt, but Lethal was elevated in the process. In defeat, Lethal shone.
Rating: Banger
June 11
Samoa Joe vs. Necro Butcher (IWA-Mid South Something to Prove)
In June, Joe took a break from ROH events to dig his claws into a bearded brawler's flesh.
The IWA-Mid South in Philly that night was an exhibition of pure aggression, nine minutes and change of violence you simply can't look away from.
Moments into the match, Joe flung the referee out. Who needed him anyways? This was always going to be more back alley beatdown than athletic contest anyway.
Soon, among the debris that was flung chairs, Joe abused his opponent with blood smeared across his pecs. This was a pit fight, an animalistic encounter that saw no pinfall attempts, no rest holds, only two men trying to drag each other into unconsciousness.
Throw in Eddie Kingston and CM Punk on commentary, amazed and uncomfortable through it all, and you have an unforgettable piece of wrestling.
Rating: All-Timer
July 17
Samoa Joe vs. Chris Sabin (TNA No Surrender)
After choking out Sonjay Dutt in his TNA debut at Slammiversary, Samoa Joe knocked off Elix Skipper and Shark Boy in his first match on Impact. He finished off Delirious in a little over three minutes soon after.
TNA presented Joe as a submission expert and unstoppable wrecking ball. He looked every bit of all that against Chris Sabin at the Surrender pay-per-view.
In the ring, Joe was a prowling beast, grabbing hold of Sabin, chasing him down, overwhelming him with strikes. The speedy Sabin put up a hell of a fight but spent much of the match on defense.
Sabin couldn't get the big man up for his Cradle Shock finisher; Samoa, on the other hand, had no issue tossing his foe around. The powerhouse wrenched Sabin's neck with submissions, moving from hold to hold, a five-course meal of suffering.
The battles with Styles after this get more attention, but Joe vs. Sabin was a thriller in its own right. PWTorch's James Caldwell wrote of the bout: "Damn good match. Just a damn good match."
This was Joe's first grade-A performance on the TNA stage, and it wouldn't be long before he delivered more of the same.
Rating: Classic
August 14
Samoa Joe vs. AJ Styles (TNA Sacrifice)
Samoa Joe added the Sacrifice PPV to the list of shows he straight up stole. Jeff Jarrett and Rhino vs. Raven and Sabu couldn't touch what King Joe and Styles put together before the main event.
A shot at the X Division Championship was up for grabs here in the finals of the Super X Cup Tournament. Early on, it looked as if The Phenomenal One would stop Joe's winning streak. His speed advantage allowed him to evade and surprise.
Then came Joe's power to balance things out. He barreled through Styles, kneed him out of the ring, and at one point, hit a suicide dive that sent Styles sliding across the floor into the commentary desk.
Fans chanted "this is awesome!" five minutes into the action.
Christopher Daniels, the champion awaiting a challenge from the winner, leaped in to involve himself once the referee took a tumble. In the chaos that followed, Joe laid Styles out and locked in the Coquina Clutch to take home the trophy.
Little did we know that this would merely be a warmup for a match for the ages a month later.
Rating: Banger
September 11
Samoa Joe vs. AJ Styles vs. Christopher Daniels (TNA Unbreakable)
Unbreakable's main event was a groundbreaking showcase of what a three-way match can be. There may not be a more fluid and logical bout of its kind out there.
Joe, Styles, and Daniels went out that night seemingly determined to create something incredible. They succeeded.
The pace left the audience with hardly a moment to catch its breath. Tremendous chemistry and a fun blend of styles powered the X-Division title tilt. Joe's hoss presence blended perfectly with the work of the two acrobats around him.
Joe, though, wouldn't leave all the flying to the other guys. His spinning flight over the top rope into his foes as they boxed at ringside is a thing of absolute beauty.
The match ended with Styles as champion and with Joe firmly settled into top-tier stardom in his new home.
Rating: All-Timer
October 1
Samoa Joe vs. Kenta Kobashi (ROH Joe vs. Kobashi)
Joe was thriving in TNA in the second half of 2005, but he was not done with ROH. Just six days after the X-Division three-way stunner, he was adding to his ROH victory total with wins against the likes of Adam Pearce and Milano Collection AT.
In October, he stood in the ring with a legend, a man firmly in the greatest performer of all-time discussion.
A roaring crowd echoed throughout the New Yorker Hotel Grand Ballroom crowd as the mighty Joe and Kenta Kobashi squared off. Joe egged on Kobashi with big "come at me" energy throughout their battle. The two bulls were brow to brow, beating on each other's chests with chops that could crack tree trunks.
Joe stepped up, delivering in the biggest match of his life.
This was a true epic, one with sustained drama and two men slapping the breath, spit, and soul from each other's chests. The crowd, the energy, the kickouts, man it all added up to magic.
By night's end, Kobashi added to his long list of barnburners, and Joe added to his growing legacy.
Rating: All-Timer
December 11
Samoa Joe vs. AJ Styles (TNA Turning Point)
Joe looked to defend his growing winning streak while snatching the X-Division Championship from Styles' grip. As a bonus, the towel around his neck during the introductions was wet with Christopher Daniels' blood.
Joe and Styles outdid their meeting at Sacrifice. An intense and energetic clash featured the usual fun Styles offense, as well as these two simply knocking the holy hell out of each other. Larry Csonka, writing for 411 Mania, described this match perfectly as "AJ and Joe kicking all kinds of ass."
Once again, Joe served as the ideal foil for the high-flying Styles. Blood pooled in Styles' mouth as he tried to down the beast again only to fall victim to Joe's trademark stranglehold.
After his victory, a tearful and winded Samoa Joe, looked as if he is going to give Styles a handshake out of respect. Spoiler: he did not. Instead, he gave us another appetizing scene of destruction as used his newly won title as a weapon.
Onward he marched from there, taking on Davey Richards at a PWG show in LA and slugging it out with Tank at IWA-MS' Revolution Strong Style Tournament.
With that, his 2005 was done. Joe had concluded his year-long statement, one that told us that he was one of the most captivating monsters in any ring, anywhere.
Rating: Classic
In the years to follow, Joe would become a major player for TNA just as he was for ROH.
The pattern followed when he signed with NXT in 2015. Once more, he worked his way to a top-champion spot. Once more, he was an intimidating and unique force worthy of the brightest of spotlights. The man with the bear-like physique and cut-through-concrete stares told great stories with his words and his violence.
His NXT run was stellar, and the same goes for much of his work atop ROH.
2005, though, is special. This is when Joe stomped his way into the history books with loud, thumping steps.
Be sure to check out previous editions of the Year of Years series: