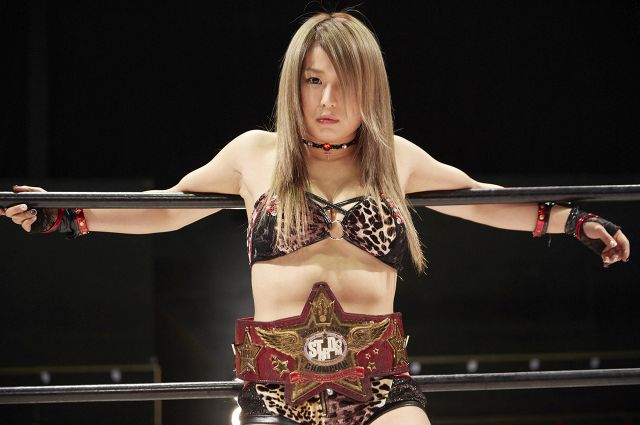 The first time I saw Io Shirai in the ring, I thought the video was playing at the wrong speed. She ran the ropes like she was Sonic the freaking Hedgehog. She was a blur, a dynamo, something leaping out of a comic-book panel.
It only took a matter of seconds of seeing her springboard at her foe to get hooked.
Shirai regularly uses her speed and artistry in the air to create stirring action. We have seen her shine against Shotzi Blackheart, Dakota Kai, Candice LaRae, and others as the WWE NXT women's champ this year. The black-clad villain with a most imposing glare is arguably the best thing NXT has got going.
But while some fans may just be getting to know her thanks to the reach of the WWE brand, she has been one of the best wrestlers in the world for much of the past decade.
World Wonder Ring Stardom welcomed Shirai in 2011, its founding year. Two years later, she was the Japanese promotion's top champ. Shirai was soon a cornerstone for Stardom, developing a reputation for tearing the house down in big-time main events.
Amid an impressive stretch in the middle of the 2010s, her finest year to date came in 2016.
The Genius of the Sky had a championship for each shoulder. She had enough swagger to power a village. In the headlining spot, she thrived time and time again.
She clashed with her greatest rival Kairi Sane (then Kairi Hojo) in eye-catching contests. A rematch with Meiko Satomura impressed. A trip to the Lucha Underground temple produced one of the best intergender matches ever. And an implosion of a friendship and tag team led to a grudge match for the ages against Mayu Iwatani.
When 2016 was done, wrestling media had plenty of accolades to hand her.
Shirai earned the Tokyo Sports Joshi Puroesu Grand Prize (which she also won in 2015 and 2017), awarded to Japan's top female wrestler. She cleaned up with Stardom's in-house awards, winning both the MVP and Best Match prizes. Shirai also finished in the top 10 (h/t Chris Harrington) for both Tag Team of the Year and Most Outstanding Wrestler in the Wrestling Observer Newsletter awards that year.
All this is even more impressive considering that 2016 was not a full year for Shirai. Thanks to tail bone surgery, the high-flyer missed a month of action late that summer.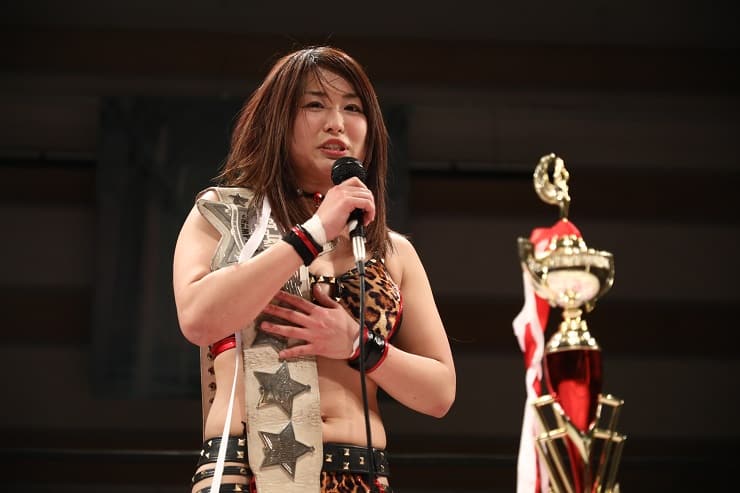 January 17
Io Shirai vs. Kairi Hojo (Stardom 5th Anniversary)
2016 began with Shirai on top—the World of Stardom champ, the face of the promotion, the queen protecting her throne. A familiar and ferocious challenger came calling at Korakuen Hall.
Kairi and Shirai had met in three tournament matches before this, including a 2015 clash for the vacant World of Stardom strap that the Pirate Princess won.
On this night, Shirai and Kairi's intensity glowed. This was a hard-hitting affair with homerun forearm shots all over the place.
They also injected the slugfest with some big dives. Shirai hit a crossbody to Hojo and a wall of women behind her. She got payback moments later with Kairi leaped from the arena doorway.
There is so much adrenaline pulsing through it all that it doesn't feel like a 29-minute match.
Rating: Classic
March 21
Io Shirai and Mayu Iwatani vs. Kairi Hojo and Meiko Satomura (Stardom the Highest)
Serving double duty, Shirai was both Stardom's top champion and one half of the tag team titleholders along with good friend Iwatani. The duo dubbed Thunder Rock took on an unlikely pairing in Satomura and Kairi, who had never tagged together.
As you might guess with all that talent in the same ring, the Goddesses of Stardom Championship match was a blast.
You had smooth transitions, speed aplenty, crisp flying offense, and slaps that echoed in the arena.
Thunder Rock entertained as the cocky champs toying with their prey. Shirai mocked Kairi, holding her hand up as if to make a tag.
What began as a howling-filled slugfest got more frenetic towards the end. It was a lengthy match that maintained its initial energy, a memorable battle sealed with a gorgeous moonsault from Shirai. The Genius of the Sky was as much as a wrecking ball as she was a showboat through it all.
Rating: Classic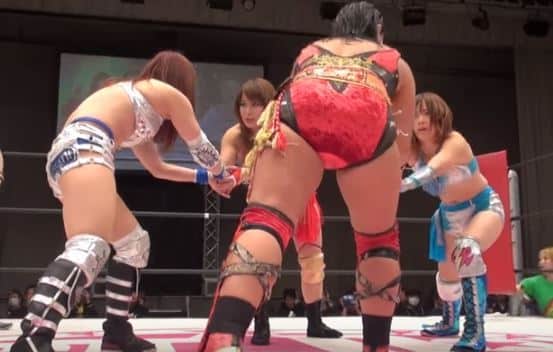 April 10
Hitokiri vs. Pentagon Dark (Lucha Underground #3.13 Breaker of Bones)
In the spring, Iwatani, Hojo, and Shirai all traveled to the Lucha Underground temple decked out in badass black attire. The three pillars of Stardom (billed as a group called The Black Lotus Triad) knocked heads with Pentagon Dark one by one in a gauntlet match that would air that November.
The longest and most captivating section of this intergender clash was when Shirai (called 'Hitokiri') took Pentagon to the limit.
Two moves in and she had the crowd in her hand. The missile dropkick and moonsault to the outside that she landed were so precise and explosive that it didn't matter if the audience knew of her previous work. She was clearly a special athlete with presence to spare.
The battle that followed was largely one-sided in Shirai's favor. She flung him around the ringside furniture. She laced him with chair shots. She looked like an action hero whipping a bad guy in the climactic scene.
Pentagon eventually got his feet under him and delivered destruction of his own, twice flipping Shirai upside down into rows and chairs.
After a flurry of big strikes and various bursts of violence, Shirai dove from the upper deck of the arena in a graceful and insane bit of performance art.
Black Lotus assaulted Pentagon as a crew to finish things off. Stardom had surely made some new fans, and Shirai had grabbed hold of a brand-new audience.
Rating: All-timer
May 15
Io Shirai vs. Mayu Iwatani (Stardom Gold)
This was supposed to be a friendly, sporting competition between friends, but it sure as hell didn't look that way. Shirai and Iwatani wrecked each other in an intense clash for the World of Stardom title. Mutual respect gave way to mutually assured destruction.
Shirai's speed was on full display here as she somersaulted, sprinted, pounced. This was a showcase for Iwatani, too, who thrived as the level of aggression increased between them.
Everything clicked, from the quick and fluid counters to the big dives to the outside. Bryn Edwards Gunn on Voices of Wrestling wrote of the bout: "There are just so many unbelievable sequences and maneuvers here that there's just no way I could do them justice in text alone, it has to be seen."
After bashing each other with superkicks and nasty suplexes on the apron, their animosity paused. Following her victory, Shirai thanked Iwatani, who she called her little sister. Their bruised bodies embraced, and Thunder Rock marched on for the time being.
Rating: Classic
July 2
Io Shirai vs. Meiko Satomura (Sendai Girls 10th Anniversary Show)
In December 2015, Shirai and the imposing Satomura had a certified classic in Korakuen Hall. Seven months later, they met in a rematch, this time on a Sendai Girls show, giving Satomura homefield advantage. The sequel didn't quite equal the original, but boy did these two greats deliver.
While Shirai spent the bulk of 2016 as the champion fending off challengers, she held the reverse position in an attempt to swipe the Sendai Girls World Championship from Satomura's grip.
The intensity burned through the screen from bell to bell. Back-and-forth action saw the two warriors trade stiff kicks and deftly counter each other's offense. Kevin of Joshi City called the bout "an excellent and exciting match through and through."
A Death Valley Driver that drove Shirai's head into the mat ended things for The Genius of the Sky.
Shirai wrestled just four matches (including a battle against Toni Storm in Osaka) before taking time off due to her tailbone injury. Her respite was brief, however, as she was soon kicking in heads in August during Stardom's 5STAR Grand Prix tournament.
Rating: Classic
September 3
Io Shirai vs. Kairi Hojo (Stardom 5STAR Grand Prix)
During Stardom's annual round-robin tourney, Shirai and Kairi met again, both women with plenty of momentum. After knocking off both Momo Watanabe and Jungle Kyona, Shirai had four points and a 2-0 record to her name. Kairi entered with the same mark.
The action was fast early filled with a flurry of pinfall attempts. The advantage moved back and forth as if on a pendulum.
Shirai was her usual powerful self, striking and stomping Kairi with no mercy. And be it via dropkicking Kairi out of the sky or snatching her arm to counter an elbow drop, she thwarted every offensive flurry Kairi produced.
The champion's back, though, proved to be her undoing.
A spear into the ring apron weakened her lower back. Then after Shirai couldn't finish off the gutsy Kairi, the back came into play. Kairi landed two elbow drops to a worked-over spine and bent her like a bow to score the win.
Rating: Banger
December 22
Io Shirai vs. Mayu Iwatani (Stardom Year-End Climax)
Shirai eventually placed second in her block at the Grand Prix before diving back into a busy schedule of title defenses. She lost the Artist of Stardom title before defending the World of Stardom Championship against Yoko Bito and Taya Valkyrie. Then came Thunder Rock storming into the finals of the promotion's Tag League event.
This November defeat that befell Shirai transformed her. She dismissed her partner, trash talking her before clocking her in the face with her boot. Allies became adversaries in that moment, and a red-hot rivalry was off and running.
That all led to this clash in Tokyo, one in which emotion occupied every inch of this action.
Yes, there were the smooth, quick exchanges you would expect from these two, but Shirai's vicious side was the real star. As she smashed Iwatani to the floor, kicked a chair wrapped around her leg and bombarded her with suplexes, it was next to impossible to look away. A jackal was tearing at an antelope, delighting in the carnage.
The result was a brutal match with drama worthy of a Shakespearean stage.
With this win over Iwatani, she capped off a stellar year with one of the greatest matches of the 2010s in any promotion. 2017 would be more of the same as Shirai was not yet done being Stardom's centerpiece.

Rating: All-Timer
From Iwatani to Yoko Bito, Shirai gave a long list of wrestlers their best match in 2016. She was the gatekeeper to championship status but also the best means to shine in the spotlight, the measuring stick for anyone working to move into the main event scene.
She serves that same role now at NXT.
Shirai may well top her outstanding 2016 in the years ahead, and she may do it more than once. She's only 30 years old. Still as smooth and gazelle-quick as ever, you can count on her producing a ton more barnburners at NXT, WWE's main roster at some point, or in Japan should she return to her homeland.
We are watching a legend crafting her legacy one trip into the air at a time.

Most of the matches mentioned here are available on Stardom World.
The Year of Years looks back at great wrestler's best bell-to-bell years. Check out previous installments of the ongoing series: