For the young lions of New Japan Pro Wrestling, leaving for the learning excursion is a huge milestone. In many ways it's like a high school graduate leaving home to go to college. For these young men, it means that they've survived the challenging and often grueling experience of life in the New Japan Dojo, arguably one of the toughest training grounds in all of professional wrestling. It also means that NJPW has deemed them ready to take that next step. It was recently announced that Yuya Uemura and Yota Tsuji would be leaving for their learning excursions. Their send off matches would happen on August 1, 2021. Uemura would be facing The Rainmaker, Kazuchika Okada, while Tsuji would be taking on Tetsuya Naito, a fitting send off for two these two young rookies who NJPW fans have known and loved since their debut.
The younger of the two, Yuya Uemura has become known for his passion and determination. The Imabari native first arrived in New Japan in April of 2017 with a strong collegiate background in ametuer wrestling. A year later, he made his in ring debut against Ren Narita, one of the major prospects among the young lions of that class. His incredible potential was clear in that very first match. Every match since, Uemura has run out to the ring with a real fire in him. Fans have watched him hone his skills against his fellow young lions as well as some of New Japan's finest, and his progress has been truly remarkable. It was recently announced that he'll be joining the LA dojo for his excursion. Now as Uemura takes that all important next step, fans will be eagerly awaiting his return.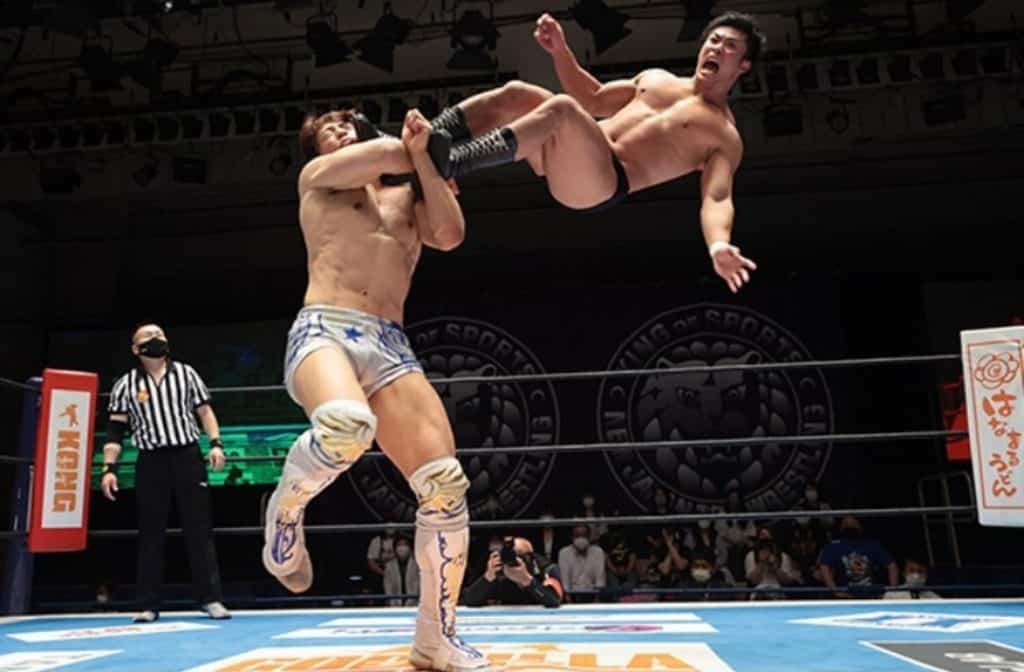 One of the highlights of Uemura's run as a young lion has been his budding rivalry with Dojo classmate, Yota Tsuji. Hailing from Yokohama, Tsuji is another stand out among the most recent crop of young lions. He arrived in NJPW at the same time as Uemura and even debuted on the same night. His first match was against Tomoyuki Okada. From there, he began proving himself as an absolute powerhouse in the ring. Like Uemura, he has had the chance to work with and learn from some of the best New Japan has to offer. Tsuji was even taken under the wing of Hiroshi Tanahashi. Working with the Ace Of The Universe has proven to be an invaluable learning experience. While Uemura will be stateside for his excursion, Tsuji will be in the UK, working with REV Pro. Upon his return from excursion, Tsuji is bound to become a true force to be reckoned with in New Japan's heavyweight division.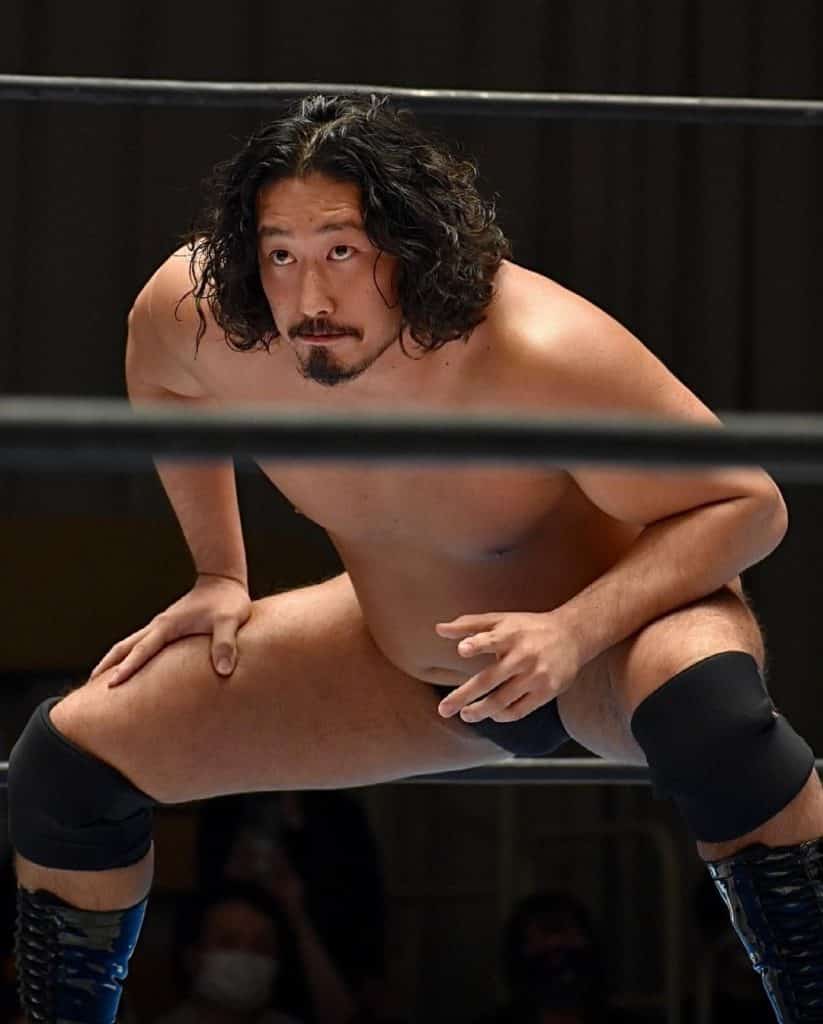 Much like Shota Umino and Ren Narita before them, the careers of Yuya Uemura and Yota Tsuji have in many ways run parallel with each other. It will be interesting to see how things will pan out for them while they're gone. The stage has been set for a rivalry in the future, and fans are surely looking forward to seeing how it will play out. Under the tutelage of stars like Tanahashi and Tiger Mask, Tsuji and Uemura have each been taught well and made the most of the opportunities. Their growth will definitely make their trainers very proud.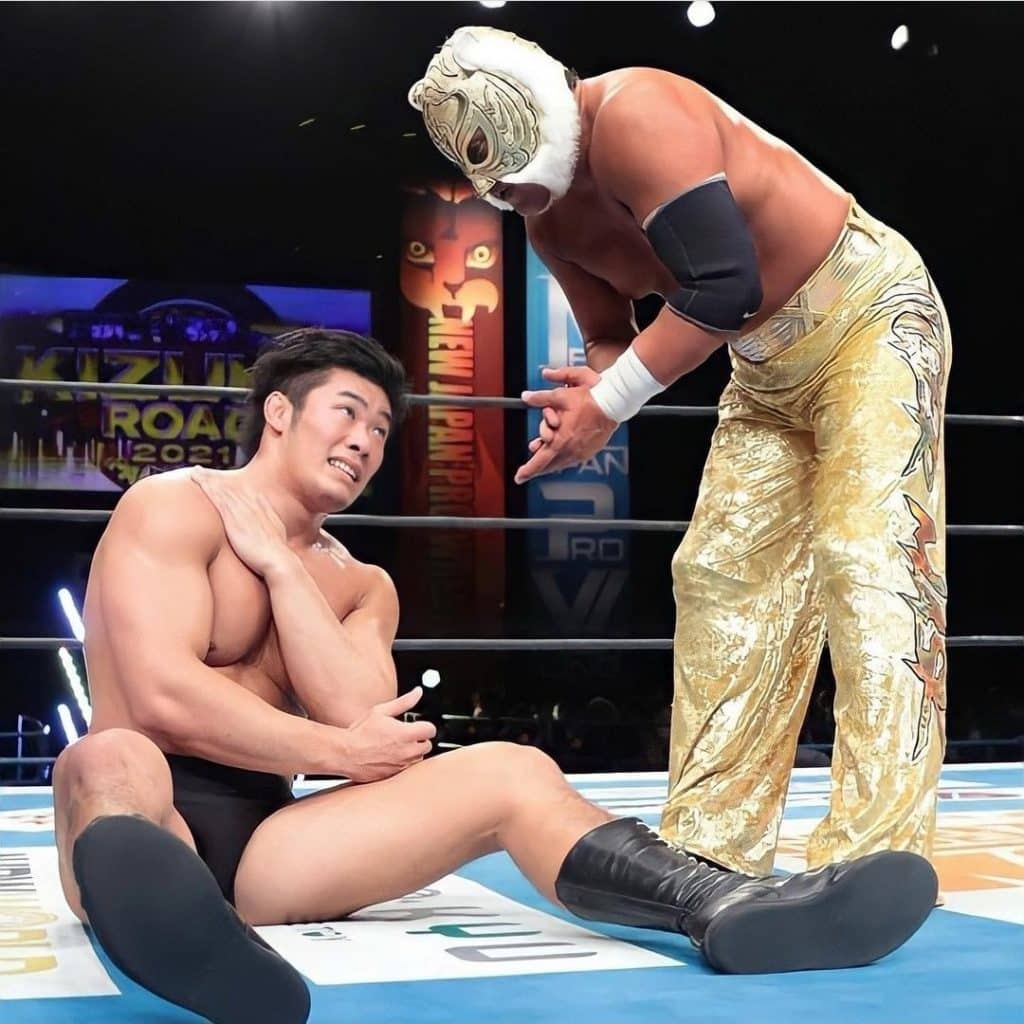 Their relationship has been one of friendly competition and loyal friendship. In the ring they were often pitted against each other, and they never held back in their matches. Outside of the ring they looked out for each other and pushed each other in training. Their bond could be seen when they were paired together for tag team matches or doing crowd control at every show.
Both Tsuji and Uemura have been molded by their shared experience as New Japan young lions. They have each grown to represent the caliber of talent and fighting spirit associated with New Japan Pro Wrestling. They have seen others come into the dojo and not last. The challenges of their rookie experience were also compounded by a global pandemic. Through it all, they've stayed focused and made it through the rest of their training. They each did beautifully in their send off matches and will be missed so much while they're on excursion. Like a proud parent or older sibling NJPW fans are definitely proud to see them both setting off for the horizon.