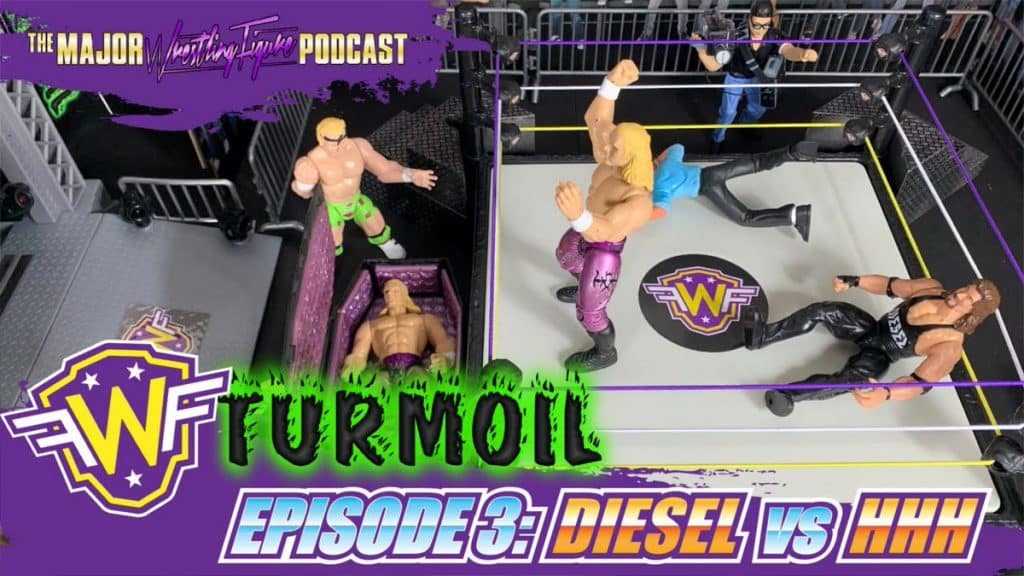 As a wrestling fan and an avid collector (if not of wrestling figures), I absolutely love the Major Wrestling Figure Podcast. Hosted by in-ring stalwarts Matt Cardona (recently of AEW, formerly WWE's Zack Ryder) and Brian Myers (currently of Impact!, formerly WWE's Curt Hawkins), it's a treasure trove of news, history, and eBay war stories. Anyone who fancies themselves a collector will recognize the drive to "scratch that figure itch," as the Major Bros say, and know that Matt and Brian are our kindred souls. Recently, though, they started a venture that lets them take the goodies they've collected and put them to their proper use: booking them!
Christened the Figure Wrestling Federation, this is their second attempt at creating and booking shows with their figures, and the first one to go for a full year of weekly shows plus "pay-per-view events" with Matt and Brian each taking a roster of "talent" and writing them into feuds. This may sound odd, but I'm someone who spent hours as a kid playing wrestling with friends, and then playing booker when we were too old for that. Many of you reading this likely did the same. Because of that lineage, these shows feel like a natural and fun extension of those days, except the guys in charge know firsthand just how wrestling should work.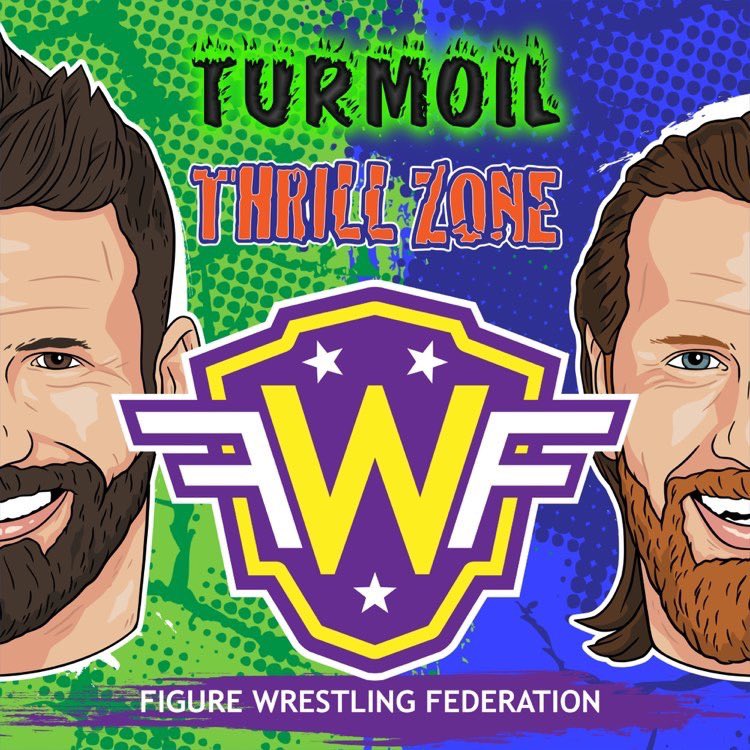 It started, like all good fantasy leagues, with an agonizing draft (we've all groaned as Matt did when his next pick or favorite dude was taken, or strategically picked someone earlier than we should due to knowing our friends so well). It's carried forward since then with each guy leading their respective brand (Turmoil and Thrill Zone) made up of figures from roughly 1996-2000. Thus, the idea is to re-create the time, if not the exact feel, of the wrestling world in The Attitude Era. Wrestlers get dropped, picked up, and added in on a regular basis.

This gives the life-like feel of hyped debuts, free agents, and company switches. Each show gets a total of 30 minutes every Wednesday to recite and run through 11 segments. Just like the regular pod, I've fallen in love with it because what shines through the most is that these guys who've spent their whole adult lives in the business are, deep down, just like us – still fans.
That becomes clear in the effort and dedication Matt and Brian put into their weekly presentation, complete with:
Finding and playing era-accurate entrance music or (if it's not out there) singing it their damn selves
Cutting promos as talent complete with impressions (Cardona as Scott Steiner is a laugh riot); and
Inter-brand trash talk and zingers flying back and forth.
The back-to-back presentation each week allows for a more stark contrast between the Turmoil and Thrill Zone approaches, and while I enjoy both, almost everyone seems to have a clear favorite of the two. Which one might you prefer?
(**NOTE: Spoilers for the FWF episodes follow from here!**)
TURMOIL (Cardona)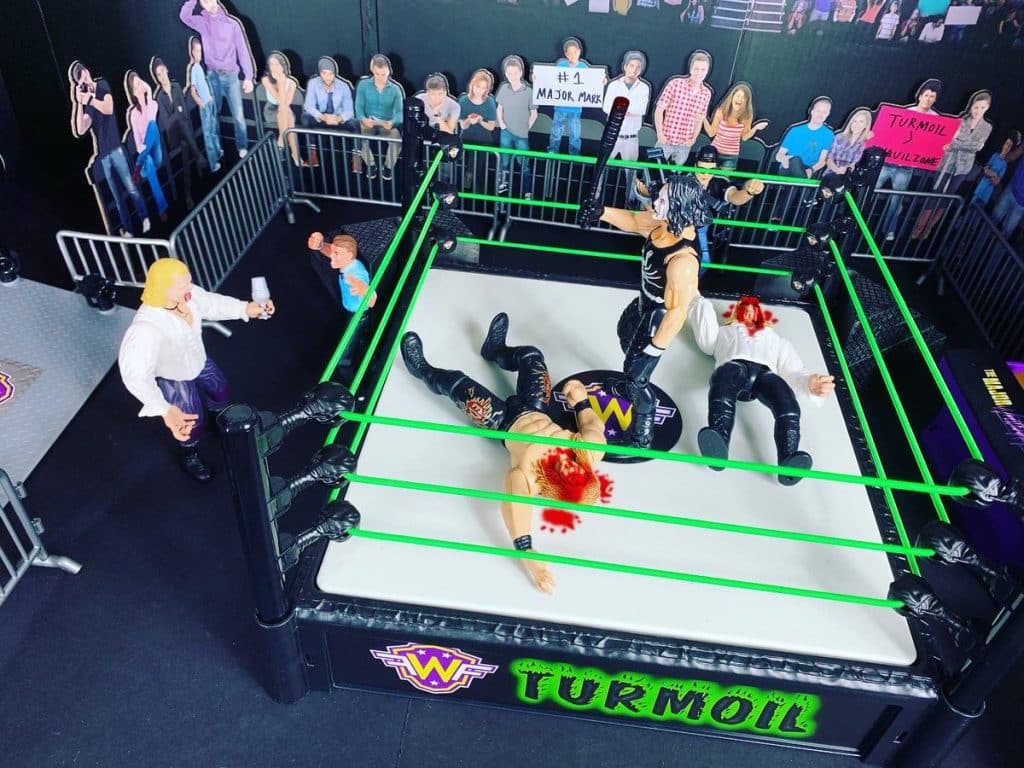 "President" Matt Cardona is putting his spin on the classic tales of late 90's wrestling in order to show us what could have happened if things were paid off in a more coherent and high-quality way than we got in real life. Someone ran "Stone Cold" Steve Austin over with a car (no Rikishi in sight!). Meanwhile, Triple H is leading a DX stable without Shawn Michaels (with an actual feud coming out of the tension!) while Sting signed and started working with fellow icon and phenom The Undertaker in their primes (the lights go out SO MUCH). The late-era Legion of Doom (#RIP) run included here involves actually kicking modern ass minus the *awkward* managerial additions that occurred in reality.

The result is Turmoil feeling less derivative and more like an homage to all of our adolescences, getting to revisit the highest highs with new unknown endings – just like we've all done in our heads, only more polished and more just plain fun.
What ties this all together is Cardona's enthusiastic approach to writing and delivery. Listening to Matt ramble about what happened to the NWO's "hogs, brother" after their motorcycles got trashed cracked me up. Listening to him tell it, there's only one show really giving the fans what they want it's definitely NOT the "Nyquil Zone" (patent pending!). And he's not wrong. You guys, it felt SO GOOD to get a Ministry Of Darkness-related reveal that was actually intimidating and surprising but still made sense. It's so exciting when the Hardcore title is being contested among established names like Ken Shamrock and Rob Van Dam – it really feels like the big time and not a sideshow (and I loved Crash Holly's sideshow).
Nostalgia gives this whole presentation a nice color, but isn't driving the show. If that brings a smile to your face, then as the show's tagline says it's time, it's time, IT'S TIME FOR TURMOIL!
THRILL ZONE

(MYERS)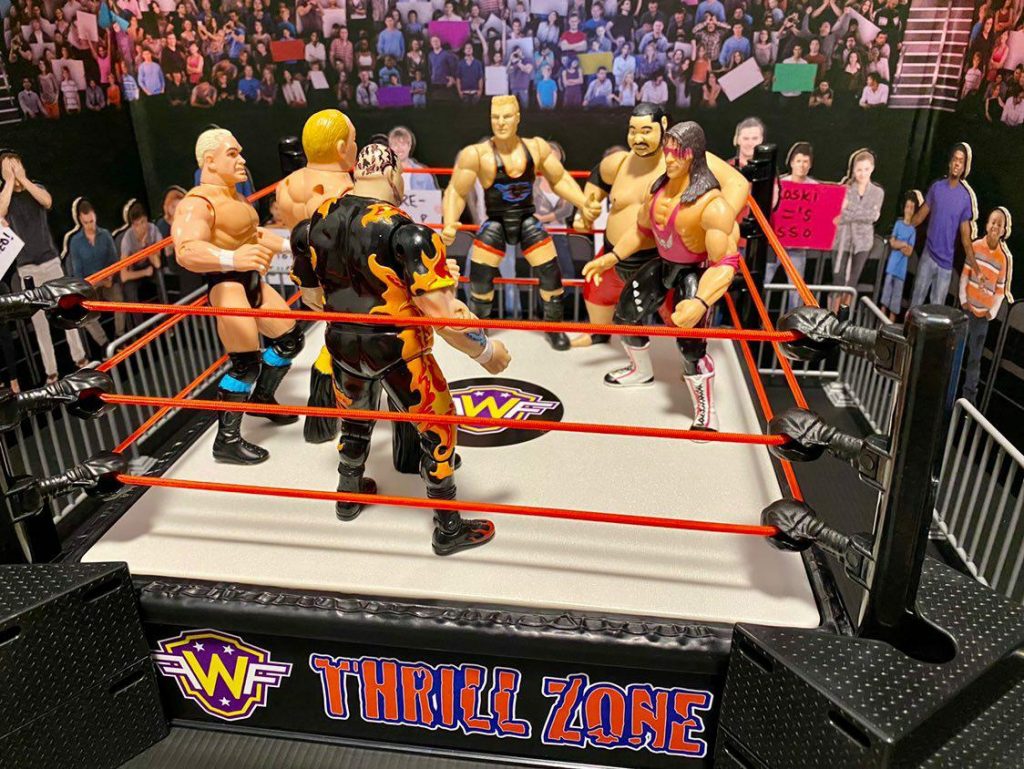 Any man who dubs himself "The MOST Professional Wrestler" is confident in his craft. "EVP" Brian Myers takes the same tact in running Thrill Zone. He tinkers and tries different combinations of players and angles to hit home runs. He tries things that never got their due in real life whether because of injuries, personal issues, or the whims of a Chairman. Some prove super interesting, like a dedicated face Yokozuna getting a midcard title run and Randy Savage being focused in on a hardcore setting. Thrill Zone's Shawn Michaels/Scott Hall tandem (perfectly dubbed "The Insiders") lets Shawn in on more fourth wall breaking and on-air politics like NWO-era WCW flourished with for a time. Not to mention, this whole endeavor gives us back the years stolen by HBK's back injury. Simultaneously, keeping Bret and Owen Hart in the same federation immediately post-Montreal is endlessly fascinating.
Meanwhile, Myers gives others who flourished in a smaller pond a real shot at the big time. Shane Douglas' ECW Triple Threat (with Chris Candido and Bam Bam Bigelow) puts Douglas' mighty mouth up against the likes of The Rock, Brian Pillman, and authority figure Roddy Piper. The mind boggles at the verbal showdowns you can have with that foursome alone. Myers also smartly used his picks for maximum flexibility going forward. He's got all of Mick Foley's personas at his fingertips, for starters. Other roster members like The Giant, Jeff Jarrett, and Road Dogg could be credibly face or heel. Add in an up-and-coming version of Chris Jericho (pre-1,004 holds), and this stable of characters seems built to last.
If you're looking for a fresh take on when wrestling ruled the world, take a trip to the Thrill Zone!
No matter where your brand allegiance falls, both shows of the Figure Wrestling Federation will brighten up your day. It's wrestling, but portable for your commute and all you need in order to see it is your imagination. From one dude's perspective, I can tell you it's been a bright light during a time where we still don't know when most of us will be in a real crowd again. Being able to listen along, follow these stories, and vote up my favorite segments has made me feel close to the action.
Things are only bound to get bigger, better, and bolder as time goes on. The rosters are expanding, trades are coming, and the boys recently announced a special 2-night Majorfest in January 2021 to cap off the end of FWF Season 1! So whether you go for Cardona's characters and car crash spectacles or Myers' classic work rate beats, it's time to brush off your best Stone Cold, Paul Bearer, and Booker T impressions for the mirror. Dive in, soak it up, and scratch that figure wrestling itch!