All Elite Wrestling makes their return to PPV on Saturday night, as the match that's two years in the making finally goes down this weekend in Minneapolis! Kenny Omega puts the AEW World Championship on the line against his former friend and tag team partner Hangman Page! The already highly personal feud was taken to another level when Omega signed the contract to the bout in Hangman's blood on Wednesday night, and the AEW faithful are expecting one of the best matches in the company's short history and a whole lot of Cowboy Shit in our main event.
We've also got an absolute banger of a number one contender's match as Bryan Danielson meets Miro, a grudge match between two of AEW's most popular stars in CM Punk and Eddie Kingston, Tay Conti looking to pull off the upset over Dr. Britt Baker DMD, and a tag team title match that has the opportunity to be an instant classic in The Lucha Brothers vs FTR!
Speaking of "Instant Classic's", Christian Cage joins forces with The Jurassic Express to take on Adam Cole and The Young Bucks in a Falls Count Anywhere match, a Minneapolis Street fight goes down between The Inner Circle and American Top Team, MJF and Darby Allin battle it out to decide who's the future of AEW, and Cody Rhodes forms an unlikely alliance with Pac to try and combat the super team of Malakai Black and Andrade El Idolo. Plus, we kick things off with women's tag team action in the Buy In match, as TBS title hopefuls Nyla Rose and Jamie Hayter take on Thunder Rosa and Hikaru Shida!
It all goes down Saturday night at 8PM ET on B/R Live in the States and Fite TV internationally, but first let's answer some burning questions and get you in Full Gear shape before the epic card goes down!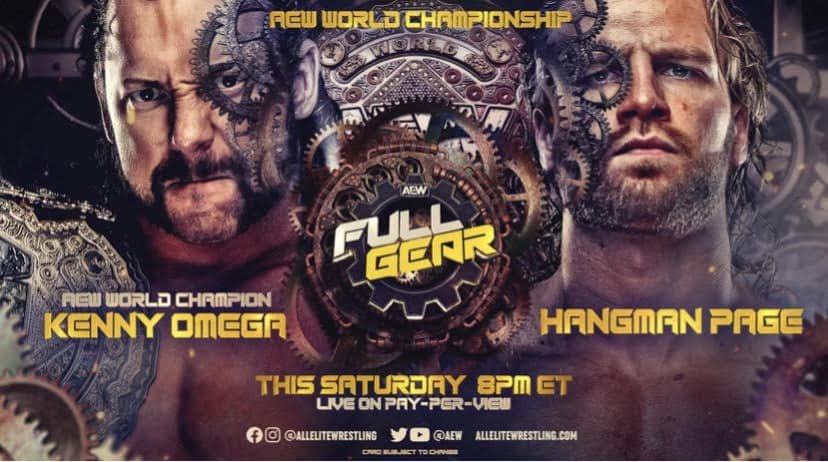 Can Hangman Page kick out of the One Winged Angel?
Look, I think damn near anyone who's an AEW fan will agree that this is Hangman Page's moment. Everyone's favorite Anxious Millennial Cowboy has been chasing the AEW World Championship for over two years now with lackluster results, but everything seems to fall into place here. Hangman's confidence is at an all time high, he's facing a man who he has shared more history with than anyone throughout his career, and he has a new sense of purpose and swagger about him since his recent return from paternity leave.
On the flip side, Omega hasn't quite been the killer that we've expected him to be over the last 11 months as AEW champion, as his title matches have ended with him needing the help of his Elite cronies about as often as they've ended clean. The Young Bucks, Good Brothers and Don Callis have all played crucial roles in helping Omega retain the title in the past, but if anyone can stay a step ahead of The Elite, it's their former running buddy in Page.
It seems like everything's coming up Hangman at the moment, but it feels like we're all overlooking Kenny Omega's ace in the hole… The One Winged Angel. There's no move in professional wrestling that is as feared and revered as the OWA, and as you may have heard once, twice or a thousand times, only one man has ever been able to kick out of it, Omega's former Golden Lovers partner Kota Ibushi. Does Kenny's "other" tag team partner have what it takes to be the second? That may be the question that defines this match.
My Take: First of all, I can't remember the last time I was this excited for a world title match, and the idea of Hangman doing the impossible and kicking out of Omega's trump card honestly gives me goosebumps. We've seen Omega dispatch countless opponents with the OWA, and everyone from Kazuchika Okada to Jon Moxley have fallen victim to professional wrestling's greatest finishing maneuver. If Hangman can manage to get a shoulder up following a OWA, we may not just be getting a new champion, we may end up seeing one of the greatest near falls in pro wrestling history. That being said, will Hangman even need to answer the question? No one knows "The Best Bout Machine" better than Page, and I think there's a good chance he avoids the killshot, counters with some Buckshot and scores the victory regardless. To answer the question at hand though… You're damn right Hangman can kick out of the OWA, and my gut tells me he will.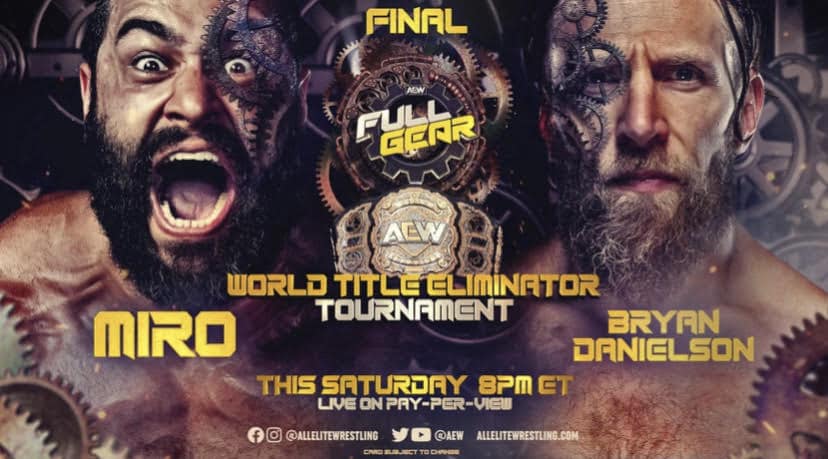 Can Bryan Danielson's submission prowess shut down the power of Miro?
Full Gear is stacked with incredible in-ring matchups, but it's hard to imagine any of them have hardcore pro wrestling fans salivating more than Bryan Danielson vs Miro in the finals of the AEW World Title Eliminator Tournament.
Danielson arrived in AEW at All Out in September, and to put it lightly, he's torn the freaking house down every time he's stepped into the ring. Danielson is OUT HERE, making a strong case for wrestler of the year despite only actually wrestling for about half of it and generally showing the world that he never should have left the discussion when it comes to who's the best pro wrestler on the planet. His matches are all top notch, and his ability to win a match at anytime using his technical and submission skills have made him seem more dangerous than ever, as evidenced by the fact that he holds an 8-0-1 record in AEW and has won matches with a half dozen different holds.
While The American Dragon has fought some tremendous competition since joining the All Elite roster, he hasn't come across anyone quite like Miro, who's been an absolutely dominant force since shedding his goofy gamer persona and becoming God's favorite champion earlier this year. Outside of a recent loss to Sammy Guevara, Miro has been unstoppable and if anything that loss seems to have lit an even bigger fire under him. Can the Redeemer redeem himself and take a step closer to regaining AEW gold? Or will The Dragon slay the Monster and prove he's ready to make his run at the throne?
My Take: As good as Danielson has been as of late, I don't think his desire to prove he's the best in the world holds a candle to Miro's desire to uh, "please" his wife and become a champion once again. Miro is pissed off and looking for blood and Danielson is unfortunately stepping into the middle of a warpath I don't think he's prepared for. I'm expecting a legendary encounter unlike anything else on the show and quite possibly the greatest match of Miro's career, and in the end I see "The Redeemer" calling Game Over and putting Danielson to sleep with a submission of his own.
Is Eddie Kingston finally ready to realize the "potential" that CM Punk once saw in him?
For my money, no one connects with the AEW audience quite like Eddie Kingston. From the moment he strolled through the curtain to accept Cody Rhodes' open challenge for the TNT Championship and threatened to slap Arn Anderson in the mouth to his eventual buddy cop style brotherhood with Jon Moxley, Kingston has made people care about him in a way rarely seen in pro wrestling. He's done all of this despite being a bit of an asshole the entire time, because like it or not, Eddie Kingston is a bit of an asshole.
However, CM Punk is arguably the most infamous self proclaimed asshole in the business, and it seems like it only took a few moments of trading barbs with "The Mad King" to get Punk to shed the "happy to be here" persona he'd been rocking since joining the All Elite crew in September. Last week on Rampage, Kingston confronted Punk about their time together in locker rooms over a decade ago in one of the best segments in AEW history and things got HEATED.
Punk's "succeed at all costs" attitude back in the day clashed with Kingston's "pro wrestling is my escape" mindset, and over a decade later it was clear that the issues the two men have with one another are far from over. Kingston says that the rest of the locker room doesn't want Punk around and he's going to kick Punk's ass to the point he packs up and quits for another seven years. Punk says that Kingston has never truly reached his potential and that he's a "bum". Something's got to give here.
My Take: AEW seems to be driving home the fact that legendary Independent darlings like Punk and Bryan Danielson have always been a bit disappointed by Kingston and his alleged "lack of effort". Kingston obviously disagrees, but after falling to Danielson a few weeks ago, all signs point to Punk pulling off the win and proving their point. It feels like Kingston has his back against the wall here a bit and he could become even more dangerous if he's unable to pull this one off. Kingston is a fighter in every sense of the word, and he's hit rock bottom enough times that I have no doubt he'll dust himself off and come back twice as strong following a loss this weekend. That potential everyone keeps talking about will eventually be met, and I sure as hell wouldn't want to be the guy standing across from him when it is.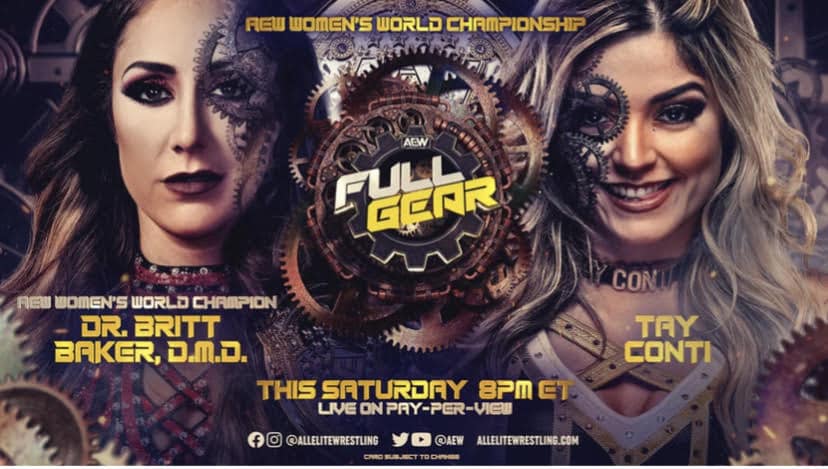 Can Tay Conti shock the world and upset Dr. Britt Baker DMD?
While AEW's other divisions have featured a revolving door of top stars over the last few years, you could easily argue that the women's scene has belonged to Dr. Britt Baker from the start of the company. Not only was Baker the first woman signed, she's become one of the breakout stars during AEW's tenure and she's been in virtually every main event match the ladies have had on television. There's little doubt as to who the "face" of the women's division is, and Baker has made that a well known fact, especially since she became AEW Women's Champion at Double or Nothing earlier this year.
All of that being said, it feels like Baker's title has never been in jeopardy in the way it will be on Saturday night. Tay Conti is one of the most distinguished members of the AEW roster when it comes to being a legit badass, with a judo and brazilian jiu-jitsu background mixed with a little muay thai that makes her one of the scariest opponents in the division no matter how dominant you've been. With her BFF Anna Jay and Thunder Rosa seemingly watching her back and playing counterpoint to Baker's duo of Jamie Hayter and Rebel, the stars may be aligning for a Tay-KO and a 1-2-3.
My Take: As much as I love watching Tay Conti kill it in the ring, the reign of DMD isn't ending at Full Gear. Britt's entourage is a well oiled machine at this point, and as good as TayJay and Thunder Rosa are individually, I just can't see the former Olympic judo hopeful being able to survive all of the shenanigans and tomfoolery that Baker's goons are going to provide. Conti will eventually have her moment in the sun, but the Britt Baker era is going to keep rolling strong well after Saturday night.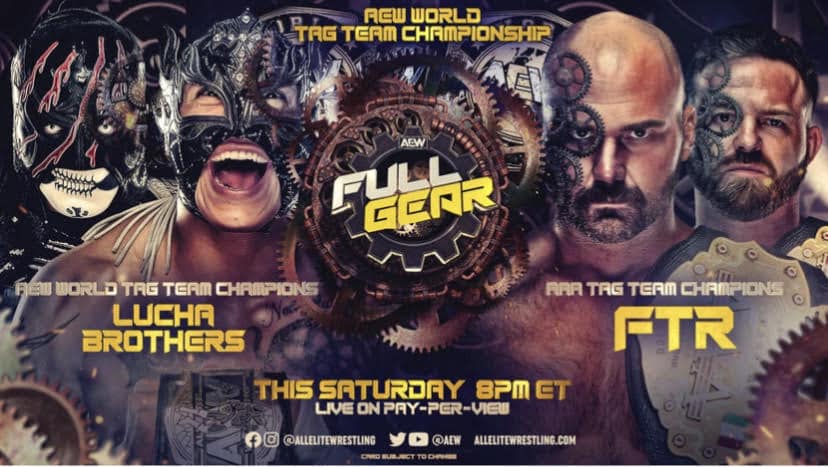 Have FTR gotten inside the heads of the Lucha Brothers?
Raise your hand if you had "FTR cosplay as fake lucha libre legends in order to get an AEW title shot" on your pro wrestling bingo card this year! Anyone? Just Tony Khan? Okay then!
Regardless of how we got here, there's no denying that watching a battle between one of pro wrestling's most exhilarating teams and arguably the most fundamentally sound duo in the game is something AEW fans have been pining for. FTR did what they had to do to give it to us, even if it meant donning a couple of hoods, wrestling as Las Super Ranas, stealing the AAA Tag Team titles and taking out both of The Lucha Brothers in the process. As a result, they pissed off the Lucha Bros enough that the champions were the ones to call out the challengers, and you have to wonder if Fenix and Penta El Zero Miedo will be able to focus on retaining their titles with revenge so obviously on their minds.
My Take: FTR have been on a year long journey to get back to the top after dropping their championships to The Young Bucks at last year's Full Gear event, but I think they may have written a check their asses can't cash when it comes to this battle against the AEW Tag Team Champions. As we saw back at All Out in September when the Lucha Bros finally defeated The Bucks and claimed AEW gold, Penta and Fenix are at their best when they've been pushed to the limit and are pissed off, and that's exactly the type of duo FTR are running into here. Dax and Cash are going to try and pull out every trick in Tully Blanchard's playbook, but it won't be enough to regain their belts, as the Lucha Bros come out victorious. Penta says… "F*** The Revival!"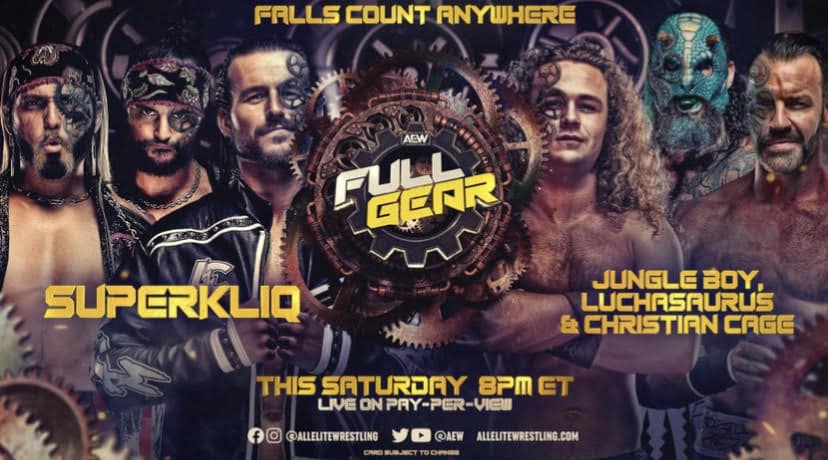 Do Christian Cage and Jurassic Express have the chemistry to defeat the SuperKliq?
The Young Bucks and The Jurassic Express have seemingly been feuding since Luchasaurus was far from the only dinosaur hanging around, but throwing Christian Cage and Adam Cole into the mix has added a really fun and interesting new wrinkle to one of AEW's oldest rivalries. Adam Cole made his presence felt just seconds into his All Elite career by kicking Jungle Boy in the mouth at All Out a few months back, and since then, business has picked up as Good Ol' JR might say.
The SuperKliq individually took out all three men from the Jurassic crew at some point over the last few months, along with fourth member Marko Stunt, and while Cage, Jungle Boy, and Luchasaurus have exacted some measure of revenge over the last few weeks, they haven't quite given The Bucks and Cole their comeuppance yet. They'll look to change that at Full Gear, as they go Falls Count Anywhere against AEW's hottest trio.
My Take: When Christian Cage made his return to the squared circle back in January, there's absolutely no way you could have convinced most wrestling fans he'd be teaming with a Boy and his Dinosaur against The Young Bucks and Adam Cole in a marquee match on one of the most anticipated shows of the year, but here we are and it's going to be awesome! For my independent wrestling nerds out there, I'm expecting a PWG style spectacle in this one, which basically means all six men going balls to the wall and killing each other at 100 MPH for 10-15 minutes and leaving the crowd breathless. As much as I'd love to see the good guys get their revenge here, The Bucks and Cole seem to operate on an entirely different level than most teams when they get to roll together and I have a hard time believing this one will be much different.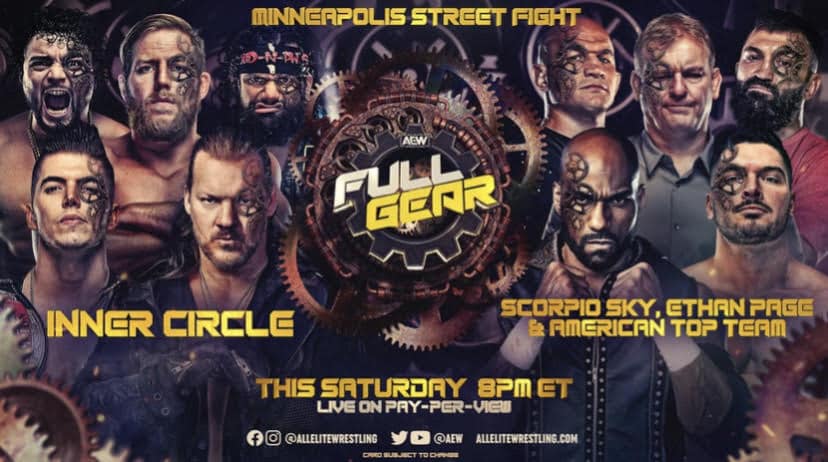 Will ATT's promise that Dan Lambert will pin Chris Jericho come back to haunt them?
The Inner Circle have been together since day one of AEW, and are arguably the most dominant group in AEW history thus far, so it's rare to see them caught off guard and left beaten and battered as often as they have been while trying to fight off Dan Lambert's American Top Team.
The man that Chris Jericho infamously coined a "fat faced dipshit" has put together a team of trained killers led by The Men of the Year, Ethan Page and Scorpio Sky, along with a pair of former UFC Heavyweight Champions in Junior dos Santos and Andrei Arlovski, so while Lambert is the obvious weak link in his ATT quintet, things still seem to be well under control despite what should be a major disadvantage.
Following a beatdown of Jericho, Sammy Guevara, Jake Hager, Santana and Ortiz on Dynamite earlier this week that ended with Lambert hitting Le Champion with a powerbomb through a table and forcing Jericho to "tap out" to his own submission hold in the middle of the ring, Sky proclaimed that not only would ATT win the match, but Dan Lambert himself would provide the finishing touch by pinning Jericho. It's a bold prediction to be sure, and it's one that could end up being costly.
My Take: Full disclosure, I wrote about MMA for almost a decade and both JDS and Arlovski were heavy hitters to say the least during that time, so you'd think this rivalry would be right up my alley. Still, I've had a harder time getting into this feud than any other match on the show up until the last few weeks, and that's entirely because of Dan Lambert. I despise the man, and while I know that's the point, I legitimately can't wait to see him get his ass kicked this weekend. The Inner Circle get their revenge and pull off the win here in what I'm expecting to be an extremely wild and chaotic street fight, but the victory comes mostly due to ATT's insistence that Lambert scores them the "W" coming back to haunt them.
Can Darby Allin actually "out wrestle" MJF?
This match is essentially a look into the future of AEW, and with MJF and Darby Allin at the helm the future is BRIGHT, folks!
The story for this one is simple. MJF identified the Four Pillars of AEW (MJF, Darby Allin, Sammy Guevara, and Jungle Boy), and it's clear that he sees Allin as the only one of the three that represents a true claim to his status as the best young star in the world. Making it his mission to break AEW's resident daredevil mentally, MJF has tortured an already tormented soul over the last month or so and looks to finish the job on Saturday. His plan? Make the wild and wreckless Darby try and take him out in a straight up wrestling match. Allin has vowed to beat MJF at his own game, but it remains to be seen if that will end up costing Sting's protege one of the biggest bouts of his career.
My Take: MJF is arguably the best heel in the world today, and he clashes with a talent so beloved and enigmatic that wrestling fans can't seem to help but to compare Darby with Matt Hardy's charismatic younger brother. I fully expect the building to practically be shaking during this one and the Minneapolis crowd is going to undoubtedly be on fire hoping that Maxwell gets what's coming to him. Sadly, you can't always get what you want, and while I have no doubt that Darby will prove himself to be every bit as good in the ring as MJF, there's no way he beats someone as conniving and talented as "The Past, Present and Future" of professional wrestling without dipping into his bag of tricks.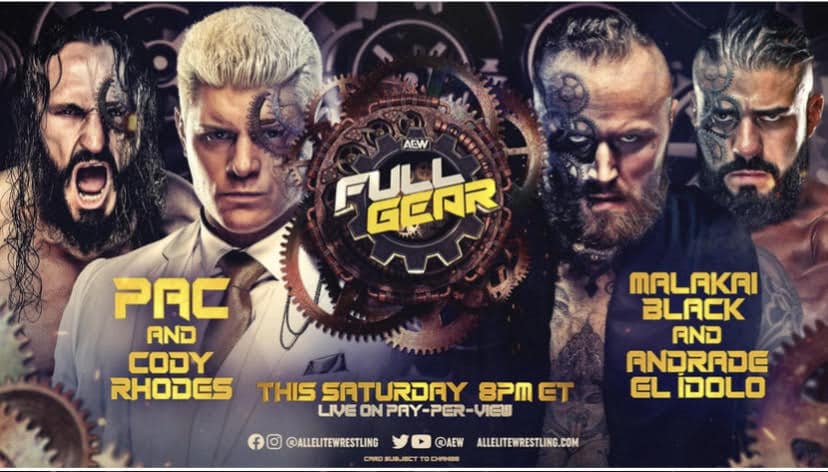 CAN THEY COEXIST?!? Cody Rhodes and Pac vs Malakai Black and Andrade El Idolo is a match full of unknowns.
Two teams you never saw coming featuring four of the biggest stars in the company clash on Saturday night, as the phrase "the enemy of my enemy is my friend" is exemplified by Cody Rhodes and Pac vs Malakai Black and Andrade El Idolo.
While the pairings are unlikely, this one isn't too hard to figure out. Rhodes and Black have been at each other's throats for months, and the same goes for Pac and Andrade. When Malakai and El Idolo decided to join forces and jump Pac after "The Bastard" defeated Andrade on Rampage last month it wasn't a shock to see Rhodes come out to make the save. Since then, Black and Andrade have been attached at the hip and working together to dispatch their rivals, while Rhodes and Pac have only been driven together by necessity as they keep finding themselves on the wrong end of 2 on 1 beatdowns.
My Take: While Pac may get along well with his Death Triangle brethren, he's known as "The Bastard" for a reason and it's hard to believe he'll be able to play well with others, especially someone as grandiose and spotlight consuming as Cody Rhodes. The duo of Black and El Idolo may have just as much inexperience together as their counterparts, but they seem to be on the same page, while Cody and Pac are just reading the same book. Expect some sort of breakdown in communication from the babyface team to cost them a victory, and where all four men go from here is anyone's guess.
Which Women's duo will claim victory at The Buy In and gain momentum headed into the Quarterfinals of the TBS title tournament, Nyla Rose and Jamie Hayer or Thunder Rosa and Hikaru Shida?
All four of these women have qualified for the quarterfinals of the TBS Title Tournament, and we'll be getting both Jamie Hayter vs Thunder Rosa and Nyla Rose vs Hikaru Shida over the upcoming weeks, but first we get to watch the four women duke it out in tag team action to kick off the show as the Buy In match!
Rosa and Nyla should both be fresh after earning first round byes due to their positions in the official AEW rankings, but Hayter is slightly less rested after a hard fought win over Anna Jay a couple of weeks ago and Shida is definitely worse for the wear after getting beaten down by Sereena Deeb following the former AEW Women's Champion's victory in the opening match of the tournament last month.

My Take: You have to believe that Shida's injured leg will be the x-factor in this one, and it would be shocking if Nyla Rose doesn't smell blood in the water and look to do as much damage as possible heading into their quarterfinal clash. There's a reason Nyla is known as "The Native Beast" and I have a feeling Shida is going to find out first hand how she got that nickname. Still, I think the heels suffer a loss here, with Shida scoring a sneaky win over Hayter after getting demolished for most of the contest.