Always prepared to turn adversity into prosperity, NJPW have announced New Japan Cup USA!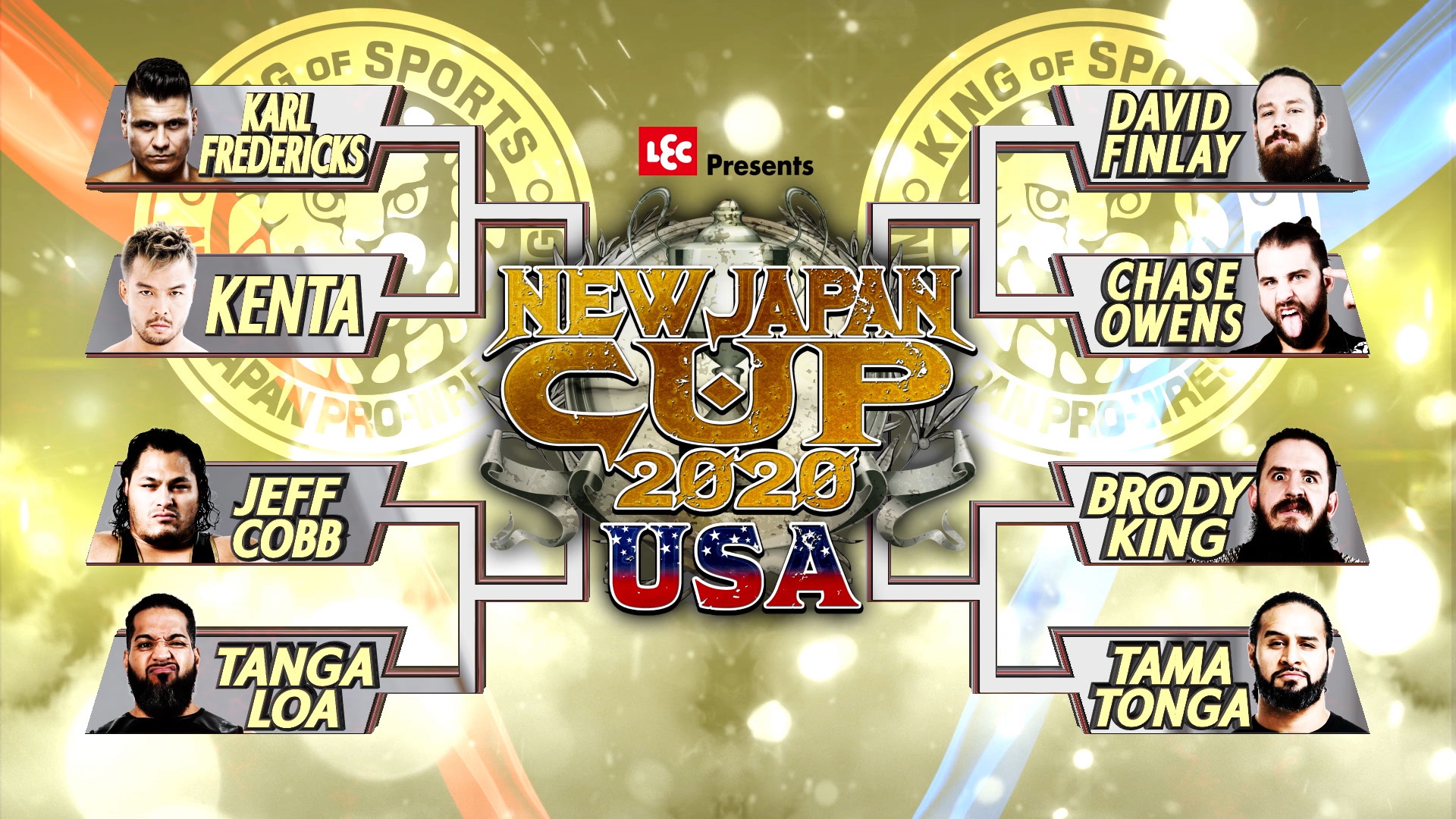 With many wrestlers unable to travel to Japan to compete, NJPW have brought the cerulean blue ring to USA instead. The Cup will kick off New Japan's new Friday night series titled STRONG, and the brackets are stacked.
The winner of the tournament will challenge Jon Moxley for the IWGP US Heavyweight Championship in the future, a title none of the entrants have held before. In fact, only two of the eight men have ever held a singles title in New Japan. This is a chance that none of them will take lightly.
NJCup USA is an oddity in that only three of the entrants have ever competed in the New Japan Cup prior! Tournaments in NJPW are bountiful for statistics and history to shed a light on potential outcomes, but this variant of the Cup carries with it the thrill of the unknown.
Who will prove themselves to be a big time tournament player?
Karl Fredericks vs KENTA
The original New Japan Cup had Fredericks facing KENTA in the first round and fate has put them back together again for the most personal match of the tournament.
KENTA comes into the tournament as the favourite. His reign as NEVER Openweight Champion in 2019 was the best run the title had seen in years. He made his mark in the G1 Climax with important wins over Kota Ibushi and Hiroshi Tanahashi. He is a titan of Japanese wrestling with an already historic career, but he'd be unwise to look past Fredericks.
For Fredericks this is the most important match of his career. A bumpy start to his re-debut during Lion's Break Collision can be erased with a monumental win against KENTA. This is infinitely more than just a tournament match for Fredericks, it's the perfect opportunity for him to fight for his trainer Katsuyori Shibata's pride.
Throughout the latter half of 2019 KENTA continuously disrespected his long-time friend Shibata, starting by joining Bullet Club and assaulting Shibata at the G1 Climax 29 final. Shibata is unable to fight for himself but Fredericks is the second coming of The Wrestler, instilled with the same spirit that Shibata flaunted in and outside of the ring.
This is not the same Karl Fredericks we once knew. Where a Young Lion once stood there is now an intense alpha wolf. Alpha Fredericks will have to be better than he has ever been before if he hopes to avoid KENTA's venomous bite.
For a deep dive look at Karl Fredericks' New Japan career, please see From Young Lion to Always Alpha: Karl Fredericks Is Taking Charge.
Jeff Cobb vs Tanga Loa
The former Olympian Jeff Cobb has found success almost entirely as a singles competitor in New Japan, his crowning glory coming when he won the NEVER Openweight Championship in Madison Square Garden.
In distinct contrast, Tanga Loa has found success exclusively in the tag team division. A multiple time tag champion with an almost non-existent singles record. His only singles match since joining NJPW in 2016 was a loss to Yuji Nagata in 2017's New Japan Cup. In more than four years the Bullet Club man has only had a single singles match! A credit to his devotion to the tag team division but it may be his undoing here.
Cobb will have the definitive power advantage but that isn't to say that Tanga Loa cannot compete in the strength category. Tanga is the heavy hitter for Guerrillas of Destiny so don't be surprised to see him hurling the bigger Cobb around the squared circle.
David Finlay vs Chase Owens
Both Finlay and Owens have unsuccessfully challenged for the IWGP US Heavyweight Championship in the past and now both find themselves on the path to challenge again.
Owens is one of only two men in the tournament to make it out of the gates in a prior New Japan Cup. 2019 saw him pick up the biggest win of his NJPW career by defeating (then IWGP US Heavyweight Champion) Juice Robinson in the first round, before falling to YOSHI-HASHI in the second round.
Finlay comes into this with very little singles action and a short history of bad luck with the Cup; he only wrestled 3 singles matches throughout all of 2019 and none so far in 2020; he was originally scheduled to compete in the 2019 New Japan Cup but was replaced due to injury; he was originally scheduled to compete in the 2020 New Japan Cup in March before it was rescheduled.
The shoulder injury that Finlay suffered in 2019 kept him sidelined for almost 8 months and has been a persistent issue for him since returning. The time off during the pandemic might have been a blessing in disguise, allowing him to get back to full fighting condition. We may see a revitalized Finlay entering the fray and marching towards Jon Moxley's gold.
Click here to see Wrestle Joy's exclusive interview with David Finlay!
Brody King vs Tama Tonga
Tama Tonga is the Cup veteran in this tournament. It's a surprising title afforded him given he has only competed in 3 New Japan Cup's prior and only made it past the first round once. The tag team specialist has implored NJPW to keep him out of singles tournaments in recent years, including the G1 Climax, so he can focus on the IWGP Tag Team Championships.
Brody King already has the answer to victory: violence. The giant has only had 9 matches within a New Japan ring, the majority of them during the 2019 Best of Super Juniors tournament (not as an entrant!). This can be his moment to announce his arrival to the NJPW faithful.
The strength advantage is firmly Brody's and even though Tama Tonga may be profound for his sleek speed in the ring, Brody is no slacker when it comes to agility. His frightening demeanor only becomes more terrifying when you see this colossus flying like a luchador.
Show Details
When: Friday 7th August @ 10pm EST/7pm PDT (Continuing every Friday night at the same time)
How to watch: Available on New Japan World for only 999¥ per month (roughly £7.50/$9.30)
Notes: There will be both English and Japanese commentary available, with special guest commentator Alex Koslov joining the English desk!