This is part 2 of a multi-part series on CM Punk. You can find part 3 here
Last time we began our journey by looking back at Punk's infamous Pipe Bomb, and what happened in the months afterwards, culminating in defeating Alberto Del Rio at Survivor Series 2011 to begin his second WWE Championship. The next night, Monday Night Raw kicked off with Ring Announcer Justin Roberts welcoming the new WWE Champion CM Punk, with the fans instantly celebrating alongside him. In a promo that helped sell how important the victory was last night, a sincere Punk talked of wanting to be a professional wrestler ever since he was a child, and how much it meant to win the championship in Madison Square Garden. Lines such as "the game of hot potato is over", "this title is staying with me for a long time", and "this is the new face of the company", have elements of prophecy to them, resonating very strongly ten years later.
Punk moves on to how he wants to remove the Interim General Manager John Laurinaitis due to how useless he is, which prompts the very man to come out. In an attempt to show the new champion how wild he can be, Laurinaitis announces that Del Rio will get his rematch next week. An unimpressed Punk retorts "why not this week", which he is then informed he will face Vickie Guerrero's Dolph Ziggler. Punk lambasts the Interim GM for not giving the fans what they want, prompting a Zack Ryder chant. That night, Del Rio defeated Ryder in a warm-up match and Punk had a good champion's victory over Ziggler, ready for next week's title defence (by the way, go back and watch the Ziggler match, both men impress).
Monday Night Raw (28th November 2011)
WWE Championship Match
Alberto Del Rio vs. CM Punk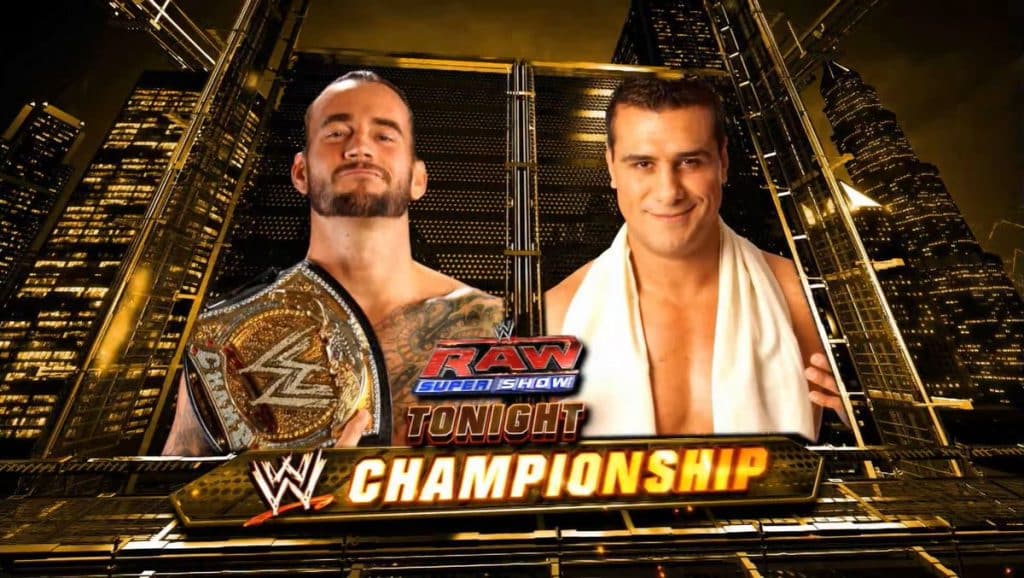 Prior to the match, after Punk promises to retain the title, Interim General Manager John Laurinaitis' lackey David Otunga uses his law degree (he went to Harvard in case you didn't know) to interpret those comments as Punk threatens to disqualify himself to keep the championship. Because of this, Laurinaitis announced that if Punk gets intentionally disqualified, he will lose the championship, adding an interesting wrinkle to this main event. As Punk enters the arena, he proclaims The Thing's catchphrase "It's Clobberin' Time!" (random aside, as unlikeable a human being Del Rio is, his music is catchy). Del Rio and Punk both start off focusing their attack on each other's left arm, laying the groundwork for both competitor's submission finisher. Punk's injured left shoulder from before Survivor Series was still bothering him last week and is being exacerbated here.
Del Rio in control for a sustained period of time, wrenching and yanking on Punk's left arm, until a desperate knee to a jumping Del Rio gets Punk a nearfall. Punk starts gathering momentum, but yet again that targeted left arm stops Punk, leaving Del Rio to get frustrated after a series of two counts only. After kicking Punk in the left arm, an angry Del Rio removes a turnbuckle pad, getting an admonishment from Referee Charles Robinson before the ref tries fixing the pad. Behind the ref's back, Rodriguez slides a chair in and Del Rio slams it on the ground, throwing it for Punk to catch, but it backfires when they both realise Robinson hasn't turned around.
Thinking quickly, Punk throws the chair back and falls down, with Robinson catching Del Rio red handed and preparing to disqualify the challenger. As Del Rio pleads, Punk rolls him up, one, two, th-Del Rio kicks out. A quick Backstabber to Punk gets a two count only, and Rodriguez jumps on the apron. Before Del Rio can take advantage, Punk hits him with a Go To Sleep onto the unprotected turnbuckle. Punk covers, one, two, three, and the champion retains.
Winner Via Pinfall – CM Punk
Currently 8 Day Title Reign and One Title Defence.
A slightly wilder and more fun encounter than their Survivor Series match, the booking and shenanigans actually added to Punk's victory, especially with the Eddie Guerrero homage. Considering Punk's history with losing the WWE Championship to Del Rio so quickly and Randy Orton earlier in the year losing his World Championship to Christian by disqualification, there was no guarantee that Punk would retain, which made the victory sweeter. After the match, both Robinson and Punk got a good moment, with Robinson telling Rodriguez he doesn't want to hear it from him, and Punk hitting Rodriguez with a GTS. It's a feel-good ending, but with enough cloudiness to leave a rematch open.
The following week, John Cena opened the show and suggested that with Del Rio defeated, Punk required a new Number One Contender. With Cena, an angry Del Rio, a cocky Ziggler, and an unimpressed Miz all citing their credentials, the Interim General Manager Laurinaitis announces that all four men will get an opportunity to earn a title shot if they each beat an opponent from Smackdown tonight.

By the end of the night, The Miz had defeated Randy Orton by count-out, Del Rio beat Daniel Bryan, John Cena forfeited his opportunity so Zack Ryder could get a U.S. Title shot (only after Cena beat him, of course) and the U.S. Champion Ziggler lost to Sheamus, leaving The Miz and Del Rio having qualified. A live contract signing later that night (that featured Laurinaitis' best moment where he wished John Morrison all the best with his future endeavours straight to the camera) confirmed that at TLC 2011, CM Punk was defending the WWE Title against Del Rio and The Miz in a Tables, Ladders, and Chairs Match.
There is another week prior to the PPV, but it's basically a Slammy's Award special where the only thing noteworthy that occurred was that CM Punk was voted Superstar of the Year (deservedly) an then attacked by by a ladder-wielding duo of Del Rio and The Miz
TLC: Tables, Ladders & Chairs (18th December 2011)
Triple Threat Tables, Ladders & Chairs Match for the WWE Championship
Alberto Del Rio vs. The Miz vs. CM Punk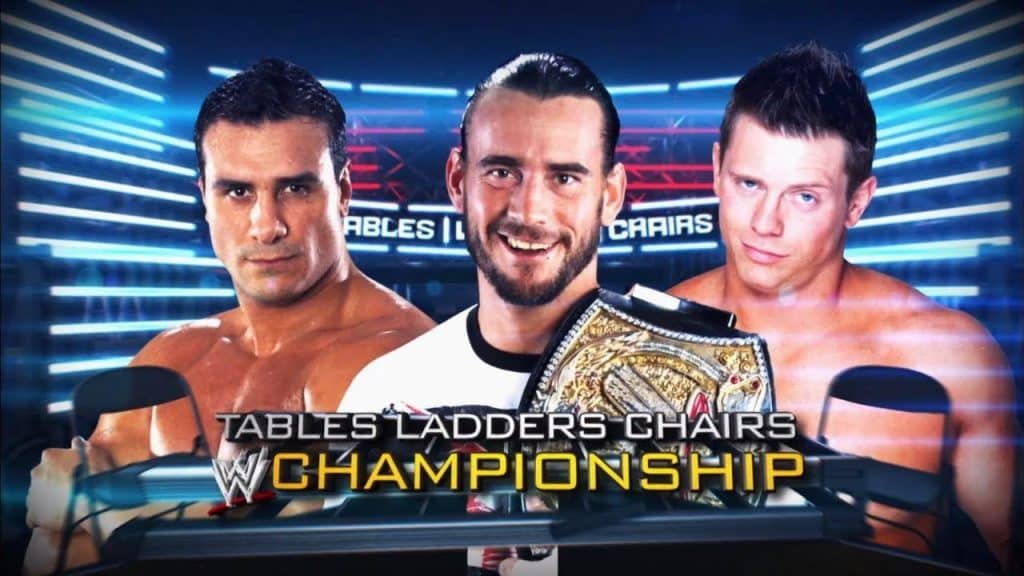 With the main event of TLC 2011, the fans were already on a high after seeing Daniel Bryan cash in his Money In The Bank briefcase to win the World Heavyweight Championship. With Miz and Del Rio already in the ring, the fans are hyped as they chant for a confident Punk, who defiantly walks under a ladder before entering the ring. Even louder "CM Punk" chants echo as he goes on the attack, but the heels work together to beat the champion down. That partnership quickly dissolves on the outside as Del Rio attacks Miz with a chair, while grabbing a small ladder and turning into a dive from Punk.
With the early use of chairs and ladders, Punk is back-suplexed onto a standing chair by Miz, and Miz is back-body dropped onto a ladder by Del Rio. The first one to climb the ladder is Punk, who nearly gets the belt before Rodriguez slipped in and handcuffed Punk to the ladder. With Del Rio trying to take advantage, Punk desperately breaks the hinges of the ladder to escape, face-planting Del Rio onto the broken ladder. The handcuffs are still locked on Punk's arm, but before he can use them, Del Rio delivers an elevated Enziguri to send Punk falling off the outer ropes through a table, wiping him out.
In the entranceway, Del Rio locks in a Cross Armbreaker to Miz through a ladder, adding to Punk's discomfort with some vicious chair shots and chair-assisted Cross Armbreaker. A confident Del Rio climbs up the ladder, only for both Punk and Miz to appear from nowhere and push the ladder, with Del Rio crotched on the top rope and left…indisposed on the outside. With Del Rio down, Rodriguez tries climbing up the ladder, only for Miz and Punk to push the ladder backwards. Rodriguez is destroyed as he smashes through a table on the outside. As Punk tries to finish Miz, he hits the corner and Miz suddenly uses the handcuffs to lock Punk to the turnbuckle.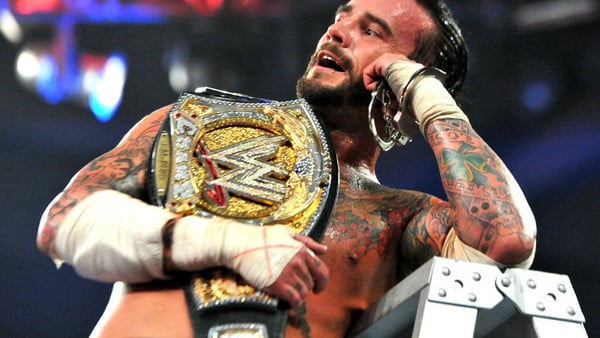 As Miz smugly laughs and teases Punk, he takes too long and Punk roundhouse kicks Miz in the head. As Miz and Del Rio line up ladders under the belt, a desperate Punk undoes the ropes and escapes just in time to meet both men up top. All three battle; while a roundhouse kick knocks Del Rio off, a GTS puts Miz to sleep, and Punk is standing all alone. He climbs up and grabs the title.
Winner – CM Punk
Currently 29 Day Title Reign and Two Title Defences.
First things first, credit to all four men because they took some heavy falls, especially an obviously terrified Ricardo Rodriguez who took the biggest fall of them all. The match itself was fast paced and entertaining, there was barely any down time, and all three men used their Money In The Bank experience wisely. The inclusion of the handcuffs added an interesting dimension, giving Punk an extra obstruction to overcome, making him a tremendous babyface to invest in. So far, both of Punk's matches as champion have been good with some fun booking ideas, such as the disqualification angle or the handcuffs. Also, this successful title defence confirmed that Punk had held the WWE Championship longer than his previous 28-day reign.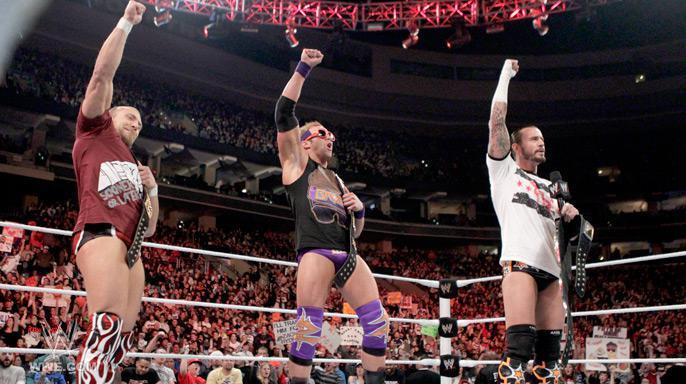 The following night opened with a feel good moment as WWE Champion Punk, the new United States Champion Zack Ryder, and the new World Heavyweight Champion Daniel Bryan all came out, with the fans joining them in celebration. I gladly admit to a gleeful smile as I watched; and even a normally hardened Philadelphia crowd rejoiced with them. Not celebrating were The Miz, former U.S. Champion Dolph Ziggler, and Del Rio.

They went on the attack, leading to a six-man tag team main event where the champions successfully won. While not a vital moment in Punk's journey, it's worth mentioning just because of that brief moment of joy for fans of all three men – Punk, Bryan, and Ryder – as they got a much-deserved moment in the spotlight. Also, before the main event match, a mysterious promo package played of a creepy young girl in a school entitled 'Prophetless', which may gain prominence over the next few months.
Unfortunately, the fun ended the next week, when Interim General Manager Laurinaitis surprised Punk with an announcement: he would face a gauntlet of Jack Swagger, Dolph Ziggler, and Mark Henry, and if any of them beat Punk, they'd earn a title shot next week. Punk agreed only after getting Laurinaitis to add that if Punk beats all three, he gets a match with the Interim General Manager. The champion starts off strongly by defeating Swagger, who responds with an attack to Punk's left knee. His second opponent Ziggler eventually takes advantage with assistance from Vickie Guerrero, Swagger, and Laurinaitis, pinning Punk to earn a title shot the following week.
Monday Night Raw (2nd January 2012)
WWE Championship Match
Dolph Ziggler w/ Vickie Guerrero vs. CM Punk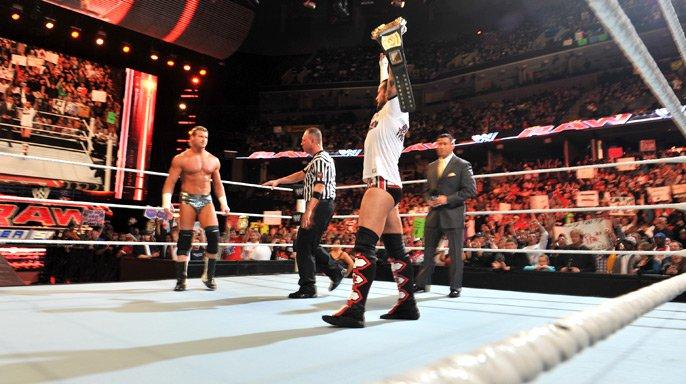 It's a big match feel as both competitors get introduced by Justin Roberts inside the ring. Surprisingly this isn't main eventing this episode of Raw, but the crowd is completely behind Punk as the bell rings. Several early covers by Punk are unsuccessful. A sequence of five running Leg Drops by Punk gets a two count as the champion attempts to keep Ziggler grounded. A Hangman on the middle rope allows Ziggler to take control of the match, until a vicious roundhouse kick to the stomach sends Ziggler to the outside.
Another Hangman from Ziggler puts him back in control, cutting off Punk's offense with an attempted Sleeperhold that Punk reverses into a hard Back Suplex for a two count. An exchange of Victory Rolls leaves Punk open for a Ziggler Fameasser. Getting a close two count and another after a Reverse T-Bone Suplex, the crowd tries to will Punk on. Another Ziggler Sleeperhold attempt has Punk accidentally pull off a turnbuckle pad, and as Punk prepares for a GTS, Laurinaitis ventures down to the ring.
As Laurinaitis forces Referee Mike Chioda to focus on reattaching the turnbuckle pad, Punk gets a tap-out victory for the Anaconda Vice, but no referee to see it. A visibly angry Punk glares at the Interim GM, but Ziggler accidentally bumps into Laurinaitis, sending him down the apron and pulling on the rope, with Punk tumbling over by accident. A heavy landing leaves Punk unable to get back in the ring in time, and he's counted out.
Winner Via Count-Out – Dolph Ziggler
Currently 44 Day Title Reign and Three Title Defences.
Another victory for Ziggler over the current WWE Champion, in a match that was gaining momentum and shaping up well, until the ending left it slightly deflated. The storytelling between Punk, Laurinaitis, and Ziggler has been good so far, especially as there's another three weeks until the Royal Rumble. Afterwards, Laurinaitis announces that Ziggler will get another title shot, this time at the Rumble, but the Executive Vice President of Talent Relations will be the Special Enforcer. I've always felt that the Rumble is the perfect time to allow an upper midcarder the opportunity to challenge for the main championships – such as Edge, Jeff Hardy, Chris Benoit, and Ken Kennedy – so Ziggler is a good choice of feud.
Seemingly in an attempt to make up for his actions, Laurinaitis the following week booked a match between Jack Swagger and CM Punk, where if the WWE Champion wins, both Swagger and Vickie Guerrero would be banned from ringside at the Royal Rumble. The match itself was a solid TV bout, with Punk's speed and strikes meshing well with Swagger's strength and mat-based offence. Interestingly, Laurinaitis stepped in at one point preventing Ziggler from attacking Punk, suggesting just enough sincerity to leave fans uncertain of his intentions. The finish is unclean as Referee Jack Doan counts to three after a Flying Elbow Drop, but it looked like Swagger kicked out just before. Either way, Swagger and Vickie were both banned from ringside.
In January, CM Punk (at least on screen) started to grow into more than a lone wolf, he was becoming a locker room leader. His support of Superstars such as Daniel Bryan and Zack Ryder extended into lobbying on behalf of a returning Mick Foley an unexpected opportunity. Less than two weeks before the Rumble, Foley admitted wanting to feature in the Rumble so his two young sons, Mickey and Hughie, could get an opportunity to see their father perform in a WWE ring. Seeing a bit of himself in Foley, Punk supported the legend, despite Laurinaitis' refusal to allow Foley in the Rumble, leading to a vicious bust-up where Punk ripped into Laurinaitis' failure as a wrestler and pathetic attempt at being an authority figure. In response, a furious Interim GM finally admitted that he hated Punk, wanting to screw him over at the Rumble.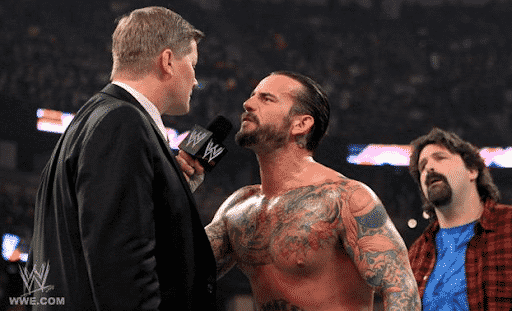 With six days prior to the Rumble, it seemed the WWE Champion was facing insurmountable odds in a challenger who had defeated him three times in a month (assisted by Laurinaitis, of course), and a special enforcer determined to screw him over. In a subtle moment, Punk tried calling out Laurinaitis to answer for himself, but it wasn't until John Cena requested the same thing that Laurinaitis actually came out.

To Punk's delight, Laurinaitis finally accepted a match with the WWE Champion that night, only for an innocuous fax to change the stakes. The Board of Directors revealed that Laurinaitis' recent actions meant his role as Interim General Manager was officially under review, with a formal job evaluation the night after the Royal Rumble by Chief Operating Officer Triple H. Despite Laurinaitis backing out of his match with Punk, an angered champion finally got his hands on the Interim General Manager and wiped him out with a wonderfully cathartic Go To Sleep.
With that sudden twist in the tale, it seems an appropriate time to take a break from Punk's journey. Get ready to return next time at the Royal Rumble, where CM Punk will defend the WWE Championship against Dolph Ziggler on the Road to WrestleMania!