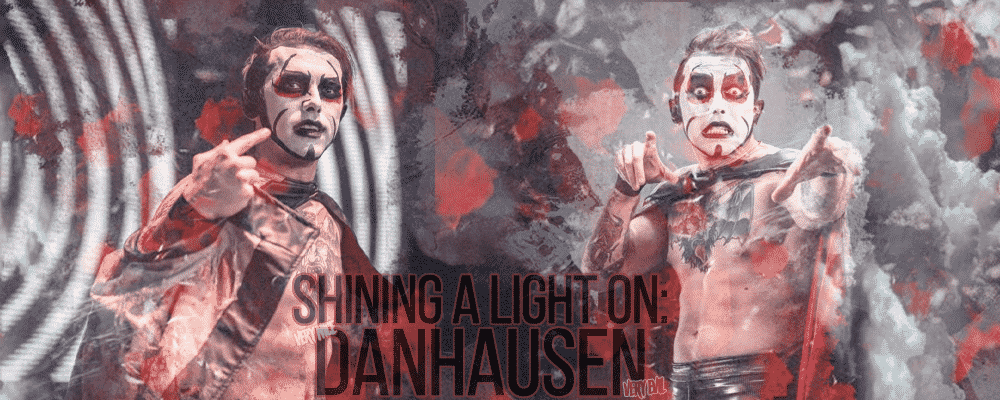 The shining a light series takes a look at different wrestling superstars to showcase their career up to this point. We've looked at numerous talents such as Daniel Garcia, Lee Moriarty, Leyla Hirsch, and many other fantastic AEW superstars. This week we turn away from AEW and focus on a talent whose goal is to take over the world. To accomplish this goal one must be very evil, but they must be very nice as well.
If you haven't caught on yet I will be focusing on the career of none other than Danhausen. Over the last two years, Danhausen has found himself and come into his own as one of independent wrestling's best. Despite being sidelined with a broken leg, he is still one of the most prominent wrestling figures on social media. Danhausen's presence online has led to interactions with The Rock, CM Punk, Renee Paquette, and even an appearance on Conan O'Brien's Podcast. He is truly one of independent wrestling's most popular characters. Following the shutdown of Ring of Honor he will be among a number interesting free agents available.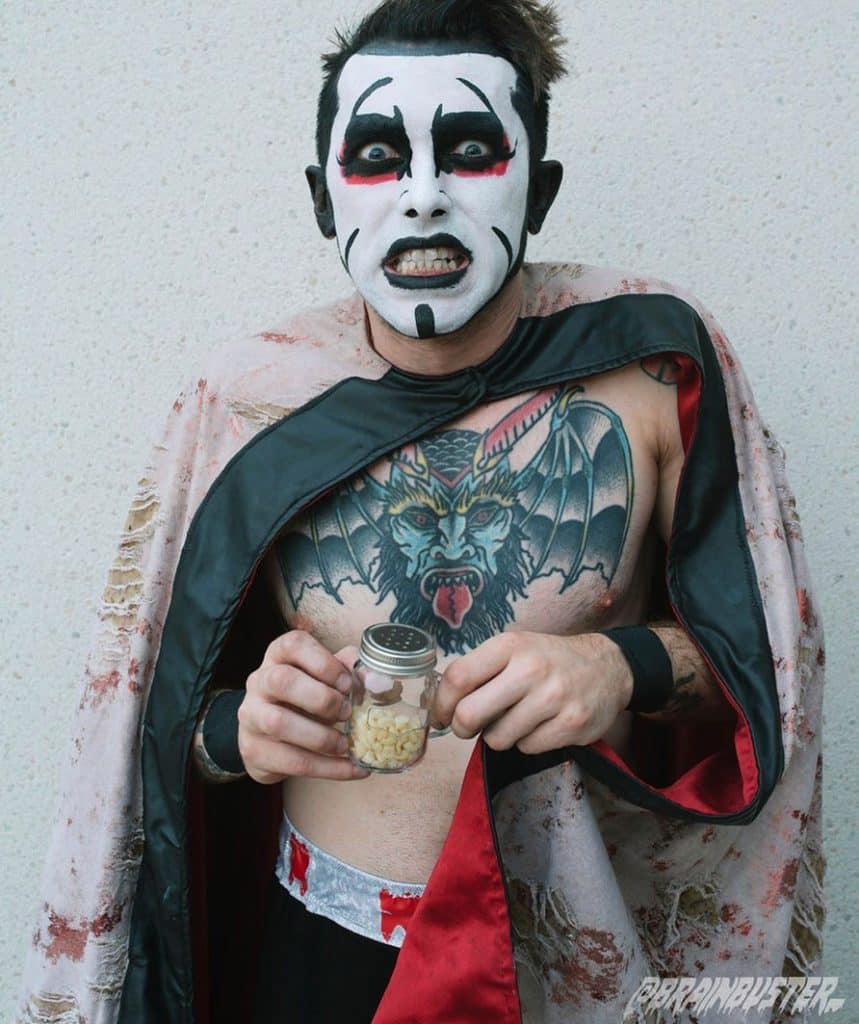 Danhausen is currently one of independent wrestling's top names but his path to getting there is quite unique. Danhausen grew up more of a casual fan of professional wrestling, watching with his father as a child. It was moments like Kane making his debut at Bad Blood '97 that captured his attention. Along with wrestling, Danhausen's father also introduced him to the world of evil by showing him horror films. These movies really interested Danhausen because of the crazy characters. This made superstars like Kane and Chainsaw Charlie some of his favorites to watch early on. His fandom grew over the years with his father buying him figures for Christmas and even letting him dress up as wrestlers for Halloween.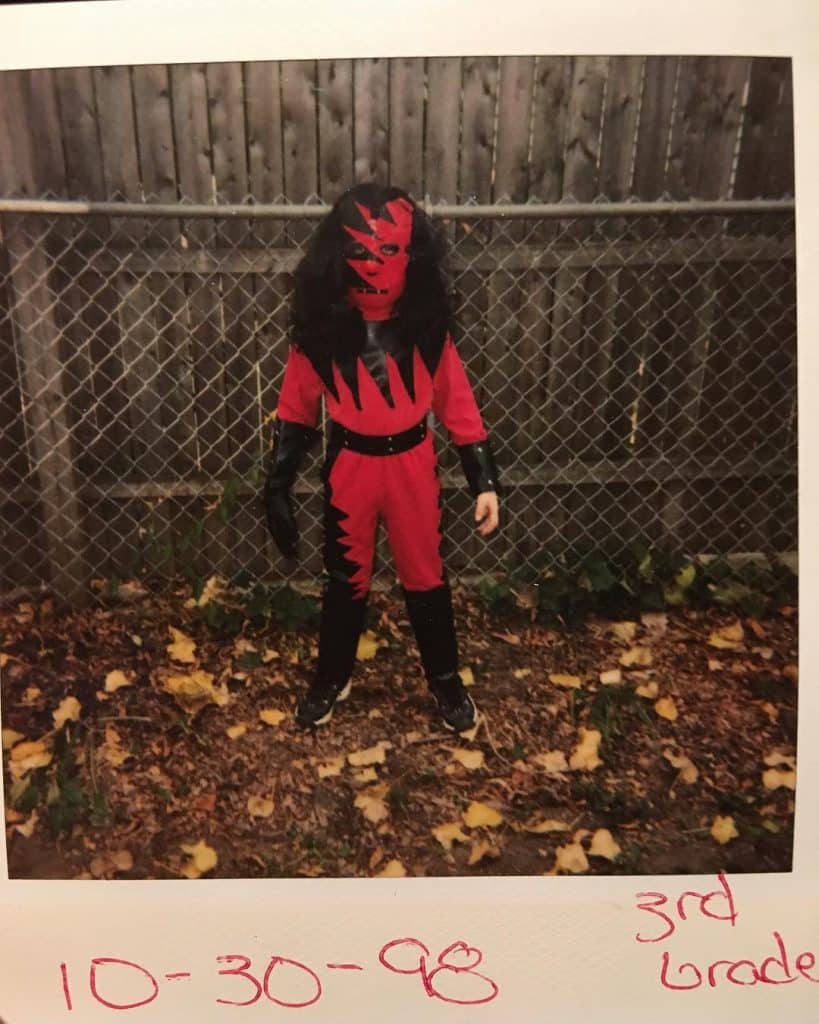 As he got older, Danhausen would see his interests move him away from the world of professional wrestling. As he got into high school his interests shifted, he wasn't a jock but he still participated in some extracurricular activities. He was a drummer for the school band as well as a local band he had formed with some friends. The band he was in didn't go too far but did have it's moments. They had the opportunity to open for A Day to Remember and The Banner when they were just making a name for themselves.
His involvement in music was likely what opened the doors for him to return as a fan, then eventually become a wrestler. He caught some WWE in passing and had become familiar with CM Punk and his straight edge society group. They were intriguing to Danhausen because the group embraced a lot of the things the hardcore music scene championed. These glimpses, as well as a more prominent role for Punk on commentary, led to Danhausen watching WWE more consistently. He watched just to hear CM Punk talk about what was happening in the ring.
It was around this same time that Danhausen started listening to Colt Cabana's 'Art of Wrestling' podcast. The podcast led the way for independent wrestling podcasts and paved the way for similar media we see today. The podcast was Danhausen's one way into understanding how professional wrestling works. Ever since watching with his father as a child, Danhausen thought he would love to become a wrestler, but didn't know how. Not only did Cabana's podcast introduce Danhausen to a number of talents he hadn't heard of before, it also put that seed of thought into his mind that he could do this too.
After high school, Danhausen wasn't completely certain what he wanted to do with his life. He made an attempt at college but after going for a few semesters Danhausen decided it wasn't for him. This understanding was good for Danhausen to recognize early as college is an expensive commitment and isn't for everyone. He spent five years working at a local AMC theater and was unsure what to do next. It was at this job that Danhausen met his now best friends and frequent collaborators Davis and camera boy Nick.
Danhausen made great friendships but decided to transition his career to something more consistent. He began working in nursing, as this job would allow him to train on the job and advance in his career while working. It was a great job but it wasn't entirely what Danhausen had envisioned for himself as a long term career.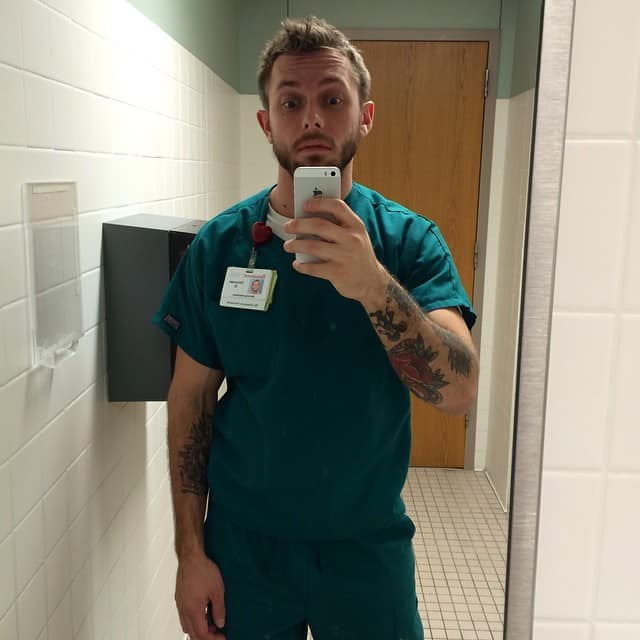 Danhausen was unfamiliar with independent wrestling, outside of going to a few Ring of Honor shows his knowledge was limited. He mentioned to a friend that he had aspirations to become a wrestler but had no idea how to go about it. His friend told him that ROH superstars Truth Martini and Jimmy Jacobs had a wrestling school very close to where they lived. Danhausen saw Colt Cabana at a local Clash Wrestling event and asked for his opinion on Danhausen training at the House of Truth. Colt encouraged him to give it a shot and see what he could make of it. This was the last push he needed and Danhausen began training with his friend at the House of Truth.
Danhausen's friend had to quit training due to injuries he had sustained but Danhausen completed training. He wrestled in the Midwest on a very limited basis at the end of 2013 and beginning of 2014. Near the end of 2014 Danhausen decided he wanted to take this more seriously and retrained himself to solidify his in ring work.
He was fortunate to participate in House of Truth training seminars with wrestlers like Colt Cabana, Chris Sabin and Jay Lethal. Danhausen also chose to drive himself hours away to participate in a camp for Ring of Honor hosted by Adam Cole and Delirious. This experience helped hone his craft as he embraced the "in ring" side of the wrestling business. As he entered the business he had the support of his family and friends. Many including his mom would go to independent events to support him as he chased his dream.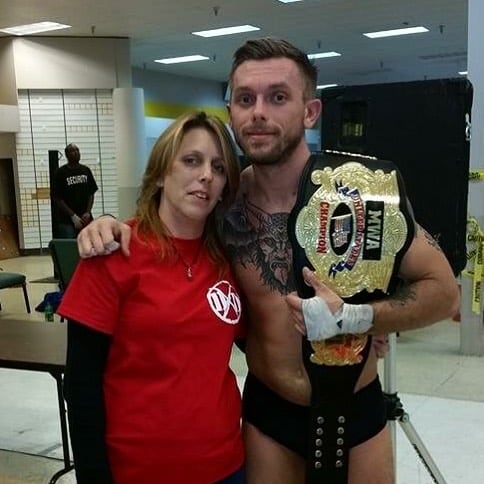 Danhausen had matches with incredibly talented superstars like Johnny Gargano and Ricochet early in his career. This, accompanied with his consistent training, helped Danhausen acquire a steady set of fundamentals as a new professional wrestler. At this time Danhausen was more like the general independent professional wrestler you see today, more wrestling based and less character based. He wrestled under the moniker 'Kid Gorgeous' Donovan Danhausen. This helped solidify his in ring skill but limited his ability as a character to connect with the crowd.
While there were fans interested in him early on, he couldn't get things to really click. He decided to make the move to Florida in hopes of expanding his horizons in wrestling promotions. Florida didn't have much of an independent scene at this time but Danhausen made the best of the situation. He wrestled for promotions like PPW, RPW, and Ronin among others. While he made the best of his time in Florida he decided it was best to return to Michigan. Upon returning he was making the most of his opportunities and wrestled nearly every weekend. Although he was wrestling more consistently, Danhausen was having doubts on his future in the business.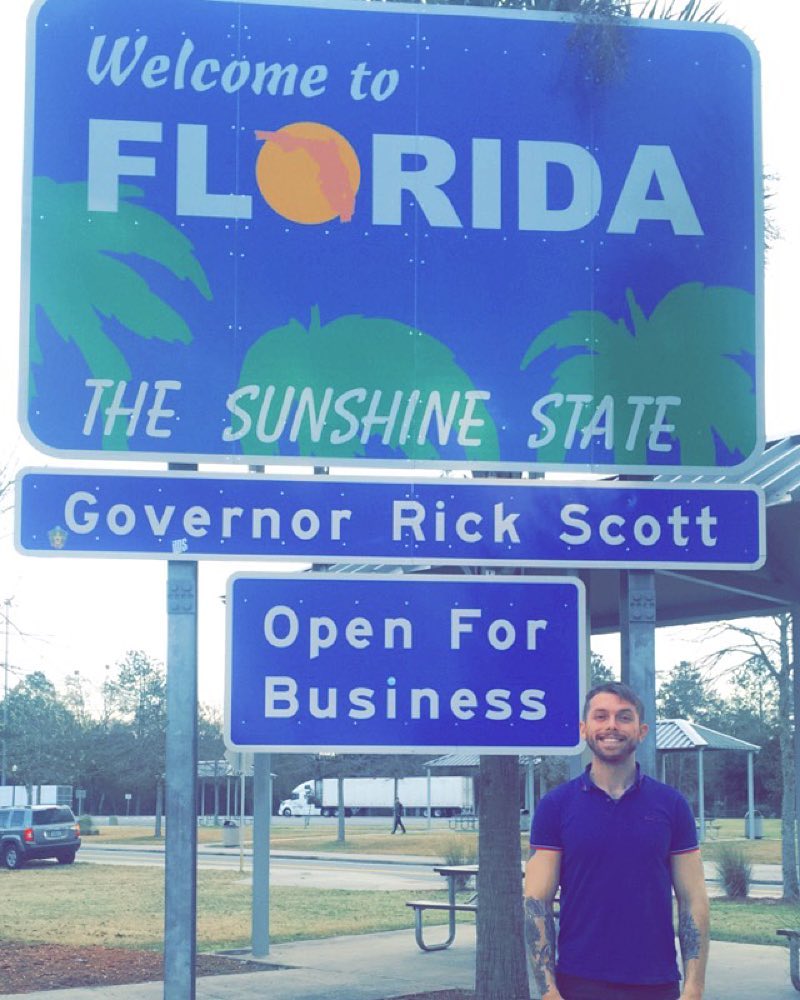 He was experiencing injuries, traveling, and working while making little to no income from his wrestling career. At a point in late 2017 Danhausen started to toy with the idea of retiring from independent wrestling. He still had a love for wrestling but his drive wasn't there. The thoughts crept in but they also inspired Danhausen. He decided to give it one last go this time performing in a way he found the most entertaining. This is when he removed the human makeup and embraced the true Danhausen.
Initially, Danhausen was strictly evil with little to no niceness to him. He released a video on YouTube in January of 2018 titled 'The beginning of Danhausen'. The video was an old school horror video that centered on Danhausen typing 'I will not be ignored' on a typewriter. Behind the desk on his wall were cutouts of superstars and promotions he planned to work with in the future. This was Danhausen's creative personal spin on the 'Cody Rhodes List' that many wrestlers were copying around this time.
This is when Danhausen began utilizing makeup with his character. He was consistently switching it up doing makeup in reference to local bands and horror films he was fond of. This led to him settling on a close variation to the makeup he uses now, utilizing a Pazuzu style makeup more consistently as time went on. He worked the horror character as much as he could for about a year. While these changes were new to his character, his infatuation with the horror genre was there since childhood.
During this time, Danhausen worked a variety of promotions in the Midwest with AIW based in Ohio being a primary promotion he worked. He also started to release more promotional videos that were created with a horror theme in mind. This was a much more serious and intimidating character than the previous Donovan Danhausen. While wrestling, Danhausen would utilize a spike on opponents in reference to his trainer Jimmy Jacobs. The new character was working and he was starting to connect with the audience. He began to see more traction and noticed fans becoming interested in the character. He also realized there was a ceiling for the character as the horror audience is a relatively niche audience as well.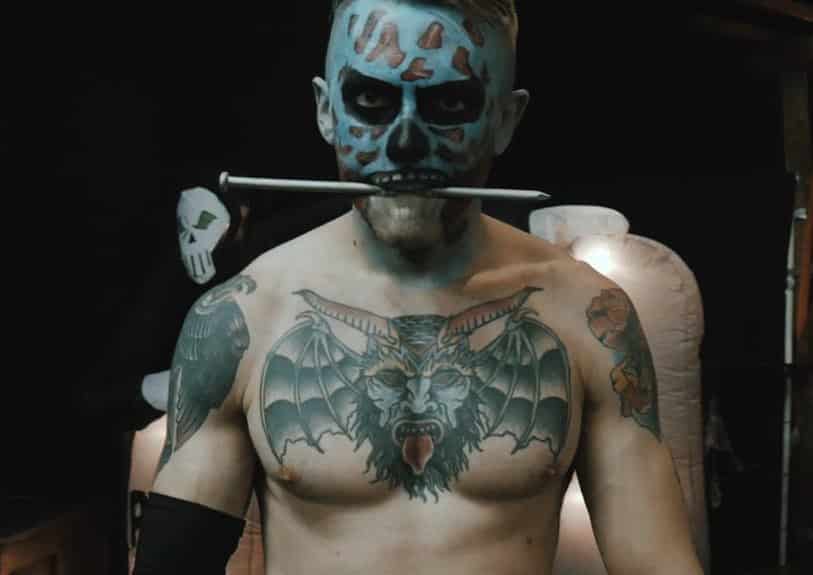 In 2019, Danhausen worked for Olde Wrestling which is a promotion that works as if it's still the 1920s. This gave Danhausen an opportunity to open the door creatively and act in a more comedic fashion. He took inspiration from the movie Shadow of the Vampire where Willem Dafoe plays a guy who thinks he's a vampire. He took elements of this character and implemented it more with the evil/horror side of his character. This allowed him to be very nice, but also very evil with comedic elements sprinkled throughout. Danhausen compares his two different versions of Danhausen to the Texas Chainsaw Massacre series. The first iteration was more scary and serious while the second iteration was just as entertaining but in a comedic less serious fashion.
Upon embracing this new side of his character, Danhausen saw more engagement in his promo videos as his momentum grew. He was fortunate to work alongside promotions like Black Label Pro and AIW who let Danhausen experiment with this character and let it grow it into what it is today. He started seeing more bookings. Things really picked up around the Halloween season in 2019, but he was determined to keep it up beyond that. Danhausen was able to continue this momentum he had built and began to see new opportunities arise.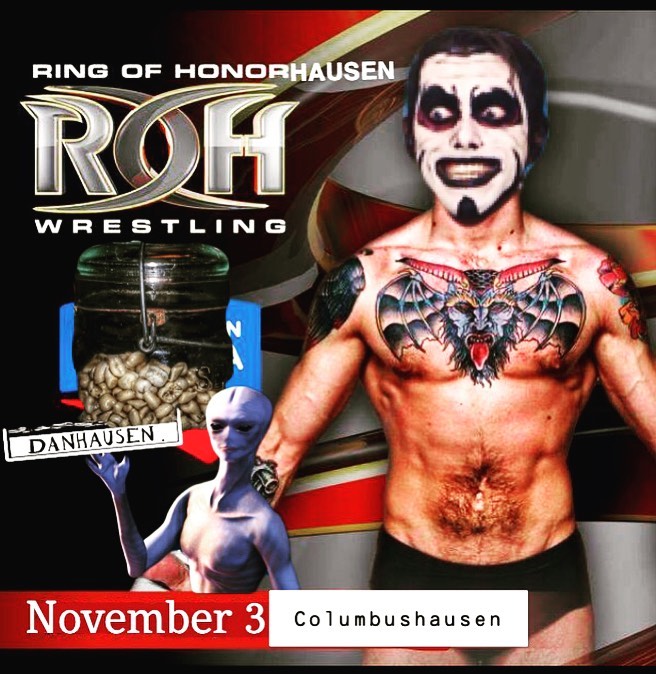 In November of 2019 Danhausen would make his Ring of Honor debut. He was initially slated for a dark match but he posted about the match on social media and saw a good response. This response is likely the reason ROH opted to put Danhausen on TV instead. Danhausen's debut was in a match for the TV title vs. Shane Taylor. Although he didn't win and didn't sign a contract with ROH after this match, it was still a good showing and a great opportunity for Danhausen.
Danhausen appeared for Ring of Honor a few more times before officially signing with the promotion in March of 2020. Throughout this entire time, Danhausen maintained his traditional career as a nursing assistant. He wrestled at shows and traveled back home for hours to work 12 hour shifts on little to no sleep. As his momentum grew and his opportunities started to become more consistent, Danhausen was able to walk away from his job at the tail end of 2019.
Signing with ROH was a great opportunity for Danhausen but he would have to wait to get the ball rolling. The Covid-19 pandemic slowed things down for Danhausen and a majority of wrestling immensely. Just a few months after quitting his job to work as a professional wrestler full time, Danhausen saw his opportunities to wrestle all go away for an unknown period of time. Like nearly everyone in the world he was greatly affected by the pandemic.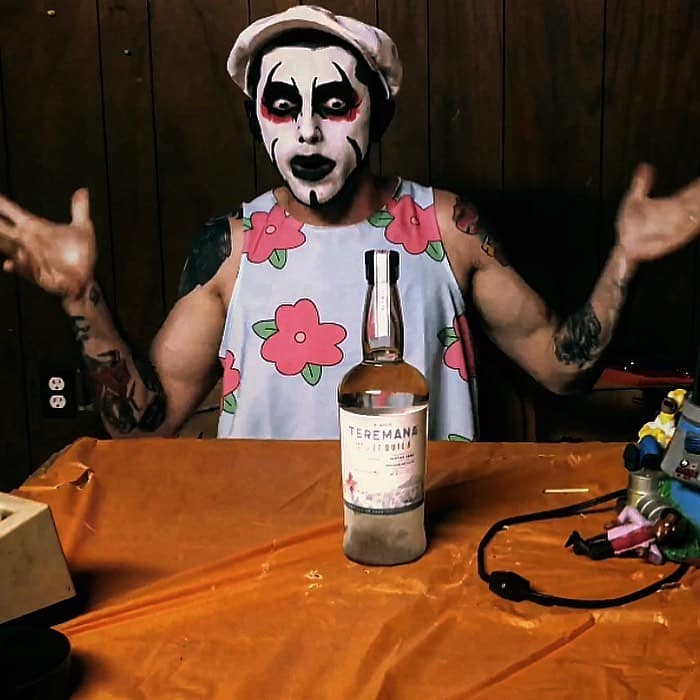 Fortunately, Danhausen had grown quite the fanbase by way of his social media presence and in ring work. He had started a patreon and was able to generate a decent enough income to live off of by producing merchandise and creating exclusive content for his fans. During this time, many fans were looking for ways to support independent talent. As a prominent figure on social media, Danhausen was able to make the best of a very negative situation.
While he was able to maintain his popularity and financial security during the pandemic he was not able to wrestle more than a handful of times. He wrestled a limited number of times in the fall and won his ROH contract in storyline in December at the Final Battle PPV. Danhausen would work a more consistent schedule in 2021, working a number of times throughout the year for independents like Black Label Po, New South Action, Glory Pro and others. He also was consistently featured on Ring of Honor, teaming somewhat frequently with PCO.
Nearly as important as his in ring work, was his social media presence throughout 2021. In March of 2021, Danhausen received the blessing from CM Punk to utilize the GTS as his finishing move after tweeting him to tell him he stole it. This created a bit of buzz in the wrestling world as KENTA, the originator of the GTS, chimed in to say he was pleased with anyone but Punk using it. Danhausen continued to gain steam on social media when he created a video in April of 2021 that featured him testing out the rock's Zoa energy drink. Upon drinking it Danhausen felt the transformation and turned into the original Rock. The Rock saw this on twitter and retweeted it quoting Danhausen and laughing at the video. This was great for Danhausen as it introduced him to a ton of people who may be unfamiliar with him.
Danhausen capped off his spontaneous interactions by joining Conan O'Brien for a short segment on his 'Conan O'Brien needs a fan' podcast. He was encouraged by his followers to enter a contest sponsored by Conan's show due to the many comparisons to Danhausen and Conan. Danhausen entered as he cites Conan as an inspiration for his character and is truly a fan. He forgot about the contest but eventually was contacted by the producers and a meeting with Conan was set. Danhausen would meet Conan via skype and was able to discuss his career and how Conan influences him. This was a great crossover opportunity for Danhausen to not only meet someone he was a big fan of but also to expand his audience in a great way.
Danhausen's momentum has continued to grow throughout 2021. Unfortunately, in October of 2021, things would slow down just a bit for the very nice, very evil one. Danhausen suffered a broken leg during a match for the Tennessee based NGW. He was teaming with Warhorse against Facade and Jason Kincaid in a match on Halloween night and broke his leg in two places. Danhausen was rushed to the hospital and would later have to undergo surgery for his broken leg.
This injury came just days after it was announced that Ring of Honor planned to close their doors following their Final Battle event in December. ROH informed talent that the contracts that expired at the end of the year would not be renewed. Danhausen was yet again in a very difficult place but was fortunate to have developed such a special important relationship with his fanbase that they were quick to support him.
A gofundme was set up to cover the expenses of his surgery. On the date of his surgery Danhausen went from $2000 raised to well surpassing the goal of $25,000. This allowed Danhausen to receive medical treatment and not have the cloud of massive financial bills hanging over his head. The founder of Pro Wrestling Tees Ryan Barkan, Matt Cardona and Cody Rhodes were among those that contributed to the gofundme. The wrestling community was quick to rally around Danhausen. Not just because he is entertaining, but despite the fact he is very evil, he is also quite nice.
There is no telling what the future holds for Danhausen. As of now he is training hard in preparation for his return to in ring action. He hopes to continue his crossover into the mainstream and achieve his goal of appearing on all the TVs in the world and taking home big sacks of money. He recently applied and had an interview with Tony Elite at A&W so perhaps an elite future is in the works for Danhausen. If nothing else I'm sure his friendships with Rock 'The Dwayne' Johnson & Conan O'Brien could lead to a Danhausen reality show. For now, he will continue to rest up and be a prominent source of entertainment on social media until he's able to return to the ring and pour teeth in people's mouth while doing the tequila dance.