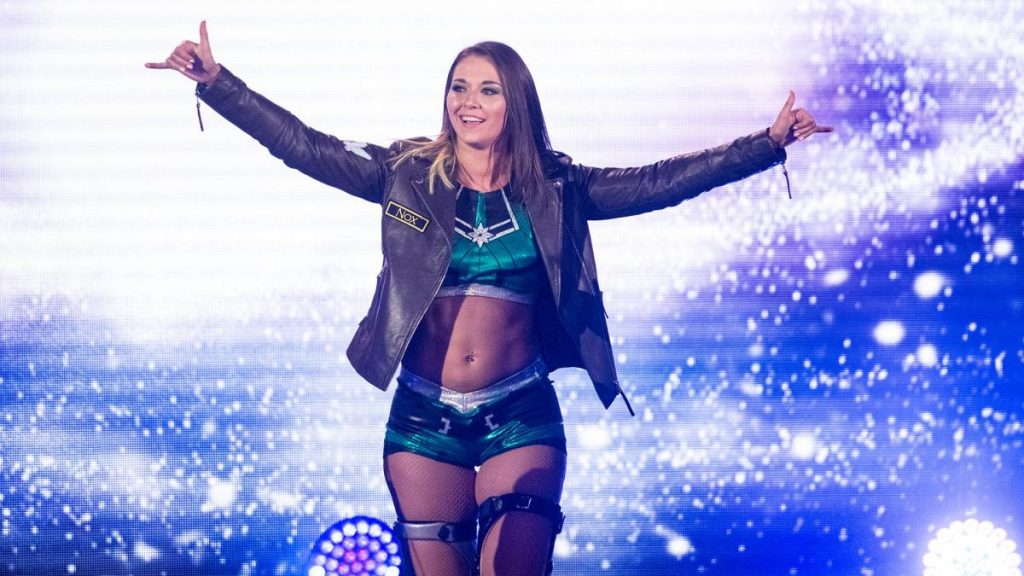 Professional wrestling is full of stories. Decades of captivating tales of victory and defeat, of determination and grit, of strength and perseverance, and more. The gripping rise of the underdog or the shocking fall of the long-reigning champion, draws us in as fans, and lands an impact far greater than the suspended disbelief we see on-screen. With the building blocks of hard work, dedication, heartache, and vindication, these tales inspire not only wrestling, but life itself. Over the past seven years, we've been lucky enough to bear witness to one of those amazing stories. Full of tenacity and undeniable passion, the story of which I speak belongs to current WWE: NXT superstar, Tegan Nox.
Nixon Newell
Before there was Tegan Nox as we know her now, there was Nixon Newell. She was a driven and persistent young wrestler from Wales, in the United Kingdom. Making her name in various independent wrestling promotions in the UK, her meteoric rise in the business cannot be understated. Revered by her peers, her legacy at such a young age is something to behold.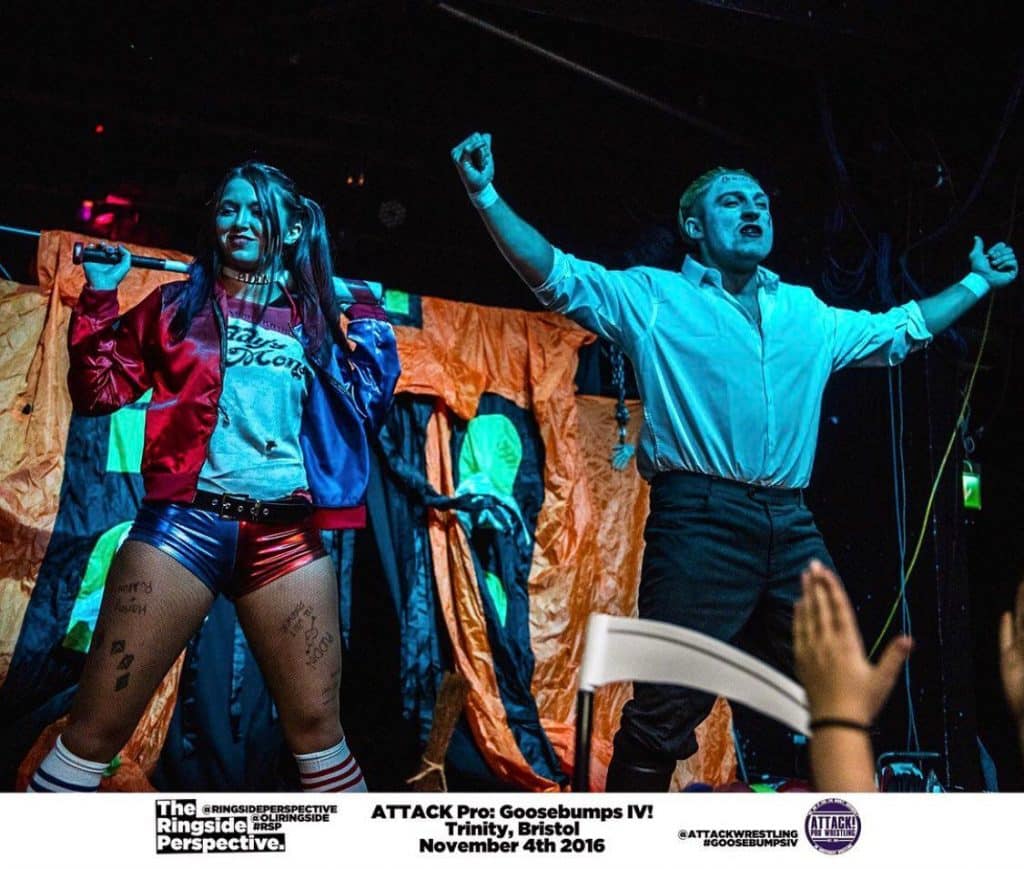 Very few wrestlers have the power to reach through the screen and grab attention with their raw presence. Tegan Nox grabbed mine immediately. Her talent, contagious personality and grit are impossible to ignore. And her work prior to WWE, should you search for it online (and you should) never fails to impress.
She is a product of British Strong Style, which is a lethal mixture of Japanese, US independent, and British style wrestling. In Fight Club: Pro, she was the first female competitor, "The First Female of Fight Club." As she prepared to leave the UK to begin her WWE career in NXT, her peers spoke about her as though she was already a legend of wrestling.
Current NXT UK Women's Champion Kay Lee Ray spoke of Nox deserving her chance as much as anyone ever had. Session Moth Martina predicted that Nox would change the game stateside, that she would BE women's wrestling. Hefty words indeed, but they were spoken full of feeling and unwavering intent from those who knew Tegan Nox when she wasn't yet Tegan Nox at all.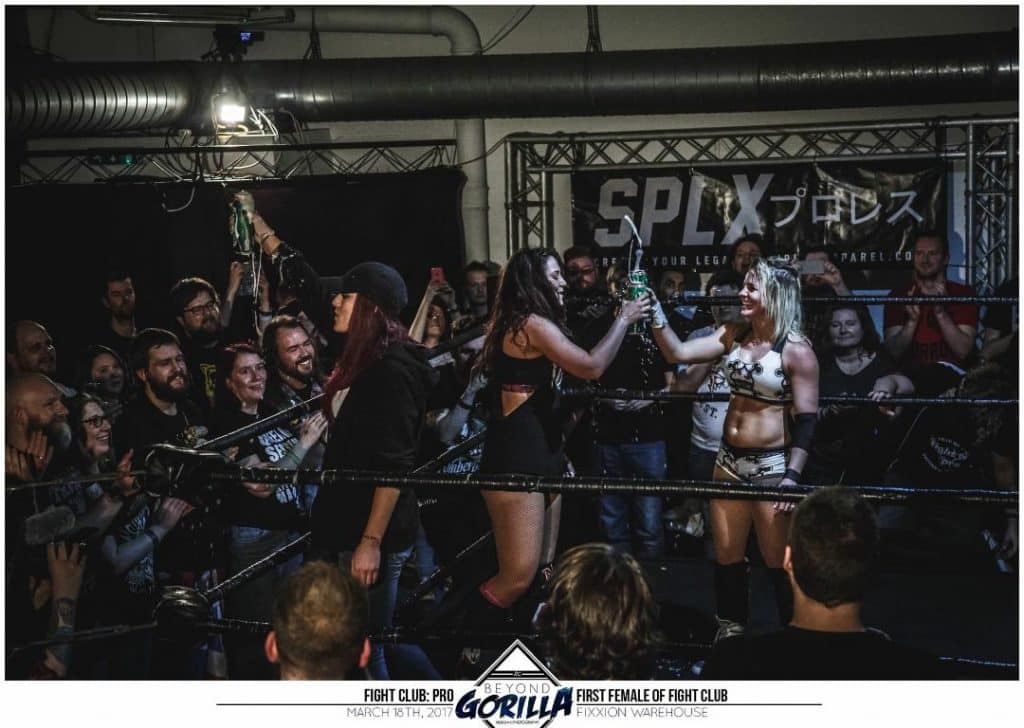 The 'It' Factor
Fans are fickle sometimes. We root for some superstars for the silliest and most mundane reasons, while rooting against others for even sillier ones. Tegan is instantly likeable. She is intensely motivated in ring, is always eager to lay in her shots, and can risk it all at any time with a daredevil move that can swing the match in her favor. She's present. I don't mean that in the simplest of ways. I mean that no matter who she shares the ring with, no matter the placement on the card, and no matter how many people are in the stands, Tegan Nox gives us the best she has, inside and out. That's the type of wrestler I can get behind. That's the type of wrestler I will follow anywhere.
Beyond her undeniable skill, the obvious joy she feels in the ring, and the otherworldly work-ethic to overcome what she has, some performers we gravitate to for reasons we don't even quite understand. I recently learned that Tegan Nox first became a wrestler to honor her late grandfather, who introduced her to the sport many years ago.
Ironically enough, I have a very similar story. My grandad first introduced me to wrestling when I was a girl, and I have loved it ever since. That sense of pride a person gets, by carrying on the legacy of someone they love, is indescribable. To dedicate one's career to the memory of a loved one is both honorable and commendable.
In addition, this year on her Instagram account, Nox came out proudly as a member of the LGBTQ community. On WWE's The Bump, she explained:

"For me, it's always been, like, not about gender. If someone makes me laugh and they make me feel good and they're nice people, I'm all for that. It doesn't matter if they're a man, woman, it doesn't matter to me."
As a proud openly gay woman myself, I cannot explain the pride and hope her post brought me. I can assure you that kids, some who are struggling, will see her confidence and gain some of their own. While her personal life is just that, her decision to make this portion of it public will make a positive difference in the lives of young people and older ones alike.
Overcoming Adversity
What Tegan Nox might be known most for to fans who haven't staunchly followed her career, are the devastating injuries to her knees since 2017. The first, a torn ACL, left her out of action for nearly a year. Determined to make it back to resume her dream, her return was announced for the second Mae Young Classic in 2018. Looking nearly unstoppable in her first two matches, both resulting in decisive victories, Tegan Nox moved into the quarterfinals to take on the imposing Rhea Ripley. As that match began, one that was all but guaranteed to be one of the most memorable of the tournament, no one knew the devastation that was about to occur for Nox once again.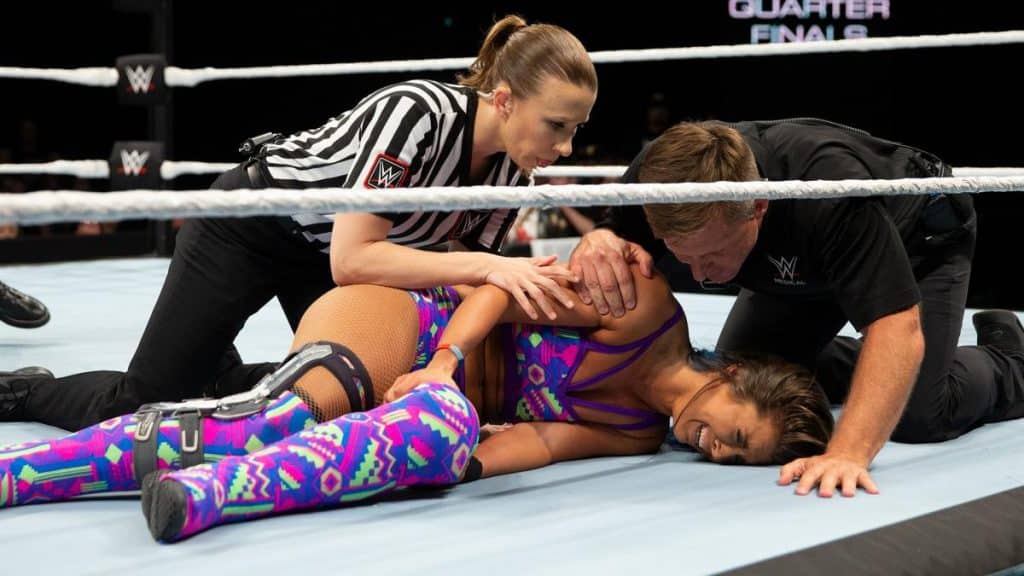 Before anyone had a chance to settle in for what was sure to be a banger of a match, Nox dove outside, into Ripley. Landing awkwardly, it soon became obvious that something awful had happened. While we wouldn't know the severity of her injury until afterwards, our hearts broke for her all the same.
The news broke soon after that Nox had very literally blown apart her left knee, severing every major ligament and dislocating her patella. It was devastating to say the least. Nox has admitted that she questioned the future of her career after suffering two major knee injuries before her 24th birthday. But, in true Tegan Nox fashion, with the support of her friends, her coworkers, and her family, she was not to be deterred.
The Shiniest Wizard
In the fifteen months since she's been back in the ring, she has delivered marquee match after marquee match. She went toe to toe with her longtime friend Kay Lee Ray for the NXT UK Women's Championship. Partnering with Dakota Kai, she took the Kabuki Warriors to their limit in a WWE Women's Tag Team Championship match. She made her WWE Smackdown debut alongside Rhea Ripley. In one of the most memorable feuds in recent memory, opposite Kai, multiple amazing matches developed. And, in July, she put together an incredible match opposite Io Shirai for the NXT Women's Championship.
As the landscape of WWE shifts, one must wonder where Tegan Nox will fit going forward. One thing is certain, one brand will land the girl with the shiniest wizard, and whoever does will have one of the most determined and talented wrestlers in the world at its disposal. Session Moth Martina was right. Tegan Nox is changing the game, and that game is just beginning. At only 25 years old, for her, the sky is the limit.
After Tegan's farewell match in 2017 for Fight Club: Pro, she stood in the ring and took in the monumental moment. Fans began fervently chanting, "Please come back!" The emotion is staggering, even years later. She left such an impact and was so overwhelmingly respected, that the fans were begging her to return before she had even left. She made a heartfelt statement as she finally caught her breath.
"I wanted to thank every single one of you. From the first time I stepped in a Fight Club: Pro ring, you have made me feel so much at home, and like we're all part of a gigantic family. So, thank you for that."
She's absolutely right. Wrestling is a family. It's genuinely good people, who prioritize hard work, lead by example, and perform with an undeniable joy for the business who make it as amazing as it is. She has helped to pave the way for the next wave of women wrestlers and is an inspiration for young LGBTQ kids everywhere. Taking vicious bumps on piles of soft gummy bears and fangirling to her favorite wrestler Kane, she constantly highlights her unique personality, showing individuality is still all important. And perhaps most glaring of all, she continues to set the standard of performance and dedication in a company that has a history of doing just that, and she does it all with a smile on her face.
From Nixon Newell to Tegan Nox. She's the girl with the shiniest wizard, and the future is as bright as ever.