Beth Phoenix, the WWE Hall of Famer and legendary wrestler, has paid homage to one of the biggest trailblazers in women's wrestling – Bull Nakano. During her recent appearance at the Elimination Chamber 2023, Phoenix, also known as the "Glamazon," honored the Japanese wrestler by wearing face paint similar to Nakano's iconic look in her mixed-tag match with Edge against the Judgment Day.
Phoenix, who has been a dominant force in women's wrestling for over two decades, took to Instagram to express her admiration for the influence Nakano has had on the industry. She wrote, "Bull Nakano broke international barriers to bring the beauty and brutality of Japanese women's wrestling to America. We will always remember you because you'll always be a part of us."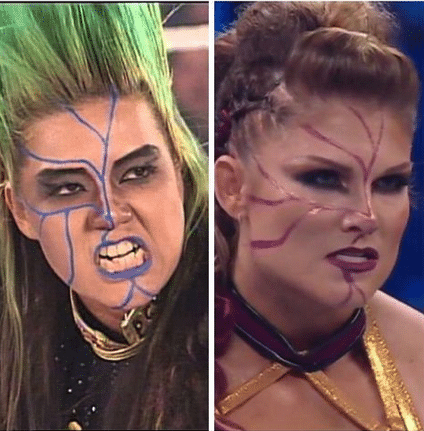 Bull Nakano, the trailblazing Japanese wrestler, made her mark on the world of professional wrestling with her unique style and undeniable charisma. With a combination of beauty and power, Nakano quickly became one of the most recognizable and beloved female wrestlers of her time.
"She did it perfectly. She looks better than me. It was in 1994 that I came America with this paint. 29 years ago from now. Everyone remembers & I'm happy about it. I am 55 now. I hope people will always remember Bull Nakano"

Bull Nakano on Beth Phoenix's tribute
Bull Nakano's signature moves, such as the diving headbutt, the missile dropkick, and the cartwheel moonsault, wowed audiences and proved that women were just as capable of high-flying and high-risk maneuvers as their male counterparts. Her powerful strikes, such as the spinning backfist, left opponents reeling and solidified her place as a dominant force in the ring.
In addition to her in-ring abilities, Nakano was also known for her distinctive look, with her signature face paint, long black hair, and custom-made ring attire becoming instantly recognizable to fans. This unique image, combined with her dominant in-ring presence, made Bull Nakano a true icon in the world of women's wrestling.
Bull Nakano's impact on the industry can still be felt today, as she continues to inspire future generations of female wrestlers. Her legacy will forever be remembered as a trailblazer who broke international barriers and paved the way for the growth and success of women's wrestling.
Beth Phoenix's tribute to Bull Nakano is a testament to the impact that women like Nakano have had on the industry. The Glamazon's passion and enthusiasm for the sport, combined with her exceptional skills in the ring, have made her a fan favorite and a role model for aspiring female wrestlers everywhere.