AEW's weekly YouTube show 'AEW Dark' has presented a platform for independent wrestlers to showcase themselves to an audience of over 200,000 each week. For fans of AEW Dark, they have been given the experience of seeing a number of talented superstars like Will Hobbs, Top Flight, and Red Velvet get their start within an AEW ring. Each week we focus on one talent from AEW Dark who has stood out and shine a light on them to give an idea about who they are and where they come from.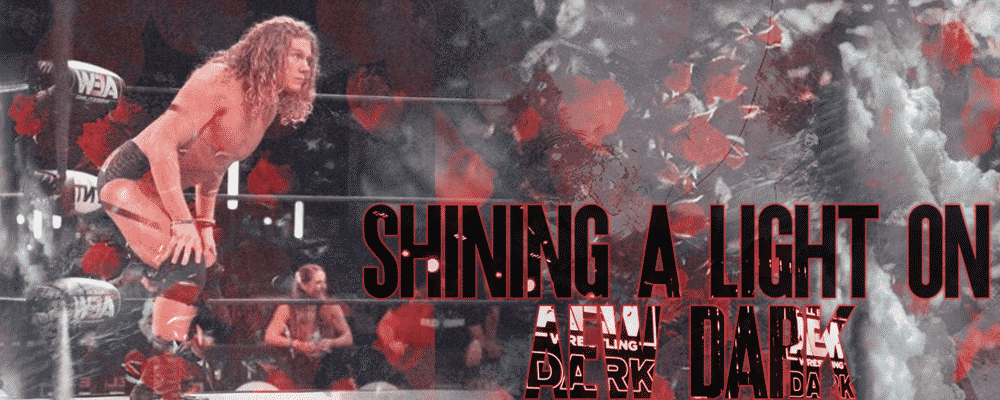 This week we are shining a light on a superstar that's had a number of appearances on AEW Dynamite and AEW Dark, teaming up with Brian Pillman Jr. in the Varsity Blondes. Griff Garrison is a stellar athlete with an incredible background outside of professional wrestling, and his size and athleticism seem to make him a sure thing for a future superstar in the world of professional wrestling. Over the course of his time with AEW, Griff has grown from being known as a Jungle Boy look-alike on Being The Elite, to making a name for himself and setting himself apart completely. Now, Griff Garrison is a superstar on the rise with a very bright future, whether that be as a tag team with Brian Pillman Jr., or an eventual singles run. For this young athlete, the sky is the limit.
Griff has always been fond of professional wrestling, and like many his age, he was drawn to the sport by none other than WWE megastar John Cena. The first wrestling match Garrison watched was Cena's WWE debut against Kurt Angle and from there, he would become a huge fan of Cena going forward. He had an appreciation for Cena's stardom and ability to garner a reaction from the crowd, regardless of what they were cheering. Garrison also credits Edge as a superstar that inspired him to make the jump into professional wrestling. Despite disliking him as a young fan, he would later start to understand and appreciate Edge's work and find inspiration in that as a wrestler going forward.
While Griff was a young fan, he had no knowledge on anything outside of WWE and thus, he didn't really know how to pursue a dream of becoming a wrestler initially. Growing up, he would compete in other athletics such as football, basketball, and baseball. Focusing on football as he got into high school, he hoped to follow that up into a college career with the sport. In high school, he would play as a wide receiver, helping his team to a playoff run in his senior year with 47 receptions for 714 yards and 6 touchdowns. Garrison would letter twice, gaining All Conference and All County honors in his final two years of high school play. Despite his traditional athletics, Garrison and close friend Marcus Kross would get their share of backyard wrestling in during their middle and high school years. The two would eventually become tag team partners, attending a traditional wrestling school after graduating high school.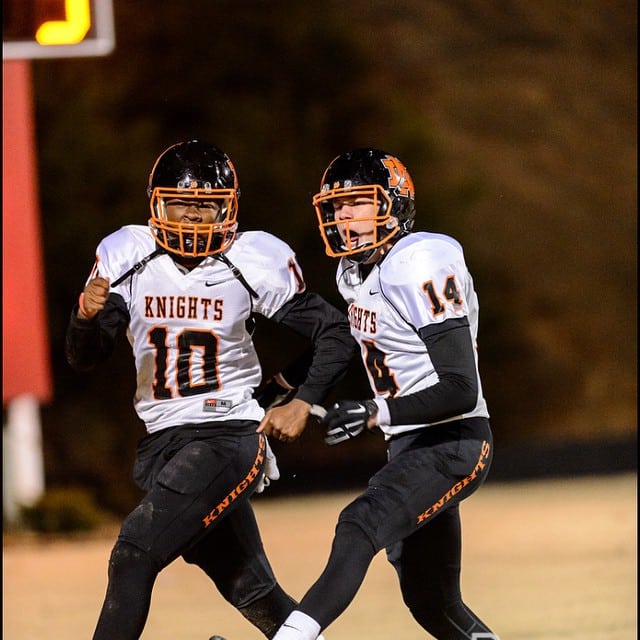 Griff Garrison is not only a superb athlete, but is also something of a genius. He takes his studies seriously; in an interview with Alicia Atout, he mentioned the fact that he came in 2nd place in a 2nd grade sign language spelling bee, haunt him to this day. Initially after graduating High School in 2016, he was unsure of what route he wanted to take in terms of traditional schooling. Eventually, Griff's fondness for education and sports inspired him to attend college for teaching to one day, not only become a teacher, but also a high school coach. He would go to Guilford College and graduate with a Bachelors in Education and History in 2020, a degree he nearly used to start applying for teaching jobs at the beginning of the pandemic, uncertain of his wrestling future, until AEW gave him a call.
While attending Guilford, Garrison would continue his sports career, focusing on playing college football for the Guilford Quakers. Before his first year with the Quakers, Garrison and close friend/frequent backyard wrestling opponent Marcus Kross would start looking into potential legitimate wrestling schools for traditional training in the summer of 2016. The two would stumble upon Fire Star Pro Wrestling in Greensboro NC, and realized that they could actually pursue the dreams they were mimicking in the backyard for years. They would train alongside FSPW trainer, LaBron Kozone.
Both would continue attending college while also pursuing their professional wrestling career, recognizing the difficulty to make it to the next level and a potential need for an alternative plan if things don't work out. This was something that gave Garrison some security at the beginning of the pandemic, despite not needing to pursue that path after all.
After training for several months at Fire Star Pro Wrestling, Garrison and Kross would make their debuts at the end of 2016 in a match against each other. They would then continue with FSPW for some time, with Garrison winning the vacant Zone 1 Platinum championship in a singles match with Kross in March of 2017. Garrison would have notable matches with the likes of AR Fox and Austin Theory, winning the FSPW Heavyweight championship from Theory in their first match up in March of 2018. A championship he would later be forced to vacate, due to an ankle injury he received several weeks later. Garrison had suffered a broken foot and, upon being checked by doctors, a tumor was found and removed from his foot, placing him on the shelf for three months before making his return to wrestling that September.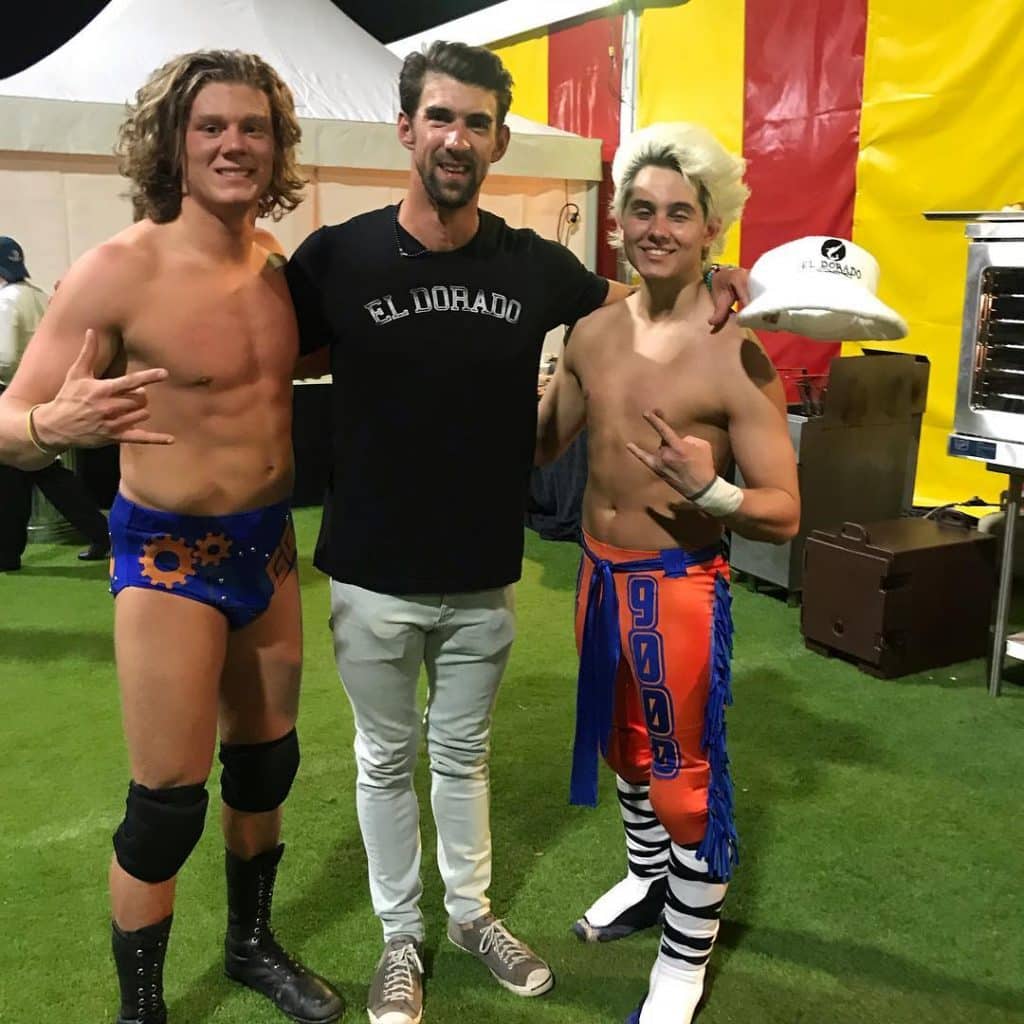 Garrison would later recapture the FSPW Heavyweight championship back from former partner Marcus Kross and hold the championship for over 200 days. It was while wrestling for FSPW that Garrison would have the opportunity to meet wrestling fan and Olympic gold medalist Michael Phelps, who even led a chant for Garrison during his match. Following the event, he would be able to meet up with Phelps and even share a drink with the Olympic superstar.
While wrestling in the southern independent scene, Garrison and Marcus Kross would capture a number of championships for promotions such as Southern Fried Championship Wrestling and Anarchy Wrestling. Eventually, the duo would make their debut for Ring of Honor in early 2019, wrestling the Shinobi Shadow Squad in a dark match. They made their ROH TV debut losing to Brian Milonas and the Beer City Bruiser (The Bouncers). They would eventually return for a number of appearances with the company, including a tag team title match with The Briscoe Brothers in Pittsburgh for ROH TV. The duo would get their first ROH victory in a dark match against Bishop Khan & Malcolm Moses (The Soldiers of Savagery) in early 2020, their final appearance for the promotion.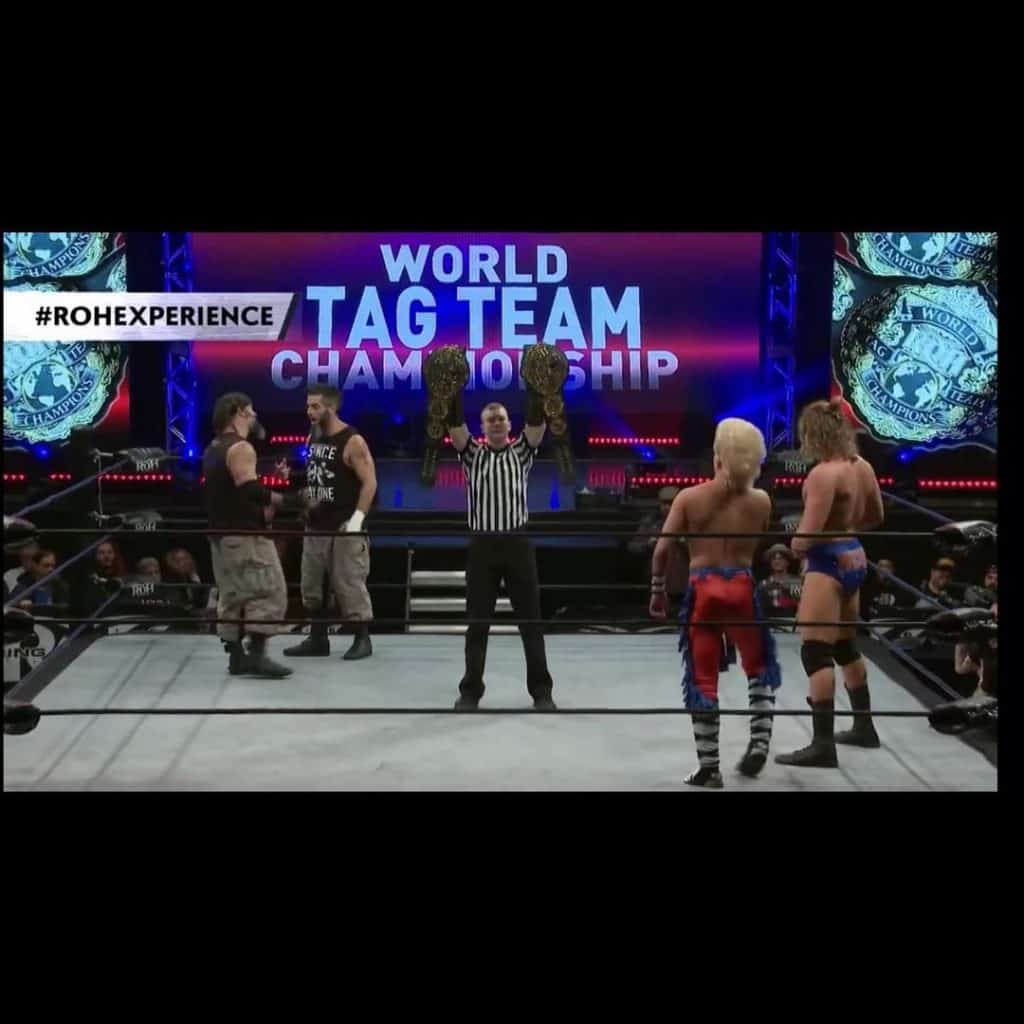 At the tail end of March of 2020, Garrison would have what he thought may be his final independent wrestling appearance of the year, wrestling for Anarchy Wrestling. His partner Marcus Kross had recently suffered an injury and with the pandemic raising uncertainty for professional wrestlers, Garrison began searching for teaching jobs. It was at this time that he would receive notice of an opportunity by way of wrestling agent Bill Behrens, well known for his relationship with the likes of AJ Styles and Christopher Daniels. Garrison would actually develop a great relationship with AJ Styles by way of Behrens, even joining Styles for Christmas. Behrens would inform Garrison of the opportunity to wrestle for All Elite Wrestling, and Garrison hopped on the chance, making his debut against Jimmy Havoc on AEW Dark.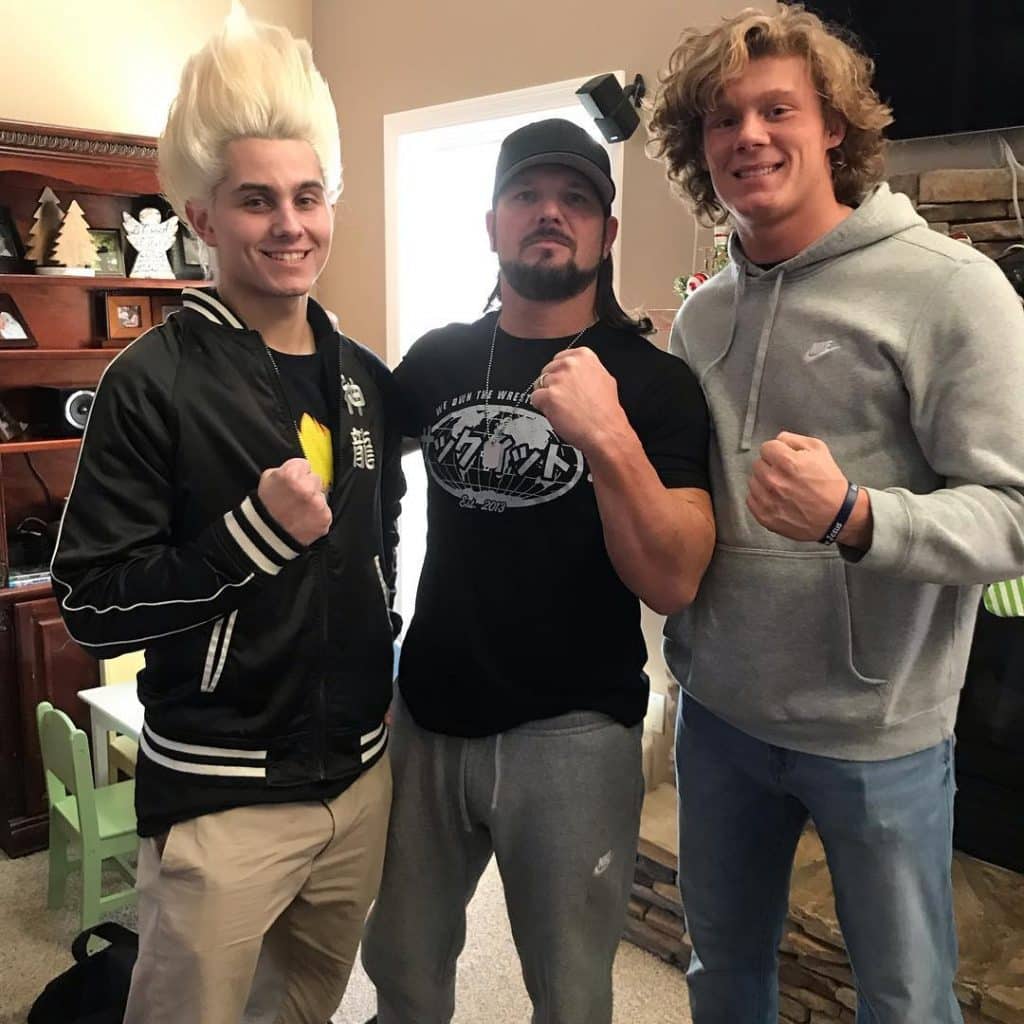 Garrison would continue to have impressive matches for AEW, wrestling Ricky Starks and Lance Archer on Dark before making his Dynamite debut. In this match, he lost to MJF, who made the first comparison to Jungle Boy on national tv. Garrison would eventually be paired with second generation superstar, Brian Pillman Jr., becoming the Varsity Blondes after doing the Hollywood Blondes taunt on tv and eventually being paired together after the taunt caught wind on social media. The two would take this unexpected pairing and make the best of it, wrestling teams like FTR, The Inner Circle, and the Young Bucks.
The team would go on a winning streak to kick off 2021, eventually getting a championship opportunity with the AEW Tag Team Champions, the Young Bucks. They performed in a great match and it looks like the future holds bright things for both competitors. Garrison has been a high quality performer on AEW TV, but has also quietly been an incredible part of both prominent AEW Vlog series (BTE & Sammy Guevara's Vlog). He has a more prominent role on Sammy's vlog being a consistent character with a fun story that shows an entertaining fun side of him as well. While somewhat limited, his time on BTE has led to some hilarious moments such as Mr. Brodie asking "Who the Fuck is Griff Garrison?!" when Jon Silver mistakes the superstar for Jungle Boy. Garrison is entertaining outside of the ring and is always a great athletic superstar in the ring. Though he is still young in the business and in life, it seems things are really starting to turn a corner for the young star.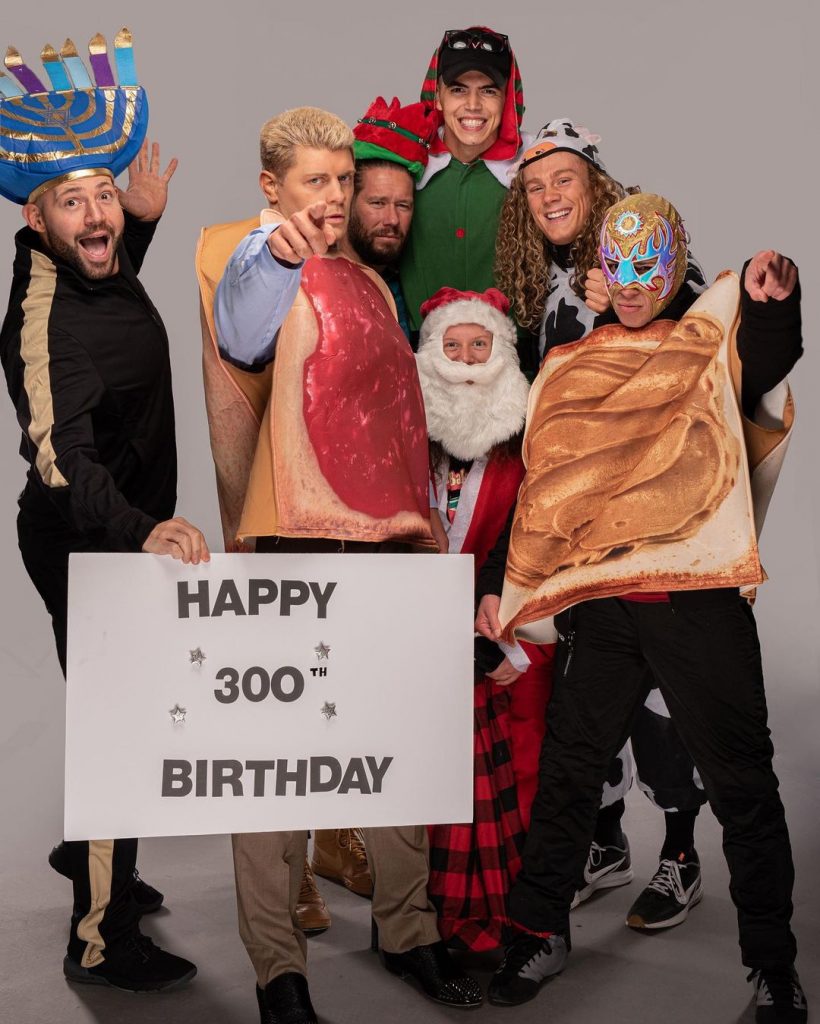 For Griff Garrison, the rise from trampoline wrestling with his best friend Marcus, to performing in high quality matches on national television, is an amazing success and one he looks to build on. From wrestling in a small southern indy to meeting the likes of Michael Phelps, Jorge Masvidal, and Mike Tyson, things have certainly changed for Garrison. After recently getting engaged to his longtime girlfriend and making a number of incredible moves in the wrestling world, Garrison's life continues to radiate success. The more he grows and comes into his own as a larger than life professional athlete, the more success he will certainly see.

Editor's note: On July 12th, 2021, it was announced that Griff Garrison had been officially signed full time with All Elite Wrestling. Congratulations to Griff Garrison!