On June 26th, Jungle Boy is in for the fight of his life as AEW's Tarzan Boy will square off with Kenny Omega in the hopes to secure the highly coveted AEW World Championship. So, as AEW's ultimate underdog reaches for glory and gold, we take a look at the path he's taken to get here, from a Boy and his Dinosaur to the number one contender for the biggest prize in All Elite Wrestling. Swinging through the ropes, facing monsters and giants along the way, this is the Legend of Jungle Boy.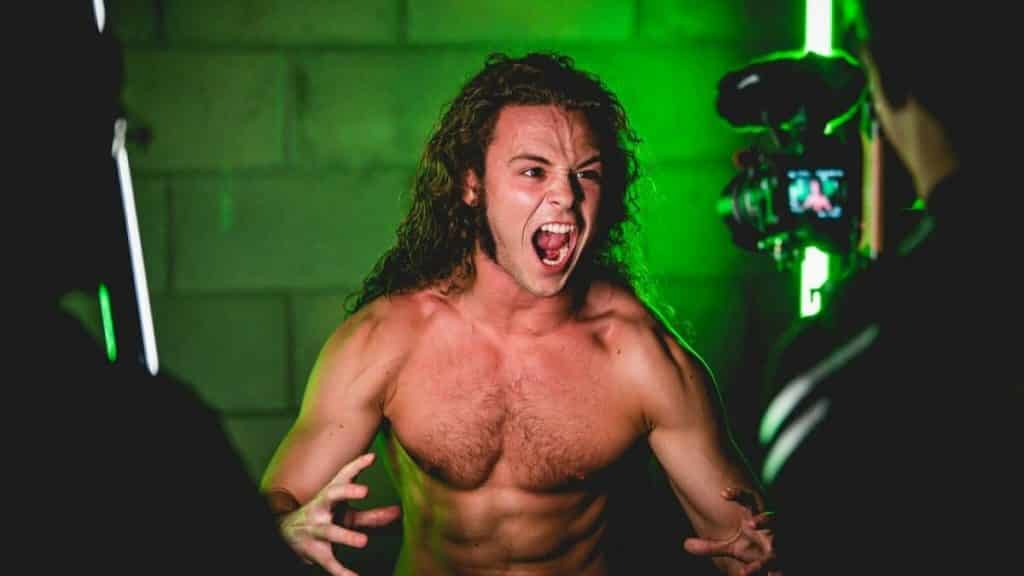 "Jungle Boy" Jack Perry has become an undeniable success story, and a shining example of AEW's ability to develop and elevate their own "homegrown" stars. Over the last two years, Jungle Boy has consistently proved his mettle within the AEW echelon, reaching great heights as an underdog taking on much bigger competition both in name and sometimes in stature. Big time matches against the likes of Chris Jericho, Cody Rhodes, and fellow rising stars in Darby Allin and MJF, provided a window of opportunity for Jungle Boy to raise his stock as a wrestler and as someone the crowd could fully rally behind with a raucous endorsement, Along the way each of those matches provided a pivotal moment for Jungle Boy to show the world what he was made of, and the star he could be.
Building A Star
Debuting at Double Or Nothing in 2019 along with his tag partner Luchasaurus, Jungle Boy immediately captivated the AEW audience. It was hard to look away from the charming yet fierce team of A Boy and His Dinosaur, and when Marko Stunt joined the group to form Jurassic Express, the trio quickly became a favorite among fans. The story of his father, the late Luke Perry, who had encouraged Jungle Boy's passions in professional wrestling along with his own love for the sport, but passed away just before his AEW debut, brought fans even further into their connection with him. Many considered Jungle Boy one to keep an eye on for rising stardom with his developing tenure with the company.
As his time progressed in AEW, Jungle Boy became the man everyone wanted to root for, and this became evident when he took on AEW World Champion Chris Jericho in December 2019. While Jericho held the championship at the time, the title would not be on the line. Instead, the stipulation was simple, "Can Jungle Boy hang with Chris Jericho for at least 10 minutes in a match on Dynamite?".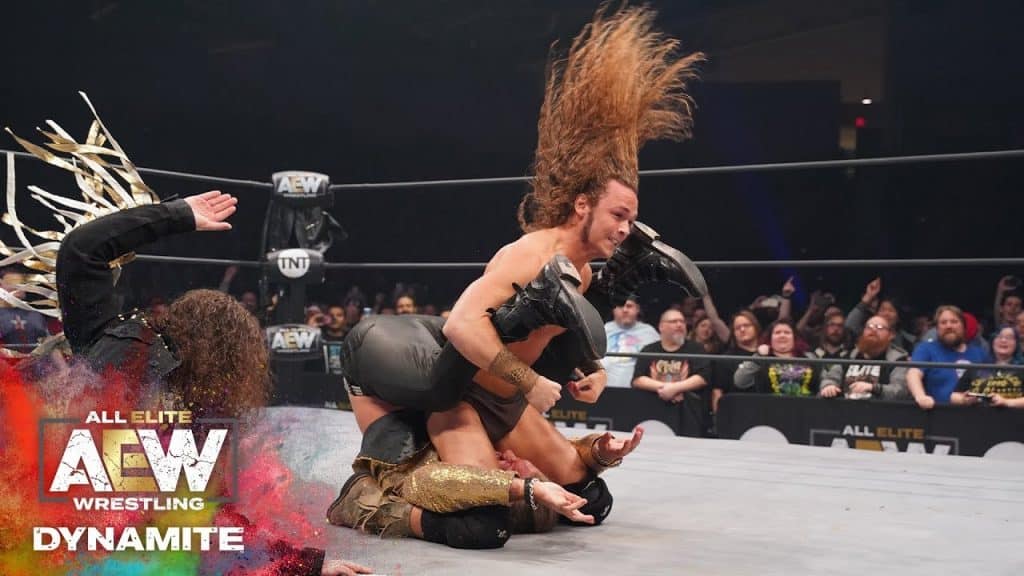 It was a formidable battle, and Jungle Boy's perseverance was evident as the AEW faithful were on the edge of their seats, cheering and chanting for Jungle Boy to endure. With his pride and the support of a WILD Corpus Christi crowd at stake, Jungle Boy threw everything in his arsenal at Le Champion, and even dipped into Jericho's bag of tricks with a picture perfect Lionsault at one point. Not only did Jungle Boy endure the grueling ten minutes against Jericho, he almost pulled off the upset and won the damn thing! Jungle Boy didn't just survive, he made Texas and the rest of the fans around the world believe, and by the end of the match his superstar potential was undeniable.
A Pandemic Interlude
The COVID-19 Pandemic saw a drastic and immediate evolution of professional wrestling. What began as "empty arena" shows saw wrestlers begin to converge at ringside in "heel" and "face" cheering sections. During this challenging time, it became more important than ever for wrestlers to connect with their audience through the emotions in their ringwork. For Jungle Boy, this meant continuing to build on his strengths, as his natural charisma between the ropes made him a natural fit for the spotlight while maintaining a wholesome connection to a crowd that watched in isolation.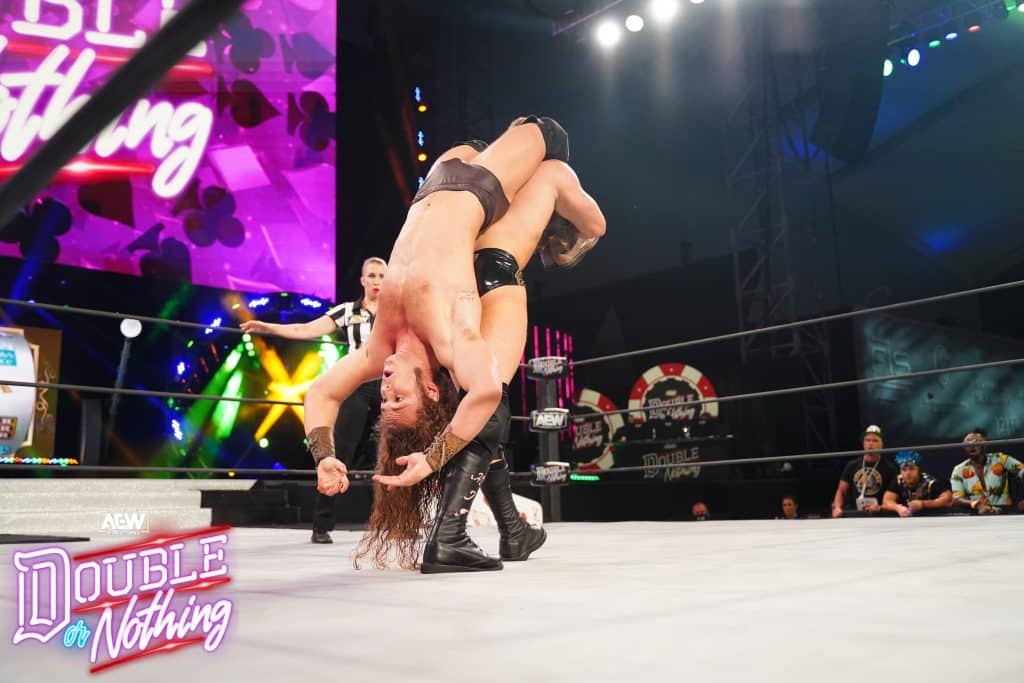 At Double or Nothing 2020, the first major AEW event without fans, MJF and Jungle Boy were embroiled in a feud that marked the rise of the next generation of stars. The 24 year old Maxwell Jacob Friedman had solidified himself as a prickish, dastardly heel with his betrayal of Cody Rhodes earlier in the year. Now, he was pitted against the 23 year old babyface Jungle Boy, and to put it mildly, they torn the house down with arguably the best in ring performance of either man's career. While Jungle Boy was ultimately beaten in this match, his performance in the loss only showed the strength of his future and the future of AEW as well.
Later that same year, Jungle Boy won a battle royale to determine who would face Cody Rhodes for his first TNT Championship defense on AEW Dynamite. This match would set out the prove the resilience and strengths of both men. Cody as the inaugural TNT Champion, who wasn't about to give away his new prize without a fight, and Jungle Boy, the young upstart babyface set to challenge him and prove he belonged among the elite in All Elite Wrestling. The match that transpired brought hard hitting action that sent both men crashing through tables from the top rope, slamming into guardrails and walls, left one man bleeding, both men absolutely exhausted, and the wrestlers making up the crowd at ringside losing their minds.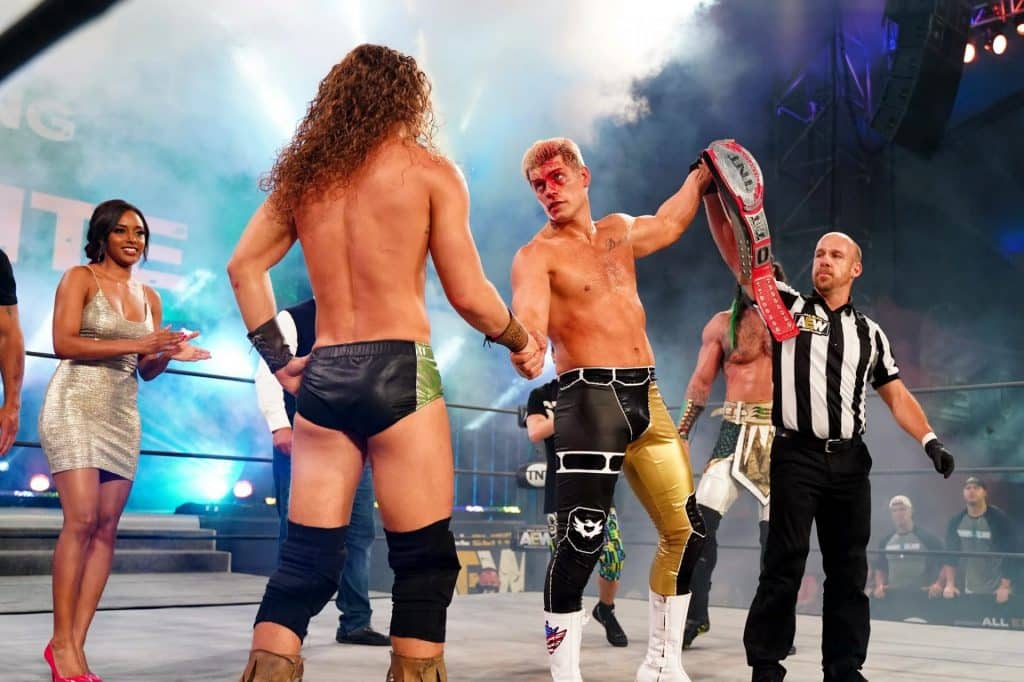 Jungle Boy was defeated in this match, and yet again, the strength he showed in his loss, only served to further cement the future star he could become. Indeed, even as Cody celebrated his victory, he gave some praise and spotlight to Jungle Boy, paying respect and giving acknowledgement to the fight he had put forth. This match not only proved that Cody was a fighting champion for the TNT Championship and solidified Jungle Boy as a rising star, it made it clear that AEW gold was very much in the cards for Daily's Place's reigning "Tarzan Boy".
A Triumphant Tarzan
There are few things more delightful in wrestling than an underdog babyface being fully embraced by an energetic crowd. At Double Or Nothing 2021, Jungle Boy received exactly that. As the Pandemic Era of wrestling is seemingly coming to it's close, fans once again converged in a fully packed crowd at Daily's Place in Jacksonville. Several things became immediately apparent: the fans were back, they were ready to cheer their hearts out in a near post-pandemic catharsis of release, and Tony Khan buying Jungle Boy the rights to Baltimora's "Tarzan Boy" was the underrated move of the pandemic for AEW. The sing along style chants would echo through Daily's Place in support of Jungle Boy, reverberating through hearts and minds long after the show was over and cementing young Jack Perry not as a "future star" but as one of the most popular and beloved wrestlers on the roster.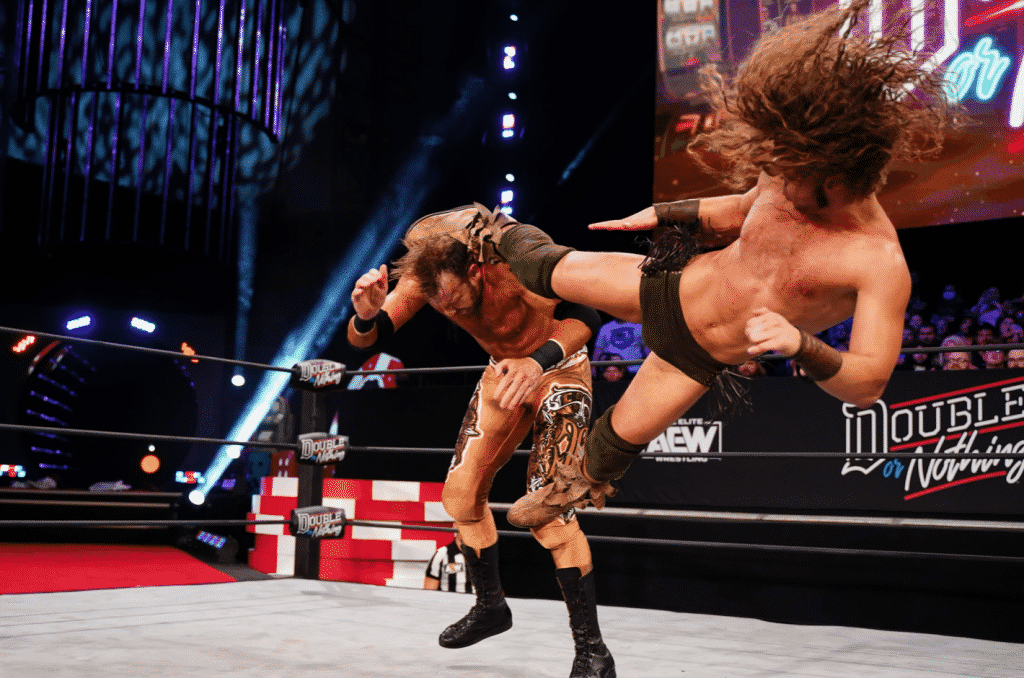 Jungle Boy entered the Casino Battle Royale to determine who would face Kenny Omega for the AEW World Championship, and despite a field that included popular acts like Christian Cage, John Silver and Lio Rush, the crowd really only had eyes for "Tarzan Boy" clamoring for his victory all the way. The match came down to Christian, Matt Hardy, and Jungle Boy, and after Cage rebuked Hardy's offer to work together and instead removed the head of the Hardy Family Office, Christian Cage and Jungle Boy stood face to face with a roaring crowd fully and completely behind the young star. To the resounding excitement of everyone in the arena, Jungle Boy pulled off the victory with a remarkable sequence of moves to keep himself alive, earning the respect of the veteran Cage as his Jurassic Express teammates ran out for an endearing and surprising impromptu celebration.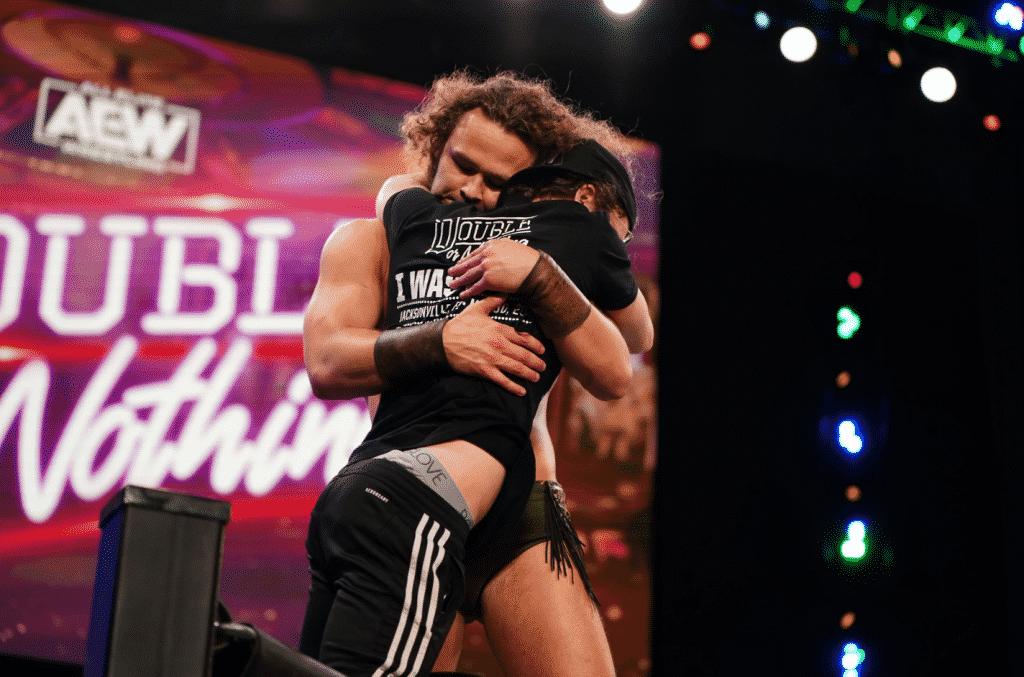 This week on AEW Dynamite, Jungle Boy faces perhaps his toughest challenge yet: Kenny Omega for the AEW World Championship. Omega, the best bout machine and holder of championships from three different promotions is about as unbeatable as it gets in professional wrestling at the moment, especially with his Elite stable in his corner. Meanwhile, Jungle Boy has gone against all odds during his AEW career, fighting men much bigger and stronger than him, and has consistently come out the other side stronger and more connected to the fans. However, despite his efforts, Jungle Boy has yet to win a major singles bout in AEW.
Indeed, in promos leading up to the match, Kenny Omega has dismissed Jungle Boy's strengths and talents at every turn, asking what does he have to offer in a competitive bout against the best in the world? If we're looking at things objectively, you could honestly say that on paper Omega has a point. Of course, the fact that Omega is even asking these questions proves he's missing the point entirely.


In Jungle Boy, we root for David vs Goliath. We root for his endearing charisma vs the dastardly, devious heels, his unwavering spirit against seemingly unsurmountable odds, and his ability to keep fighting even though there doesn't seem to be a reason to get back up. We root for Jungle Boy because we believe in Jungle Boy, despite everything telling us to do otherwise. We root for "What If?".
As Jungle Boy looks to face Kenny Omega and we watch as he reaches for championship glory, the fact that thousands will be tuning into TNT because they have just that small glimmer of hope and that question of "What if?" on the tip of their tongue proves just what a star he has become. What if Jack Perry can pull off the upset? What if Kenny Omega isn't unbeatable? What if we crowned a new King of the Jungle on Saturday night?