Chris Jericho joined NJPW in late 2017 and hoped to work with Kenny Omega (✔), Tetsuya Naito (✔), Kazuchika Okada (✔), and Hiroshi Tanahashi(✔). With his wish list now ticked off, is there anything left for The Painmaker in a New Japan ring?
The name Chris Jericho carries a unique and powerful weight among English speaking fans, far more weight than it does in Japan. Thanks to Jericho's efforts, he opened the world of New Japan to a whole new audience in 2018 when he faced Kenny Omega at Wrestle Kingdom 12. The Western fan base has continued to grow ever since and it's illogical to not credit that in large part to Chris Jericho. It was Jericho that brought fresh eyes to New Japan and the outstanding wrestlers and matches that still keep them coming back. NJPW has never been more successful among English speaking fans than they are today, holding regular shows across USA and Australia plus a high profile event in London.
Perhaps Jericho has achieved all he needs to in Japan. He challenged Kazuchika Okada for the IWGP Heavyweight Championship. He's performed three consecutive times at Wrestle Kingdom. He added another Intercontinental title reign to his accolades by defeating Tetsuya Naito for the IWGP Intercontinental Championship at Dominion in 2018. He submitted the Ace Hiroshi Tanahashi at Wrestle Kingdom 14. The limited number of matches Jericho has competed for NJPW have all led to huge success, both personally for Jericho and for the bettering of the company. There is seemingly little left for Jericho to conquer inside a New Japan ring, short of vying for the IWGP Heavyweight Championship again.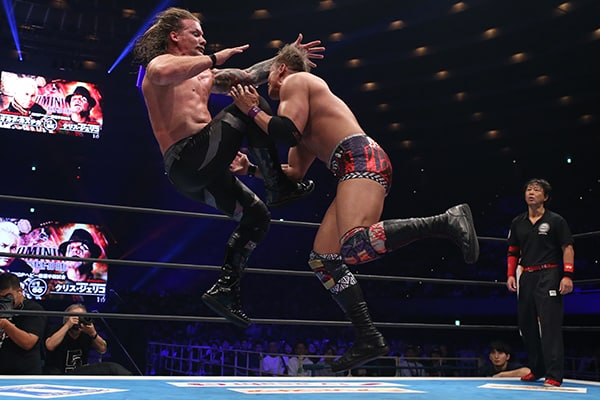 There are still a wealth of matches that Jericho could have. In his own words, he'd "love to work with Will Ospreay and Kota Ibushi", but the list goes on; the murderous Minoru Suzuki; the Bullet Club leader Jay White; New Japan Cup winner Zack Sabre Jr. – all would be guaranteed main event caliber matches but there doesn't seem to be as much incentive as there once was.
The tag division could offer Jericho fertile ground to build upon. Alongside Sammy Guevara, Le Sex Gods could provide a new branch to the division that has struggled in years past due to the lack of team variety. It would afford Jericho something new and allows Guevara a chance to prove himself in an entirely different arena to what he is accustomed to.
Should Jericho choose to return to New Japan it should be for more reasons than just another match. Jericho is entirely capable of giving weight to everything he does and is the master of reinvention, should he make a grand return to Japan it's almost guaranteed he will have a grand plan to create hype. But maybe it doesn't have to just be one more match… "I want to fight you one more time. No. Ten more times!"
One of the few things missing on Jericho's wrestling résumé is competing in the G1 Climax. It is unquestionably the most grueling and competitive tournament in all of professional wrestling. For a month the competitors will offer up their absolute best, giving fans multiple match of the year contenders and five star matches every single night, the prime opportunity for a wrestler to showcase themselves. The G1 gave Jon Moxley new life in 2019, gifting us with an unshackled and motivated colossus that was restrained under the Dean Ambrose guise.
It was a resurrection for Moxley, but Jericho doesn't need the G1 in that same vein. Jericho is one of the most accomplished wrestlers of all time, a world wide star across multiple wrestling promotions. If he did compete in the tournament it would be a guaranteed way to see a multitude of matches that would have previously been inconceivable. Jericho vs Ishii?! Taichi?! YANO?!
It might be mission accomplished for Jericho. He has AEW to focus on where he has once again reinvented himself with The Inner Circle and is helping make new stars on a weekly basis. As the inaugural AEW World Champion, he has shared the bright spotlight that follows his career with the likes of Darby Allin, Sammy Guevara and Orange Cassidy.
If Jericho is finished with New Japan then he went out on the highest of highs, submitting Hiroshi Tanahashi during night two of Wrestle Kingdom 14. A mere three years ago, the thought of Jericho competing outside of WWE would have been laughable. Yet here we are in 2020, and Jericho has has been instrumental in New Japan's successful western expansion, and helped lead the triumph of AEW from its inception. The gift of Chris Jericho just keeps on giving, drink it in maaaaaaaaaaaan!