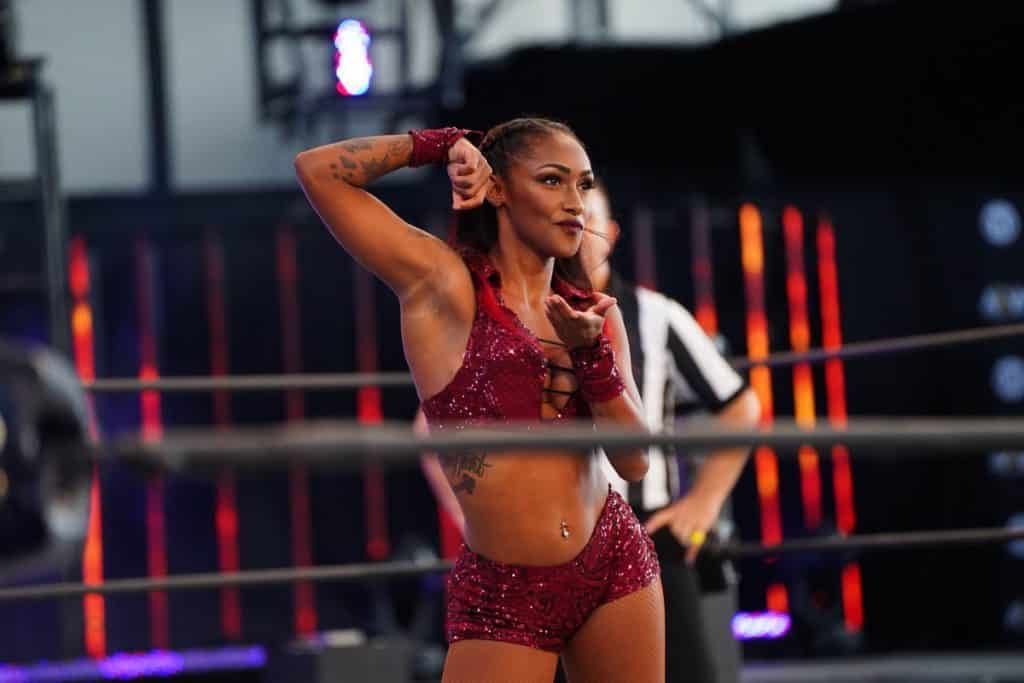 Coming "straight outta your mama's kitchen" and into the limelight of All Elite Wrestling, Red Velvet has been making some big waves in AEW. Tonight, she is set to go head to head alongside Cody Rhodes in the highly anticipated mixed tag team match against NBA legend Shaquille O'Neal and Jade Cargill.
Red Velvet is no stranger to the fight to prove herself in a world of giants. At 5'5″, she utilizes her small frame to take her adversaries down with dazzling speed and lightning reflexes. Her dropkicks bring down the most monstrous of opponents, and her flurry of stiff arm strikes would leave anyone dazed and confused. Fierce, strong, and full of fire, Red Velvet will be aiming her strikes against the powerhouse that is Jade Cargill, and "stirring it up" to stardom along the way.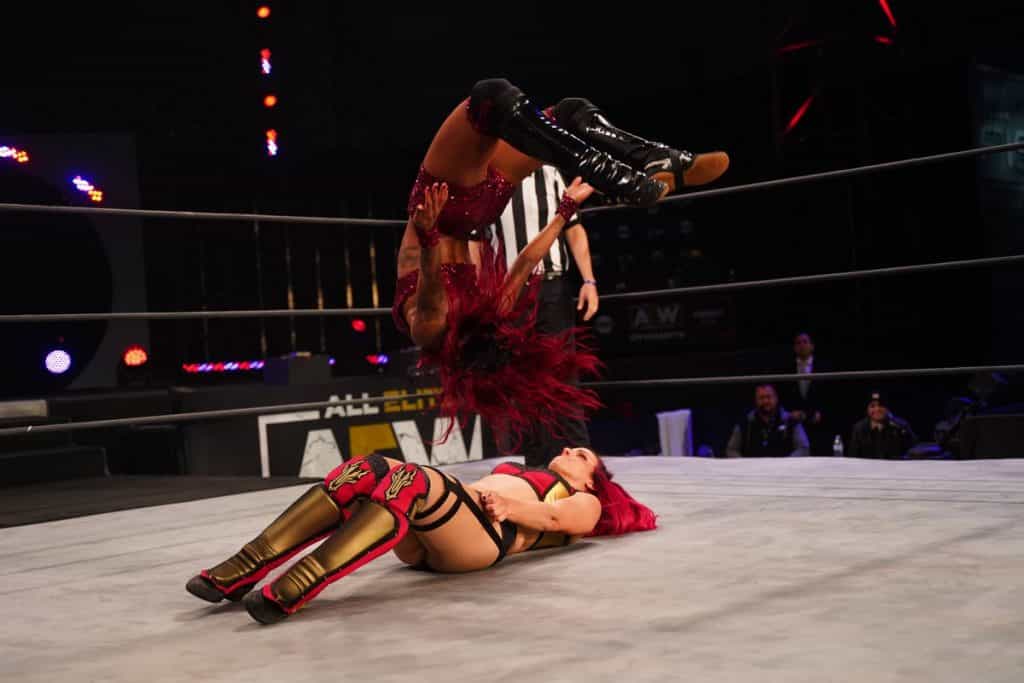 A Light In The Dark
When she made her AEW debut against the Nightmare Sisters in the Summer of 2020, she was initially booked as an enhancement talent on AEW Dark. Speaking on the Unrestricted Podcast, she remarked:
"Enhancement talent was never something I thought of to downplay my work. Every time I showed up for a match, I worked as if it was the first and last time they were going to see me. I gave it my all, at every opportunity."

Red Velvet, AEW Unrestricted
As Red Velvet began to be booked more frequently on AEW Dark, she left a lasting impression on the fans of AEW, and her former opponent, Brandi Rhodes. It wasn't long before she was making strides in the ring. She made her Dynamite debut against the current AEW Women's World Champion, Hikaru Shida, and went head to head against former Champion, Nyla Rose. While these matches resulted in a string of losses for Red Velvet, she took these opportunities to hone her skills and develop new fighting techniques as she began making waves in AEW.
"Every match has been another learning experience, and has been a stepping stone to where I am now."

Red Velvet, AEW Unrestricted
While 2020 found Red Velvet with a high profile introduction against Brandi Rhodes on AEW Dark and Hikaru Shida on AEW Dynamite, the end of the year is where things really began to pick up steam for the upcoming AEW star. In October, she picked up her first win on AEW Dark, and Brandi had given her the seal of approval by taking her under her wing within the Nightmare Family.
In November, Jade Cargill confronted Cody Rhodes on AEW Dynamite, kicking off a feud between Cody and NBA legend, Shaquille O'Neal. As Brandi came out to a heated exchange of words with Jade, it looked like a power packed match was set in stone. Shaq with Jade against Cody and Brandi Rhodes in a cross brand, cross genre super match. However, things would quickly change direction when Brandi Rhodes revealed that she was pregnant, and had to step away from the ring. Soon after, she revealed that her new protege protege, Red Velvet, would be wrestling this high profile match her place.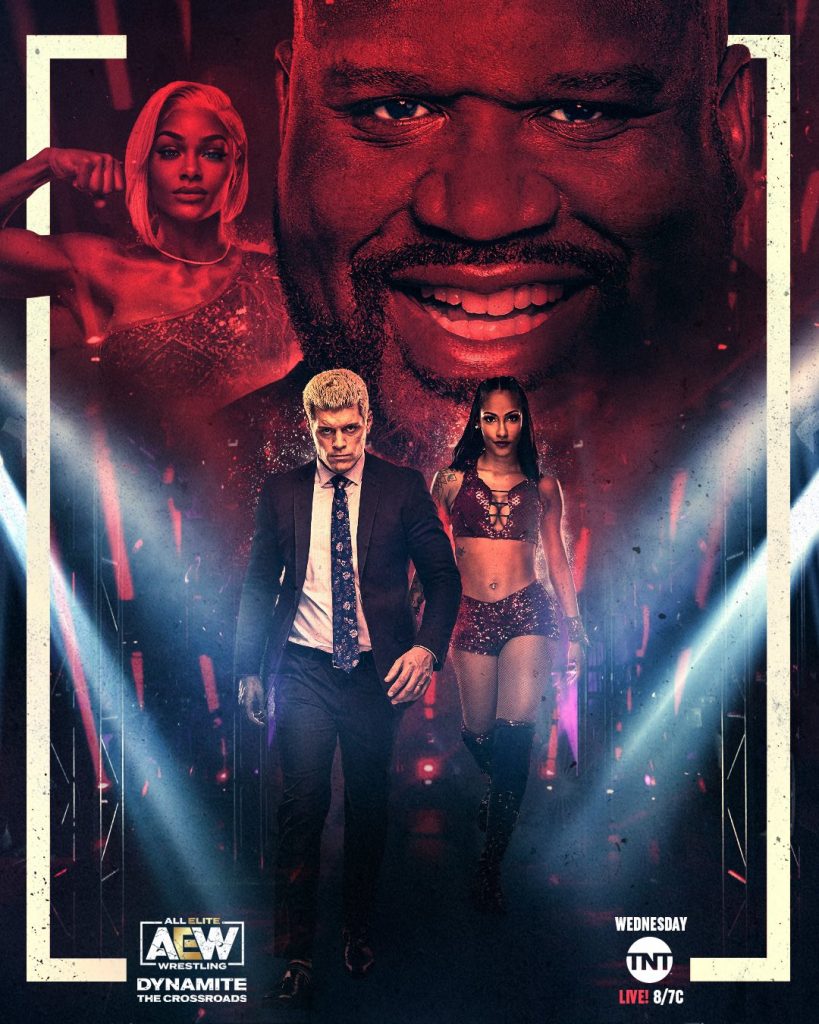 One Door Closes, Another One Opens
Suddenly, we got to see a whole new side to Red Velvet. Quick to defend Brandi against the verbal attacks from Jade and Shaq, Red Velvet stepped up to the mic and proved she was just as fierce when cutting a promo as she was when delivering a stunning dropkick. When Cody was promoting the upcoming match on Britt Baker's "The Waiting Room", Jade interrupted by calling out a challenge to Brandi, despite the recently announced pregnancy.
Red Velvet burst through the door and took Jade out with a vicious slap to the face, resulting in a chaotic brawl that brought dozens of wrestlers out from the locker room in their attempts to separate the two. Praise for Velvet poured in from all directions, from fans, Cody, Brandi, even the legend Arn Anderson began taking notice of the heat Velvet was cooking up in AEW. It was clear that not only was Red Velvet a firecracker in the ring, but that she could stand toe to toe with anyone outside of it, too.
By the end of the year, Red Velvet was on a ferocious winning streak that would carry over into 2021. Currently, she is undefeated within the women's division and could potentially be eyeing a top contender position for the AEW Women's World Championship. Still, Cody Rhodes remarked during a recent Q&A, that Red Velvet has yet to be fully signed to a contract with All Elite Wrestling. They currently have her on a special retainer, with appearances and matches ramping up the closer we get to this Dynamite match.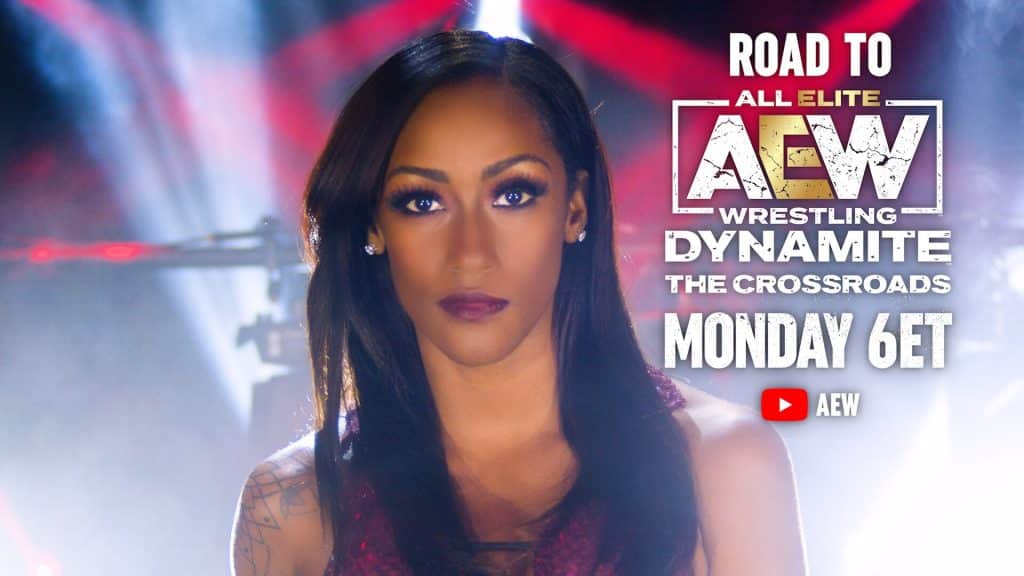 Red Velvet's journey in AEW has been a steady rise to prominence, and tonight is the night she can make it all come to fruition. Cody, Brandi, and Arn have all put her in a position of greatness in this high profile match with Shaq and Jade on AEW Dynamite. With this, comes an incredible opportunity to cement her place in the spotlight, and become a rightful star in the women's division. While this could lead to an eventual championship match, more importantly, it could finally cement her place as a fully fledged member of the AEW roster. The world has been waiting for a shake up in the AEW women's division. Maybe it just needs a little stir…

Update: On March 25th 2021, Cody Rhodes put out a statement saying that Red Velvet has been officially signed to All Elite Wrestling, and is now, "All Elite"!