This is part 2 of a two part series on the trilogy of Kurt Angle and Shawn Michaels. You can find part 1 here.
In this series, we shall be highlighting a lesser known trilogy that quickly captured imaginations worldwide at the possibilities that could occur, when two of the best wrestlers from the 1990s and 2000s locked eyes on one another: Kurt Angle and Shawn Michaels. When looking at all three matches, we will see what made these matches so good, what developments occurred throughout the trilogy, and what would be the ramifications for this trilogy.
The Background
In Part One, we witnessed Angle's vendetta grow after Michaels eliminated him from the Royal Rumble, determined to prove himself the better of the two. During a build-up, Angle recreated several classic moments from Michaels' career, including a rendition of "Sexy Boy" in a duet with 'Sensational' Sherri. The WrestleMania match culminated in a hard fought submission victory for the Olympic Hero, stealing the show from a night that featured the first Money In The Bank match and the inaugurations of both John Cena and Batista as main event Champions.
The two competitors were kept separate for several months, until Kurt Angle was drafted from Smackdown to Raw, with Michaels instantly taking the opportunity to challenge his conqueror for a rematch. At Vengeance, both men rose to the occasion again, but this time Angle's determination to make his opponent tap out left him open to Michaels hitting Sweet Chin Music to tie up. To the surprise of many, WWE allowed the trilogy to breathe, waiting for the right time.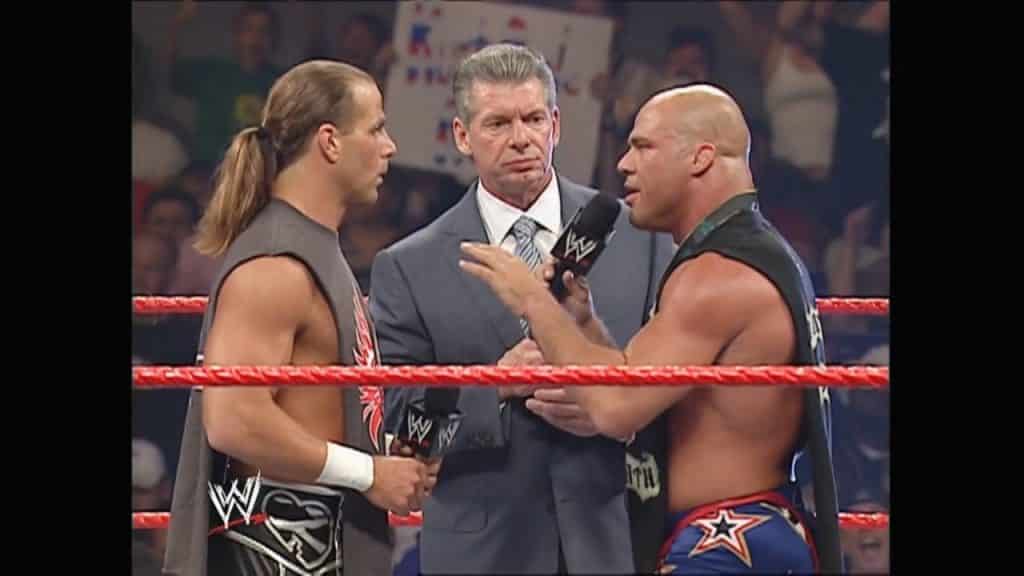 After a few months, Raw would be leaving Spike TV and returning home to the USA Network, with Vince McMahon celebrating the final episode on Spike TV by being interrupted by both Angle and Michaels; both wanting WWE Title shots. With both men making mention of them having defeated the other previously, Vince McMahon announced that next week, on the first episode on the USA Network, it will be Shawn Michaels taking on Kurt Angle in a 30-Minute Iron Man match for the Number One Contendership. This is a match both men have experience in, Michaels having won the WWF Championship from Bret 'The Hitman' Hart in an Iron Man match, while Angle lost the WWE Championship to Brock Lesnar.
Monday Night Raw #645 – WWE Homecoming (3rd October 2005)
30-Minute Iron Man Match for the Number One Contendership to the WWE Title
Kurt Angle vs. Shawn Michaels
Surprisingly, Michaels goes straight on the attack, attempting to gain an early fall and putting Angle on the back foot. Angle starts to assert his physicality, slamming Michaels and trying to slow him down with a sleeper hold. Michaels escapes with a jawbreaker and sends Angle flying over the top rope, almost landing on his face, only to reverse a Michaels slide with an Angle Slam on the outside. Like a shark with blood, Angle drags Michaels inside, and hits a Powerbomb into the corner to accentuate the injury to Michaels' back. Michaels caught up top and Angle hits an Angle Slam off the middle rope, covers, and gets the three.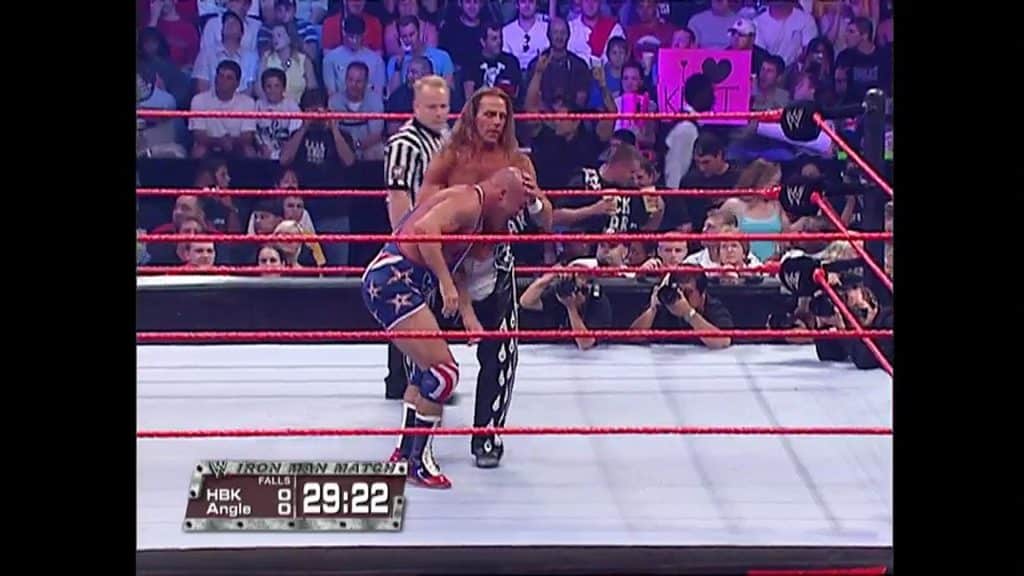 Kurt Angle 1 – 0 Shawn Michaels
With Michaels one fall down, his momentum is being used against him as Angle dodges and Michaels smacks into the corner post. Angle tries to kill his opponent off with an Angle Lock, but Michaels wins with a sudden forward roll to get a surprise three count.
Kurt Angle 1 – 1 Shawn Michaels
An incensed Angle remonstrates with referee Jack Doan while Michaels tries to get some space – an Inside Cradle attempt on Angle gets only a two – and Angle's anger sends a limping Michaels outside. Angle is now focusing on the injured back, using leg-scissors to dissect Michaels, with a desperate HBK biting Angle to escape. Michaels tries another roll-up but leaves himself open for an Angle Lock, grapevine locked in the middle of the ring in a recreation of their WrestleMania finish, with HBK having to tap out.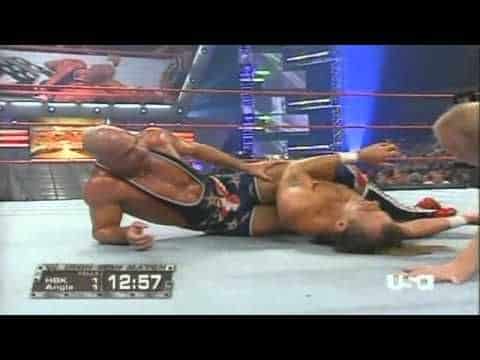 Kurt Angle 2 – 1 Shawn Michaels
With that left leg a target, Michaels is trying to mount a fight back but Angle continuously takes him out at the leg, using the time and injury to frustrate him. It takes several slaps to the face and a flying Forearm Smash for Michaels to get momentum, his left leg slowing his offence as he pushes himself to hit Atomic Drops and Clotheslines. A vital Elbow Drop from the top rope has Michaels tuning up the band; he steps forward and hits a picture perfect Sweet Chin Music and instantly covers for the three count.
Kurt Angle 2 – 2 Shawn Michaels
He won the second match when he went on instinct and hit Sweet Chin Music out of nowhere, and here again Michaels powered through pain, using his spirit and adrenaline to tie the match up. Now, with less than 280 seconds left in the match, they are equal as Angle rolls to the outside. Angle with a vicious Irish Whip into the corner turns Michaels upside down into an Angle Slam, one, two, th- Michaels just gets the arm up, and a frustrated Angle is too frustrated to continue his attack. A second attempt of the Angle Slam has Michaels reverse into a Tornado DDT, but he takes too long to cover, and Angle kicks out at two.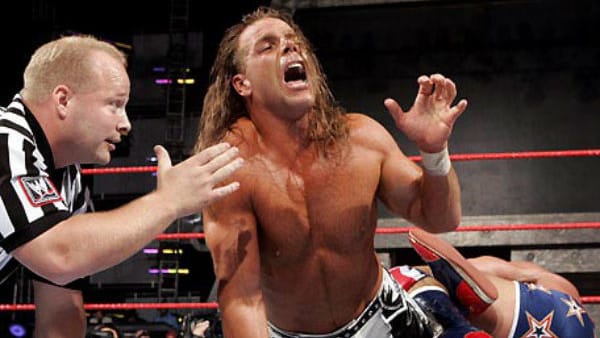 With less than two minutes to go, both men can barely stand, Michaels goes big with a Moonsault to a standing Angle and gets rolled through to an Angle Lock. In the middle of the ring, Michaels kicking out, scrabbling, inches from the ropes but Angle pulls him back, and locks the grapevine in. Fifty seconds left, and the crowd are willing HBK on, he's trying to roll round and kicks Angle off, fifteen seconds left. Angle desperately tries to get his submission hold again, but Michaels rolls through and Angle just stops himself short of squashing Jack Doan but turns around and walks straight into a Sweet Chin Music. Two seconds remaining and Michaels covers Angle just as the bell rings.
Kurt Angle 2 – 2 Shawn Michaels
Time Limit Draw
Straight after the match, an angry Michaels grabs a microphone and demands Sudden Death, but to the surprise of many, Angle just walked away, refusing. For the third match in a row, the chemistry between both men is obvious as they demonstrate tremendous pacing with smooth interplay throughout. It can be quite easy for an Iron Man match to lag at points, due to an enforced time frame, however this isn't a problem here. Instead, the fast pace of the beginning gets the crowd invested quickly, having the pace slower in the middle instead when it psychologically makes sense, with the exhaustion of their effort's impact upon them.
For the third match running, the early momentum of Michaels gets curtailed by Angle hitting a big offensive move on the outside; an interesting recurrence that suits the difference of the two. With Angle having debuted during the Attitude Era, where brawling on the outside occurred quite regularly compared to the New Generation, it's a subtle enforcement of the differences between the two. Angle has more experience varying his offense, whereas Michaels tries to bring a pace-filled attack that leaves him open for more impactful attacks. These moments are game changers in each match, shifting the momentum completely on Angle's side early on.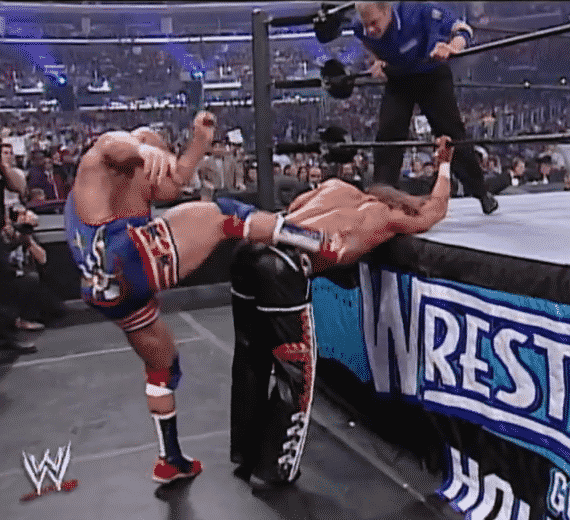 As I watched this rubber match, it's interesting to realise how the theme of the match encapsulates the entire series overall. Not once, not twice, but three times Angle went ahead, with Michaels battling back to tie up the series. There is a curious subtext to this – how during Michaels' exodus from wrestling – Angle had debuted and helped raise the standard of in-ring ability, with the figurehead of roster members like Jericho, Benoit, Eddie Guerrero, Edge, whom all created excellent matches based on technical brilliance and storytelling. When Angle was entering the prime of his career during 2002, Michaels made his unexpected in-ring return at SummerSlam 2002.
Unsurprisingly, Michaels becoming a full-time member of the Raw roster had many fans waxing lyrically about the possible dream matches that could occur. For the first two years of his return, he battled in feuds against Triple-H (multiple times), Chris Jericho and Chris Benoit, continuously crafting classics along the way. But Angle was a different challenge of all: he was a mixture of Michaels' charisma and Bret Hart's storytelling, respected by fans, critics, and wrestlers galore for demonstrating a natural aptitude for wrestling. Their brief interlude in the Royal Rumble had fans salivating in anticipation, and all three matches had a consistent through-line where Angle dominated Michaels for the majority of the matches.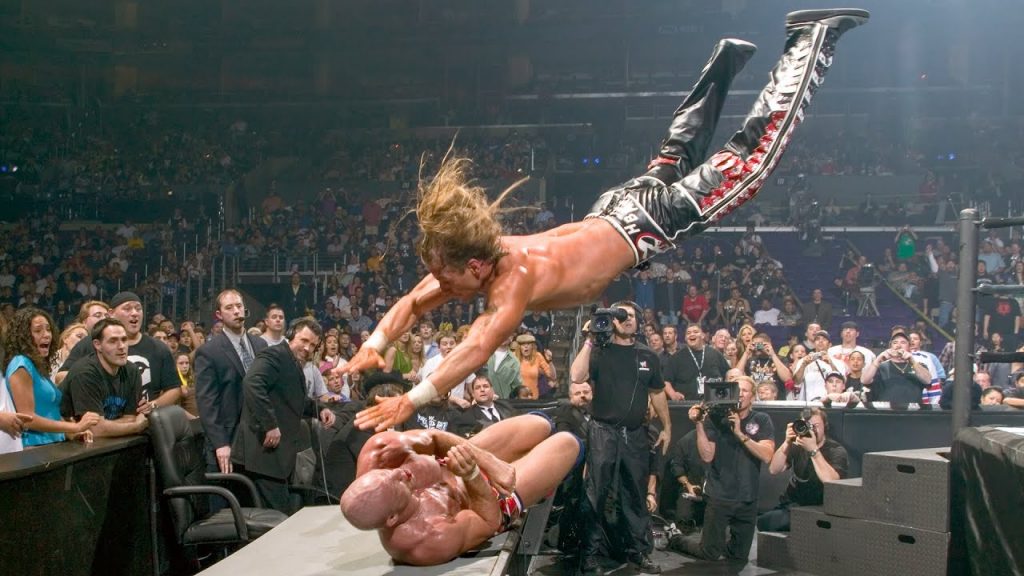 The intensity of Angle allows him to overwhelm Michaels each time, such as latching on Michaels' ankle and taking advantage of a brief moment of distraction; helping Angle win the first match and go ahead twice in the Iron Man match. However, Michaels' famous never-say-die spirit would frustrate Angle; his lightning-fast instinctive nature claimed the second match and helped Michaels tie-up the Iron Man contest twice. Every time Angle believed he had control, Michaels mounted a comeback, just like Michaels returned to the ring when Angle seemed primed to finally replace HBK's reputation as the best talent in the main event scene.
In the end, the Iron Man match ended in a draw, as Angle refused to allow Sudden Death, despite Michaels' inclinations. As Angle left Michaels in the ring, it feels eerily reminiscent of the fact that less than a year later, Angle moved on to TNA, while Michaels continued to wrestle for another five years with WWE, retiring before Angle came back home. Fans may never have gotten the closure to the feud they desired, but maybe it suits better because of it. For three matches over a ten month period, audiences were privileged enough to witness a dream feud that blended two distinct periods of time.
From 1992-1998, Shawn Michaels was a rare shining light during a New Generation era, forced to retire in the early days of the Attitude Era, where storytelling reigned over wrestling. In comparison, Kurt Angle debuted during the latter half of the Attitude Era and helped usher in a Ruthless Aggression era that offered more focus on wrestling with storytelling antics. Two of the best of their generation, in three matches that told engrossing stories but had them finish as equals, wanting to face each other that one last time. Against all odds, Angle and Michaels crafted a fantasy of two legendary warriors who by the time they retired, had become immortals.