"He can't draw."
"He's not a good promo."
"He's average in ring, at best."
"He's overrated."
For more than a generation, a section of wrestling fans have balked at the idea that one of the most talked-about stars in pro wrestling history isn't as good as advertised. When the man called Sting made his return to mainstream pro wrestling on AEW Dynamite last December, a lot of that talk returned. Just how good was Sting?
Steve Borden started wrestling at 26, later than most of his peers. Borden was a bodybuilder who fell into the wrestling business after meeting Rick Bassman. After training for only a few short months, Borden and three other muscleheads were promoted by Bassman as Powerteam USA. Memphis promoter Jerry Jarrett took a flyer and brought in two of Bassman's charges, Borden and Jim Hellwig, the future Ultimate Warrior. The two are renamed the Freedom Fighters when they debut on Memphis TV. In the ring, they are terrible, as should a couple of bodybuilders with no background and very little training.
Despite a great look, the two don't show much personality, charisma, or in-ring prowess and leave the Memphis territory. Today, very few wrestlers have the opportunity to have their literal debut occur on a highly-rated television show. Yet, Borden and Hellwig are given that chance. They didn't hit a home run or even a single. But it wasn't a strikeout either. Instead, they hit a routine fly ball to centerfield. There's power in the swing, but it needs work and timing. However, when the Freedom Fighters turn heel, attacking veteran Phil Hickerson, Hellwig shows a little comfort being a jerk on the microphone. Make of that what you will.
Hellwig and Borden then show up in Bill Watts' Mid-South Wrestling. The two are remade as Sting and Rock, a Road Warrior knockoff team led by Hot Stuff Eddie Gilbert. Hellwig doesn't last long and leaves for World Class and, eventually, the WWF. Borden, now firmly entrenched as Sting, stays in the renamed UWF as a mid-card act with Gilbert, Missy Hyatt, and Rick Steiner. While his former partner would embrace the 80s power guy style, Sting would evolve his technique, playing into his athleticism.

When the UWF is purchased by Jim Crockett Promotions, Sting grows into more of a character. We see the development of his early promo style. He's intense but not terribly eloquent. There's a certain charisma that starts to breakthrough. For someone who has only been in the pro wrestling game for two years, without much background, Sting is adapting well.

In March of 1988, Crockett abandons the UWF experiment and finds itself with an opportunity to undercut Wrestlemania IV. At the first Clash of the Champions, Sting is essentially plucked from relative obscurity and put into a title match with Ric Flair. In true Rocky Balboa fashion, the raw but exciting new-comer pushes the champion to the distance in a time-limit draw. Sting is thrust into a main event position on national cable television with just two and a half years under his belt.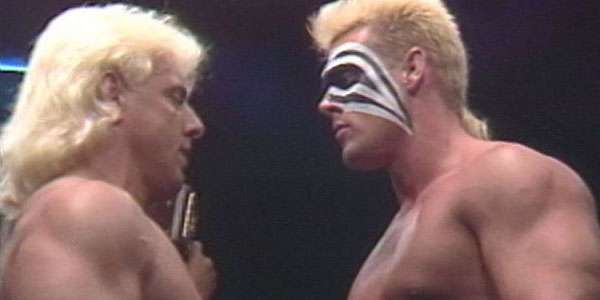 While having a partner like Flair helps, not everyone who Flair defended the NWA title against became a star. Since the car accident that ended Magnum TA's career, Crockett had been searching for its next big babyface, having experimented with Nikita Koloff. Booker Dusty Rhodes believes they finally found their next star. So how does JCP follow up that star-making Clash performance? By having Sting repeatedly lose to Flair on house shows.
That said, Sting isn't ready to be the World Champion in 1988. Instead, Rhodes programed Sting and Koloff to challenge Arn Anderson and Tully Blanchard for the NWA World Tag Team championship. They failed to win the titles. Later in the year, Sting works with US Champion Barry Windham and falls short of that title. Then, he's paired with NWA World Television Champion Mike Rotunda. Again, Sting doesn't win the TV title.

Sting finishes up 1988 by teaming with Dusty Rhodes, as they challenged the freshly-turned heel Road Warriors at Starrcade '88. Sting is the third wheel in the feud, which revolved around the Warriors digging a metal spike into Rhodes's eye, resulting in Rhodes being fired as booker. Rhodes and Sting failed to win the Warriors' titles, which doesn't matter because no one wants to boo the Road Warriors. The new star had fallen short while challenging for every title in the company.
In 1989, Crockett transitioned into WCW, and most of the top performers on the roster have left the promotion, save Ric Flair. Under booker George Scott, the first real push begins with Sting finally winning the NWA World TV title over Rotunda. Scott doesn't last long as booker, but Sting is a significant focus on the WCW TV program, defending the belt against a plethora of mid-card challengers, including former WWF Champion, the Iron Sheik. Sting collects wins and becomes a crowd favorite, especially with the kids.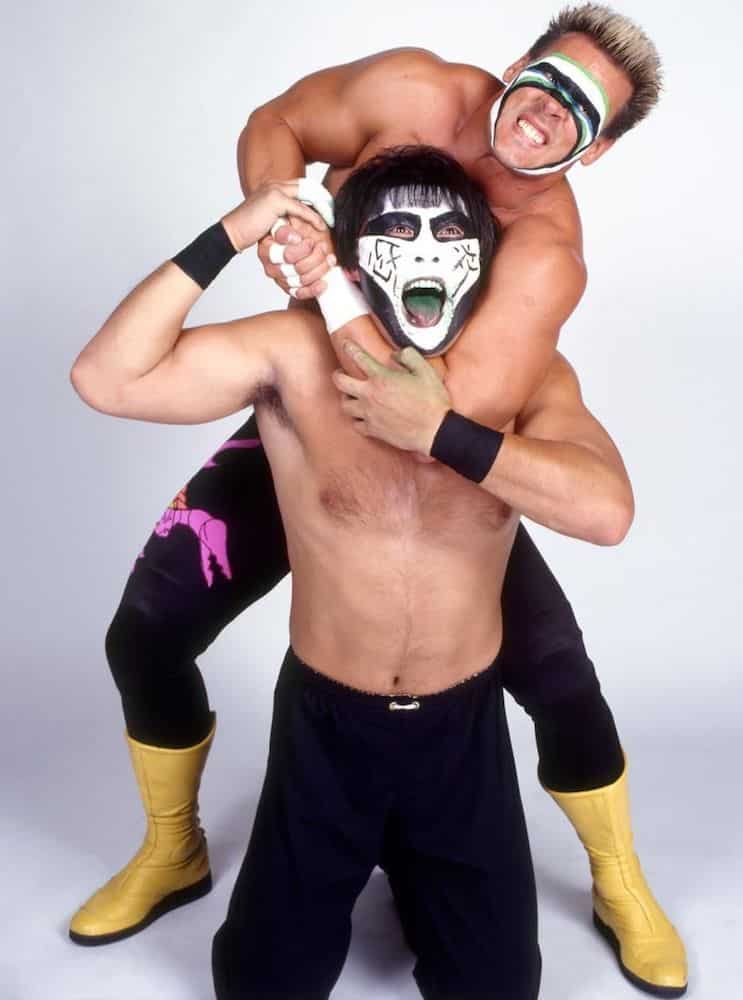 Sting finds his first great rival in the Great Muta, and the two work a hot program that eventually merges with Ric Flair and Terry Funk's NWA title feud. The rivalry culminates in an exciting Thunderdome cage match at Halloween Havoc. While TV ratings remain solid, house business is down. With legends like Ricky Steamboat, Ric Flair, and Terry Funk on top, the promotion failed to draw.

Sting starts 1990 fresh-off winning the Starrcade 89 Future Shock tournament and is the top-contender for Flair's title. On the January Clash of Champions, Flair and Ole Anderson demand that Sting, now a member of the Four Horsemen, abdicate his contendership. Sting refuses and is attacked by the Horsemen. It's a great TV angle, but it sets up a trend the would haunt Sting for the rest of his tenure. Of course, the Horsemen turn on Sting. Everyone in the crowd knows it. Everyone watching TV knows it: everyone but Sting. WCW's top babyface is portrayed as a moron. It wouldn't be the last time the company would do this.
To make matters worse, while trying to climb the cage during the main event, Sting destroys his knee, tearing the patella tendon. Sting was set to take the NWA title from Flair at the next pay-per-view, WrestleWar 90. Instead, the company moves to another feud between Flair and Luger, who had already been defined as someone who couldn't defeat Flair despite numerous attempts and stupid finishes (Great American Bash and Starrcade in 1988). Sting is again positioned to act like an idiot when Robocop shows up to lumber around for reasons.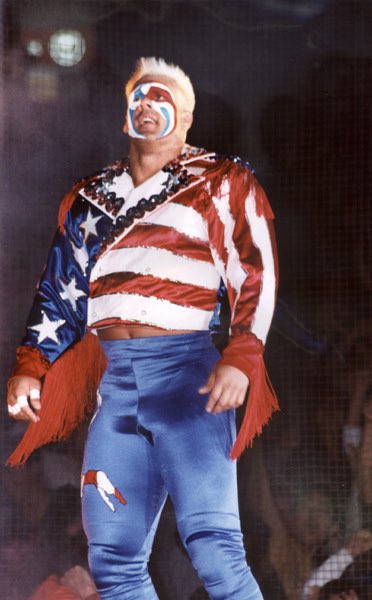 Sting returns for the Great American Bash 90 and has his crowning moment, defeating Flair in front of a hot Baltimore crowd. However, Sting is clearly not 100% healed. His body is a little softer than in January (understandably so). Flair carries the clearly not-ready-for-the-moment Stinger to a great match. Considering the follow-up, the match probably should have been held off until Starrcade. And what was that follow-up? One of the most nonsensical angles in pro wrestling history: the Black Scorpion.
Jim Herd, a former Pizza Hut executive, ran WCW and had zero understanding of the product. He wanted a great mystery story for Sting. Neither he nor booker Ole Anderson had anyone clue who would be under the Scorpion hood. Instead, the Scorpion claimed to be a person from Sting's past sent to destroy him. In-the-know-smart-fans were clearly meant to think this was his old partner, The Ultimate Warrior (which makes no sense, considering Warrior was the WWF Champion at the time). The angle went for months and bled into what could have been a great match between Sting and the super-hot heel, Sid Vicious, at Halloween Havoc.

The Havoc match ended when Sid pinned Barry Windham, who was dressed like Sting, but when the rouse was revealed, Sting retains. The events are worse than they read. Instead of building Vicious as a killer who could end Sting (like was later done with Vader), the storytelling focused on the Scorpion who would bore crowds with magic acts. Yes, magic acts. Somehow this brilliant storytelling didn't draw. As champion, it's supposed to be Sting's fault that this program wasn't making any money. The fact that the angle was ill-conceived and stupid doesn't matter. The blame must fall on Sting.
The Scorpion fiasco ends at Starrcade when Ric Flair climbs out of a literal spaceship and defeats Sting to win back the NWA World title. After months of build-up, the Scorpion was Flair. All logic pointed to Eddie Gilbert, but that wasn't happening was various reasons, so Flair was back as champion. WCW, much like Crockett before, poorly booked its babyface champion to the point where the company had no choice but to go back to Flair.
Though the knock-on Sting is that he couldn't draw, The Great American Bash 1990 has over 200,000 pay-per-view buys, the highest number in the Herd era.
In part two, we'll examine the second half of Sting's WCW career.