As the countdown to WrestleMania 39 intensifies, an electric energy fills the air. Wrestling fans around the globe eagerly anticipate the long-awaited rematch between Rhea Ripley and Charlotte Flair. Their rivalry, which has already captivated audiences worldwide, is about to reach a fever pitch as they face off on the grandest stage of them all.
In an interview with Rhea Ripley, the Australian powerhouse revealed her excitement about being part of the faction wars and shared her journey alongside wrestling legend Edge, Damian Priest, Finn Balor, and Dominik Mysterio. Describing the close-knit bond she shares with her faction members, Ripley passionately stated, "We're there for each other, we travel with each other, we do everything. We have our own group chat and chat to each other, share memes. It feels like a little family and I'm having the time of my life."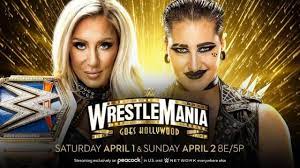 On the other side of the ring, the Queen of WWE, Charlotte Flair, is equally excited for the upcoming match. After taking a seven-month break from wrestling in 2022, Flair has returned to the squared circle with a renewed perspective and passion for performing. Radiating confidence and joy, she said, "I feel a certain lightness when I'm out there. I don't have to try to be good or bad, I can just be the star that I am."
Throughout her break, Flair focused on her personal life, getting married and finding balance in her life outside of wrestling. While she admits to having moments of doubt, wondering if the fans would forget about her, she believes that everything happens for a reason. And now, as she steps back into the ring, it's clear that she's more ready than ever.
When asked about her upcoming battle with Ripley at WrestleMania 39, Flair's enthusiasm was palpable. Reflecting on their previous encounters, she stated, "WrestleMania 36 exceeded expectations and that was just scratching the surface." Their upcoming match promises to be an unforgettable clash, showcasing the growth and development of both superstars since their last face-off.
The excitement surrounding this match isn't just about the in-ring action, but also the story of two women who have both evolved and flourished in their careers. With Triple H now at the helm of WWE, Flair and Ripley's ongoing rivalry is a testament to the company's commitment to highlighting the incredible talent and dedication of its female performers.
As Flair and Ripley prepare for their epic showdown at WrestleMania 39, it's evident that the stakes have never been higher. Each woman is determined to prove herself as the dominant force in the world of professional wrestling, and their passion for their craft is undeniable. With the world watching, Rhea Ripley and Charlotte Flair are ready to make history once again and solidify their legacies as two of the greatest female performers in the history of the sport.
In the words of Charlotte Flair, "You can't write this kind of story, it just happens organically. What's meant to be is meant to be." As we draw nearer to the monumental clash between these two titans, there's no doubt that this match will be a spectacle for the ages, etching their names in the annals of WrestleMania history.