Two days ago, the city of Winnipeg witnessed an unforgettable evening as its very own Kenny Omega, a wrestling prodigy, returned to his hometown. The air was thick with anticipation and excitement, as fans eagerly awaited the moment when Omega would grace the ring once more on Canadian soil.
The match itself, featuring the Elite, the House of Black, and the Jericho Appreciation Society, was nothing short of spectacular. The energy in the arena was electric, each wrestler feeding off the crowd's enthusiasm and pushing themselves to their physical limits. The passion for wrestling, the dedication to the craft, and the sheer athleticism displayed by all competitors were palpable, leaving the audience in awe.
This high-octane showdown showcased Omega's unparalleled wrestling prowess, as he masterfully executed gravity-defying moves and demonstrated the intensity that has made him a legend in the wrestling world. With every twist, turn, and strike, Omega's love for his craft shone through, captivating the audience and cementing his status as one of the greats.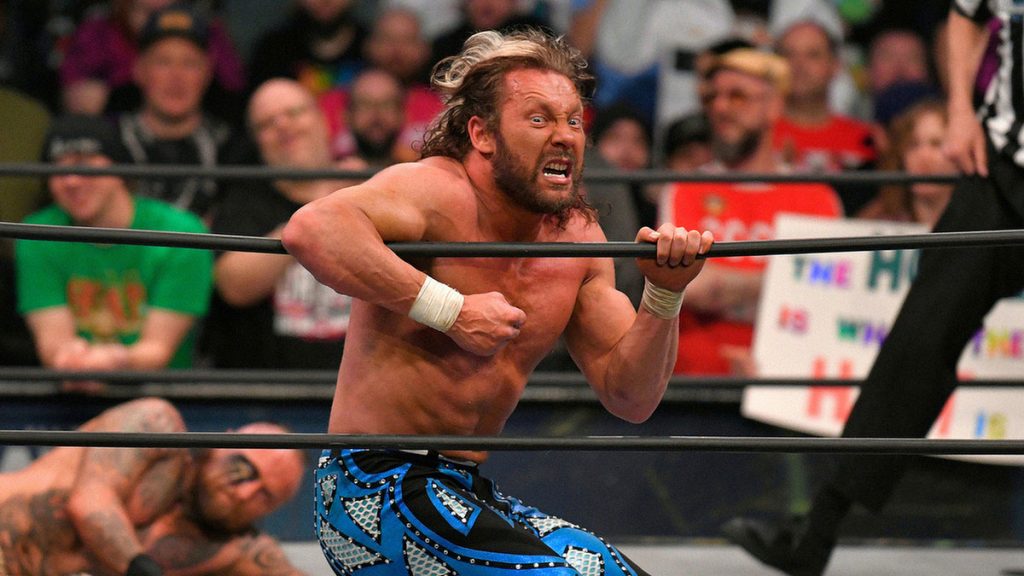 Omega's journey to this unforgettable night has been nothing short of extraordinary. From his humble beginnings wrestling in Winnipeg bars to headlining AEW: Dynamite, the flagship show of U.S.-based All Elite Wrestling, Omega has never forgotten his roots. "It's cool to have a televised wrestling product come back to Winnipeg, and have people that are about to watch what we do live, and on a grand scale, at the arena. So I'm very excited. It's very cool," he shared with Front Burner's Jayme Poisson.
This passion for wrestling and respect for its history extends to his fellow Winnipeg-born wrestlers, including one of his recent opponents, Chris Jericho. "Winnipeg is actually a very deep and rich wrestling culture. There's a lot of great stars that are from Winnipeg … that are going to go down in the history books as legends in the business," Omega said.
As the dust settles in the aftermath of this incredible match, Kenny Omega stands as a testament to the power of passion, dedication, and a refusal to be defined by convention. He has left an indelible mark on the world of wrestling and etched his name in the hearts of fans worldwide, especially those in his beloved hometown of Winnipeg.
Following the monumental match in Winnipeg, the wrestling world is abuzz with speculation about what lies ahead for Kenny Omega. As one of the cornerstones of All Elite Wrestling (AEW), Omega's influence extends beyond the ring, shaping the company's trajectory and nurturing the growth of up-and-coming talent.
His role as Executive Vice President of AEW has been a departure from the simpler days when he could solely focus on his in-ring performance. In a conversation with Renée Paquette on The Sessions podcast, Omega reminisced about those times: "It (AEW EVP role) makes me miss the days when I could roll up with my carry bag and be like, 'Alright, let's just worry about the match that we have tonight' and the match is over and it's like, okay, that's it, it's over. That's where the stress starts and ends, with your own performance."
Despite the increased responsibility, Omega remains committed to fostering a sense of camaraderie and openness among his fellow wrestlers. He and the Young Bucks (Matt & Nick Jackson) maintain an open-door policy, ensuring that they remain approachable and supportive. "We never try to exude any sort of aura about us that hey, we're a suit in the office. It's definitely not how we try to present ourselves," he stated.
As for his future in the ring, Omega's focus is on following his heart and exploring new avenues for growth. Although rumors have circulated about his AEW contract nearing its end and the possibility of a move to WWE, Omega's allegiance to the company he helped build remains steadfast. "I always kind of try to find my own way, or at least try to lean in the direction of where my heart is pulling me," he said, reflecting on his career's next steps.
Beyond his accomplishments as a wrestler and an executive, Kenny Omega's legacy is inextricably tied to his unwavering passion for the sport, his devotion to his fellow wrestlers, and his connection with his fans. With his return to Winnipeg, Omega has demonstrated that he is not only a hometown hero but also a trailblazer, shaping the wrestling landscape for generations to come. As the next chapter in his illustrious career unfolds, one thing is certain: Kenny Omega will continue to captivate and inspire wrestling fans around the world.