The veils of kayfabe were lifted from the pro wrestling landscape decades ago. Most people believe that what happens in front of the camera is just pretend, part of the story, a "work." But, every now and then, something happens that makes fans question if some slice of reality may have slipped through the carefully produced and protected world of wrestling. Was that a "shoot?" As fans, it feels refreshing when a performer comes along and blurs those lines, forcing us to guess what's real, what's fake, and what's somewhere in the middle. Often, obscuring those lines takes even more work and effort to put layers of subtext and story, requiring a performer who's a master of manipulation. Those are the true craftsmen. Then there's New Jack. That dude was freaking crazy.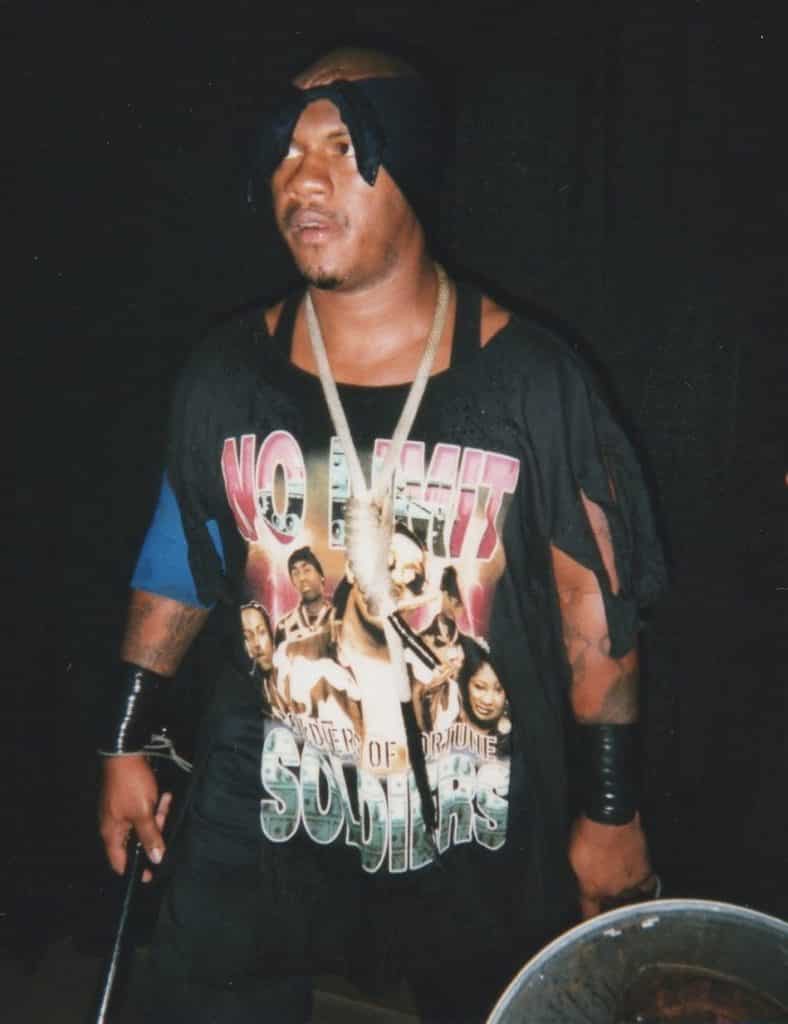 Jerome Young got a late start in pro wrestling, debuting at 29, training under Ray Candy, a ground-breaking performer who was one-half of the first pro wrestling main event to feature two black wrestlers — the other being Big Cat Ernie Ladd. Young immediately took on the moniker of New Jack, named after the controversial 1991 Wesley Snipes film New Jack City. Controversy was something New Jack would embrace for the rest of his career. Jack teamed with former WWF developmental wrestler A.C. Golden under the name Homeboy. The duo defeated Simply Devine (better known to WWF fans of the era as Well Dunn) for the USWA tag team titles before dropping them two weeks later.
New Jack resurfaced in the independent North Georgia Wrestling Alliance group. He formed another tag team, this time with a former WCW developmental talent, Mustafa Saed. At 6'4 and over 265 lbs., Saed had the build to be a successful professional wrestler. However, he struggled with promos and had difficulty projecting charisma. New Jack was an unbelievable, off-the-cuff the promo who exuded a dangerous charm. Individually, the two didn't make an impact, but together they became The Gangstas. During a joint show with Smokey Mountain Wrestling, New Jack made an impression on promoter Jim Cornette, who also never shied away from controversy.
Cornette brought the Gangstas to SMW and gave New Jack one simple direction: "anger white people." By the early 1990's mainstream pro wrestling had primarily transformed into a safe, cartoonish production. As an old-school southern territory promoter, Cornette feared that few characters could be seen as believable. The promoter wanted to harken back to the days when fans bought a ticket to see the bad guys get their comeuppance. To do that, the bad guys needed to be seen as legitimate threats.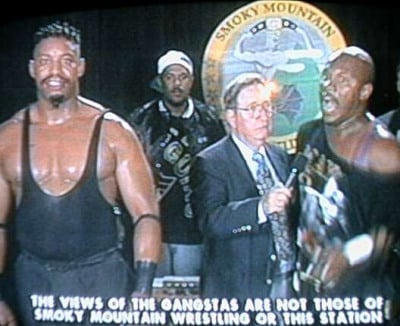 New Jack embraced the challenge, taking influence from the rising Gangsta Rap culture, which was growing in popularity. Smokey Mountain was a perfect environment seeing as Cornette's silent partner and investor in the territory was former Def Jam Records impresario Rick Rubin. New Jack's promos did exactly what Cornette wanted. No subject matter was taboo. Jack praised O.J. Simpson and decried Martin Luther King and the NAACP. In a pre-ECW era, these were the most controversial promos ever heard.

While neither New Jack nor Mustafa could be considered good workers in the traditional sense, Cornette added newcomer D-Lo Brown to the group. Brown could bump for the babyfaces and take falls for the group. The Gangstas have the distinction of being one of the only entities in pro wrestling that turned Cornette babyface. The manager teamed with longtime rivals the Rock N Roll Express to stand against the new team. The feud between Cornette and the Gangstas became such a centerpiece for Smokey Mountain that Cornette brought the Undertaker himself to finally silence the team. At the time, Cornette was moonlighting in the WWF as Yokozuna's manager and used WWF talent to help spike box offices.
While the angle drew big houses in SMW's large cities, New Jack's radical promos actually hurt business in the smaller towns in the territory, even costing them television stations. The racially-tinged promos didn't help New Jack's personal life either. Jack openly discussed traveling with guns and wearing bulletproof vests outside of arenas. On the surface, this may sound like over-exaggeration, but just a decade earlier, fans assaulting, even coming as far as to stab heel wrestlers wasn't an uncommon occurrence, especially in southern territories. The angle also brought significant controversy onto Cornette himself, leading to a still-running personal feud with Pro Wrestling Torch editor Wade Keller.
As the feud wound down in Smokey Mountain, the Gangsters left for a company more in tune with New Jack's aesthetic, Extreme Championship Wrestling. The Gangsters arrived in ECW as rivals for the longtime favorites The Public Enemy. The gimmick and antics that made them hated in the south drew cheers in the northeast. After the Public Enemy left for WCW, Jack was legitimately arrested on assault charges. When he returned in March of 1996 at the Big Ass Extreme Bash, New Jack sought vengeance on the Headhunters, who attacked Mustafa in his absence, formally turning the Gangstas babyface.
The duo would come to the ring as Ice Cube's Natural Born Killas blared over the loudspeakers. As one of the most popular acts in ECW, the team entered a four-way rivalry with The Bruise Brothers (Ron & Don Harris), The Samoan Gangsta Party, and the Eliminators (Perry Saturn and John Kronos) over the ECW World Tag Team titles. The Gangstas eventually won the belts in August of 1996.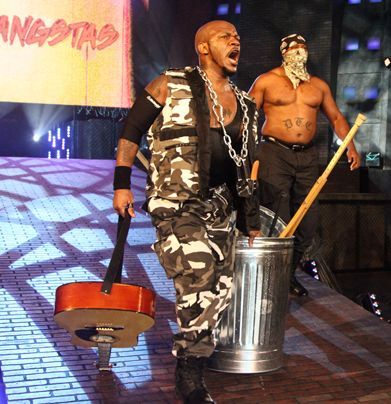 Around the same time, New Jack was involved in an incident that defined his career during an altercation with an untrained seventeen-year-old. Erich Kulas showed up at an ECW show in Revere, Massachusetts, and claimed to be a twenty-one-year-old trainee of Killer Kowalski. Axl Rotten was scheduled to team with D-Von Dudley against The Gangstas but no-showed due to a family emergency. ECW owner Paul Heyman decided to use Kulas, working as Mass Transit, a Jackie Gleason/Honeymooners bus driver gimmick, in Rotten's place as a tryout out.

The match was set to be a squash, and Kulas asked Jack to "blade" him before the bell. New Jack happily obliged, slashing Kulas's forehead with a surgical scalpel, severing two arteries. As the Gangstas viciously beat the bloody Mass Transit, Kulas's father shouted, "Ring the bell! He's only seventeen!" The Kulas family later sued ECW and New Jack for negligence. The jury ruled in favor of the defendants. Kulas lying to Heyman about his age and asking Jack to cut him were major factors in the decision. The incident became a major story and further cemented New Jack's reputation both in and out of the ring.
New Jack later embarked on a babyface singles run that featured him beating his victim with a plethora of objects that became hardcore wrestling staples as Natural Born Killas played. The ECW faithful ate up every minute. They adored the risks New Jack would take for them and loved that he seemed to enjoy it. While fans in the Smokey Mountains hated New Jack, the hardcore ECW fans saw him as the embodiment of the promotion. Dangerous. Unpredictable. Maybe a little crazy. But more than anything, they saw someone who, with every movement and word, felt real.
A second major incident with New Jack in ECW occurred during the March 2000 Guilty As Charged pay per view. Vic Grimes, who had a brief stint in the WWF as Ki, Droz's "drug dealer," faced Jack in a scaffold match. Both men were to fall off the scaffold together and crash through tables, but Grimes pulled up, fearing the fall (as any sane man would). With the show being live, Jack forcibly yanked Grimes off the scaffold, forcing the heavier opponent to fall behind New Jack instead of with him. Both men missed the tables and landed on the concrete floor, with Grimes collapsing on top of Jack, crushing his skull and giving him a severe concussion. The injury left New Jack blind in one eye and with permeant brain damage.
When ECW closed in early 2001, New Jack was not brought over in the WWF. Though rumors would surface of Jack showing up, most notably in 2004 when John Cena was stabbed by Carlito's bodyguard at a nightclub (yes, that really happened on WWE TV), but it was always just tall tales. In truth, New Jack was the exact opposite of what WWE wanted in a wrestler, especially in that era. New Jack was far too much of a free-spirit and far too uncontrollable.
New Jack spent the rest of his career on the indies, where his reputation grew. Sometimes for the wrong reasons, while getting far too violent with men like Gypsy Joe and William Lane, a match that led to Jack being legitimately arrested for assault. At an XPW show in 2002, Jack again wrestled Vic Grimes in a scaffold match, building off the ECW incident a few years earlier. During his Dark Side of the Ring season one profile, Jack looked back on the match, talking about legitimately trying to kill Grimes when tossing him off the scaffold. Jack's delivery was cold and scary, but it's evident that the spot was planned when watching the actual footage. But maybe he did push it a little further?
In an era where wrestlers are looked at more as entertainers than fighters, New Jack was a throwback to a bygone time when grapplers were seen as dangerous. New Jack may have been more at home wrestling in the 1970s, bouncing between territories where his brand of humor and outlaw spirit could make a promoter a lot of money. This would, of course, be before he inevitably burned a bridge and had to move to a new promotion, every travel being another notch in the outlaw's belt. New Jack was the last of that breed of wrestlers. Unfortunately, he just came twenty years too late.
New Jack was professional wrestling's last true outlaw. Rest in peace.