Welcome to the WrestleJoy weekly recap, where every week I hope to bring you a breakdown of some of the positive news in the world of wrestling. If a contract is signed, a baby is born, or something positive occurs in the wrestling world, I'll be sure to do my best to cover it. This week, AEW teased an upcoming non-wrestling event, we learned of a number of charity streams, contracts were signed, and PWG announced the competitors for their highly anticipated Battle of Los Angeles. Full details can be found below, enjoy some good news in wrestling!
AEW Planning to do a Summer Fashion Show
On Sammy Guevara's weekly VLOG it was confirmed that AEW would be doing a 1940's inspired fashion show this July. During the VLOG, Sammy and other members of the AEW roster, including CM Punk, Cody Rhodes, Brandi Rhodes, Tay Conti, and Aubrey Edwards were all present for a photoshoot to take promotional pictures for the event. AEW's lead seamstress and designer Sandra Gray appeared on the VLOG with Sammy. Sandra's social media notes her love of 1940's and 50's fashion so she's sure to have had a good hand in putting this event together.

During the VLOG, Sandra had this to say about the event: "I'm getting the opportunity to take people I work with everyday and turn them into ladies and gentlemen from the 1940's and 50's. Wait till you see what these people look like." The event will be held at Universal Studios in Orlando FL this Summer and will features AEW Superstars participating in coordination with AEW's Community Outreach program.
Bayley's live stream for charity featuring Stone Cold, Sal Vulcano, Vic Fuentes and more.
On December 11th, Bayley held a livestream on Instagram in support of Family Giving Tree. The Family Giving Tree is a non profit organization in the bay area that helps support less fortunate families. This year, they are doing a holiday wish drive encouraging those who can to support by donating or purchasing a gift via the Family Giving Tree website.
Bayley hosted a livestream that featured a number of notable guests who spoke with Bayley to help raise awareness and gather donations. The guests included Stone Cold Steve Austin, Sal Vulcano from Impractical Jokers, Lamorne Morris from the TV show New Girl, Vic Fuentes of Pierce the Veil, Jeremy Hills (an elite sports trainer), and Akeem Raheem, a local Bay Area artist. Bayley spoke with guests for a couple minutes and answered fan questions. She even played a couple of tunes during the stream. It was a fun success as she surpassed many of her donation goals. You can still donate to the Family Giving Tree or purchase a gift for a child in the Bay area for the holiday season.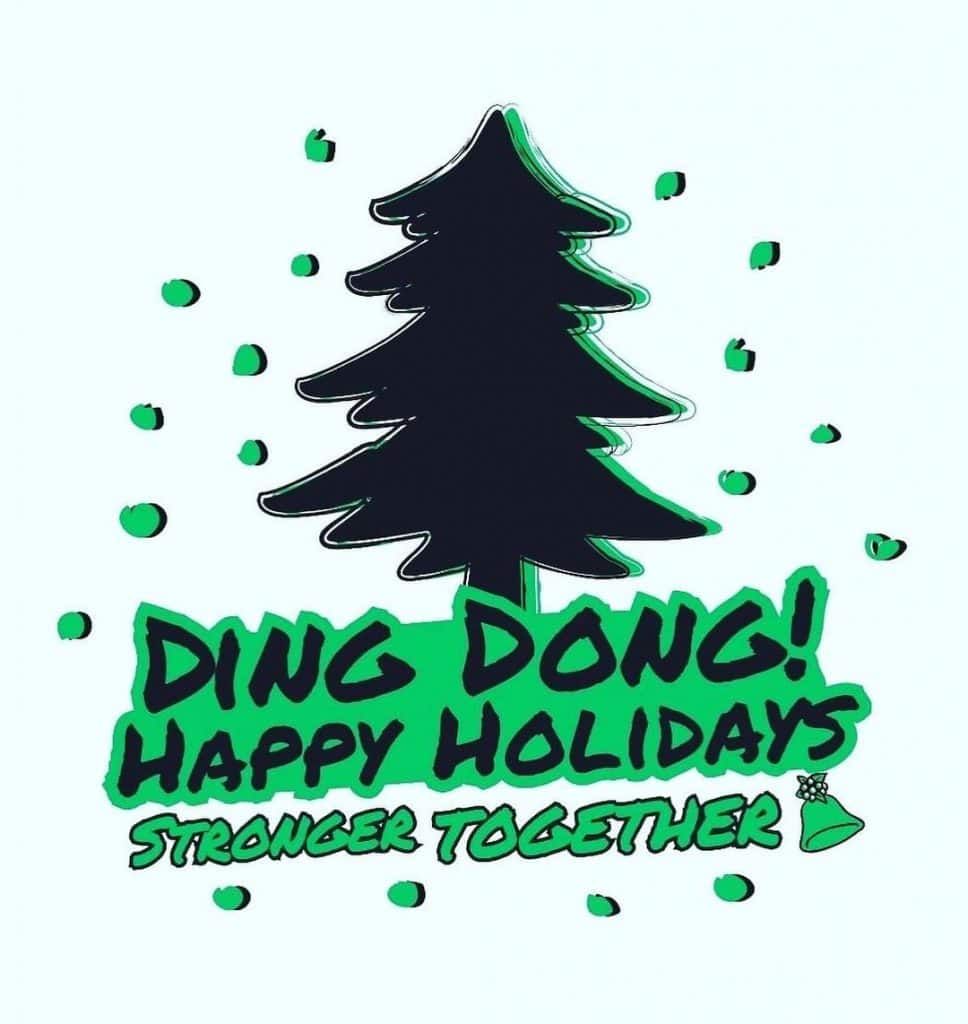 Paige Partnering with Creators for Charity Holiday Drive on Twitch.
Paige will also be participating in a charity stream this holiday season. Twitch recently announced their upcoming Creators for Charity Holiday Drive. Paige tweeted:
Paige was a confirmed member of the charity event and will likely do well as she is one of the biggest wrestling streamers on the platform. Donations received during the streams will go towards a charity of the streamers choice and is a great way for Paige to utilize her platform to give back.
Tesha Price & Kevin Owens sign new contracts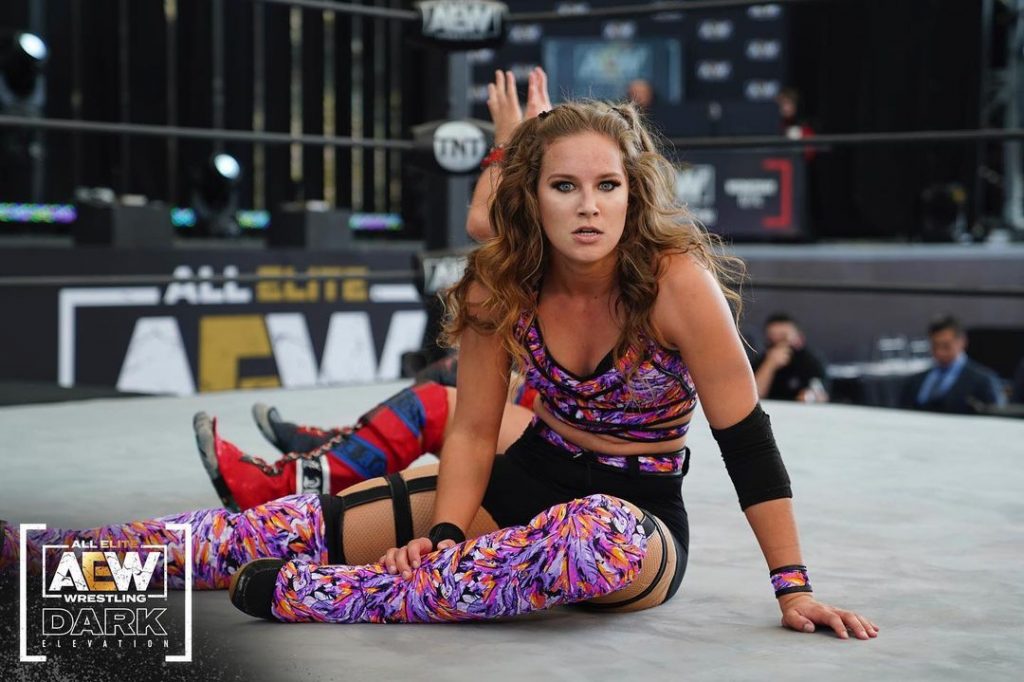 Two new superstars have signed WWE contracts under completely different circumstances. Former AEW Dark talent Tesha Price has signed with WWE and will now be working under the ring name "Fallon Henley". Henley made her WWE debut on Tuesdays 205 Live tapings. While in AEW, she worked over 20 matches working with a number of AEW's top female talent including Britt Baker, Thunder Rosa, and most recently, Hikaru Shida in August. Henley has only been wrestling for a total of four years but only at the age of 27 she has plenty of room to develop and become a mainstay on WWE's roster.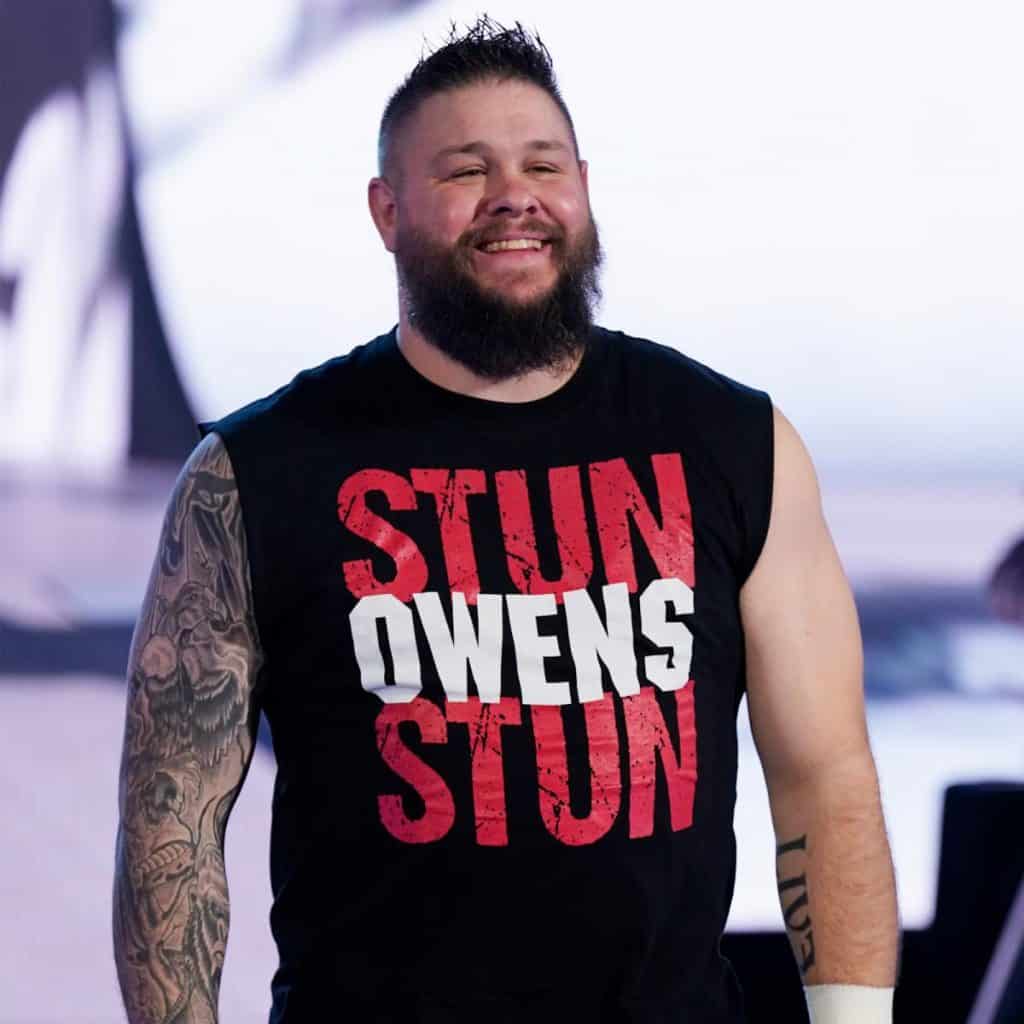 Kevin Owens has been a mainstay on WWE's roster for a number of years and looks to continue that for many more to come. It was teased earlier this year that Owens might consider leaving WWE when his contract expires, to join his friends in AEW and reunite his Mount Rushmore faction with The Young Bucks and Adam Cole. That rumor gained even more traction when Owens posted the coordinates to the real Mount Rushmore in South Dakota on his Twitter bio. Now the rumor can be put to rest as Fightful initially reported that Kevin Owens had re-signed with the WWE. Owens spoke with Pat Laprade on the Anti-Pods de la Lutte podcast and confirmed he'd be staying with the WWE for several more years. Owens explained that re-signing with the WWE was ultimately the best choice for his family and thus a no brainer. Dave Meltzer of the Wrestling Observer noted that the contract was in the two to three million dollar range. Fightful reported that many within AEW were not surprised by this as it's well known how much Owens values his family.
Shibata set to make in-ring return at Wrestle King 16 on January 4th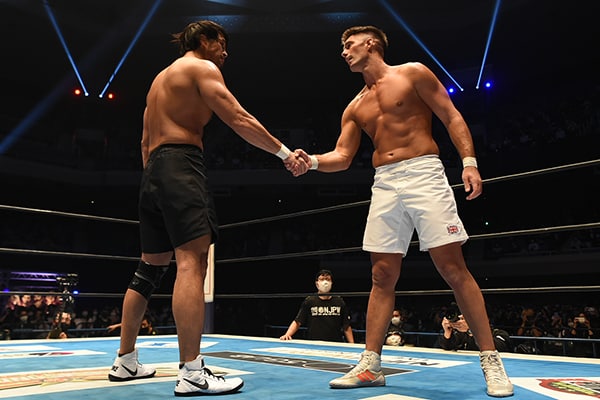 During NJPW's World Tag League and Best of the Super Junior final on December 15th, Shibata announced he'd be making his return at New Japan's biggest show of the year. Shibata had fans speculating an in ring return might be possible after a grappling exhibition with Zack Sabre Jr at the G1 Climax final. Shibata's opponent for the event has yet to be announced, but regardless it's exciting for fans that he'll be returning to in ring action. Shibata's last match was in April of 2017 against Kazuchika Okada, during that match Shibata suffered what many believed to be a career ending injury. Shibata was recently interview by KAMINOGE magazine and mentioned that he only had a handful of matches left in him if he was cleared to wrestle, perhaps a few per year. (per golden_kuma on twitter)
Jeff Hardy to embark on meet and greet, music tour.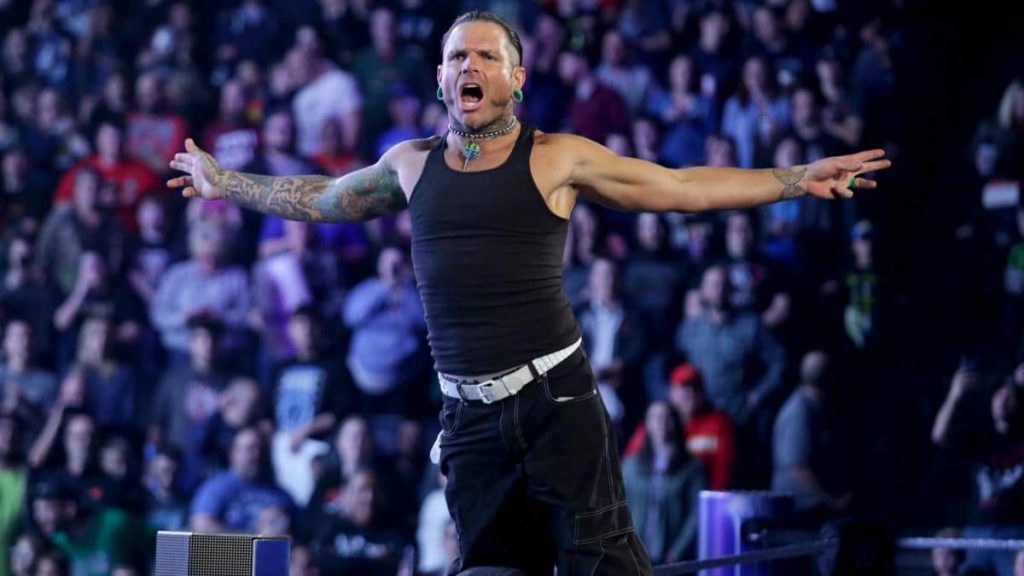 Per Jeff Hardy's Twitter, the enigmatic superstar is set to go on tour and perform. Jeff will be hosting a Meet & Greet and Acoustic tour throughout the Midwest. The tour kicked off in Milwaukee Wisconsin at the Miramar Theatre on December Sixteenth. The eight date tour will go until January 16th 2022 when Jeff will appear at Bigs Sports in Sioux Falls South Dakota. The tour is advertised as a Meet & Greet and Acoustic tour and will feature both musical performances as well as meet and greets with Jeff. Tickets for the events range from $20-$150 with higher end tickets including a private meet and greet with Jeff. If you're in the area of any of these events it's sure to be a good time to meet with Jeff and also hear his music live. Following Jeff's sudden release from WWE, it is good to see the legendary tag team superstar able to do thing that bring him joy.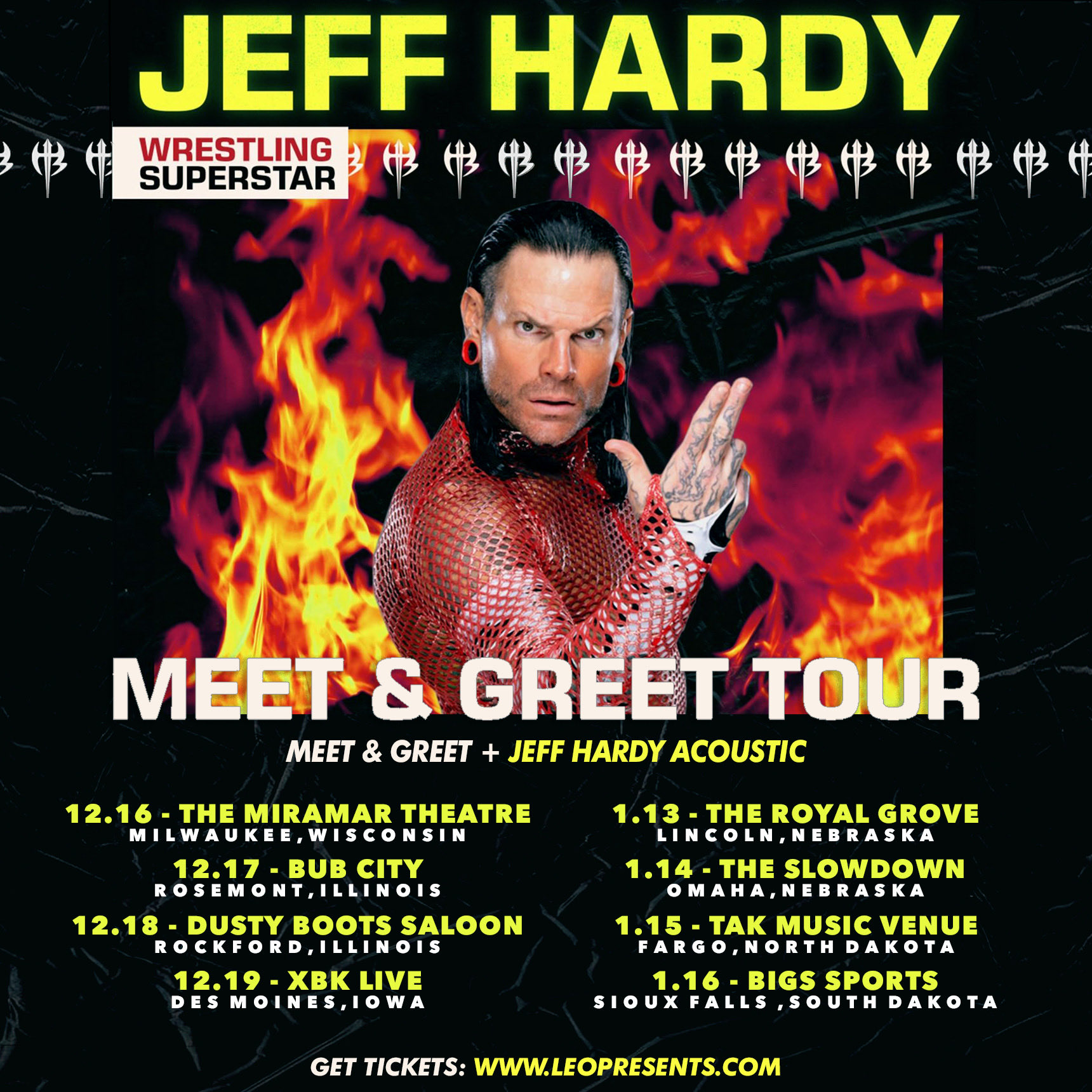 Deadlock Pro Wrestling Hold their Inaugural event.
The first episode of DPW Fire is now available on their YouTube and I strongly suggest you check it out when you have the time. The first episode of DPW First is only 45 minutes long and features three very fun matches. Internet sensation and Anime hero Kidd Bandit wrestled NJPW Strong superstar Lucky Ali in a singles match to open they show. They also began their Worlds Championship Eliminator Tournament with Josh Fuller taking on Bojack and Rosemary wrestling Andrew Everett in the main event. The show is very high quality and well put together with great production and solid wrestling. There were even special promos and graphics throughout and just felt like a great easy to watch show and it's only the first episode. You can support DPW via Patreon for exclusive content and if you're in the Raleigh, NC area can attend their next event "You Already Know" live on January 8th. You can catch their future episode of DPW Fire on YouTube and those shows will feature superstars like Kevin Ku, Matt Lee, and Luther.
PWG's Battle of Los Angeles 2022 field grows.
Pro Wrestling Guerilla made their official return several months ago and have now held three shows since returning. Now they plan to hold their biggest show of the year being their Battle of Los Angeles tournament. The 2022 Battle of Los Angeles will take place on January 29th and 30th. This tournament is one of the most highly regarded intendent wrestling tournaments of the year and is typically held in the fall either in late August or early September however they've held the tournament in November twice. This will be the first time the tournament will be held in January and it's unknown if that will become the yearly date of the tournament going forward. Talent like Kenny Omega, Adam Cole, Ricochet, and most recently Bandido have won the highly prestigious tournament in the past.
On December 6th PWG began announcing names for the tournament and have now named twelve of the official competitors for the 2022 Battle of Los Angeles. JONAH, Alex Shelley, Kevin Blackwood, Lio Rush, Black Taurus, and Daniel Garcia, were the first six announced for the prestigious tournament. Since then Jack Cartwheel, Bandido, Lee Moriarty, Davey Richards, Aramis and Jonathan Gresham have also been added to the fray. Gresham is currently ROH's world champion and Richards has been on an incredible run since returning to the indys. All of the announced talent have made waves in one way or another and it's sure to be a highly anticipated event.
Since 2013 Battle of Los Angeles has returned to 24 competitors however upon returning to 24 competitors they also added a third day. PWG only announced two days for this years BOLA which has lead to speculation it could return to the 16 man format it had from 2008 to 2013. This could be true however PWG has held BOLA over two days and had 24 competitors from 2006-2008 so it's not impossible they return to this format. As of now the twelve competitors announced are some of wrestling's best in the world and if we consider the possibilities for the remaining spots it's sure to be one of the most talked about wrestling tournaments in some time.