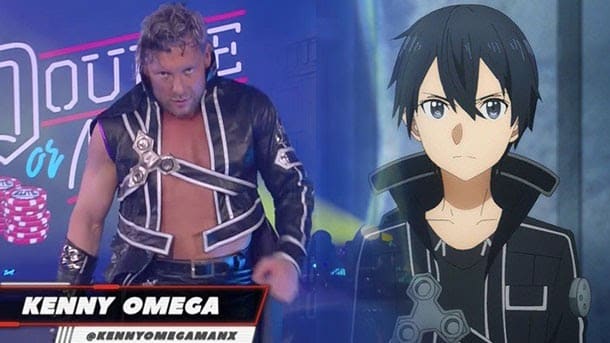 The connection between pro wrestlers and their "nerdy" influences has never been stronger than it is right now.

We live in a time where a wrestler waxing poetically about their favorite pop culture characters is extremely common, with dozens of performers live streaming their video game habits on Twitch and plenty more paying homage to their favorites through their ring gear via cosplay. We've seen The Elite dress up as characters from Street Fighter, Cody rock some Venom Snake gear to shout out Metal Gear Solid, and Kenny Omega pay tribute to countless influences through his attire, including dressing up as Sans from Undertale for Dynamite's first Halloween.
Cartoons and wrestling are a natural pair, and some huge fans like Omega himself have made their passion for 'toons known. But what drives someone to go through the trouble of having custom gear designed, fitted, and accessorized just for them – and possibly for just one night? As someone who continues to connect to these worlds sketched out by pen and computer, I'm fascinated by the moments when wrestlers live out their animated dreams on screen. What show do they have that bond with, and why pull it out at a specific given time? It turns out the reasons are as diverse and personal as the tastes of the people between the ropes. Here are some of my favorite examples of what happens when wrestlers get inspired by the cartoons they love, and bring them to life.

The New Day (Dragon Ball Z)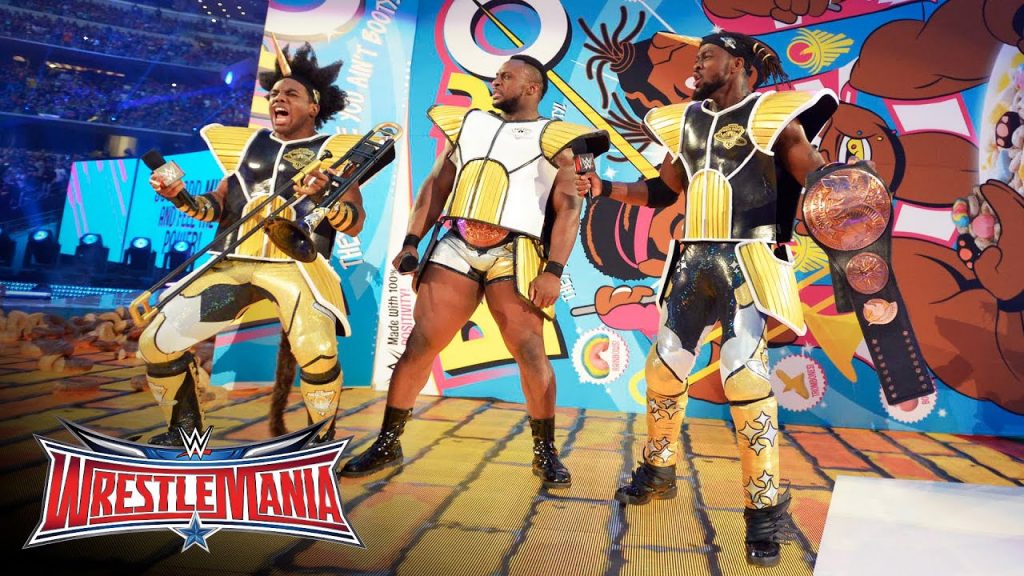 The New Day have always been indebted to popular culture, especially Xavier Woods' connection to gaming and anime. This is shown in the bright colors and fun, zany designs in their gear – whether they're playing good guys or bad. Woods, Kofi Kingston, and Big E had worked, tweaked, and finally connected with their obnoxious heel characters leading into the spring of 2016. They turned face just in time for Wrestlemania 32, meaning they came onto the grandest stage as one of the most over acts in all of WWE. When they came out to face the League of Nations, it was not just an entrance, but a true arrival.

Appropriately, they came out dressed as conquering warriors in the garb of Dragon Ball Z. Woods specifically crafted his gear as an homage to Vegeta. That character spent years striving to prove he's as great as those who'd gotten the upper hand on him in the past, but put pettiness aside to unite with other warriors to protect the universe. As a man told for forever he was too small and not going to get over – who found his forever brothers and the Power of Positivity via The New Day – it had to mean all that much more to Woods to come in as one of his favorite victorious heroes while still embracing his inner nerd to the max. It definitely meant more for all the fans along for the ride.

Best Friends (Rick & Morty)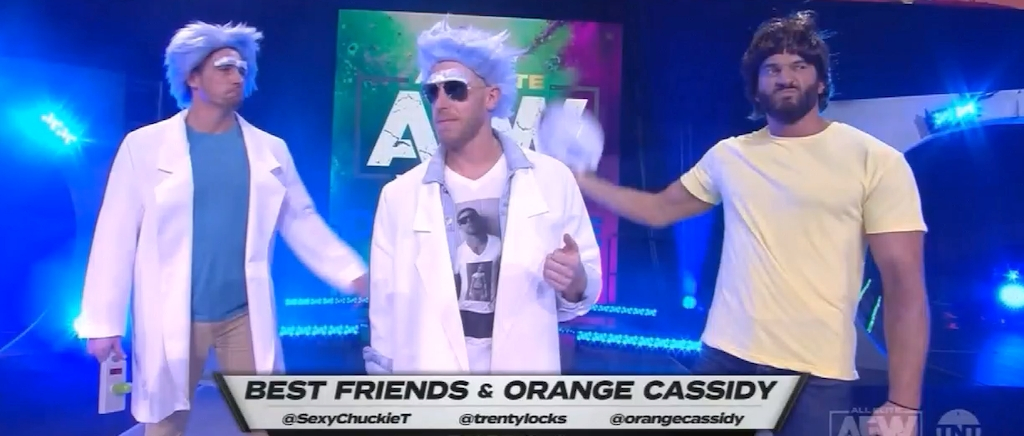 Unlike the other entries here, Best Friends & Orange Cassidy were not likely sending a message or calling upon cartoons for strength. AEW announced a partnership to push insane cartoon Rick & Morty on TV and the turnbuckles before this particular Dynamite. But they (ironically) took the goofiness seriously, making sure to replace all parts of their costumes throughout the match, and embodied the characters well. Chuck Taylor (dressed as Rick) drives the team's action, even in this match, with goofy speeches and harebrained schemes while Trent (Morty) backs him up and fixes messes when necessary. You can't get more Rick & Morty than that!

More importantly, this type of feel-good direction came at a time when Best Friends weren't pure faces yet. This match showed that they could connect with a crowd in a big way by embracing fun. They would soon go full-bore in that direction, minus the costumes, and become one of the hottest acts on the roster as a result.
The IIconics (Maleficent from Sleeping Beauty)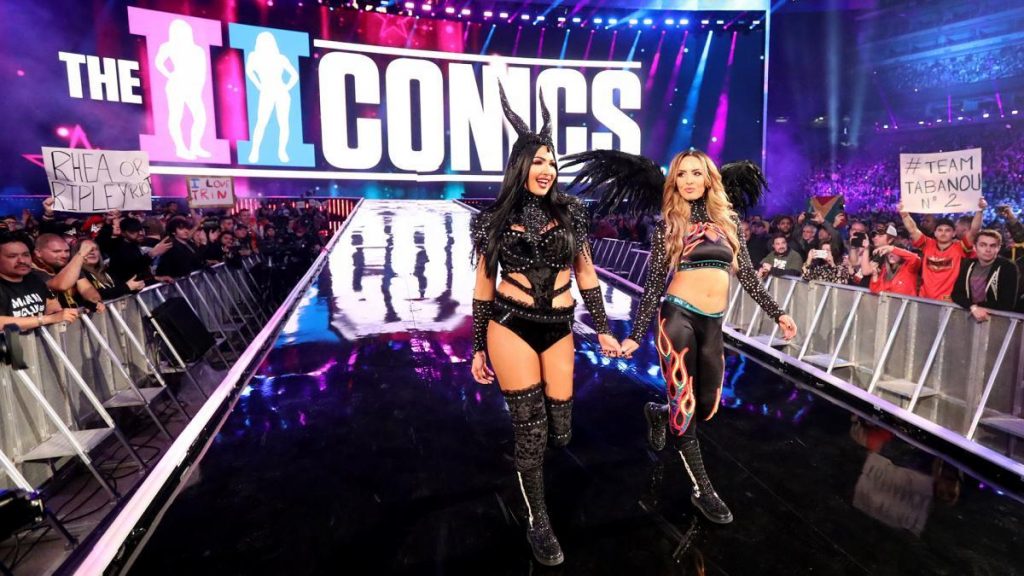 Billie Kay and Peyton Royce emerged onto the WrestleMania 35 stage as part of a Fatal 4-Way match. Not only did they have 3 sets of opponents, they were far from the headlining challenger as Beth Phoenix's return from retirement to team with Natalya again had fans (rightfully) buzzing. The IIconics then succeeded in demanding everyone's eyes with their popping entrance calling out to Disney's Maleficent (aka the evil witch who curses Sleeping Beauty). In this case, it meant a vision of strength as their new ring gear was adorned with the villain's iconic horned headpiece (Billie) and jet-black wings (Peyton).

This look immediately captured attention and vaulted them above the fray – much like crowds parted for Maleficent in the movie – as Billie stood ever-taller and Peyton looked ready to soar. To top it off, this perfectly foreshadowed their heel persona flying to the highest heights with their emotional victory winning them the Women's Tag Team titles.

Johnny Gargano (Wolverine from X-Men)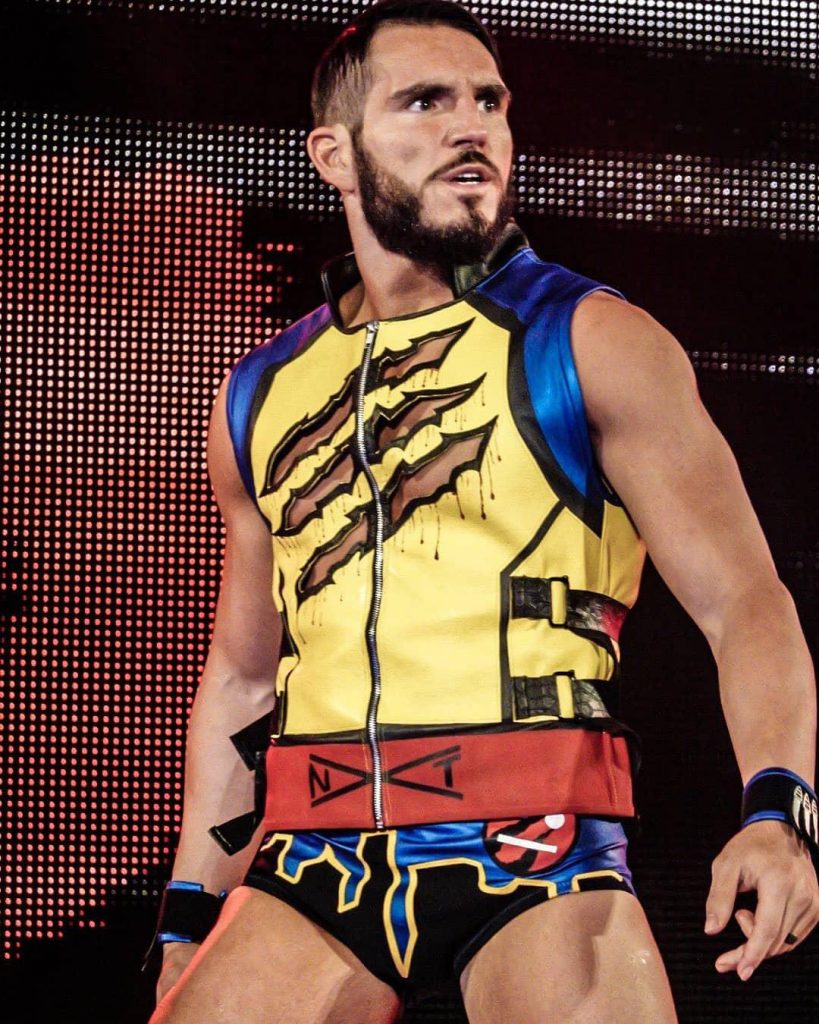 Wolverine famously gives out zero F's and plenty of ass-whoopings, but his actual mutant power is a healing factor. He can take almost any punishment imaginable, patch himself back together, and keep on trucking. Johnny Gargano wore this outfit – an homage to Wolvie's classic look from the 1990s X-Men animated series – during his time as a valiant babyface who would endure and overcome anything to be able to reach his goal of hitting the top of the mountain.

Endurance was the key word on this particular night, as Johnny got set to face off against Adam Cole in a 2 out of 3 falls match to try to capture the NXT title. This gear thus sent a visual message to the crowd that Gargano was willing to ignore whatever pain, blood, or broken bones it would take to bring home that gold. After the match, which Cole won, it let everyone know that Johnny would heal and keep fighting come the next day. Quite apropos for two men who have had to take their share of bumps while never letting it extinguish their spirit.
Whatever your favorite style of cartoon may be, there's undoubtedly a wrestler out there who fits it. The way things are going now, they may just call it out before too long as a way to accomplish the goal they both share – jumping right off your screen and into the lore of forever.