Ten years ago, Randy Poffo, known to wrestling fans as the Macho Man Randy Savage, died of a massive heart attack while behind the wheel of his Jeep Wrangler. Few knew where to find the line between Poffo the man and Savage the performer. Many have wondered if such a line even existed. A recent A&E special brought new light to one of professional wrestling's most influential figures, but left viewers with more questions than answers. Savage's tenure in the former World Wrestling Federation turned him into a household name in the early 80s. It was the time the Poffo family invaded the Memphis territory that first introduced Savage to the wrestling world.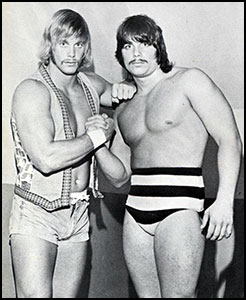 After the end of his minor league baseball career, Randy Poffo followed his father into the pro wrestling business. Angelo Poffo started wrestling in the early fifties, making his first impact as part of the Chicago territory ran Fred Kohler and seen nationally on the Dumont Network. While in Chicago, Poffo defeated Wilbur Snyder for the original NWA United States title in December 1958. Billed as both "The Miser" (because he was notoriously cheap) and "The Graduate," Poffo taught physical education in Downers Grove, Illinois, while wrestling. Poffo's Graduate gimmick would inspire both of his sons. Randy would use Pomp & Circumstance, a song best known for its use in gradation processionals, for his entrance music. While Poffo's younger son, Lanny, adopted the character of The Genius in the WWF, complete with a full cap and gown.
When Angelo tried to break his sons into the business, they were initially rebuked by promoters. Frustrated, the Poffo family did something unthinkable in the era — they started their own promotion. Called International Championship Wrestling, ICW was built on the Poffo's. It was in ICW that Randy became Savage, though his linage was never hidden. ICW made their home in Lexington, Kentucky, directly in the center of Nick Gulas's NWA Mid-America promotion.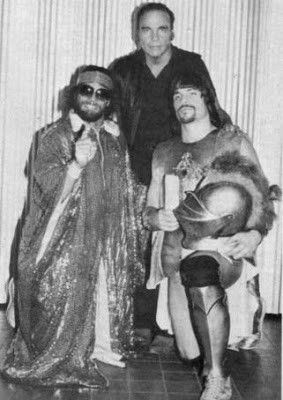 Gulas was the leading promoter of the Memphis territory since the dawn of the NWA. However, a year before ICW's launch, Gulas's promotion was in shambles. Ironically, Gulas's treatment of his own son, George, didn't sit well with his talent. Many felt that the younger Gulas only received his mega push because of his father. This spurred Jerry Jarrett, father of Jeff, to split off from Gulas and start his own promotion in Memphis. Surprisingly, the NWA turned a blind eye to Jarrett's blatant by-law violations. Not that it would have mattered.

The local Memphis TV station WMC sided with Jarrett, handing him the Saturday morning timeslot that became synonymous with the company. More importantly to Jarrett, he had the support of the region's top star Jerry "The King" Lawler. By 1980, Gulas and NWA Mid-America were out of business. The Knoxville end of the territory, which became Southeastern/Continental, was taken over by his business partners, the Welch-Fuller family, who had also sided with Jarrett. The turmoil created a perfect environment for another outlaw group.
Poffo's ICW was referred to as "outlaw" because they didn't have any affiliation with the NWA, which was a no-no. ICW found an instant home on Lexington television. Lanny became the first ICW World Champion, with his older brother as top challenger and eventual champion. While the territory didn't draw well initially, the Poffo's became excellent at generating attention, particularly Randy.

Watching his ICW promos, one can see the building blocks of what would become the Randy Savage in WWF. Mixing his raw intensity with vocal inspiration from midwestern journeyman Pampero Firpo, Randy crafted a character unlike anything else. To help ICW gain traction, Savage would challenge Memphis stars like Bill Dundee, Austin Idol, and especially Lawler to face him at Lexington's Rupp Arena. When the competition inevitability didn't show— and why would they?— Savage would erupt in another manic promo spot. To help solidify his reputation as an absolute nut, Savage entered a Lexington grocery store and stuffed a raw stake down his pants. He was subsequently arrested, but the stories of crazy Randy Savage spread.
While ICW never drew money in the neighborhood of Jarrett's promotion, they succeeded in drawing talent away from both Memphis and Fuller's Knoxville territory. Eventually, stars like Bob Orton Jr., Ronnie Garvin, Pez Watley, Crusher Broomfield (aka One Man Gang), Bob Roop, and the Great Malenko would find a home with the outlaws.

One of the most notable ICW discoveries was television host Liz Hulette, who would later marry Randy and follow him to the WWF. As talent tried their hand with Poffo, Jarrett and Fuller grew frustrated by their antics. Multiple lawsuits were filed back and forth between the groups. The rivalries became more intense, eventually leading to a real-life fight between Savage and Bill Dundee that nearly turned deadly when a gun was drawn. Depending on whose version of the story you believe, either Savage pistol-whipped Dundee or Dundee aimed at Angelo. Both parties filed criminal charges against the other but were eventually dropped.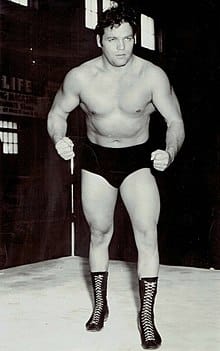 By the end of 1983, Angelo Poffo was faced with the reality that ICW would have to close shop after five years. Before pulling the plug, Poffo made a call to Jerry Jarrett and tried to bury the hatchet. Always an intelligent promoter, Jarrett knew that while the Poffos were a pain, they could help draw money for his promotion. Memphis was unique to most territories in that they had a specific set of buildings that they ran every week. Monday Night Wrestling's Mid-South Coliseum was an institution decades before Raw. But drawing the same people every week meant having to keep matchups fresh. Jarrett and his partners Lawler and Dundee rotated the booking position to help keep things fresh. This gave the promotion a chaotic sense in that anything could happen. In December of 1983, anything did happen when Randy Savage and Angelo Poffo together invaded WMC TV.
Savage and his father show up out of nowhere and demand commentator Lance Russell bring out Lawler during a tag team match. For all the talk of ICW not being able to draw, the moment Savage shows up in the WMC Studio, the crowd knows exactly who he is and what he wants. Lawler was in the tail-end of his long-running feud with manager Jimmy Hart. Savage started out as the next challenger for the King and his AWA Southern Heavyweight crown, only this time Hart stood with Lawler.
Essentially, Angelo Poffo engineered an invasion angle where both shows could present their perspective on the rivalry. The results were massive, with Savage and Lawler selling out Rupp Arena in Lexington for a match that ended in a violent no contest. The Savage/Lawler feud would travel across the territory doing major business before the two locked up in a steel cage match in the Mid-South Coliseum. Again, the match ends in chaos when Jos Le Duc, another longtime Lawler foe, interferes.
As Angelo turned the lights out on ICW in 1984, his sons made Memphis their new home. After feuding with Austin Idol, Savage teamed with his younger brother as Poffomania and set their sights on one of Lawler's greatest creations, the Rock 'n' Roll Express. Ricky Morton and Robert Gibson were two young mid-card babyface but together became one of the hottest acts of the 1980s. The quintessential southern babyfaces were on their way to Bill Watts' Mid-South promotion, where they would become legitimate stars. Before leaving, the RnRs battled Poffomania.

Their wild encounter is remembered best with shocking, by 1984 standards, finish. Savage lifted the prone Morton up and delivered a piledriver, a move so dangerous, it was banned in Tennessee, right through a ringside table. In 2021, table spots are a part visually every show, but in 1984 they were unheard of. The moment was immortalized on the Lords of the Ring VHS cassette, the first major videotape marketed without the WWF. When Morton and Gibson returned from Mid-South, Poffomania and more wild matches were waiting.
The most surprising turn of 1984 came when Hart's new team of King Kong Bundy and Ravishing Rick Rude took their turn in the King's sights. Rude was a Jarrett project, a green talent from Watts with a unique look and an untapped attitude. Jarrett turned Rude heel and teamed him up with a female valet called Angel (Rude's real-life sister). It's heavily implied that Rude physically abuses Angel, which draws the ire of the babyfaces. Though in bad taste, the angle was unheard of in 1984 and helped cement Rude as new Memphis's top heel. With the massive Bundy, Rude is nearly unbeatable until the King found an unlikely partner in Savage. The entire angle served as a template for much of what Savage would do in his early WWF run with Elizabeth and his eventual alliance with Hulk Hogan. The rivalry against draws big houses in Memphis.
Eventually, Hart and Bundy would leave for the WWF, which was rapidly expanding. Rude would find his way there in 1987. Of course, then the call came from Vince McMahon to Randy Savage himself. But before Savage left Memphis, the wild one and the King would have one more go astound the horn. The unlikely alliance ended as quick as it began, leading to a final Loser Leaves Town match between Randy Savage and Jerry Lawler in the Mid-South Coliseum. As always, the king prevailed.
However, the real winner of this feud was Angelo Poffo. The man who gambled everything on seeing his boys succeed was instrumental in creating the perfect environment to nurture one of pro wrestling's most enduring personalities. Through his hard work, the proud father saw the family's hardworking rewarded when Randy became one of the WWF's first true superstars.