AEW's weekly YouTube show 'AEW Dark' has presented a platform for independent wrestlers to showcase themselves to an audience of over 200,000 each week. For fans of AEW Dark, they have been given the experience of seeing a number of talented superstars like Will Hobbs, Top Flight, and Red Velvet get their start within an AEW ring. Each week we focus on one talent from AEW Dark who has stood out and shine a light on them to give an idea about who they are and where they come from.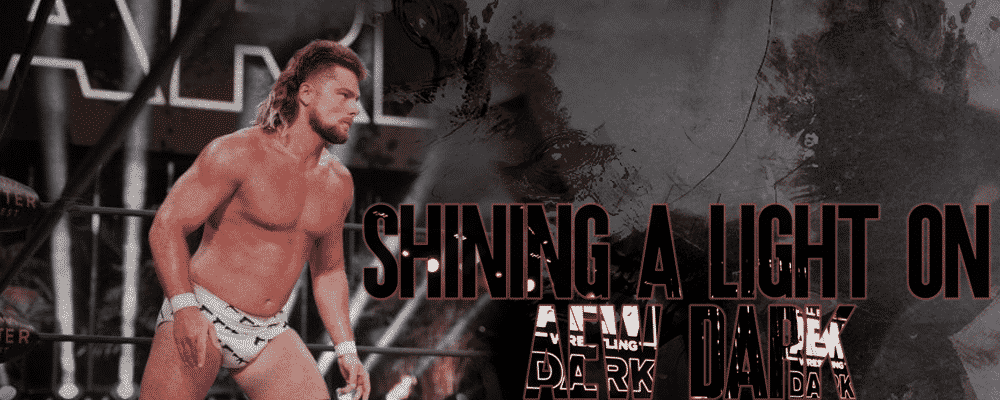 Over the last few weeks we have focused on the Varsity Blondes. We began by taking a look at Griff Garrison's introduction to professional wrestling. We followed up with the exciting career path for the young upstart, Julia Hart. This week, we will focus on the final member of the Varsity Blondes, Brian Pillman Jr.
Pillman Jr. is a second generation superstar with a very compelling story, one that has endeared wrestling fans around the world to this bright young star. Being the son of one of wrestling's most prolific superstars, Brian Pillman Sr, his path to the wrestling ring is not the typical journey. Known for being a loose cannon, Pillman Sr. was a fan favorite.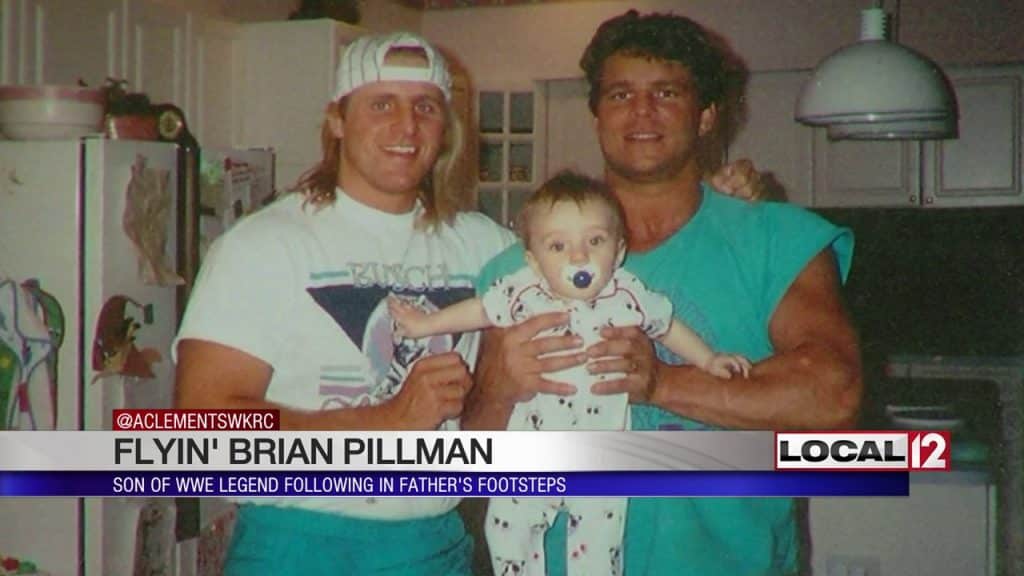 He was a superstar whose cult like following only grew following his tragic passing in 1997. Fans were starting to see Pillman Sr. ascend to even greater heights before his unfortunate and sudden passing. Wrestling fans lost a superstar they were infatuated with. However, for Pillman Jr., he lost a father. Due to the nature of growing up the son of a wrestling star, this moment was hard to process. He's mentioned in a number of interviews that it felt almost staged at the time.
Unfortunately, his father's passing was not part of an elaborate wrestling storyline. Initially, the family would keep ties to the business with yearly Brian Pillman memorial shows. A number of high level names would compete in these events to give back to Pillman Sr's family. Superstars like Rey Mysterio, Mankind, Chris Jericho, Eddie Guererro, and more, would wrestle and show their support at the annual Brian Pillman Memorial shows.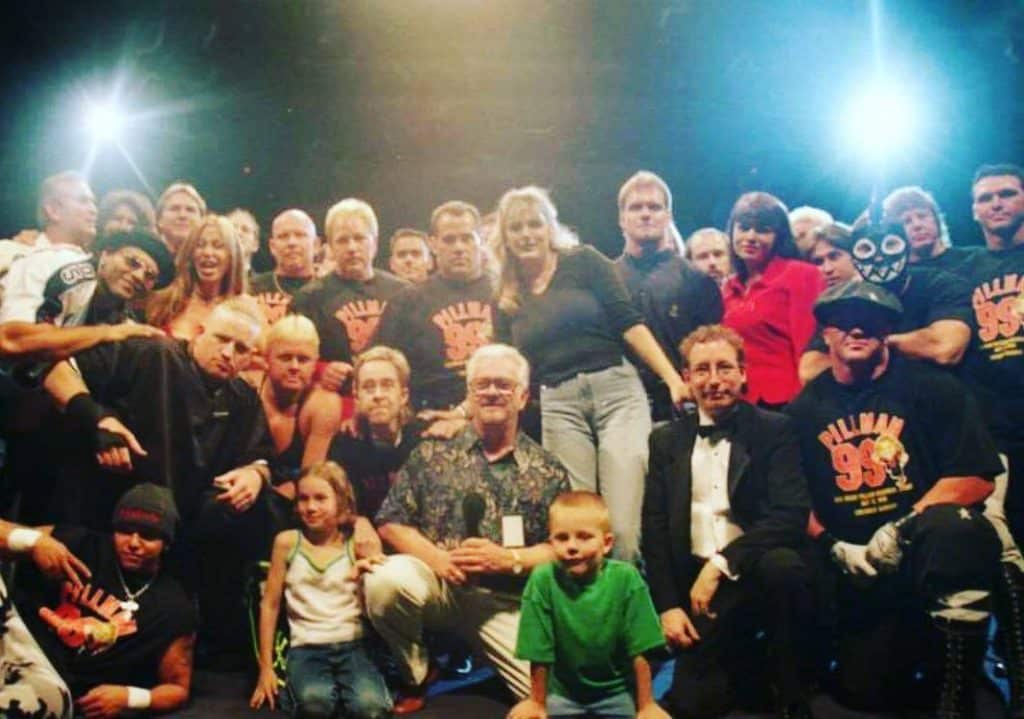 Friends of Pillman Sr., Rey Mysterio Jr. and Rico Constantine would wrestle around with a young Brian Pillman Jr., watching over a friend's son while keeping him entertained and pre-occupied. That would open the door to wrestling just a bit for the young Pillman. However, it would take some time for him to officially make the jump due to reservations inspired by his mother.
After growing up in a household with a complicated relationship with professional wrestling, Pillman Jr. would eventually decide to move out on his own. Eventually, he would make the choice to move in with a friend Paul and his mother. His uncle and aunt remained in touch, but otherwise his relationship with his family was limited. While staying with Paul, he would often fantasize about following in his father's footsteps as a pro wrestler.
Despite aspirations of one day becoming a wrestler, he would put these goals on hold to pursue a more 'normal' life. During High School he was a multi-sport athlete. Pillman Jr. would play football similar to his father and would also go on to become the captain of the Dixie Heights High School Lacrosse team. He would focus primarily on sports and video games at a young age. He cites his time playing football as a life saver. In an interview with Chris Van Vliet, Pillman mentioned that if he didn't have football, he likely would've went down a much more negative path.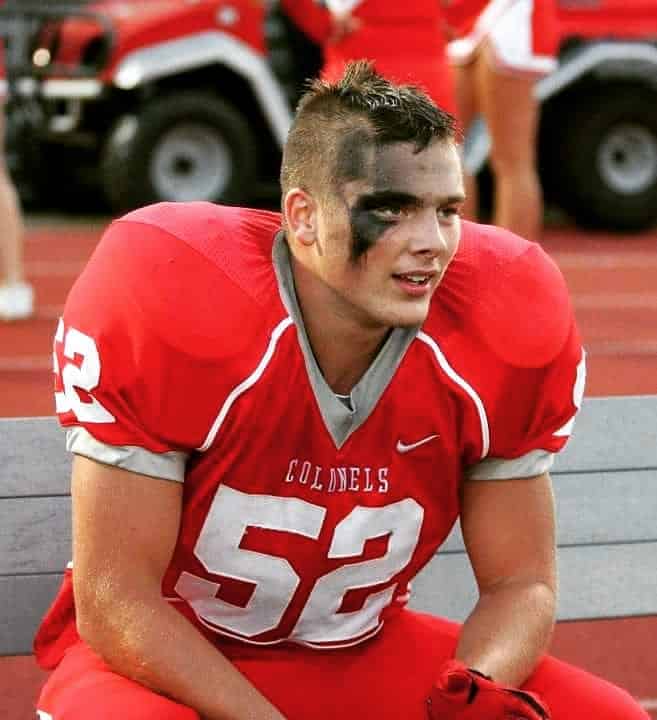 Following his time in high school, he would continue playing Lacrosse for The College of Mount St. Joseph in Cincinnati. He would later forgo his time as a Lacrosse player and focus on his education. Pillman Jr. then transferred and graduated from Northern Kentucky University with a degree in Information Systems. He received a job offer before even officially graduating and quickly had a job following his graduation. He spent a year working with a company specializing in car dealership databases for the western hemisphere.
This was a short lived experience, as taking this opportunity helped crack the pro wrestling door open just a bit more. While working for this company, Pillman Jr. relocated to Norwood Ohio, where his dad grew up. During his time living there, he encountered a number of reminders of his father's accolades. While touring his father's old high school, he saw a number of his father's plaques which would make him rethink his pursuits at a 'normal' life. He also had the influence of NFL coach John Harbaugh, head coach of the Baltimore Ravens. Harbaugh was a roommate with Pillman Sr. during college, and consistently kept in touch with the younger Pillman over the years.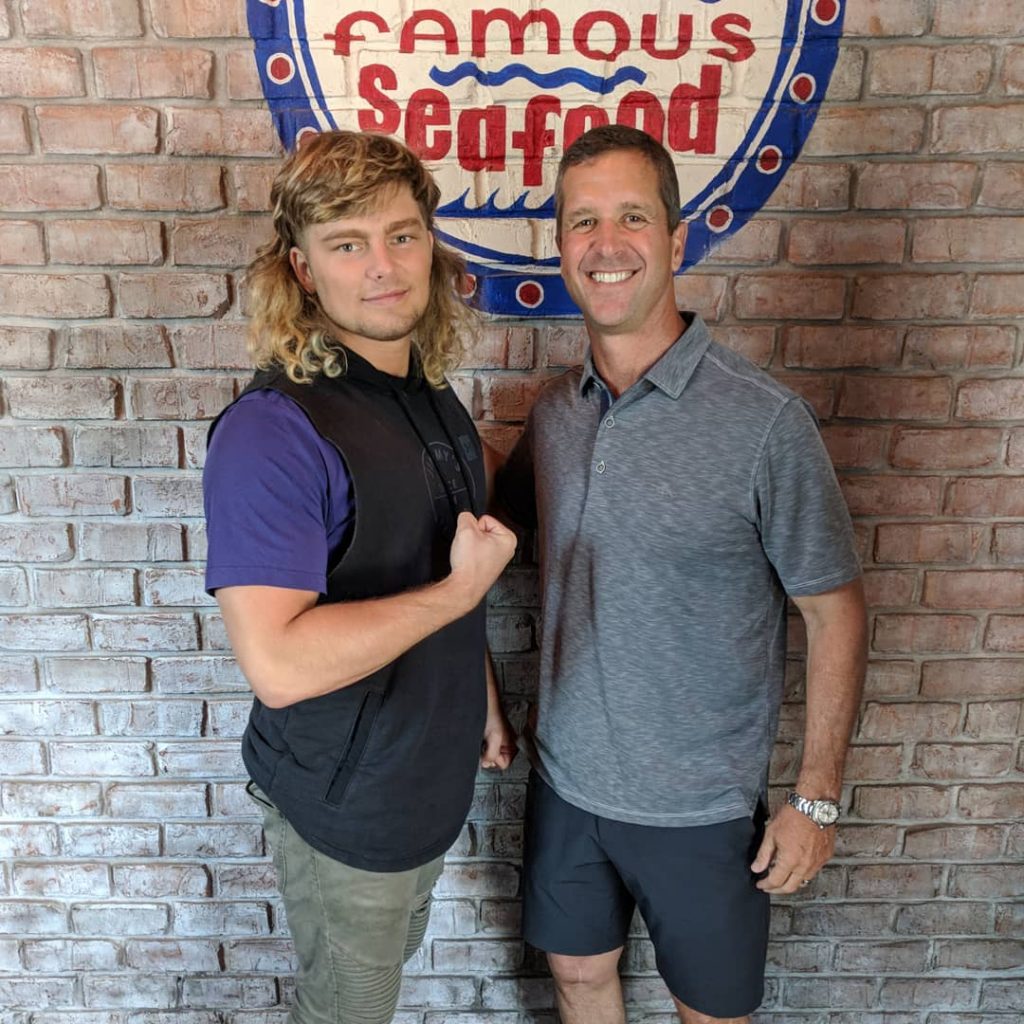 During this time, Pillman Jr. would get another reminder of his father's accomplishments by way of a professional wrestling icon. Stone Cold Steve Austin reached out to the young Pillman with one of his father's old weight lifting belts. Finally, Brian Pillman Jr. would become inspired to pursue a career in professional wrestling. At age 23, he would make the trek to Calgary and train with the legendary Lance Storm.
Beginning September 11th 2017, Pillman Jr. would train at Storm's wrestling academy for five days a week from 9am to 3pm. This was not just extensive in-ring training, but also extensive training on the psychology and respect necessary to become a great professional wrestler. Following his training, Brian Pillman Jr. made his in-ring debut on December 31st, 2017. Initially, it was unclear whether he would compete under his name because it was also his father's name. Many, including his trainer Lance Storm, wondered about the pressure it might put on Pillman Jr. Despite this, he would wrestle under his given name as he recognized he made this jump in large part due to his father and wanted to keep his legacy alive.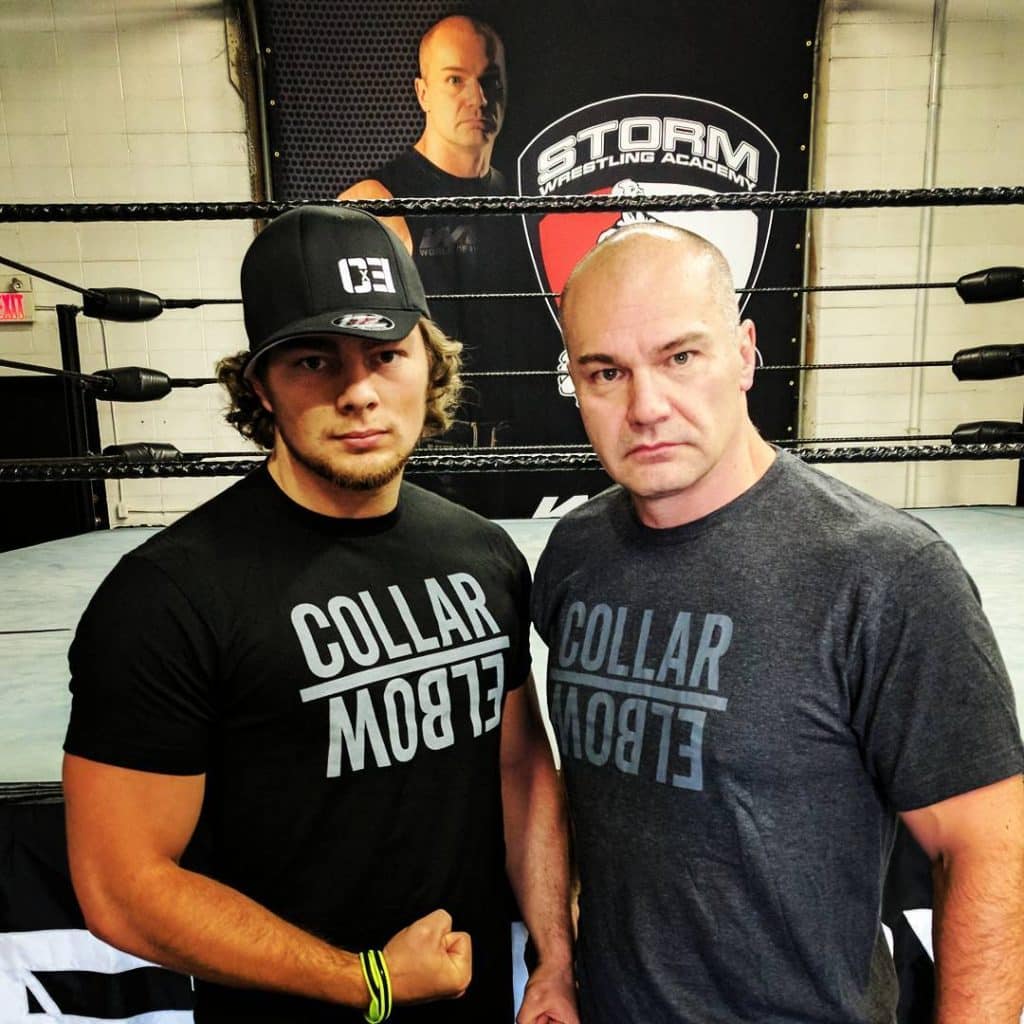 He would wrestle a number of independent dates, following the opportunity to grow as a traditional independent talent despite his second generation ties. He wrestled throughout the Midwest for promotions such as Rockstar Pro, BLP and CZW. Wrestling superstars like Joey Janela and Myron Reed early on in his career, were some highlights of his wrestling on the Midwest indies.
Unfortunately, Brian Pillman Jr. suffered a knee injury shortly into his run on the independent scene leaving him sidelined for a number of months. Despite this, he would keep himself relevant by appearing for a number of promotions, including making a cameo during Joey Janela's Spring Break 2.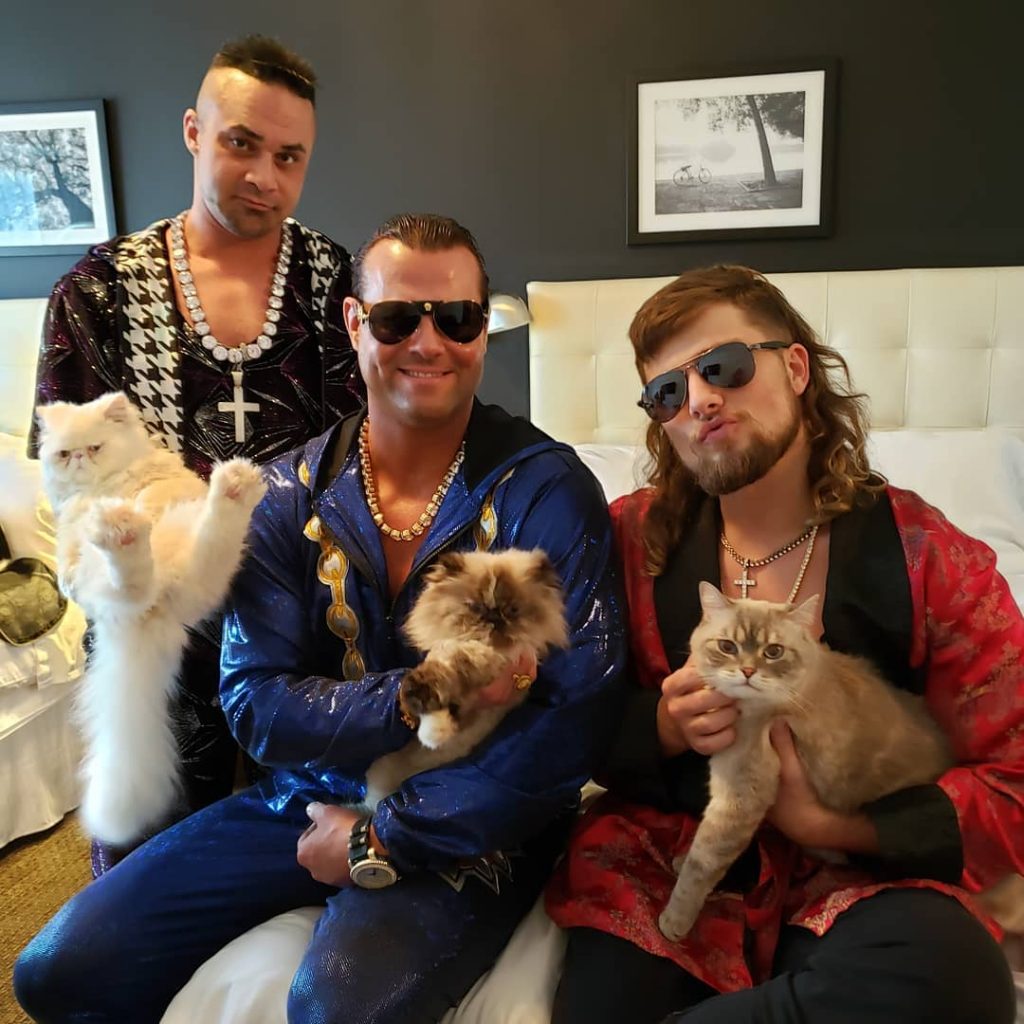 Shortly after returning from injury, Pillman Jr. signed with Major League Wrestling. Signing with MLW allowed him the opportunity to get television experience and exposure while also continuing to wrestle on the independent scene. While working in the independents and MLW, he would participate in a number of callbacks to his father.
Debuting for MLW alongside his father's former rival Kevin Sullivan, he would eventually attack him with a cane. This was when he would join Teddy Hart and Davey Boy Smith Jr. to form the New Age Hart Foundation. He feuded with the likes of Tommy Dreamer and MJF while in MLW. This gave him a lot of opportunity to grow as a young talent. While on the independent scene, he would even have a match with Jushin Thunder Liger, a callback to a famous match between Liger & Pillman Sr.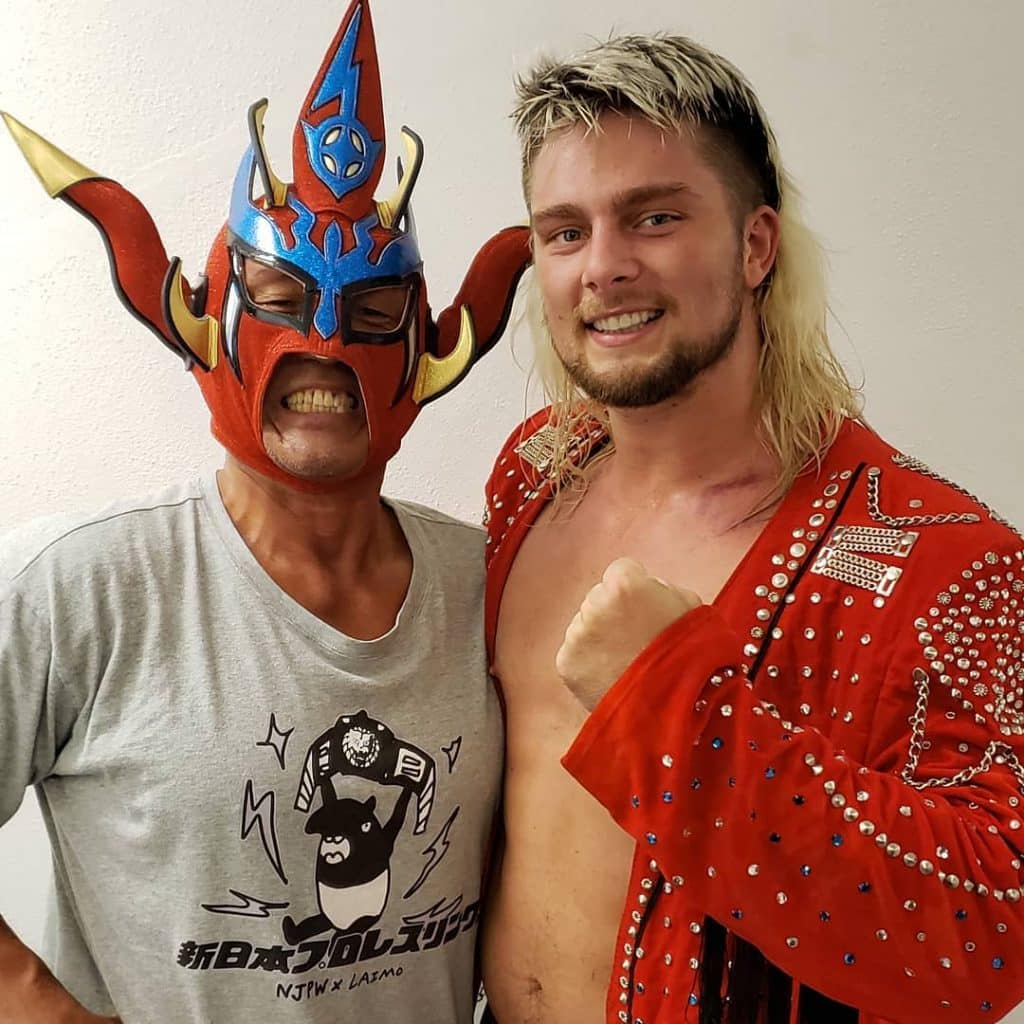 Eventually, Brian Pillman Jr. would get his first opportunity to work with AEW, making his debut in the Casino Battle Royal at AEW All Out in 2019. Initially, this would be a cameo appearance while he continued to hone his craft in MLW as well as the independents.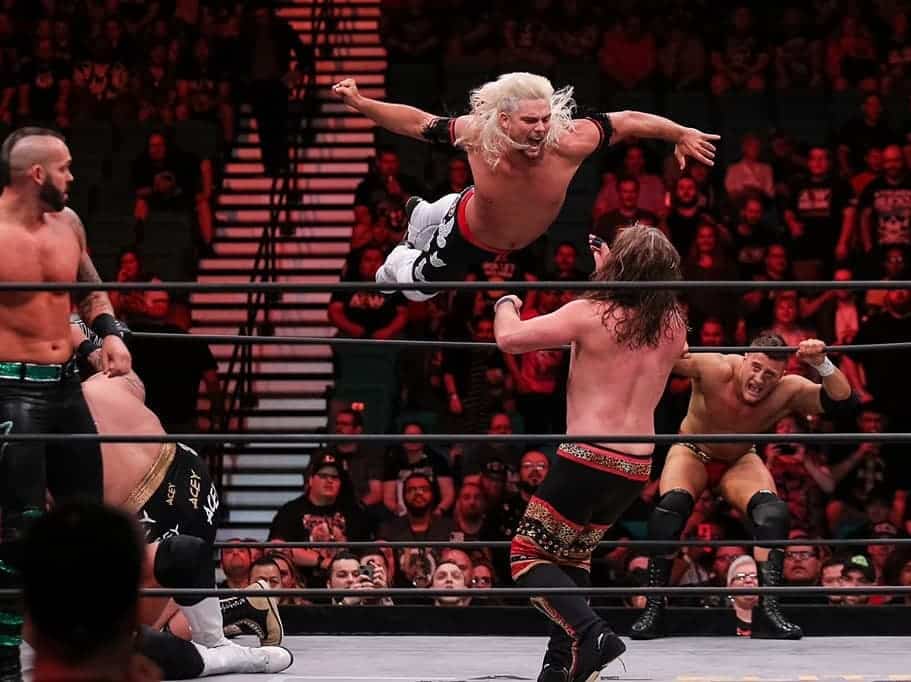 In 2020 however, like many other superstars, Pillman Jr. felt the effects of the pandemic. His ability to work had become severely limited. He requested his release from MLW in June of 2020 after not being contracted to work for them due to a lack of shows. MLW would grant Pillman Jr. permission to work AEW but would not officially grant him his release.
Pillman Jr. reached out to QT Marshall and began training with him, working with a number of young and upcoming talents at Marshall's school. This continued training allowed him to grow even more. In July of 2020, he began getting consistently booked on AEW's Dark programming. He even received a FTW championship opportunity against Brian Cage, coming up short in singles action, but eventually finding himself in the tag team division.
Brian Pillman Jr. would eventually pair up with Griff Garrison, another superstar featured somewhat frequently on AEW Dark. The two were grouped together and eventually named the Varsity Blondes a callback to both members' football history and the Hollywood Blondes. During this time, he would really find himself getting more confidence both in the ring but also on the mic. He would also continue to fulfill his obligations with MLW wrestling the likes of Lio Rush, ACH, and Mil Muertes.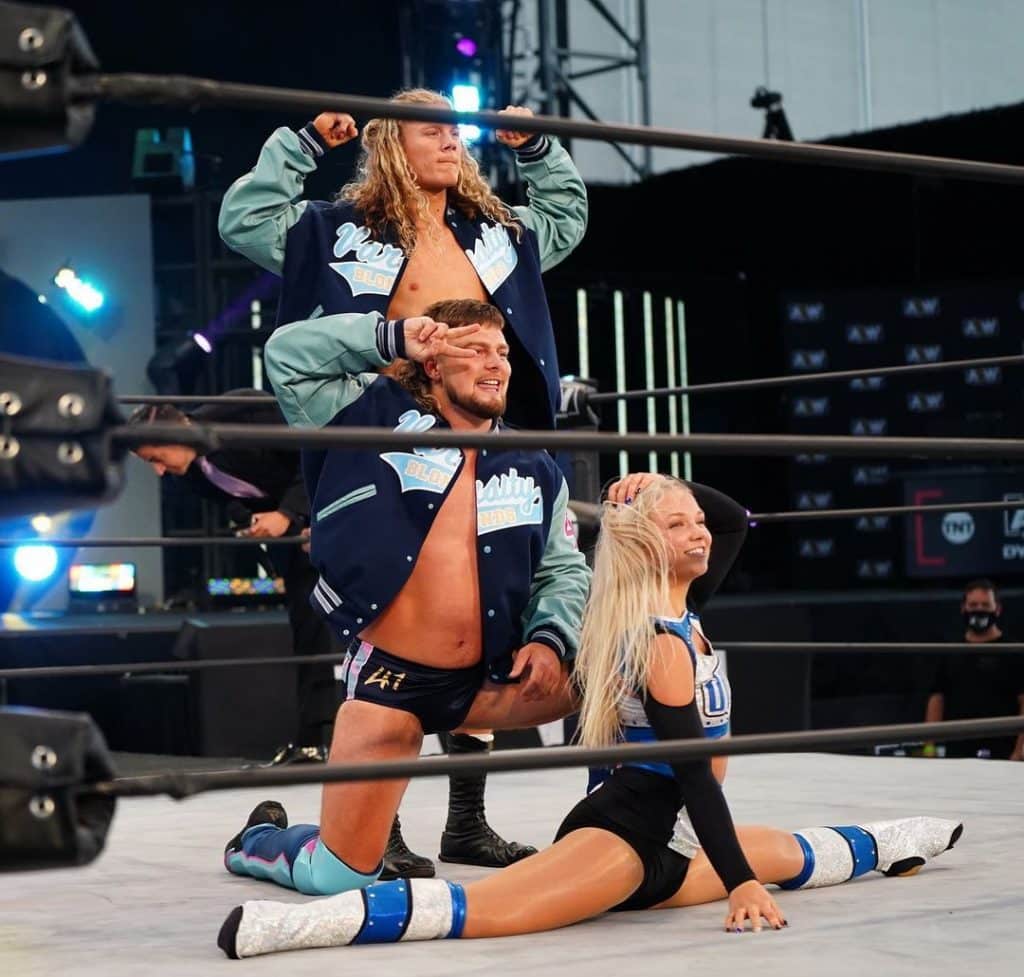 The Varsity Blondes would become a focal point of AEW Dark, almost weekly racking up victories. Pillman Jr. eventually received a number of championship opportunities, both facing Miro for the TNT title and teaming with Griff Garrison to challenge for the AEW Tag Team titles. Despite coming up short in both championship matches it is clear that he has a bright future ahead of him.
Brian Pillman Jr. is a superstar who felt destined to become a wrestling superstar. From John Harbaugh, to Jushin Liger, to Stone Cold and Lance Storm, to many more, Pillman Jr's father had the respect of countless great individuals. Now, those individuals have done their part to help push his son to his true potential. Pillman Jr. now has the support and love of the wrestling community, giving him a family like atmosphere he's never been able to have. He's been fully embraced by the AEW locker room, fully endeared to fans with his heartfelt and compelling story, and through his hard work, has received a number of great opportunities. Now the young Pillman looks to continue his father's incredible legacy while building one of his own as well.

Editor's note: On July 12th, 2021, it was announced that Brian Pillman Jr. had been officially signed full time with All Elite Wrestling. Congratulations to Brian Pillman Jr.!